Kitchens alongside the sitting rooms are some of the rooms that experience the highest level of traffic under normal hours. When deciding which kitchen designs to implement, consider the layout and color that matches the tastes of everyone in your house. Expert interior designers have predicted several kitchen trends 2021/2022 that won't go out of fashion anytime soon.
Explore our wide variety of kitchen ideas and trends to discover the contemporary and latest trends, including open floor plans and smart interior design trends. There are a variety of ergonomic and aesthetic kitchen trends to choose the ones that suit your budget and tastes.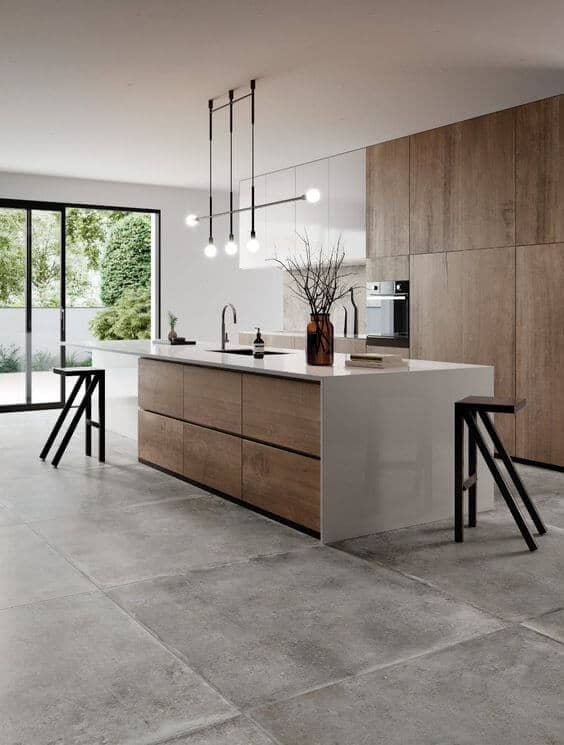 Source: Pinterest
Kitchen trends in 2021: the main elements
Simple and clean lines, sustainability and functionality seem to be fundamental characteristics of the latest trends in the world of furniture. So, let's see in detail what are the main and innovative elements present in the novelties of the kitchens of 2021.
• Arrangement of spaces
The furniture trends for 2021 propose open space as a solution for the living area: kitchen, dining area and living room are gathered in a single environment, around which family life takes place and where you can be together.
With regard to the kitchen in particular, the island also represents a very functional solution this year, where cooking, eating and socializing meet.
Source: Pinterest
• Hidden appliances
The appliances integrate into the kitchen, for example hiding the refrigerator and dishwasher inside the furniture and panels and the toaster and kettle in hidden locations, so as to maintain a more uniform and clean kitchen design.
Source: Pinterest
• A bold backsplash
The kitchen backsplash is the element to experiment with in home decor: glass, ceramic tiles – of different shapes and that can be applied in different ways -, wood, and marble: the possibilities for obtaining an original result are so many.
Source: Pinterest
• Lighting design
Lighting plays a very important role in the kitchen. Among the trends circulating on Instagram and Pinterest, we find pendant lamps – on the island or on the worktop – very often made of woven rattan or bamboo, which help to recreate an intimate and welcoming atmosphere.
Source: Pinterest
• Metals
Together with wood, metals are the absolute protagonists among the materials of the kitchens of 2021. We can in fact find furnishing accessories, appliances and other secondary elements such as taps and handles in steel, gold, brass, copper or bronze which, in combination with a refined and sophisticated design, are able to immediately capture the attention and give character to the kitchen.
Source: Pinterest
The color trends of kitchens in 2021
The main novelty in terms of colors for 2021 kitchens is represented by black, and dark and deep colors such as forest green, navy blue and teal, which recall natural elements.
• Black
Glamorous, sophisticated and with a touch of drama: black kitchens seem to be the absolute protagonist among the kitchens trends in 2021. To be finished with elements in gold or brass for an elegant result or with wooden elements for a more rustic and welcoming feel: in the first case we have a reference from the past to art deco, in the second case we have an influence of the industrial style.
Source: Pinterest
• Green
Another protagonist color is green, which goes from the dark shade reminiscent of forests, to emerald green or, again, to a more tenuous shade, such as sage green. In particular, forest green can be balanced with milky shades and metal finishes to bring opulence to the kitchen. The addition of white marble and brass through design elements such as lighting and worktops, or even accessories, helps to bounce the light into the space and thus compensate for the heavier shades.
Source: Pinterest
• Two-tone kitchen
Two-tone kitchens, where bright colors mix with darker ones, will represent one of the novelties of 2021.
Source: Pinterest
Smart Kitchens Will Gain More Relevance
In this millennial era, smart techs have become a favorite in modern kitchens. There are many specially designed appliances and gadgets that make our kitchens smarter and updated. The intelligent kitchen technologies allow for easy integration of tools and functions, ranging from lighting to faucets to fridges.
Most modern kitchens are designed smart, starting from the foundation to the top. The traditionally designed kitchens are now being added with intelligent gadgets, kitchens, and sensors that guarantee optimal convenience.
Some kitchens are added with simple add-ons such as motion sense-equipped kitchen faucets capable of sensing when someone touches them. Other kitchens will as well be equipped with smart refrigerators that will send alerts once the groceries or foodstuffs run low.
Smart coffee makers will have programming features to ensure you can have your coffee prepared on demand. There are also smart gadgets that will capably monitor your eggs, alerting you when some are about to go bad. You may as well want to install the intelligent lighting systems that would be easily controlled from a tablet or smartphone. Tech-integrated systems are now with us, and we expect them to develop further in 2022 and also be among kitchen trends 2022.
Good to Read : Traditional Kitchen Trends, Designs and Ideas
Source: Pinterest
Restructured Textures, Designs, and Materials
Mid-century and farmhouse trends haven't lost their splendor and dominance as they are among the kitchen trends 2021. Today, homeowners are implementing more streamlined and perfect fitting designs and aesthetics. Simple looks characterized by advanced clean lines will be a bit hit in 2022.
One of the smartest kitchen trends is the removal of upper-wall cabinets. This trend will give your kitchen a more visual appeal characterized by brightness. It opens the way for you to use the countertop spacing in a more productive way.
The nature of materials and textures to be used in kitchens in 2022 will be more tasteful and texture-oriented. Use rough cut wood to achieve more natural looks or metal tubing to achieve an industrial look. Instead of the usual beveled, stacked, and sculpted backsplash or stone tiles, glossy or polished finishes will be the way to go.
Ceiling treatment will also be a great addition to modern kitchens as they deliver more lively and outstanding looks.
Source: Pinterest
Single-Level Versatile Kitchen Islands
Kitchen islands are quite fashionable trends in modern kitchen settings. The single-level versatile kitchen islands are one of the widely loved ideas in kitchen trends 2021. Single-level versatile kitchen islands now come with ample shelving to optimize available spacing.
Large kitchen islands will be the center of attraction in 2022. These kitchen islands will have bigger storage spacing capable of fitting different under-counter appliances as well as providing seating-serving for traditional dining needs. The demand for kitchen islands has increased, which has optimized their use in open-plan designs.
Kitchen islands are widely loved for being multifunctional and highly useful components. You can explore the extensive range of kitchen island ideas to choose the ones that match your kitchen spacing. The best thing about kitchen islands is that they create additional counter spacing in the form of hooks, drawers, and shelves.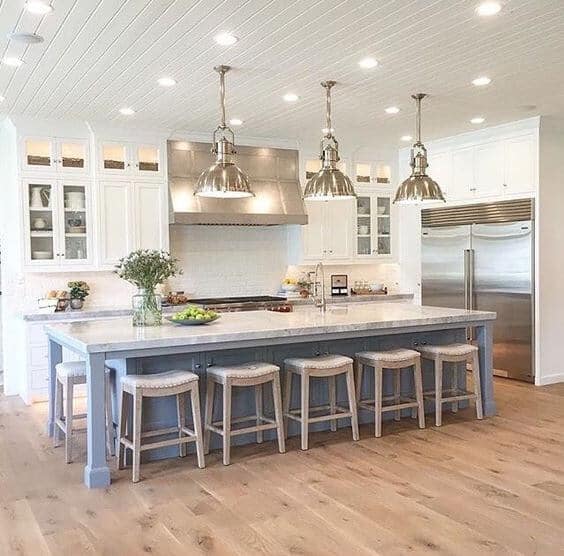 Source: Pinterest
Dark Cabinet Colors Are Becoming Popular
White cabinets are classically intriguing. They've been used previously and even now to style and personalize kitchen decors. As we head to the end of 2021, we've seen white lose its popularity, as dark cabinet colors gain more popularity. We're expecting kitchen islands to have newer wood stain colors and paint colors.
Mixing kitchen cabinet finishes is a smart way to create more pops-of-color to make your kitchens stand out. Green and blue will dominate the kitchen shade and color industry in 2021. Homeowners should prepare to adopt neutral, natural, and other earth tones such as emerald and green as these will be the hottest trends of 2021/2022.
Dark kitchen cabinets will as well be quite trending. Dark creates a deep vibrant, luxurious atmosphere with superb elegance. When deciding which dark kitchen cabinets to choose, ensure you settle for shades that don't overpower your kitchen decor. Consider using bolder and superior color shades to put your kitchen on the same page with other trendy modern kitchens.
Good to Read : Spanish Style Kitchen – Design, Nature and Material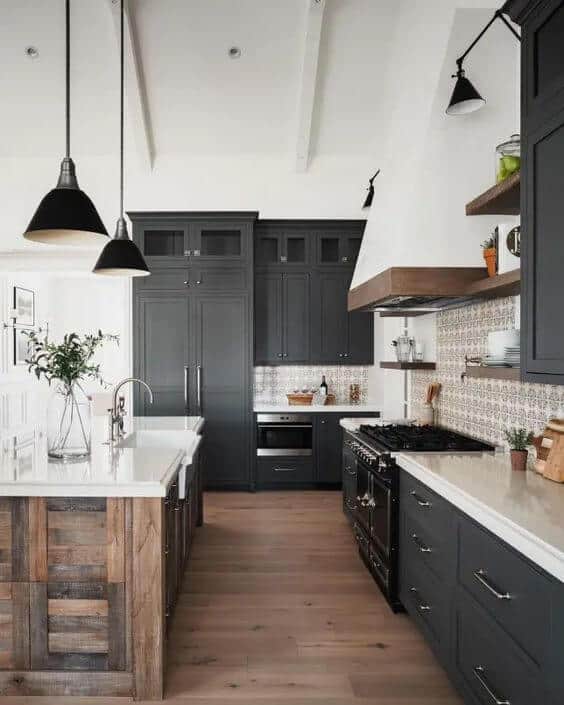 Source: Pinterest
Open Concept and Broken Concept Kitchens
Women empowerment in the 21st century has seen more women join the working class. That has created a vacuum in the kitchen. Women are always busy, and so the only time most families come together is in the evenings. With the time limitation, having a separate kitchen makes it impossible for families to interact well.
However, the good news is that open concept kitchens are here to offer a solution. These kitchens make it possible for families to interact and engage with each other even more. The person inside the kitchen can interact well with the one in the living space since these kitchens make that realizable.
The broken concept for kitchens is an advanced trend designated for the next decade. The concept is an advanced and more suitable version of the open concept. The idea will be all about a large room with cooking, living, and diving zones, which won't be divided by either full or half walls. That will provide for a spacious and more impressive kitchen look.
Source: Pinterest
Larder Love
Another trend that's going to grow in demand and popularity in 2022 is the use of larder cupboards. Also known as pantry cupboards, they are considered the most in-demand items in today's kitchens. These provide for easy storage of foodstuffs, ensuring they aren't scattered all over the wall cupboards. In short, they're the ultimate solutions for organizing your kitchens.
With larder cupboards, your kitchen spacing will be saved. There won't be issues with wall cupboards filled to the top with different foodstuffs, which can make your kitchen look unattractive. Consider this kitchen trend if you want to free your kitchen walls and have a central artistic piece that would always make your kitchen look relaxed and calm.
Source: Pinterest
Curated Kitchens Are the Way to Go
The demand for open shelving and glazed cupboards has increased rapidly lately making it among the kitchen trends 2021. As well, the demand for kitchens with curated designs has grown immensely. Curated kitchens are created smartly and styled uniquely with cookery books, artworks, and decorative ceramics. Curating these visual spaces using the curated designs does add personality to your kitchens, giving them a homely and eye-catching look.
We are continually adopting the new technologies that provide our home interiors with superior security and comfort, ensuring more personalized touches. It's no longer the era in which we used to store our foodstuffs and supplies. The smart homeowners are creating the most stylish and most sophisticated kitchen designs that combine some minimalist and maximalist styles to deliver a golden modern touch. Most of them draw inspiration from china displays, silverware, and glazed cabinets to create smart dressers, shelving, and racks suited for millennials.
Source: Pinterest
Ceramic Tiles and Hardwood Flooring
Ceramic tiles and hardwood flooring are the closest competitors in the modern kitchen flooring. Hardwood floors have been the hottest and most reckoned trends for over a century now. Ceramic tiles are their close competitors, thanks to many styles, sizes, and styles they come in.
The advance of technology has seen ceramic tile creators come up with more personalized and intriguing designs and styles. It may not be a surprise to find hardwood flooring that resembles hardwood flooring in design, feel, and looks. For homeowners who want to maintain the look of hardwood flooring and save time on maintenance should opt for ceramic tiles with customized hardwood flooring shades and textures.
You don't have to worry about the size as the modern hardwood floors come in multiple large, medium, and small-format sizes. Consider the single plank tiles, just like hardwood planks to achieve almost the same decoration and style you'll achieve with wooden flooring. You can as well order for customized ceramic cut tiles, depending on the size and shape of your kitchen.
Source: Pinterest
Conclusion
We can't close the chapter of the best kitchen trends 2021/2022 without mentioning lighting solutions that would give your kitchen that glamorous illumination. Alongside the trends we mentioned, you should get the best-LED strip lighting solutions to illuminate the dark areas of your kitchen and highlight all the core features and designs of your kitchen.
Look for LED strip lights capable of creating floating kitchen island or cabinet illusions. Install strip beneath your kitchen open shelves to light your countertops and make them more functional.
Do you want latest Trends straight to your inbox?
Thank you for subscribing.
Something went wrong.