Building and renovating spaces from the scratch has always been a very stressful moment in everyone's life. Too many choices of materials, textures, colors and furniture can confuse you and cause you a horrible headache.
One of the things that worries home owners everywhere is to choose wisely the type of floor they want in their space. The most common questions people ask themselves can be found in lots of online forums and websites.
– Does this material stain?
– Is it easy to clean?
– Is it easy to maintain during the years?
Those are the doubts of homeowners, and of course, we will answer these questions and much more within this article.
Also, we'll talk about 2021/2022 flooring trends that will make your space look amazing, while still choosing functional and durable flooring materials.
Shall we start?
Best materials for floors
Hardwood floors

Hardwood floors are beautiful, add amazing charm to the space, and the good news is that they are durable.
If well maintained, they can last for years! Obviously, durability is what we look for when purchasing housing materials, especially when it comes to flooring.
Some hardwood floors are not waterproof but with the right sealer, you can make that happen fairly easily.
Hardwood floors are also easy to maintain and clean, although they can be easily scratched, especially in high traffic areas.
Source – Pinterest
Laminate Floor

Affordable, and durable are the key words of laminate floors. Over the past years, laminate flooring has been one of the top choices of home owners.
Now, on the market you can find a variety of colors and textures from a very affordable price (3 to 5 dollars/square foot).
Scratch resistant, durable even in high traffic areas, noise and water resistant: these floors come with many perks, and a perfect fit in children's rooms, kitchens and spaces that can be subject to spilling and staining.
Perfect choice!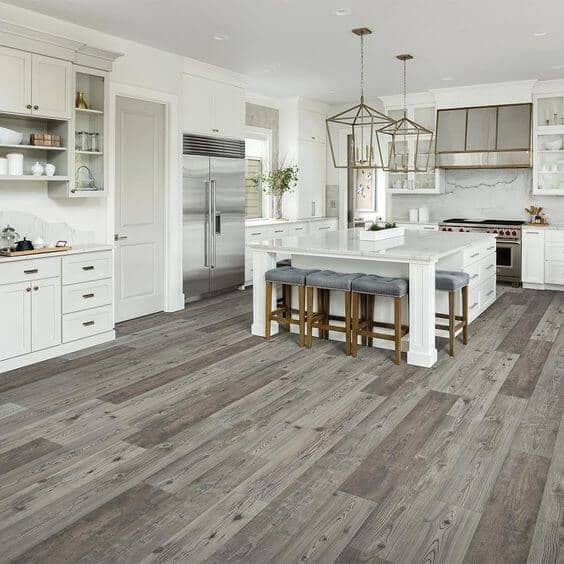 Source – Pinterest
Porcelain or Ceramic
Porcelain and ceramic floors are extremely durable, non-porous and beautiful. Yes, they are also considerably more expensive than many alternatives, but definitely worth it!
Both materials would be amazing options for kitchens, bathrooms and entry ways, as they can resist well even in high traffic areas.
They are also easy to replace in case they chip or somehow get broken, and come in several colors and styles: you will surely find some flooring that will fit your preferences and your color scheme.
Source – Pinterest
Cork
Cork is an amazing material to have in your space! It comes with great benefits, such as a soft surface that will absorb temperature very nicely. This means that in summer your floor will remain cool, and in winter it will stay warm.
It is made of recycled and natural materials, so it is also environmentally friendly. Plus, it is quite trendy at the moment: it will surely impress your friends and family!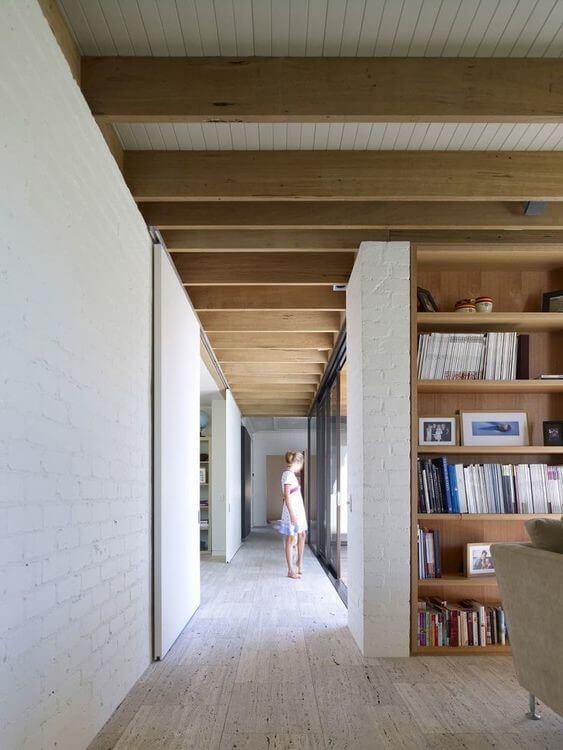 Source – Pinterest
Stone
Stone is an amazing choice… if you live somewhere warm! In fact, this is quite a cold floor, therefore using it in cold environments could prove to be a mistake during winter.
If you are looking for practicality, granite and slate are both durable and strong materials, as they are non-porous stones. By choosing stone, you are choosing a stain resistant floor, which is an amazing perk for your everyday life.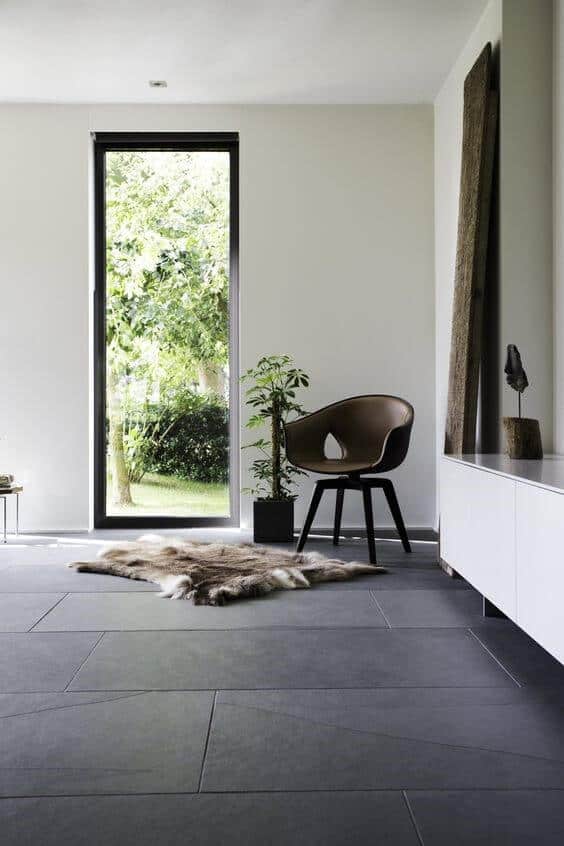 Source – Pinterest
Flooring trends 2021/2022
Thinking about changing that old and ruined floor of your bedroom? Or remodeling the living room?
Nothing better than get inspiration from the latest trends, and find out about new materials and techniques you might have never heard of or might have not thought about!
Most homeowners express that what they like the least in their spaces is the way the floor makes the space look like, so, think very well about the flooring you will place in your rooms, as you will be stuck with it for a while!
Check out this flooring trends and choose your favorite alternative!
Porcelain tiles that look like marble
You read it right! Nothing better than the freshness of porcelain with the scrumptious marble looks!
This material will make your space look high-end and luxurious – but it will cost you half of what you would spend on real marble!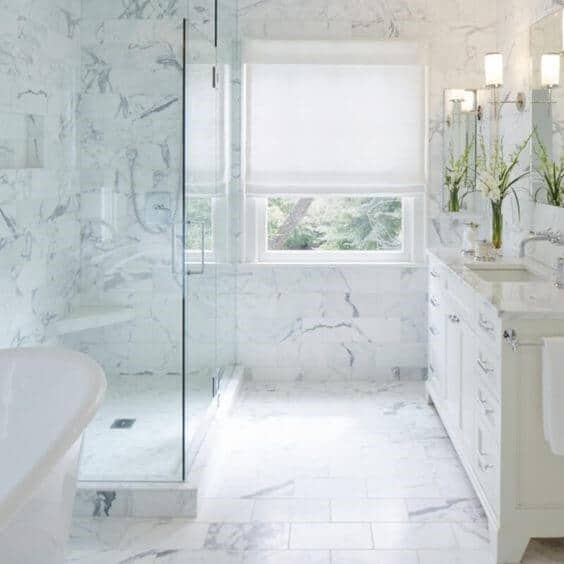 Source – Pinterest
Stained Concrete
If you are looking for a modern look with an industrial twist, this is the perfect floor for your space.
Not so affordable, but definitely worth the money spent, considering the wonderful look it will allow you to achieve. Make sure the concrete is properly treated in order to avoid stains.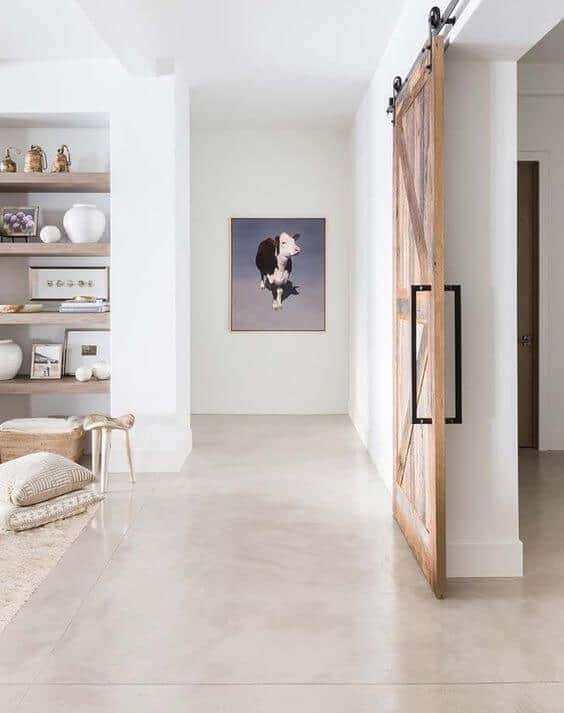 Source – Pinterest
Terrazo
Yes, you read it right, Terrazo is back! And honestly, it looks amazing!
This floor tile made of stone fragments, and crushed glass was used for big tiles inside outdated buildings.
However, it can fit perfectly inside your modern and/or minimal space, as well! Take a look at this stylish bathroom.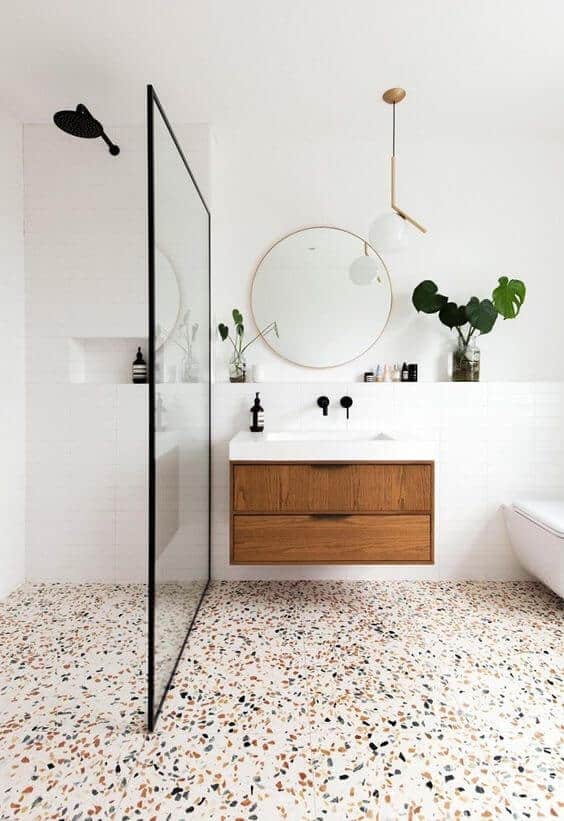 Source – Pinterest
Black and White Pattern
If you are in the mood for bold interiors, these tiles will definitely surprise you! In a transitional space, or together with different patterns, black and white tiles look classy and original.
They can be paired with golden hardwares to achieve a luxurious ambiance.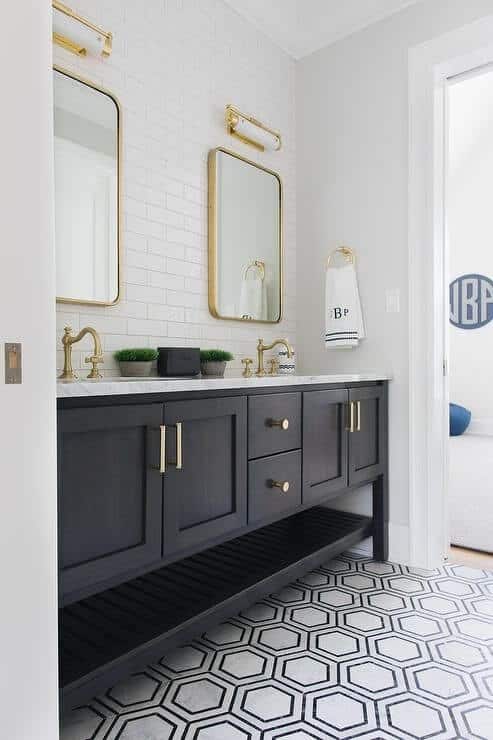 Source – Pinterest
Wood looking porcelain
You might think this is not a good combination, or that the looks of this flooring are cheap. Wrong and wrong! With the new technologies available today, allowed to create an amazing wood looking porcelain, which is very convincing to the eye. So much so that those who are not experts might even confuse it with real wood!
Plus, it is very easy to maintain and incredibly durable!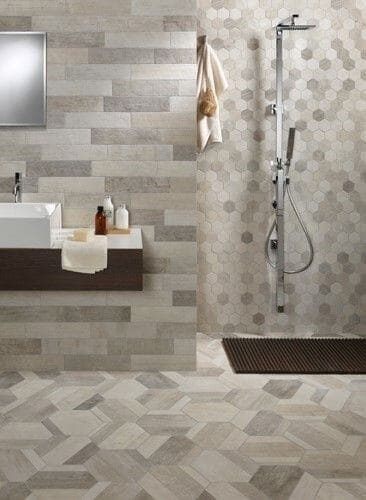 Source – Pinterest
Waterproof vinyl plank
Waterproof vinyl planks are becoming increasingly famous! They are even used more than laminate floor tiles.
With vinyl planks, you can create amazing and cozy looks with wooden textures. Vinyl planks are durable and affordable, even though not as affordable as laminate floor tiles.
The fact that they are waterproof make them a perfect candidate for kitchens and bathrooms.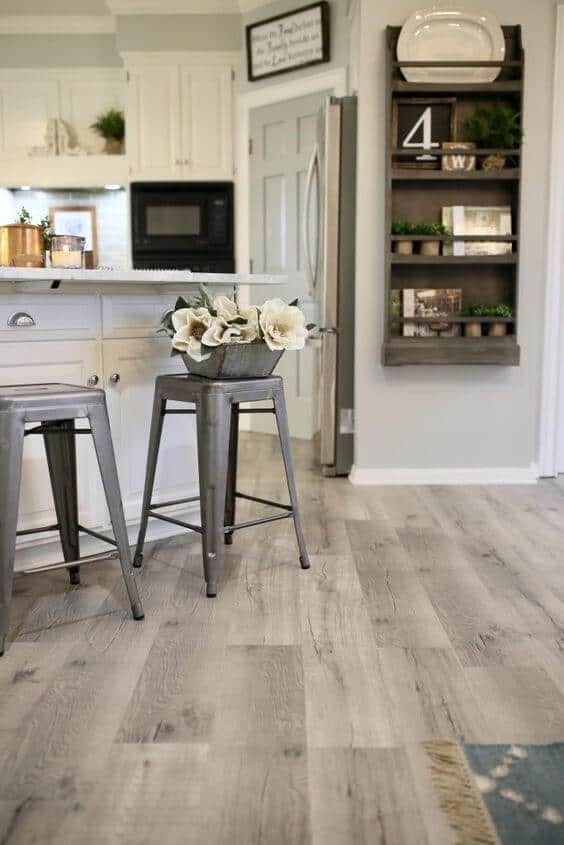 Source – Pinterest
Big tiles
Big tiles have been used in commercial spaces for as long as we can recoll, but now they have also been introduced to high end spaces, or to make a space feel larger.
The materials used for these tiles can vary between cement, marble, and ceramic: they all look amazing.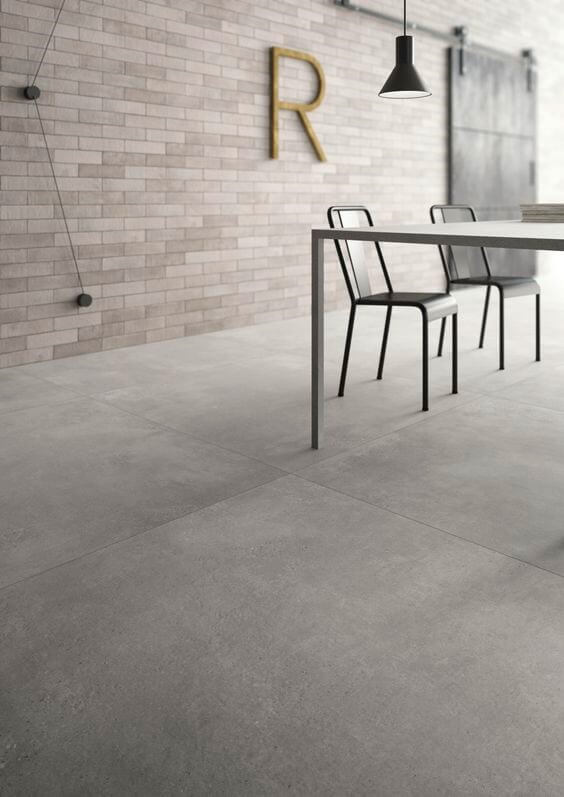 Source – Pinterest
Budget and Savings
Something that everyone always thinks about is the budget! It is great to have some spare money and to spend a bit more in quality, so here are a few tips in how to do that
Flexibility
I know you might have your mind set on a particular style that you've seen on a magazine or at someone's house, but, if you are open for changes, you might end up saving a lot in a product that you will love just as much!
Online Shopping
Check prices online before going to the shop, so that way you have a budget in your mind and can calculate properly how much you would save by placing an online order.
Samples
Before making a big purchase, order some samples of your favorites, and make a decision after that. Trust me, you will save yourself a lot of troubles by checking everything first.
DIY – If you can! –
Some floor tiles are easy to install by yourself; you can always find videos online for reference. But be aware, if you are not confident in doing it, hire a professional, as you don't want to save money doing DIY and having to spend more money buying new tiles.
Find the right person to install your floor
As you know, time is money, and finding your perfect contractor is a MUST when installing your beloved floor.
Make sure to find someone who can perform the job with care, attention and with the proper skills.
Insights
Best types of flooring for dogs and cats
These are the materials that are less likely to get scratched by the pet's nails.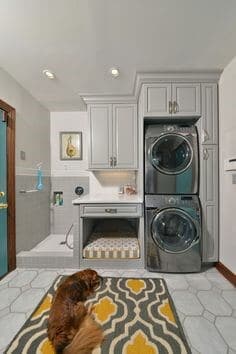 Source – Pinterest
Floor coverings
Thinking about covering your current floor? Best floor coverings are vinyl or laminate. They will allow you to change your floor more often and without spending too much money!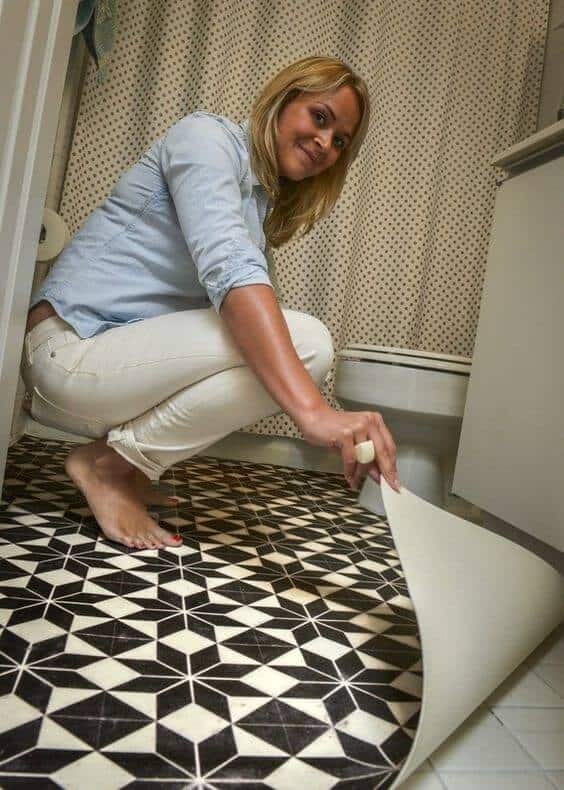 Source – Pinterest
Conclusion
Research, research and research. Make sure to go to buy your floor tiles prepared and knowing anything the seller might not tell you.
Make a list of the best flooring materials and shortlist the ones that match your lifestyle the best
Think about style and design, but also about functionality
Be flexible. An open mind gets you lots of new ideas.
Shop online, if the prices are better.
Ask for samples.
DIY if you can, hire a professional if you can't.
Hopefully this guide will help you on your new flooring purchase. Happy buying!
Do you want latest Trends straight to your inbox?
Thank you for subscribing.
Something went wrong.