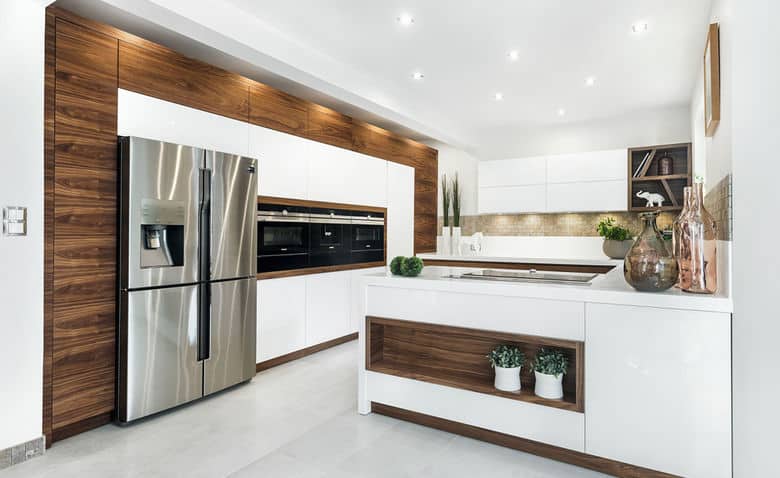 Does the kitchen interior change from season to season? And although this seems impossible, there are still kitchen trends that should be remembered in the fall, when leaves fall outside the window, oblique rain squeals … and you want something new in the interior, which means it's fashionable.
Many trends of this season are duplicated last year:
First of all, it is worth remembering that a natural or nature-imitating kitchen design has the greatest penetration power, and nature dominates both the window and the interior. You can combine and mix natural materials, change fabrics, looking for original options, but the interior inspired by nature will remain timeless.
The second most important trend is the kitchen in accordance with the principles of ergonomics. In addition to aesthetics, the most important is the ease of use of the kitchen space. Kitchen design requires a sense of integrity. In the kitchen, as in any other space of the house, it is necessary to combine functionality with aesthetics. And do not forget that the functionality of the kitchen is the result of our lifestyle.
2021 brought a lot of changes to the kitchen palette. The dominant color may be unexpected and, of course, far from what we are used to.
In addition, metamorphosis in methods of furnishing has become desirable – it gradually moves away from heavy, massive furniture to open and bright. In the kitchens, as a rule, a warm, family atmosphere will prevail.
The interior of the kitchen is filled with glitter
Gold, copper, and also chrome are metallic shades that will be very desirable additions to the kitchen in the autumn. Glass will become a glamorous element, for example, a mirror mosaic or glass facades on furniture. Brightness will add elements in pearl shine – pens, decoration on the facades, etc.
Surfaces that look like stardust will also be extremely fashionable. Elements inspired by the cosmos will appear on many levels and will certainly lead us to another reality.
Toward warm colors
The base color will be based on warm colors. Orange, yellow, salmon pink, mustard – these colors will become the basis, which is worth paying attention to. Since last year, brown and beige colors have been preserved, which are in perfect harmony with the tree, which architects and designers often turn to.
Slightly less popular will be gray-white. These colors will be gradually drowned out, but they will definitely remain in the game. Duets based on a muted palette of bare concrete look very good with interesting colors and intense saturation (for example, on the fronts).
Color is also a leading trend when it comes to accessories. It is worth noting that for some time the color details were unacceptable "smuggling" in the kitchen. Firstly, color appeared as a slight emphasis on batteries, then it focused on sinks, and now everything is in color – household appliances, cabinets, chairs, textiles.
Clearly expressed dominant
Quite an interesting procedure for placing one dominant detail in the interior. The effect can be achieved by playing colors or choosing one characteristic thing – it can be a large picture, a unique chair, a characteristic table or wardrobe.
Plants, or rather botanical motifs, will come to us next season. This trend has deep soil that holds a position in the interior of the kitchen. Posters with leaves or flowers will destroy the boredom of gray and empty walls.
The Role of Light
Light has tremendous potential in kitchen design. In the fall of 2021, his rank is particularly clearly emphasized. Not only light fixtures, but this year the simple ceiling lamps, and spots, and even sconces are held in high esteem. Sunlight is welcome, but the most desirable lighting fixtures in the kitchen are lamps that resemble constellations, such as a complex installation mounted on the ceiling.
Lightweight constructions
Massive furniture is beautiful and fashionable, but openwork structures without fronts and unnecessary decorations will take its place more and more. Such skeletal structures come from the loft, and this is a style that has recently been modified and become popular in various mixed styles. Lightweight, cage-like furniture, fashionable shelves that often appear not only on the walls, but are also installed on the floor.
Kitchen cabinets can also be in the form of very fashionable cubes. Such furniture has established itself in other interiors, but now it's time for the kitchen. Cubic furniture is extremely charming as well as practical.
Do you want latest Trends straight to your inbox?
Thank you for subscribing.
Something went wrong.