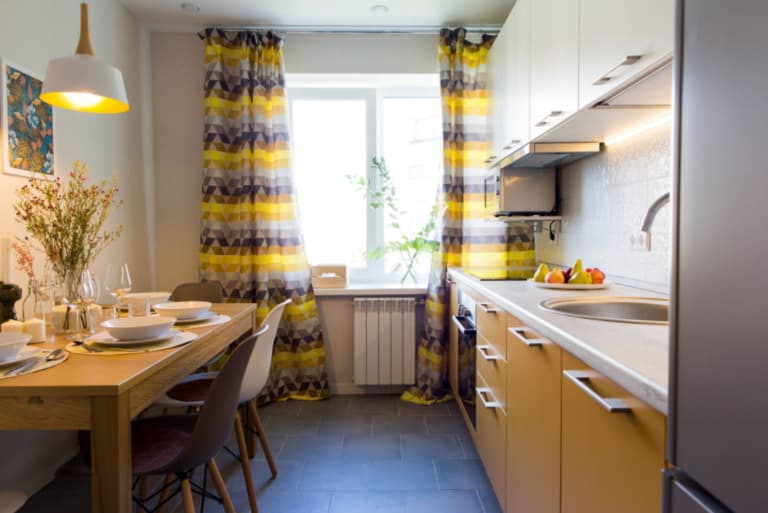 A kitchen is a family hearth where everything should contribute to the comfort of its keepers and be thought out to the smallest detail, including curtains. They will decorate and refresh the interior, complement the color scheme, while performing their direct functions.
Before moving on to the design of best kitchen curtains, let's first go through the main points and selection criteria.
To choose the right curtains, we usually focus on:
style and color scheme of the interior;
window and room sizes;
pursued goals – protection from light or beauty;
own preferences or habits.
All this affects the choice of model, colors, method of attachment and design of curtains, and it would be correct to take into account the maximum number of factors. We should add the size of the budget allocated to the window decor, but this factor, like most others, is easy to change for the sake of beauty, originality or functionality. But you can't say the same about the dimensions of the room – therefore, you will find a separate article on the design of windows in a small kitchen .
It is equally important to choose the right material for curtains.
FINEST FABRICS
Regardless of size, the kitchen dictates its requirements to us. Like other textiles, curtains should be made of the most resistant to water, fats, soot and other "guests" of the cooking zone.
Accordingly, it is better to save heavy velvet, jacquard, brocade, velveteen and similar dense or fleecy materials for the design of other rooms.
The trend is considered light and natural – linen, silk, cotton and wool fabrics. They correspond to the most popular interior styles today: eco, Scandinavian, Provence, shabby chic, fusion, modern …
But this does not mean that you need to resolutely abandon synthetic impurities, thanks to which the curtains will last you much longer and retain their original appearance. In the end, style unity can be achieved using the appropriate color scheme.
Modern curtains are not only new shapes and lines, but also the embodiment of non-standard textures and colors in traditional models. This can be easily seen with the classic long curtains, which we will start with.
LONG KITCHEN CURTAINS DESIGN
Curtains to or just above the floor will never go out of style due to their versatility and our conservatism. They will be appropriate in a modern and classic style, where they play the role of a harmonious complement, inconspicuous decor or a bright accent.
In advanced ascetic interiors, curtains on grommets look good, in softer interiors – curtains with tulle and decorative elements. In the first case, light draping will be the decoration, but in the second it will be difficult to do without fringe, frills, brushes, grabs, quilling and lambrequins, corresponding to the spirit of style. Such decor will ennoble even the simplest fabric.
Tulle can be matched to the walls, and the curtains will be in harmony with the upholstered furniture. No need to completely darken the room? Pay attention to tulle with a lambrequin or to filament curtains.
Long canvases slightly lighter or darker than walls emphasize high ceilings, make a wide room higher and a narrow one wider, of course, at the level of perception. As can be seen in the photo, a certain type of cornice is used for this – ceiling or elongated.
Curtains on the floor are great for large windows, so they are often hung in the kitchen with a balcony or bay window. They can successfully close the wall or corner. New to the design include double curtains, which are a composition of several paintings.
Curtains organically fit into the interior, harmonizing in color and texture with furniture, walls, apron, kitchen furniture. With a lack of sunlight, you can limit yourself to translucent curtains from organza or veil. Flowers, patterns, multi-colored threads or blotches will make this airy material more noticeable.
If window decoration will be a bright accent, it will be easily complemented by other home textiles, as well as small details – a vase, candy box, handle for drawers, a tea or coffee set.
The color of the curtains for the kitchen will tell you the style of the interior. For example, pastel colors – beige, white, blue shades – correspond to the classical direction.
Rustic Provence and country are more suitable fabrics in a cage or with floral patterns. Red, blue, pink flowers on the curtains can be easily supplemented with trifles of the same color.
There is another way – to decorate tablecloths, bedding on chairs or sofa cushions with ruffles or frills identical to the curtain colors.
Kitchens decorated in a modern style are characterized by a riot of colors and color saturation. Representing two verticals, curtains will add columns, a refrigerator, a pencil case, thereby creating a spatial unity.
Curtains of metallic shiny shades will be in harmony with household appliances, a sink, lamps and other elements of a similar color. For a kitchen with a balcony and floor-to-ceiling windows furnished in a minimalist style, colorful Japanese curtains are suitable. To go to the balcony, you do not have to do complex and traumatic tissue manipulations. The downside is that lamellas should not be hung in low rooms.
It used to be that window decor with a pattern looks best on the background of plain walls. Bold combinations and experiments are in fashion today, so all the rules have become even more arbitrary, which only confirms the photo below. Wall patterns are duplicated by the texture or ornament on the fabric, and it looks pretty good.
Straight and zigzag stripes, pictures, intricate ornaments and complex drapery, combinations of fabrics of different textures – modern ideas, as you see, perfectly stimulate the imagination.
POPULAR KITCHEN CURTAIN COLORS 2021
What colors will be popular in 2021? Many designers "vang" about the return of fashion to monotony. However, fashion is insidious in its contradictions.
Therefore, choosing curtains in the kitchen, build on the overall color scheme and your own feelings. After all, everyone creates harmony in their apartment in different ways.
You can apply the method of diversity: stop your choice on colored curtains, if previously you had plain colors, and vice versa.
As for the colors fashionable for this year, then this:
brown, lilac, wine, berry, gray, red shades;
complex composite colors;
gradients
forever trendy cell and strip;
interesting prints and drawings.
Use color magic to your advantage. So, juicy and tasty bright shades will have an invigorating effect and cause a good appetite, and cold tones will cool a hot room – of course, at the level of sensations. The stripes will also serve practical purposes, making the window wider, taller, or simply complementing the color ensemble.
An impressive novelty can be called gradient curtains or curtains with the effect of "degrade". A two-tone composition featuring white is an original way to bring a little brightness to the kitchen. A few smoothly changing colors will unite all the colors present in the interior.
Important:
dark curtains are more suitable for a kitchen with good natural or artificial lighting;
white or plain light curtains can be an impractical choice, unlike checkered or striped curtains.
Long curtains can be given many forms with the help of accessories – pickups, clamps, magnets, towels. But for some, other models may seem more convenient and practical.
SHORT KITCHEN CURTAINS 2021
Curtains that cover only the window and nothing more – a very economical option in terms of fabric consumption and space management. Short curtains facilitate access to the windowsill, which is very important if you use it as an additional work surface. They will be useful in the case when it is intended for plants for you or, perhaps, acts as an observation point for your cat. Perhaps you yourself will appreciate all the advantages by looking at the photo.
Short curtains, perhaps, are now at the peak of popularity. Diverse and versatile, they are applicable in a variety of styles and will decorate windows of any size.
You have several options for forms:
one curtain for the whole window;
two vertical canvases;
curtains cafe;
arch;
a mini-curtain or rather a pelmet at the top of the window.
The color scheme and methods of fastening such curtains are no less diverse. Standard, string cornice, clamps, eyelets or drawstring – it all depends on your ideas, the need to open a window and open the curtains.
ROMAN AND ROLL
If you are tired of sliding curtains, you have small windows or you are afraid that the standard curtain rod will violate all your design plans, decorate the windows with lifting – Roman or roll curtains. They are perfect for kitchens in the style of minimalism, hi-tech, modern, classic, Provence, eco and other areas due to their compact appearance, a variety of colors and materials. Plus, one of the options for mounting them is directly on the window.
What is the difference between roman and roller blinds? The first ones form folds when lifting, the length of which can vary at your discretion, and the second ones are twisted into a roll, respectively, exposing most of the window. The laconic design of the curtains will be complemented by ribbons, bows and other accessories – depending on the style of the kitchen and the flight of imagination.
If these models are too simple – go ahead, because the list of lifting curtains is not over here.
AUSTRIAN AND FRENCH
These once status models went beyond classicism, baroque, theater and opera scenes and, oddly enough, look organically in completely different environments. Shabby chic, vintage, Provence, ethno – many styles accept such a luxurious decor.
French and Austrian curtains are very similar, but still have a difference. In French curtains, semicircular drapery extends along the entire length, while in Austrian curtains it is concentrated only in the lower part.
Many semicircular folds-festoons emphasize the richness of the luxurious interior and revitalize the monotony of modern styles. Curtains made of smooth plain materials, tulle, with a fine pattern, vertical contrasting stripes look especially impressive. The layering of the upper part of the composition makes such models suitable for kitchens with low ceilings or wide windows. Do not believe? Take a look at these photos.
But there is still a drawback in lifting models – households who are used to standard curtains may simply not be able to cope with their control. Alternatively, facilitate this task with automated control.
HANDMADE CURTAIN TRENDS 2021
Everything changes, and inconstancy is considered the only constant. But we found an exception that your mothers and grandmothers will definitely confirm. Remember, from childhood they said that the best gift is the one made by yourself? Handmade creations guarantee the originality of the interior, and also definitely enhance the image of the hostess. If you can sew, knit or crochet, know the secrets of macrame and have a day off – you have every chance of creating a masterpiece.
Have you ever done anything like this? Well, start with a simple one – decorate the finished curtains with beads, glass beads, sequins or glass, and if you want, make this a useful family activity.
COMBINED KITCHEN CURTAINS
Together with a winning eclecticism in 2021, all kinds of combinations of materials and varieties of curtains will be popular. You have already seen the variety of models, colors, accessories and curtain designs. Imagine how different they can be combined. Now add accessories and asymmetries. The number of possible variations has increased indefinitely.
See how well you can combine long and short curtains, or pass through a grommet soft lambrequin.
In addition, the combined curtains allow you to harmoniously design asymmetric windows, correctly manage the space and provide the necessary convenience for the kitchen.
Plus, you can combine the achievements of the present – for example, striped day-night curtains and revived, no less fashionable relics of the past like French curtains. Another option is blinds . By the way, the latter are no longer just plastic, easily bending white plates. Narrow or wide, they can be made of wood and painted in the color you want.
Ideally, beautiful curtains should serve any practical purpose – at least protect from the sun. But this duty will easily be taken over by more modest blinds or roller blinds that complement the color scheme and play the role of a background for a brighter window decor.
This is how a patterned white-transparent tulle with rich roller blinds looks spectacular. So you adjust not only the amount of light, but also the brightness! Therefore, combinations of lifting and sliding models are not uncommon in the modern design of windows.
All of them take up little space, will not get tangled, will open access to the windowsill, window and drawers under it. Design techniques aimed at adjusting the space will also be useful. A narrow window can be expanded by hanging curtains on a longer curtain rod. Horizontal stripes give the same effect. A vertical strip will stretch the low ceilings a bit. If you want, experiment with two kinds, use oblique or zigzag stripes.
An ordinary curtain rod can be easily replaced with a wall, telescopic or string version – depending on the shape and material of the windows. So you will win back at the window 10, or even more valuable centimeters. For the installation of Roman and roller blinds, it is not needed at all, and this is their enviable advantage.
Fabric for curtains should not be dense, dark or very bright – it will eat up the space. Pay attention to light, lightweight fabrics like linen, poplin, organza, cotton, silk, which do not burden the interior. When decorating the windows of a small room, it is better to do without lambrequins, frills, double paintings, lush drapes, an excess of decor – all that can create a layered effect.
However, a short dense pelmet will help to hide a bulky cornice, and it looks good with tulle. And the unobtrusive use of other decorative elements will complement the style of your kitchen and fill it with comfort. Agree, tightness is not a reason to abandon beauty. After all, only relying on your own feelings, you create comfortable living conditions, and even more so when it comes to cooking for the whole family.
As for coloring, it is better to give preference to light, plain and non-woven fabrics with small images or delicate ornaments. A large number of saturated colors is not the best solution for small rooms. But if you really want to – do not deny yourself.
Do you want latest Trends straight to your inbox?
Thank you for subscribing.
Something went wrong.