The kitchen's role has changed profoundly over the years, as from a room used for preparing meals, it has become the soul of the furniture and the beating heart of our homes.
The kitchen has acquired more and more value as an integral and fundamental part of the furniture style designed and built around families.
Source: Pinterest
Traditional kitchens have a timeless charm, and their style continues to be the favorite of many people! This is thanks to the solid wood material, the ceramic handles, the framed doors, the warm colors, and the functional compositions. To furnish a classic kitchen, wooden accessories, exposed hood, table and chairs with shaped legs, and display cabinets cannot be missing.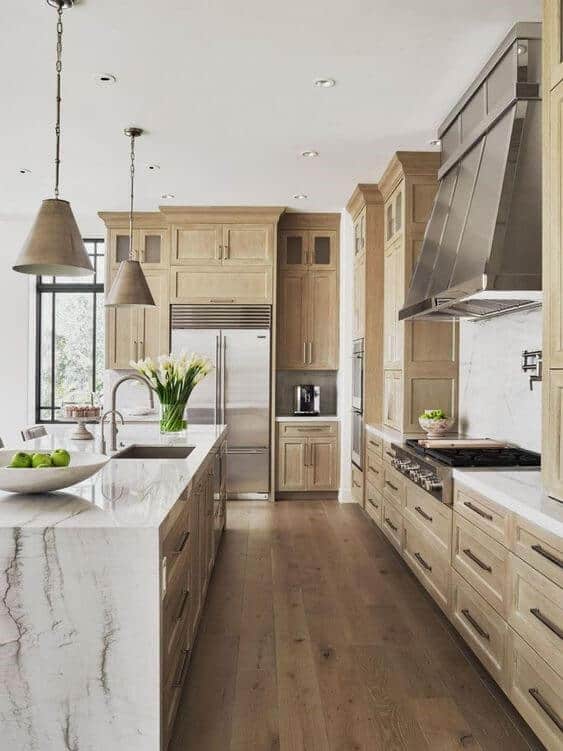 Source: Pinterest
Unlike what many people may think, "classic cuisine" is not synonymous with "ancient cuisine." The characteristic of this style is, in fact, to be timeless and always in vogue.
More and more kitchen manufacturers are re-proposing models with a classic style but updated to our time. A few precautions to be respected are enough to design the perfect traditional kitchen for your home.
So, what if you'd like to get a traditional kitchen, maybe with just a modern twist? Let's see how to
do it!
Source: Pinterest
The linear composition
If you are a lover of simplicity or a modern kitchen with more traditional shapes, you can start thinking about a linear kitchen composition.
A linear kitchen represents a reliable solution that never gets old.
Are you particularly interested in this type of composition? Discover, through the expert eyes of our designers, the secrets of these proposals.
If you choose to furnish the kitchen with this arrangement, the only design constraints are given by the correct positioning of the elements linked to the gas and water pipes. A careful design allows you to enjoy the maximum possible ergonomics with a modern linear kitchen to facilitate all the operations that you will find yourself carrying out in your kitchen.
Once the connections' position has been verified, it is necessary to proceed with the positioning of the sink and the worktop (obviously also based on the maximum available length of the entire kitchen).
This foresight allows you to have a highly functional environment that will make your life in the kitchen easier. With great comfort and minimal movements, you can easily wash, work and cook your food.
Source: Pinterest
Great variety of options for decorating the kitchen
In the past, the positioning of the oven had to be on the ground. Still, today we have more possibilities to insert it at a higher height in order to make it easier to open and avoid uncomfortable "forced" positioning.
Thanks to this innovation, it will be possible to position your oven by inserting it in a column to be chosen from 4 different heights.
Another choice with the aesthetic and practical value you will find yourself making is linked to whether or not the wall units will be used. More and more frequently, we find ourselves designing kitchens without using wall units; however, these are compositions of the significant effect that make the kitchen a more neutral piece of furniture and more integrated with the rest of the furniture.
Often this solution is adopted in an open space situation. Still, for those who want to furnish the kitchen prioritizing the storage capacity, the wall units become absolutely indispensable.
As for the combination of the hood with your linear kitchen, you can opt for a wall-mounted design model or give greater importance to a clean linear design and prefer the hood's insertion inside a wall unit.
A solution that we often recommend, if the room has a suitable size and shape, is the insertion of a non-structural peninsula that can be safely used to replace the classic dining table or as an excellent breakfast and snack space.
Being a classic-style kitchen, the search for symmetry is essential. Place the hob along the central axis of the kitchen and develop everything else around it.
The classic proportions will help in the perception of a refined and well-designed space. Furthermore, you can choose to emphasize the importance of the central area with a ceiling
skylight.
Source: Pinterest
Colors and materials of a traditional kitchen
For your classic kitchen, choose a light color as a base and then some contrasting accents for a more sophisticated and refined look. If you want to be daring, add gold details on the frames.
A white kitchen is typically associated with a classic and traditional style. Still, it can also be a winning choice if you want to buy a modern kitchen or a contemporary kitchen. Synonymous with sharpness, integrity, and perfection, it is no coincidence that white was Stanley Kubrick's favorite color to create the sets for his masterpieces. A white kitchen can reflect and enhance the color of any kitchen floor and the color of its walls.
If white really isn't your thing, you can still choose something light and natural, such as brown, beige or gray.
The marble top, whether light or dark, is essential. Match it with furniture and a door in matt lacquered wood, whose natural grain can be seen.
As an alternative to marble (which we know is a material subject to wear over time), we can choose a more modern and durable material such as Silestone or Laminam
For the floor the best choice is parquet. However, since this is an environment where water is often used, it is better to opt for wood-effect porcelain stoneware.
Source: Pinterest
Traditional cabinets
In a traditional kitchen, cabinets should be the main focus. That's why we absolutely recommend having glass-front cabinets. In fact, these will work as an attractive space-saving solution and as a design piece altogether. This will help you make your kitchen homey, open, and warm, absolutely effortlessly.
Source: Pinterest
Tile Backsplash
Backsplashes will become a central element in any kitchen, especially in one as neutral as the traditional kitchen. For the materials of your backsplash, we recommend glass, terracotta, or stone. Whatever you choose, make sure it is incredibly stylish and unique.
Good to read : Kitchen Curtains 2021 – Latest trends in window design
Source: Pinterest
Remember to include the outdoors
In a traditional kitchen, you always have to remember to include the outdoors, as this is one of the distinguishing elements of any traditional kitchen.
This doesn't necessarily mean that you'll need to open up the kitchen structurally, but you'll have the chance to incorporate elements in your kitchen that make you think of nature.
You could start by installing wide windows, but that's just one of many solutions. You could opt for natural materials, such as wood furnishings and stone beams.
Finally, you could choose to include some greenery, in the form of plants and flowers.
Source: Pinterest
The final touches
Vintage brass handles are essential, as well as geometric lamps. Define each element with frames to give prominence and importance to the wall units and doors.
Insert glass doors to display your plates and glasses. You can insert LED strips to light them up and highlight their presence.
If space permits, place a central island around your classic kitchen. You can equip it with seats to use it as a work surface or as an area for quick breakfasts, lunches, and dinners. Finally, focus your attention on the cooking area with a large tailor-made hood.
Good to read : Latest Smart Kitchen Trends
Source: Pinterest
Conclusion:
Linear kitchens are a solution that never gets old. You can go for this style without fear!
There are different ways and solutions to decorate and create a layout for your kitchen, choose the style you are going for and make it functional.
Traditional kitchens not always have to be white; you can play with colors and materials and still have a perfect traditional kitchen designed
Glass front cabinets and traditional kitchens are a perfect match!
Backsplashes creates an amazing impact into your space. Choose to add behind the stove or sink, or depending on the material, why not on the whole wall?
Plants and vases are always welcome. They bring freshness and comfort.
Small details such as brass handles for your kitchen cabinets, and stools for your island are amazing final touches!
Do you want latest Trends straight to your inbox?
Thank you for subscribing.
Something went wrong.