2020 has been the year of subway tiles and neutral surfaces. These may not appear anywhere in the 2021 kitchen trends as we're looking forward to smarter kitchens accentuated by smart storage plans, moodier tons, and textured surfaces.
Password: flexibility. The new kitchen systems with a modular soul are designed to be able to adapt to any type of context. When space permits, we opt for the counter in the center of the room with a large worktop that also functions as a convivial table. But in smaller environments the best choice is the peninsula kitchen, also in this case with integrated top.
Want to freshen up or renovate your kitchen for the year 2021, here are the newest kitchen trends 2021/2022 that are timeless and highly fashionable.
Modular Kitchens
The projects made up of single-function blocks to be combined as needed are particularly interesting. To make the compositions more and more sophisticated, while paying attention to the integration with the living room, we can use a combination of materials: precious coatings in marble, stone and refined wood, interact with hi-tech tops made of ultra-resistant composite materials such as Corian, Fenix, Lapitec or Laminam.
The use of glass for the structures of our kitchen is also frequent, in order to make the composition even lighter. The main protagonists of the latest generation kitchens are panels that can be equipped with structures that bring the performance of a professional model into the home. Thanks to the new smart appliances that allow chef performance and cooking, from induction to vacuum, from the blast chiller to the cellar at different temperatures. You can follow our Kitchen Countertop trends for 2021 guide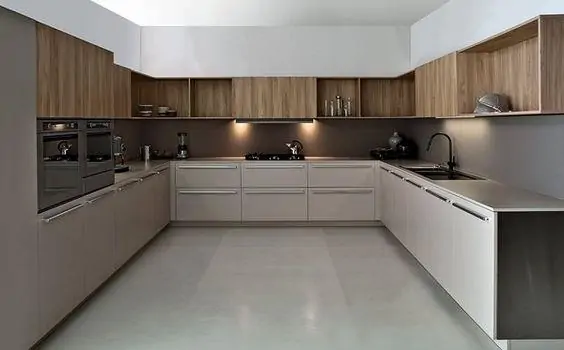 Source – Pinterest
Capably Smart Dishwashers
Among the newest kitchen trends 2021, this ranks high. Unloading wet dishes from the dishwasher isn't fun or something to smile off. It's one of the things we hate, but what can we do? The modern smart dishwashers pack intelligent features capable of drying the dishes before they are dispensed.
The latest top-rated models of dishwashers use the zeolite mineral to dry the dishes. They pack zeolite crystals that absorb most of the moisture content before they are passed through a chemical process that heats them up, draining the remaining moisture content.
Manufacturers pack the zeolite crystals in a sealed chamber found in the dishwasher, and so it's impossible to recognize them. Only a few brands of dishwashers use this technology, with Bosch and Thermador being the industry giants so far.
Smarter and More Efficient Refrigerators
Perishable supplies don't stay for too long in the standard refrigerators. Of course, you can extend the shelf life of your vegetables and fruits by storing them in the freezers, but it won't be too long before they start misbehaving. When ripe, fruits release ethylene gas, a renowned plant hormone that speeds up the rotting of veggies.
Like everyone else, you want your veggies to last longer and maintain their natural taste. One of the trends that stands out in the newest kitchen trends 2021 and will also trend in 2021 is the use of smart refrigerators that have a powerful ethylene gas filter. These filters are found on most of the French door refrigerators to ensure your veggies stay fresh, crisp, and delicious for longer periods.
Source : Pinterest
Removable Wallpapers
Removable wallpapers is another kitchen trend that will be a hit in 2021. Modern wallpapers have a peelable adhesive that can be applied on the walls and removed with minimal hustle. Temporary wallpapers have gained momentum over the last few days. They are still a hit today and will become some of the most preferred kitchen beautifiers for the newest kitchen trends 2022 and for some years to come.
Removable wallpapers are here to make it easier to add texture and color to our kitchens in the absence of demanding long-term commitments. It's a superior modern kitchen trend that is not only budget-friendly but also highly preferable. It fits well in contemporary kitchen decors, giving that refreshing and calming look everybody loves.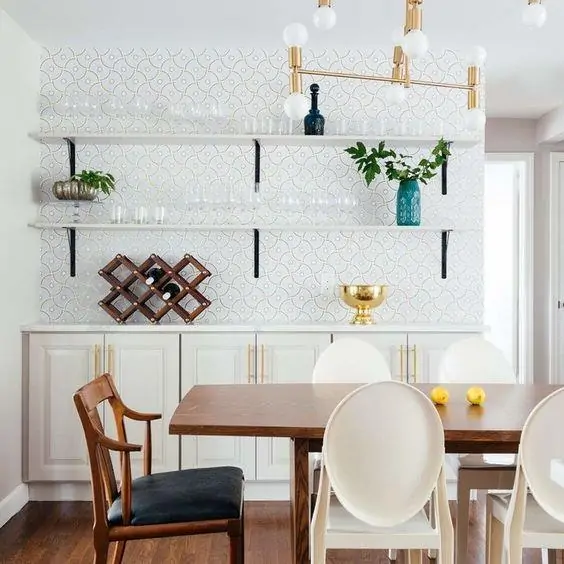 Source : Pinterest
Colors and Materials
First of all, dark colors are very popular. Dark kitchens become the protagonists of a somewhat anonymous interior. Another trend, as we have already mentioned, brings materials to the fore.
So the kitchen, from simple lacquer of the past years, is enriched with materials of greater personality. Raw woods, metals and marbles are mostly chosen by the designers of the moment.
At a chromatic level those who love colors and not neutrals can still create a trendy kitchen. Among these, gray-blue, sage green, pastels are certainly colors that can be used without any kind of problem.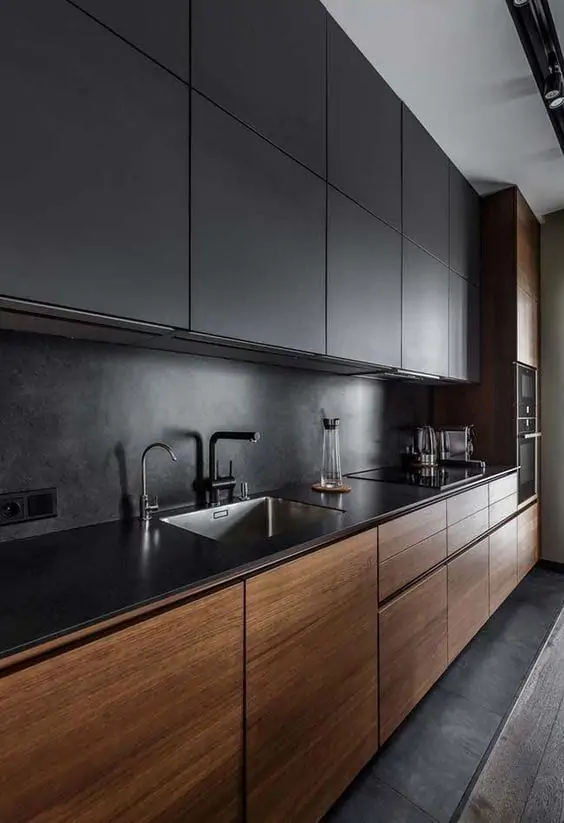 Source : Pinterest
Combined Metal Hardware
The perfect hardware should upgrade the function and look of your kitchen. It should tie everything together, giving the kitchen a flawless look. One of the smartest ways to update kitchens is to upgrade the hardware. Kitchen hardware can be in the form of plumbing, knobs, and pills.
Finish your metal hardware so that it calms and minimizes everything in the kitchen. Instead of the standard cool brushed nickel finish that provides a fresh kitchen look, consider the trending rose gold. You may as well choose brass or copper to achieve a warm metal look or matte black to achieve a minimalist vibe with bold texture. You can try this look on your drawer pulls or even faucets.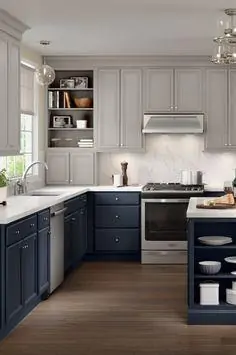 Source : Pinterest
Smart Home Devices Will be a Hit
Smart devices haven't been around for too long. In fact, they're some of the newest kitchen trends 2021/2022. Smart devices such as Amazon Echo and Google Home devices that are capable of reading recipes, answering cooking questions, and setting cooking times. These devices are also smart enough to alert you when certain supplies are about going about or out of stock so you can order more.
It's the era of millennials where you can remotely control your Alexa-enabled microwave to prepare you popcorns or use a Wi-Fi-connected multi-cooker to trigger and cook dinner in your response. There are smart robots with onboard cameras capable of controlling vacuum cleaners and security systems. You can just activate the cleaner to let it vacuum your kitchen or living room as you relax on the couch.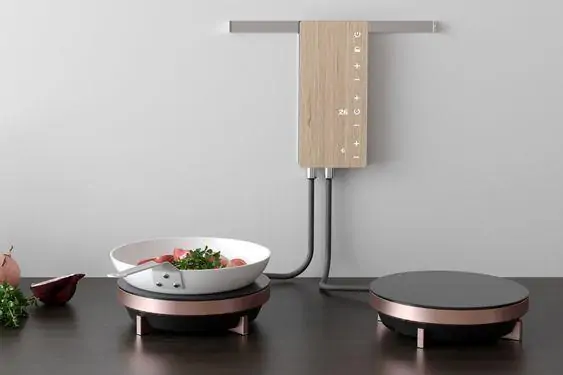 Source : Pinterest
Open space kitchens & hygiene
The kitchen, open to the living room and the co-living needs to deeply change the configuration of the operational area based on the cooking block and the washing block. For surfaces subjected to greater stress, technology makes resistant, hygienic and antibacterial materials available. First of all the Fenix, which allows you to create worktops, doors and furnishings in perfect total look. Maximum hygiene is also guaranteed by the design of the construction details: no gaps between one panel and another, no corners that are difficult to reach, yes to full body edges.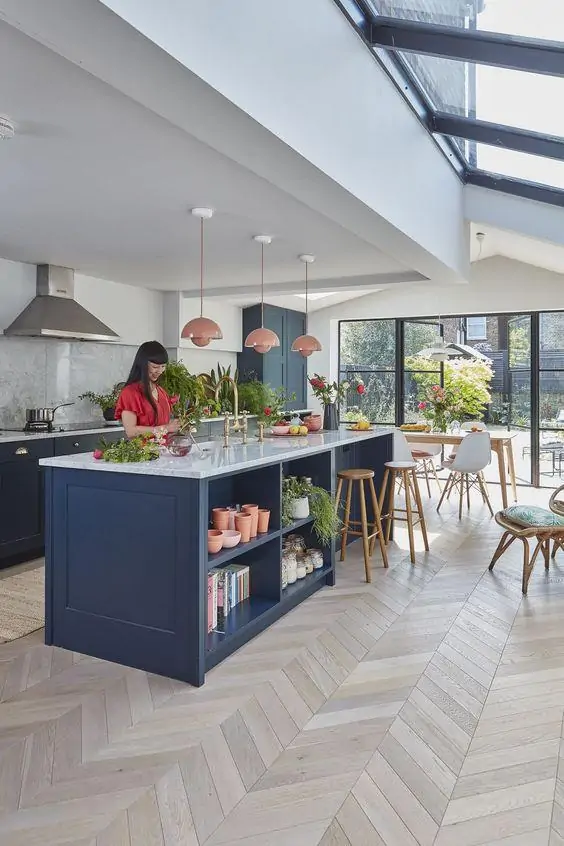 Source : Pinterest
Advanced Specialty Sinks with Dish Cleaning Functions
Another of the latest kitchen trends 2021/2022 is the advanced specialty sinks that have dish cleaning functions. Running the dishwasher every day doesn't sound too good to most homeowners. So much water is wasted in the process, which is not sustainable.
Smarter dishwasher makers are inventing tiny sink dishwashers capable of washing ten dishes at once. These smart devices are intended to minimize water wastage by up to 10%. The units have punchy water forces and high heating temperatures that go up to 160 degrees.
The best thing is that the washing can be done with the use of minimal dishwashing liquid. The inventors are also coming with more advanced sinks that can efficiently wash vegetables and fruits. These sinks will use gentle vibrations to efficiently clean pesticides and dirt, ensuring your veggies and fruits are clean.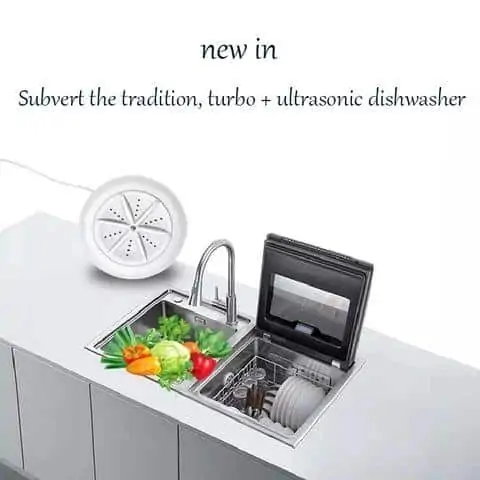 Source : Pinterest
Taps and Sinks
Sinks and taps are an important couple in the kitchen, because comfort and functionality in the washing area will depend on a thoughtful choice (always in relation to the materials but also and above all to the measurements and dimensions and proportions of one in relation to the other).
On the market there are many types of sinks, with one bowl, or two, integrated in the top or stand-alone, in steel or other materials, even equipped with cutting board and colander.
But which tap should we choose? The options multiply: long taps, articulated to better wash all types of pots, hi-tech, beautiful, functional and water-saving taps, with eco-friendly filters to purify the water and even transform it into a sparkling drink , ensure maximum savings and reduce the environmental impact caused by the consumption of bottled water.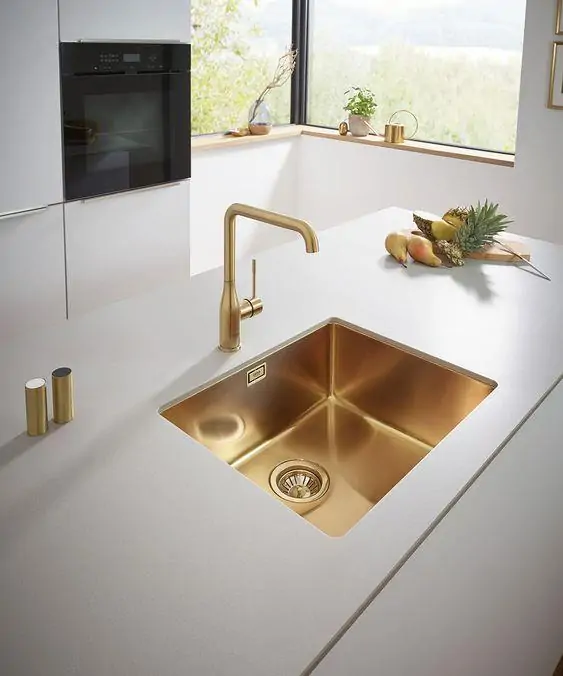 Source : Pinterest
Conclusion
These are the latest smart kitchen trends that are here to stay. The superiority and relevance of these intelligent technologies and trends have made them famous and highly regarded among people of all age groups. These are the technologies that would save us the hassle of having to deal with complex and demanding everyday household chores alongside our demanding busy daily lifestyles.
Make your life fun and simpler regardless of how busy you're on a daily basis by investing in any of these advanced kitchen trends and technologies. You can as well opt for any of the latest kitchen trends 2021 to get an idea of what may work for your kitchen based on its current decor and styling.
Do you want latest Trends straight to your inbox?
Thank you for subscribing.
Something went wrong.