Some people would say that a house revolves around the kitchen. It is a space where you gather with your family for lunches and dinners, meet your friends for wine and good times, and use your unique ideas into creating a pleasant environment for everyone.
The good news is: they are not wrong!
Kitchens can be considered the most used space of a house, together with a living room. People enjoy spending time eating and watching tv. For those who like these dynamics, open spaces are the perfect setting for your house. Imagine combining your kitchen's beauty and functionality with the design of your living room: you can make it look like one ample space, or you can divide it while mantaining an open space.
Let's get to it! First of all you have to choose a style between modern, classic, rustic, or urban, then a color or more to play with the furniture and accessories. The latter will be the element of persistence between the two joined environments, so as to create a perfect continuity.
Kitchen Trends for 2021 and 2022:
1. Open Kitchen with integrated hood and appliances
Integrated hoods and appliances in open kitchens never actually stopped being a trend and probably won't for quite some time.
Integrated hoods and appliances in the kitchen are not only appealing to the eye, as they create a minimal and modern ambiance, but they are also convenient to use, making the space look clean.
As the appliances 'disappear', it is easier to create an open kitchen space and integrate it into the living room, because it will look neat and you won't see the mess 'behind the scenes' in the kitchen.
Source: Pinterest
2. Walls as storage!
You read it right! Walls can be used as storage to maximize the kitchen space. It is practical, beautiful and modern!
Source: Pinterest
Appliances can also be fit into the furniture, saving even more space!
Kitchen open spaces: how to divide and organize?
The primary idea of having an open kitchen space is to integrate the kitchen with other house functions.
The open space can be divided into a few different layouts:
1. An island to divide kitchen and living room
Only because it says, 'open' space, it doesn't mean that it has to be completely open. You can have some sense of division without having walls.
For this concept, a kitchen island is the way to go. It creates two different areas that integrate and complement each other.
Source: Pinterest
The island doesn't necessarily need to solely create a sense of division. You can make it functional by adding stools, storage, and integrated appliances such as a dishwasher and a sink.
2. Kitchen + Dining + Living Room
For this concept, it is essential to have a lot of storage since you won't have an island to implement the design.
The kitchen space is open, with the dining table working as an element of division and integration, will allow you to create a kitchen – dining and living room space. Perfect for a family lunch, dining, and to invite friends over.
Source: Pinterest
3. Kitchen with 'corridor' between storage
This is an advantageous option to divide your kitchen into two working spaces, both with storage, creating a corridor (at least 60 cm) between the two. It makes the space flow, and you can easily manage your tasks.
Source: Pinterest
When it comes to open space organization, there are a lot of factors to be considered. It is not about dividing and conquering. It is about thinking, thinking again, and dividing.
4. A plant to divide the environment
An excellent idea for partially shielding the kitchen is to insert greenery that comes down from the ceiling. In this way, a permeable and ever-changing filter is created between the two living areas. Alternatively, you can consider inserting a library, which will guarantee a little more privacy.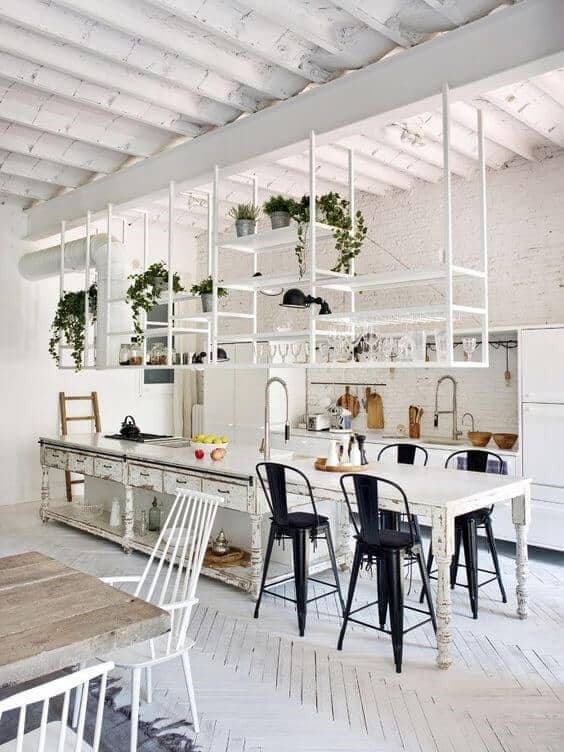 Source: Pinterest
Here are some tips for organization and decoration that will help a lot when it will be time to build your perfect space:
1. Build storage in appropriate spaces
Storage is essential as it keeps things organized. However, it is necessary to understand your kitchen's flow in order to have fantastic furniture with your storage.
Ask yourself:
Do I have a lot of things that need to be organized and stored? (pots, pans)
What do I need to be closer to me when I cook? (E.g. I make bread, so I want to position the bread maker somewhere I can have easy access to.)
Placing storage at different points is about making your life easier, having easy and quick access to accessories you might need while cooking and cleaning.
A well thought space planning means organization at its finest.
Source: Pinterest
2. Lighting: Natural light and artificial light
Nothing screams clean, modern space more than natural light. But we know, is not always possible to have that beam of light inside your kitchen area. It all depends on the placement of windows and other outdoor factors.
Here is where artificial light comes in handy.
You can find different light bulbs with certain specifications and effects depending on what you want to achieve.
A kitchen is where you will be performing various technical activities such as cooking, cleaning, and eating. Therefore, it needs to be well illuminated.
While yellow light gives you a sense of coziness and comfort, white light is necessary to perform activities and see everything without straining your eyes.
It doesn't mean you need to have an intense, big chandelier that will illuminate every aspect of your space and make your eyes pop out. It merely means a white, soft, and clear light will do the job.
Source: Pinterest
In the image above, we see a perfect example of beauty and functionality. A white, soft light was applied on the worktop (where there is a sink, cooktop, and oven.)
Source: Pinterest
If you already placed your white light and feel like your space lacks comfort, this is where pendant lights will make all the difference.
They can be placed on top of your island, and you can (and should) go for a warmer tone, such as a light yellow.
Perfect combination!
Open space problems x solutions
Most complaints about having an open space include noises and smells. It is something unpleasant to have all over the house daily.
Thanks to modernity, we have solutions for that!
Here are some ideas:
Modern range hoods are noiseless! They are easy to clean and will keep your space odorless.
You can find range hoods on the link 
Cleaning the oven is something that we MUST do and often forget. After all, no one likes stains on the platters and grease odor.
A self-clean oven will do wonders for you!
How does it work?
A self-clean oven (or pyrolytic oven) will heat up to 400 or 500 degrees and burn off residues carbonizing them and turning them into ashes.
The only problem? They can be quite pricey! But, if you often use your oven, worth the money!
Find it on the link
Yes, it can be a pain to have a noisy dishwasher, especially if you live in an apartment and you have an old model; not being able to do the dishes at night can turn into a morning rush and nightmare.
Well, you can quickly solve this problem by purchasing a quiet dishwasher. Most of those products come with other attributes such as Wi-Fi (yes, you read it right), LED light, and AutoStart (that you can program on an app). It is a lifesaver!
You can find on the link
Quiet appliances became a must-have in open spaces. After all, you want to chat and watch tv in the living room nearby with your devices working and no noise to be heard anytime soon.
Conclusion:
Kitchen trends for 2021 – 2022 are continuous, meaning that they will stay in the design world for quite a while, so there is no need to be scared to create an outdated space.
Open spaces can be well designed and practical. You need the right information to make it work.
There are different ways to organize your open space. It doesn't necessarily mean that you need to include an island.
Lighting is as important as storage. You need both!
Open spaces might cause some problems, but they also come with easy solutions. Make sure to understand what your needs are in regards to your appliances. You don't care about noise? No problem, choose the device that will fit your needs.
I hope we were able to help you!
Do you want latest Trends straight to your inbox?
Thank you for subscribing.
Something went wrong.