Trends in living room design in 2020 are, first of all, a variety of colors, shapes and styles. Now, living rooms are not only Scandinavian anymore, but they include bolder decor elements as well. So, if you are planning a renovation, of course, it would be a good idea to familiarize yourself with the 2021- 2022 trends we'll discuss in this article.
Each person has a different vision of home furnishings, some prefer a rustically decorated living room, others prefer more minimalist, industrial, Nordic or boho chic furniture. But there are some basic rules that need to be taken into account when decorating the different rooms in the house, especially in the case of the main ones like our living room. This space is one of the most used in a house. We spend a lot of time in the living room, watching TV, resting or having dinner with a group of friends. Therefore, it must be ready and suitable for any occasion.
Light is one of the most important aspects when it comes to decorating the living room. We all like spaces with natural light which is why it is essential that the window area is clear. Our advice is to avoid placing tall furniture near the windows.
Source – Pinterest
Another fundamental element to obtain an excellent result is the distribution of the furniture: it must rotate around the larger pieces, such as the sofa, the TV cabinet and the central table. Depending on how they can be placed within the room, the decorative process can continue through the secondary pieces.
Living room design 2021: what to watch out for?
The new season allows for interesting trends in decoration and interior design, which can be a great source of inspiration for interior designers. This year, bright colors, natural stones and bright accessories will prevail. The colors chosen are mainly gray and white.
If you are planning on designing your new living room, you won't be able to do that without a comfortable sofa, an armchair and a coffee table. This year's designers focused mainly on aerodynamic furniture, as well as on elegant and rich colors – a burgundy velvet sofa, a green armchair or a beautiful quilted ottoman – these elements cannot be absent from your living room.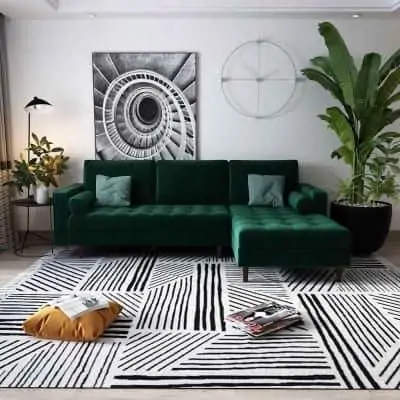 Source – Pinterest
Classic gray interior decor can be upgraded with a large comfortable olive-green chair – it will look great, and with this addition, your design will acquire a unique character. A small color accent in the form of an ottoman is also appropriate – furthermore, it is a multifunctional piece of furniture that you can not only sit on, but also use it as a coffee table. A beanbag in noble colors such as green, navy blue, purple or dark red is the perfect choice for those who love elegant interiors in a glamorous New York style.
Source – Pinterest
Those who are more daring can be tempted by a brightly colored sofa, which violates the style of a minimalist interior and attracts attention. But the most important thing is that it must be practical and functional.
Often, when decorating a modern living room, designers decide to highlight a wall with a different color, bricks or wallpaper, which gives character to the entire room. The walls can also be decorated with large tiles or stone. Such a surface in the layout of a trendy living room becomes an excellent background for a sofa or table. Even if we don't have much to spend for the decoration of our living room, highlighting one of the surfaces will be an ideal way to revitalize the interior and give it character.
Source – Pinterest
Modern living room decoration trends of 2021 – 2022: additional lighting
In the most beautiful living room settings of 2021 – 2022, in order to attract attention, elegant lamps are an absolute must. If you want to highlight your favorite furniture or interior details, you need to make sure you plan and select the lighting at the design stage. A correctly selected lamp is just as important as the furniture you choose for the interior. In some cases, it is a large lamp that attracts attention as part of your new living room.
Find some suggestions of lamps, Check this out for vintage ceiling light. Check this out for Modern ceiling light.
Furthermore, it should be emphasized that you shouldn't choose only neutral cold colors, because warm, upbeat and exciting colors are very popular.
A light beige living room is not only synonymous with classics, but also an increasingly common element of modern furniture. There are several ways to combine traditional colors and textures to create a minimalist ensemble.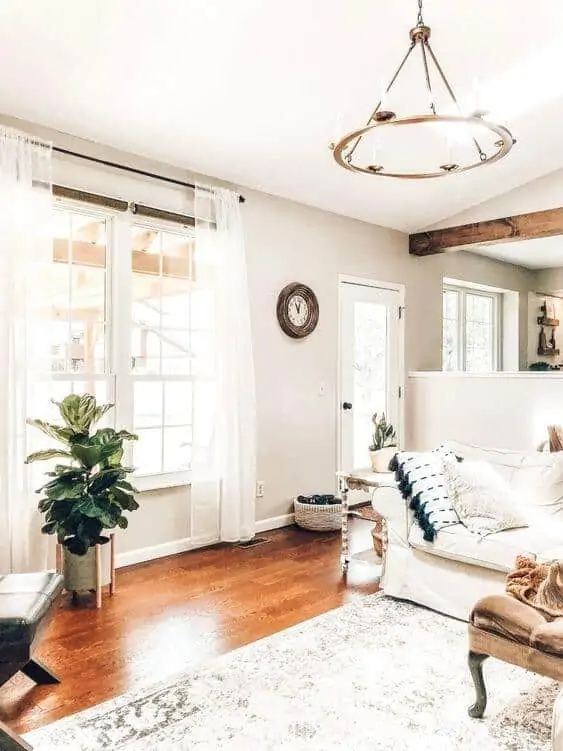 Source – Pinterest
Which living room furniture is a must in 2021 and 2022?
Don't be afraid of bringing eclecticism to the interiors. Remember that the layout of a living room ideally reflects the unique character of the people living there. You can choose very simple corner dressers, modular shelves and cabinets, as well as characteristic and familiar end tables on legs. However, in order to adapt them to modern reality, it is worth updating them with paint or putty materials that are currently trending. If you don't want to or can't do it yourself, look for furniture at auctions or online stores.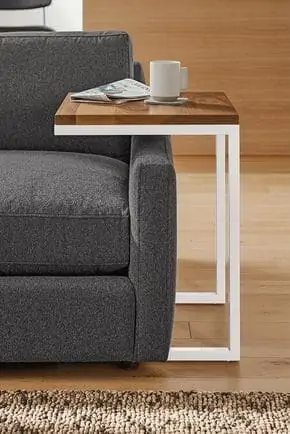 Source – Pinterest
The most important piece of furniture in modern living room design is the sofa. Whether the room is large or small, the sofa should not only be beautiful, but really comfortable. Large modular models that can be freely combined work well in modern interiors. In a retro or classic room, sofas are more traditional. Decorate them with colorful pillows and warm rugs.
Source – Pinterest
Of course, the heart of any living room is a set of soft furniture. If you intend to replace them with what's trending this year, they should be in the form of chairs and sofas upholstered in soft emerald green or brown velvet. You will also need to place a dining table or coffee table, which will not only visually complete your living room, but will also come in handy during your everyday life. Furthermore, if your table is equipped with a glass worktop, the entire room will acquire lightness and a unique character. You can buy trendy tables for the living room in pretty much any good furniture store.
Source – Pinterest
Accessories – Textiles, decoration, lighting
An excellent solution would be to choose floral motifs. However, these are not small wildflowers, but large expressive specimens of plants. Also, in the living room, it is worthwhile to put several large pots with great looking plants: you could choose a palm or a ficus, for example. Fabrics are also incredibly important, for elements such as pillows or rugs. Carpets are an indispensable element in a living room, as they bring warmth and add a touch of personality to the environment. Cold and shiny floors should be forgotten, because it is much more fashionable to choose wooden floorboards or natural panels of good quality, possibly in marble or concrete.
Source – Pinterest
Find textile suggestions, Check this out for Modern rug. Check this out for Cushion Cover Sets.
Ethnic living rooms in 2021 – 2022
Ethnic style is a very broad term, but it can be described as a combination of traditional design and products from all over the world. It is characterized by colors, mainly warm and earthly. Even in a room, ethnic style allows for several colors all together: from various shades of beige, yellow and red to blue (cobalt, sapphire, indigo), as well as purple and brown. Combined in geometric or abstract patterns, they create a fantastic design. When designing an ethnic style living room is a good idea to choose furniture inspired by the trends of the Far East. Choose a dresser, chairs and wooden shelves with a multi-colored sofa and armchairs filled with fluffy pillows.
Source – Pinterest
Sustainable living rooms
One of the strongest trends in living room design in recent years is to choose environmental solutions. A homemade bean bag – made from recycled materials, a handmade pillow filled with cotton balls and napkins, or old updated furniture that has been forgotten in the basement or in the attic. Obviously, all of this won't just look good if put together without a central concept, but if used with attention for details, environmentally sustainable furniture will look unique and incredibly beautiful. Don't know how to use antique objects and natural materials? On the Internet you will find many videos with detailed instructions, as well as articles and tips that will make this task easy and fun.
If you feel like getting your hands dirty and try out some DIY projects, one of the 2019 trends that is still very strong in 2021 and will continue being present in 2022, is the use of pallets.
Pallets were once only found in places like construction sites, warehouses or supermarkets. But now they have become proper decorative elements, and in some cases even furniture, in the most modern homes. Something unimaginable until a few years ago.
Source – Pinterest
There is no doubt that taste change just as society evolves. The aesthetic canons of the past might seem crazy today, and vice versa. Furthermore, environmental awareness has generated a boom in the reuse and recycling of many objects. And pallets are one of the best examples, since extending their life helps reduce the number of trees destroyed for furniture.
They are an alternative all the more useful the more you are able to get creative. Pallets can become beds, sofas, tables and vases, or even practical coat hangers. The determining factor is imagination and, in some cases, the ability to do it yourself.
Which 2021 and 2022 trends are your favorite and which one will you use to decorate your living room? Let us know in the comments!
Do you want latest Trends straight to your inbox?
Thank you for subscribing.
Something went wrong.