This year, more than ever, the house has become our safe nest. In living spaces, increasingly modern and comfortable, great attention is also paid to the colors to be used on the walls and the furniture. If this year the Pantone colors are yellow and gray, you'll find plenty of nuances that bring back a connection with the earth at home.
In fact, in 2021 and 2022, the colors to use at home will be earthy ones, like all shades of brown, but also those related to nature, like all shades of green, including pastel colors.
What are earthy colors
Brown, in all its warmest shades, is certainly one of the nuances that allows us to re-establish, within the home, the much sought-after connection with the earth and nature. Brown, therefore, is confirmed among the trendy colors. In addition, this shade is very versatile indeed. In fact, it is perfect for the kitchen, perhaps in a chocolate shade, but also for the bathroom, with a hint of gold to make it even brighter, or in the bedroom, instead choosing shades with a hint of red inside.
Source: Pinterest
This shade, between orange and brown, helps to immediately warm the environment. Therefore, it is perfect especially for the living room, where you can choose a more salmon-like or darker, almost rust-colored shade.
Furthermore, terracotta is a color that is suitable for different combinations. In fact, it goes great with blue, but also with gray and pink.
Source: Pinterest
The sand color is certainly among the most muted shades in the earth palette for use at home. This color, incredibly soft, immediately gives a sense of tranquility and, moreover, immediately brings us back to the beautiful summer days spent on the beach sunbathing.
This shade, in the same way as terracotta, allows you to make many combinations. In fact, it goes perfectly with warm and soft colors, such as peach or antique pink, but also with green, both dark and pastel, to enhance the "connection" with the earth.
Source: Pinterest
Among all the greens, the pastel shades are certainly one of the most beautiful and trendy for 2021. This shade, in addition to recalling the colors of nature, is perfect for the bathroom, but also for the bedroom and the living room. The lighter shades, in fact, are the most suitable to give that hint of enveloping tranquility that, often, you want to have in the bedroom or living room, the two places most intended for relaxation after long days of work.
Here too, as for the other colors, the combinations are different. Pastel green goes very well with all shades of the earth, from brown to terracotta, but also with other colors, like all pastel shades, also perfect for wallpaper, or pink shades, such as salmon and peach.
Source: Pinterest
How to decorate interiors with earthy colors
Decorating with earthy colors is a pretty safe strategy because they can actually be paired with any style. In fact, they are always versatile over the years, even with the updating of trends and personal preferences.
Earthy colors tend to be colors that provide an excellent background to any other tint, providing a solid foundation for decorating whatever your style is.
Source: Pinterest
Furthermore, earthy interiors are more popular than ever and there are many good reasons for this, such as the fact that earthy rooms are elegant, classic and never go out of style.
However, there are several factors you need to take into consideration when decorating with these colors. Beige or ivory, for example, are comparable to white when creating the basis for your furniture. While, painting a light dove gray wall helps create an ideal background and then intervene with other brighter colors.
So here are our tips for decorating with earthy colors your gorgeous living room, starting with "what are earthy colors" and how to find more to match with one another.
This already allows you to range in a series of other colors and nuances that widen the palette of the room.
There is a great debate regarding the definition of "earthy": colors that do not appear on the color wheel are generally considered earthy. They are soft, subtle hues and blend effortlessly with other colors.
Traditionally white, beige, gray, taupe, khaki, sage green and ivory are earthy, but keep in mind that all of these can have different shades and can be considered warmer or colder (which doesn't make them less earthy). Furthermore, earthy colors tend to be soothing and easy to use, which is why so many interior designers use them.
In fact, unlike stronger colors, which can be difficult to match, earthy colors work with just about any other color.
Good to Read : How To Create An Aesthetic Living Room
Furnishing with earthy colors
Decorating with a earthy color scheme is generally considered "safe", but if you don't know the limit, a earthy room can be dull and boring. If you plan on decorating with earthy colors make sure you do it right!
Add different textures to ensure the "structure" of the earthy environment
Source: Pinterest
When decorating with a earthy color scheme, it is important to introduce a variety of patterns and textures. It compensates for the rigid with the soft, the glossy with the opaque and the rough with the smooth, to create depth and interest, making the room more dynamic.
Source: Pinterest
If you have inserted several lacquered or textured furniture, or woods without visible veins, try to tone down the "flat" effect with other materials and patterns.
Source: Pinterest
Think about the use of textures in the sheets, through geometric patterns, velvets, braids, leathers and more.
Source: Pinterest
When it comes to using textures in an earthy living room, for example, try to combine similar motifs (e.g. geometric) to create contrast, but don't overdo the tones so as not to distort the initial concept.
By "texture" we also mean the grain of the wood you use in your living room. In an environment mainly characterized by lacquers, seeing natural veins both on the floor and in the furniture is far more interesting than having everything flat.
Source: Pinterest
You can also choose to break the monotony with a single different color for a "wow effect". In fact, using earthy colors does not mean that you cannot have strong contrasts. Furnishing with earthy colors such as white and iron gray, for example, can create a very strong contrast in the room. Using them together is not impossible, on the contrary, it is often a good strategy to break the monotony.
If, on the other hand, you want to give a brighter touch, you can always use a piece of furniture, for example an armchair or a sideboard, in a more striking contrasting color, to make it stand out in the room.
Good to read : Most Popular Curtains for Living Room Designs
How to achieve the wow effect
Sometimes, the best way to make a earthy living room more interesting is to add a "wow effect" in the space.
The type of "wow effect" is up to you: it can be an oversize or eye-catching piece of furniture, but also an exceptional work of art, a fantastic pendant lamp, a bold carpet or an out-of-the-ordinary piece of furniture.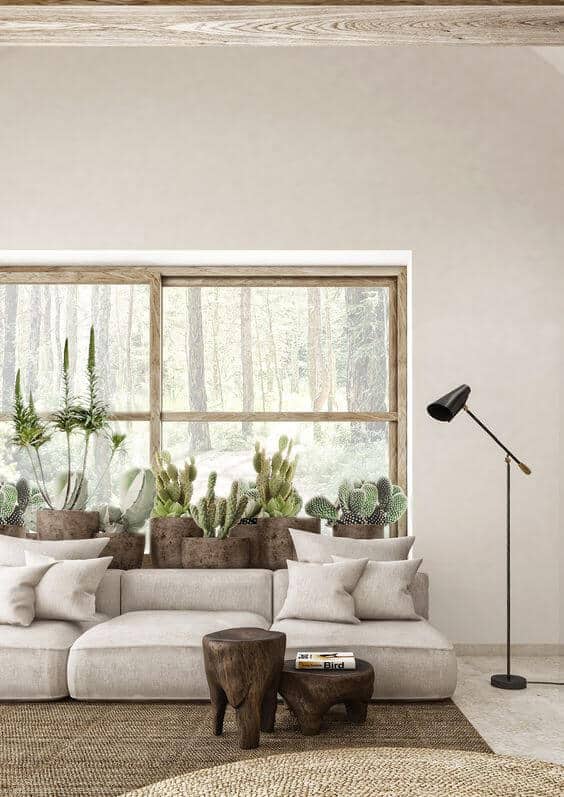 Source: Pinterest
Whatever it is, however, it must adapt to your personality and tastes because otherwise you will start to feel a strange sensation, which is that the the room is not really yours.
For example, remember that gold, bronze, copper and brass can really change the look of your interior! Elegance and sophistication are easy to achieve when using earthy tones. A long soft curtain or a wrought bronze coffee table can give a luxurious look and create an atmosphere of perennial elegance.
Even if metals are considered more industrial, in recent years the attitude towards them has changed, they have now become a reference point for creating a little contrast in earthy environments.
The layering technique
Layering is what achieves the greatest sense of depth in a space and in an interior, especially if earthy. You can always stack fabrics like blankets and pillows on sofas and chairs, but that's not all.
Try to stack the rugs in front of each other, or place paintings, works of art or decorations facing each other. The goal is always to create a rich but not confusing environment.
Source: Pinterest
When choosing the various accessories you must refer to a general compositional idea, not to your mood of the day. Combining multiple objects and accessories of the same type, as if they were specially researched and designed, helps a lot in creating the perfect look.
Furthermore, remember that when the colors used are few, the eye of the beholder focuses on the shapes. Therefore, you must be very careful to choose the right pieces of furniture, which enhance the shapes and the whole.
What this mean is that it is not just the color that characterizes an interior. The furnishings also help create a very interesting environment: a too empty or too full living room can unbalance the initial idea and make the space anonymous or chaotic.
An ugly floor can become the negative protagonist of an interior if the furnishings are not chosen with almost maniacal care. The soft shapes of the curtains and upholstery can help improve the look & feel of large or too square environments with little.
Do you want latest Trends straight to your inbox?
Thank you for subscribing.
Something went wrong.