Are you looking for a way to recreate the midcentury magic in your home? Using the vibrant hues of mid-century modern paint colors would make the perfect pop of color for your living room.
Your living room is the most important part of your living space. Therefore, the paint color you choose has a huge role in your general home design; it determines the kind of impression you would make to your visitors.
Source: Pinterest 
Although there are different colors that you can use in the mid-century modern era, you must find the perfect color that suits the architectural details of your home. Getting the ideal combination is a great way to decorate your family room.
What Is Midcentury Modern Style?
This style is popular for its simplicity and emphasis on functionality. It included the use of various traditional and non-traditional decorative elements. The Midcentury modern period falls between the 1930s to the 1960s, and the 20th century brought about prominent designers that are still recognized even to date. Some of these designers include:
Arne Jacobson
Mies van der Rohe
Florence Knoll
Charles Eames and Ray Eames
Verner Panton
George Nelson
Edward Wormley
Eileen Gray
Source: Pinterest
The mid-century modern look brought clean lines, pops of color, and organic curves into home decor. It featured dark colors, earth tones, warm tones and ranged from neutral colors to bold ones. Materials such as plastic, wood, plexiglass, vinyl, metal, glass, and even vintage lucite were used for the mid-century modern decor.
Good to Read: Living Room Trends – Art, Color, Carpet or Furniture?
After the second world war, interior designers built modern homes to make up for the devastation of such a time. A good example is the Eichler home designed by Josef Eichler. The mid-century modern design stood out mainly because of the technological advancement that brought about new design elements. This made it easy to explore different shades for the dining area, kitchen cabinets, and especially the living room area.
Source: Pinterest
Mid Century Modern Living Room Ideas
There are various design options that you can try out to create the perfect mid-century living room. All you have to do is settle for an excellent choice that suits your home, fits your preference, and falls within your budget. Once you've settled all that, you can go ahead with your decorations.
Go Natural
One of the major themes that you can use for your entire room that fits this style of design is the natural one. Natural wood furniture is a perfect choice for you to get a simple feel for your living room. This means that you have to go all out with a wooden ceiling beam, wood paneling, wooden floor, and some natural light to achieve character and warmth.
Source: Pinterest 
You can use teak, maple, cherry, or beech as your mid-century modern furniture. But, if you're looking for inspiration, you can check out how Florence Knoll uses natural materials to create a sophisticated and simple look. Also, it would help you know the right furniture to use to design your mid-century living room.
Good to Read: Victorian Style Living Room – How to MIX and Match?
Use Sublime Furniture
Sublime furniture is a practical way of dealing with small spaces. If your living room is a single room that looks cramped, you can use this type of furniture to create an illusion of enough room. If you choose this design, your room can begin to feel bigger and full of space because you chose the perfect furniture.
Source: Pinterest 
Mix and Match
This is a creative way to integrate your mid-century modern materials into your living room. It is a good design option if your living room is large; it gives a liver look that makes the space interesting and fun. If you love to try your hand with various styles and eras for home decor, this idea would be perfect for you. The biggest challenge with this idea is creating a coherent look even while expressing your freedom.
Source: Pinterest 
Create a White Minimalist Look
You can never go wrong with the white color. Settling for the minimalist white look would make all your inspired light fixtures more visible, especially with white walls. It would serve as a perfect background that allows even natural light to penetrate with ease. If you want to create the perfect effect, you can settle for white linens or pale pink.
Good to Read: How To Create An Aesthetic Living Room
Add a Stunning Eames Chair
You must be wondering what is so special about the Eames chair? Apart from being one of the best pieces of the mid-century modern sweethearts, Charles and Ray Eames, the chair is popular for the great comfort it provides. This would make your living room look more elegant and aesthetically appealing.
Source: Pinterest 
The major theme of the Eames chair is to provide you with a functional piece that centers around practicality while still considering the aesthetic features of your house. Therefore, although this chair comes in various designs and variations, you should choose based on your specific needs.
Mid Century Modern Colors for Living Room
The mid-century modern color palette was limited, and the style lacked ornamentation. However, the mid-century modern style consists of bright colors, darker colors, and even warm neutrals that would make your living room pleasant and comfortable. Here are the paint colors: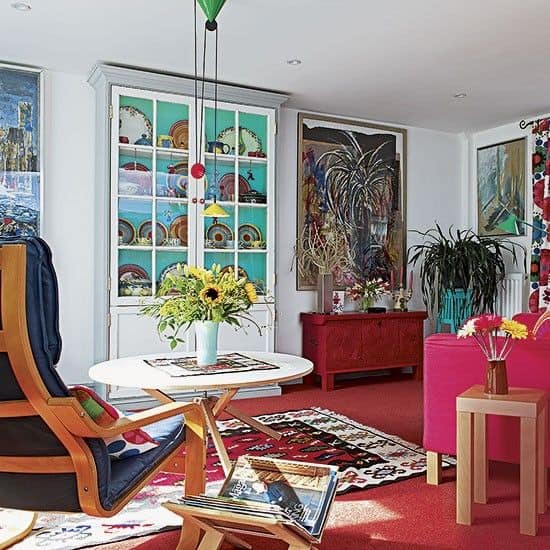 Source: Pinterest 
Red
This accent color suits homeowners or designers that love to make bold design decisions. One of the popular shades of red in the color scheme is Cherokee red which is Frank Wright's favorite. Not only did he use this color for his residential projects, but he also covered his floor with it. The color holds much relevance and significance in various cultures. However, red lost its popularity in the 1960s only to resurface in recent times among the mid-century color palette.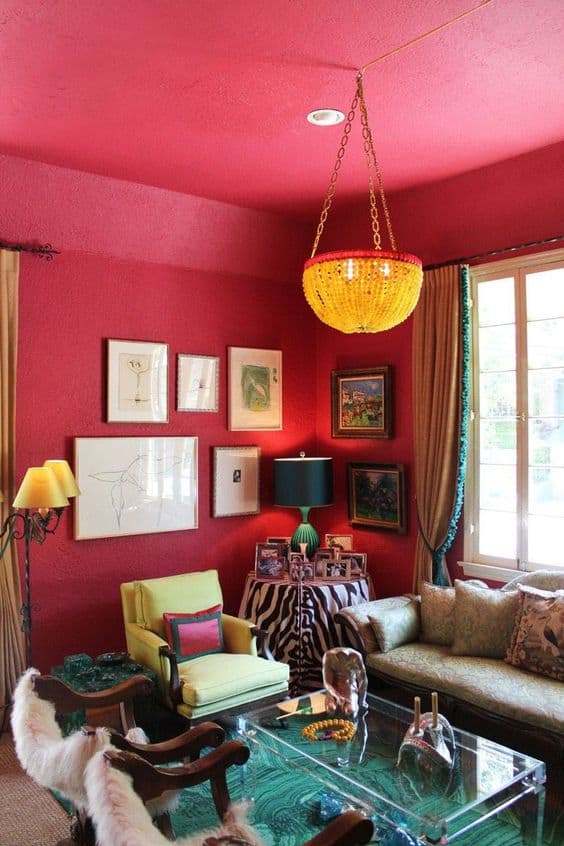 Source: Pinterest 
Earthy Greens
Earth shades are not only suitable for painting your living room but also your dining room and bedroom. It is a great color choice, mainly because it makes your home interior cool and cozy. You can combine it with burnt orange or neutral colors to make the earthy green color more visible. It can either be olive green, wasabi, or ivy green that you can use for your room. This color is an excellent choice for accent walls.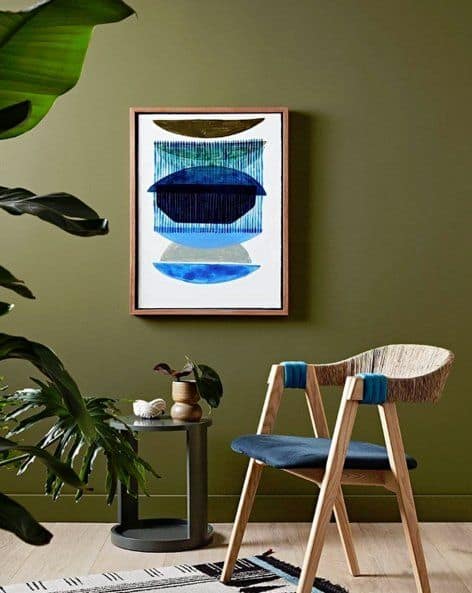 Source: Pinterest
Cool Blue
Among exterior colors, blue stands out because of its light feature. However, you can combine it with darker colors to create an exhilarating effect for your visitors.
Good to Read: Living Room Furniture Trends – What remains and what is new
Soft Pink
Soft pink is a color that is perfect for your home interior. Regardless of whatever hue you want to use in complementing it, it would blend perfectly. In addition, it has a neutral feel that allows you to add other pops of color quickly.
Classic White
You can also choose to play it safe with the white color. It keeps your living room decor looking simple and considerably modest. However, if you're looking to create some twist in the design, you can throw in a leather sofa with vibrant colors or a rug to make it pop.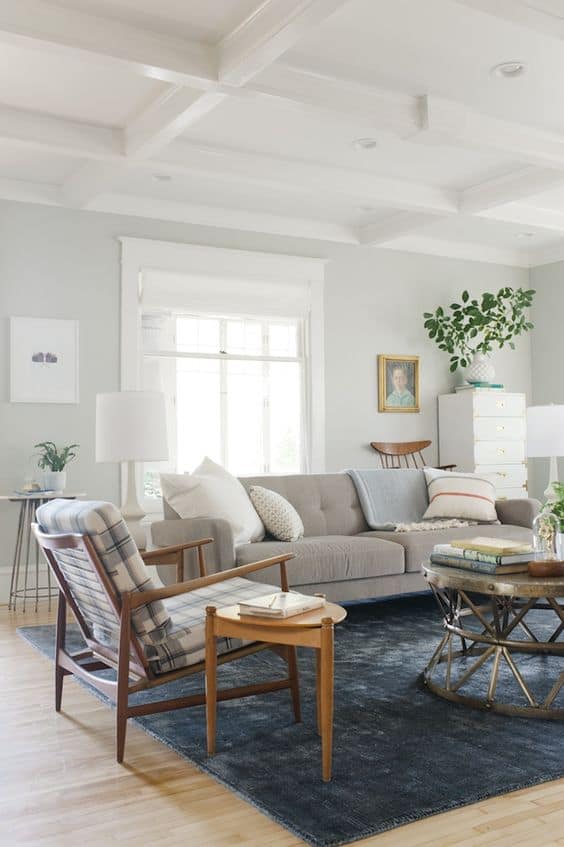 Source: Pinterest
Golden Yellow
Golden hues are among the most popular colors of the mid-century modern era, especially for home exteriors. However, you can also use the perfect warm gold paint for your kitchen—golden yellow shade pairs with tan or burnt orange.
Taupe
Taupe is a medium gray color that is great for achieving a calming and soothing feel in homerooms. It has solid brown undertones that are earthy and quite inviting. Imagine this color with a coffee table and a stone fireplace wall to create the perfect mid-modern style.
Teal
This is a great color that you can pair with vibrant hues to create a much livelier look. Teal as a bold color helps to add personality and a friendly feel to your living room. It is a perfect option for your home interior.
Source: Pinterest 
Benjamin Moore Paint Colors
As a company, Benjamin Moore has a consistent track record in making exceptional color tools and paint. These colors are sophisticated, and they transport you straight to the mid-century era because they capture the spirit. They include:
White Opulence
Wales Gray
Ashwood
Woodstock tan
Terracotta tile
Incense stick
Final Words
The mid-century modern style is one you can incorporate into your home decor. It uses unique colors and different shades to make your living room look fantastic. Your design is then complete when you integrate the design elements of furniture and other materials to make it excellent.
Do you want latest Trends straight to your inbox?
Thank you for subscribing.
Something went wrong.