With the legit and eye-catching 2022 bedroom color trends, no one wants to wake up and leave their cozy bedrooms. However, a colorful bedroom takes sleep and comfort to another level, i.e., leaving the room would be a series of very disenchanting mornings.
When choosing a color for your bedroom, you must understand the difference in the impact they bring to you. For example, some colors are meant for body relaxation while others kick in for the activity.
Bedrooms build a connection with you deeply and make one fall in love and want no other. Having the right color for your bedroom would give you a cozy environment to sleep in and allow you to set the kind of mood you want in your crib.
Since wall paintings can be easily reversible and replaceable, designers have put their best foot forward to come up with interior decor colors suitable for painting and decorating one's room to meet your expectations and desires. Naturally, therefore, wall paint colors vary from one individual to another.
Designers and Color experts have seen it to help you select and pinpoint colors for painting your bedroom and getting to make a perfect, personal, comfortable space out of it. In addition, you can use a spectrum of different colors for your accessories and furniture to spice up the tone of your room's appearance. Nevertheless, follow your passions when selecting colors for your bedroom walls.
Source: Pinterest
Which Are The Best 2022-2023 Bedroom Color Trends?
The following is a list of top and trend colors that you would love to give a try, considering the type of mood you want to coat your bedroom with.
Blue
Color experts and Designers have highly endorsed blue color for bedroom painting and decor. People with blue bedrooms are acclaimed to having longer sleeping hours compared to those with different bedroom colors. Blue is usually brought in as a neutral since it can easily accommodate other colors and shades.
Cobalt blue illuminates a light in the room and bouncing light off the walls back into the room.
Steel-blue color is well known for its ability to pull light from different directions and concentrate it at one point, thus the standing-out effect.
With its wide range of light shifting experiences, a blue wall will work well with a white ceiling and eventually achieve versatile surroundings. In addition, the sky blue color induces a high sense of personality and attachment to one's bedroom.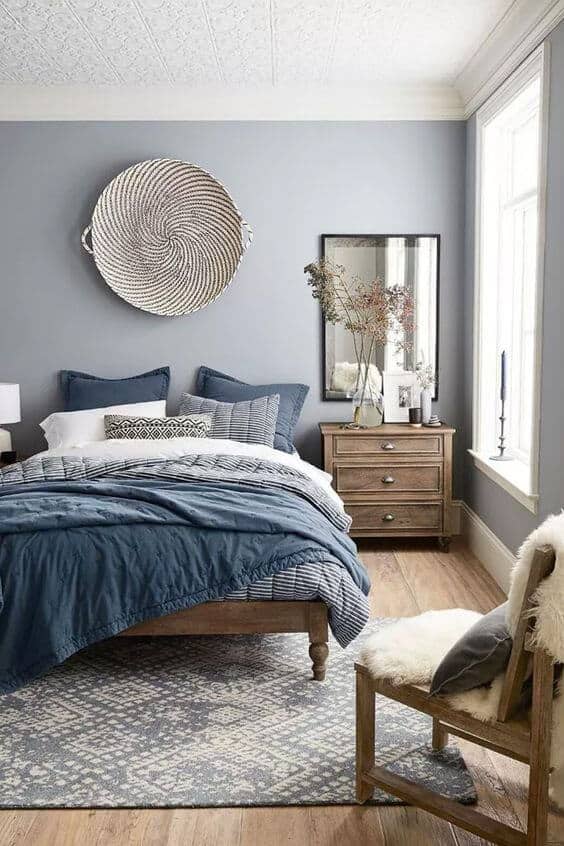 Source: Pinterest
Red
The color of love was a big trend in interior decor color preferences in the 20th century. It is still trending in 2022 and may still be a trend in 2023 bedroom color trends and 2022 bedroom color trends. However, designers in the modern world have minimized the appearance of this popular color in their layouts and masterpieces.
Red generates an overwhelming effect in the surroundings. However, its lighter shades have been used to make mats, carpets, rugs, and lamps for the interior and creating an eye-appealing finish due to the warm and chic tone it possesses. Minimize its appearance by having a big window on the respective painted wall or choose a muzzled shade to break down the intensity of this deep color.
Careful when using red walls with wooden furniture; it might bring a sophisticated tone to your room. Even though bright red generates high energy, it achieves a sense of calmness and warmth in the air. Mix with purple for wall accentuation and emphasis.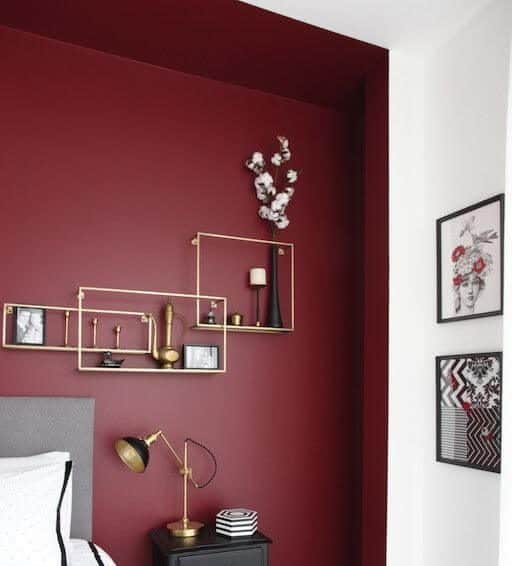 Source: Pinterest
Green
Green is the color of nature and life. It dictates liveliness everywhere it appears and makes the place look more cheerful and eye-catching to the respective individual.
People sleeping under green ceilings or in-between green walls always wake up feeling positive and energized. This is because different shades of green stand for the self-conceit and well-being of an individual, thus generating a sense of motivation.
Green is amongst the top-recommended bedroom decor colors because of its elements of both warm and cold shades due to its calmness and fun. It stands out when combined with extra-vibrant shades for furniture and accessories.
The deadened green color shades blend well with modern craft designs, while the deep classic ones work well with more traditional decors, bringing out that elegant look you fancy for your room.
Lime green for your walls perfectly merges with a wide range of craft and decor. Dark green shades bring a cozy tone to your room. Saturated avocado green easily mixes with other colors and fuses with everything to bring about your desired mood.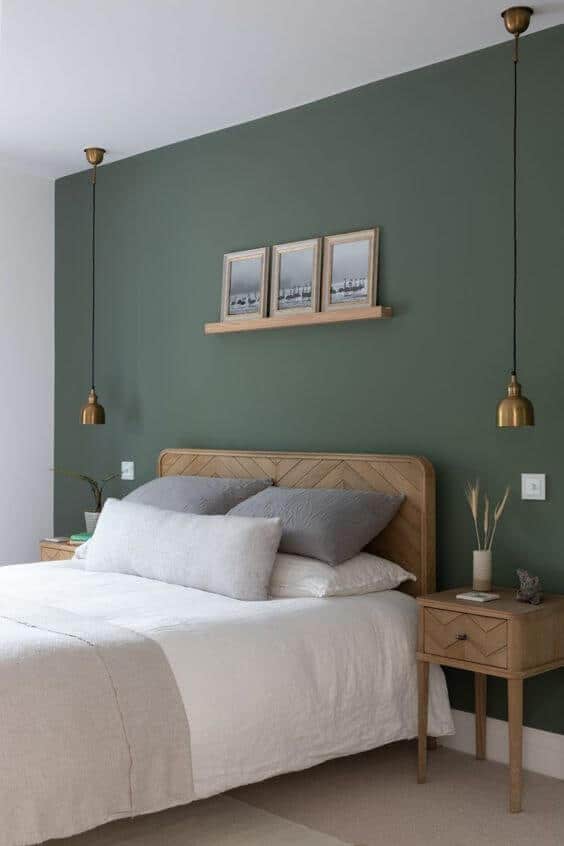 Source: Pinterest
Yellow
Yellow represents delight and cheer. It not only brings in warmth but also energy for the respective individual. It also stimulates the nervous system, thus contributing to body relaxation and a 'chill' mood. Furthermore, yellow shades achieve comfort and ease in the room, making it a suitable place to rest, take a nap, or even have a relaxed good night's sleep.
Source: Pinterest
Black
Black is well-known for its capability to amplify a smaller space. It well suits the bedroom because it achieves a more memorable and intimate mood that you won't be able to accomplish with brighter and lighter hues esp. soft black. Initially, the black color perfectly gets along with white, becoming a classic and dynamic duo.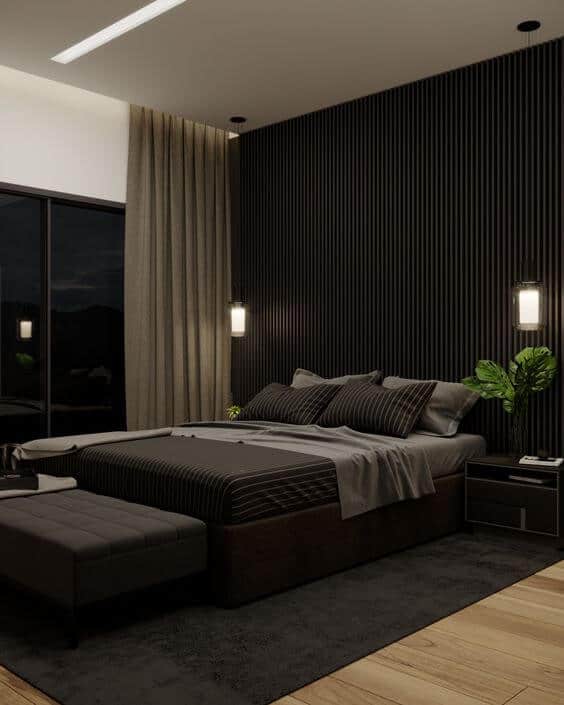 Source: Pinterest
White
White color has occurred to be a huge paint color trend in 2022. It mixes well with a wide range of color shades since it accommodates them maximumly and helps them stand out.
Source: Pinterest
Purple
Purple-colored bedrooms are known to have the least rested/relaxed sleepers.
It stimulates mental activity and makes it difficult to ease their minds even after having a hectic, long day. Purple might come along with tons of nightmares and dreams. It is always advisable to mix purple with white to produce a sense of calmness in one's bedroom.
With its lively and attractive form, purple displays contrasting textures and sets an exciting mood in the surrounding. Lighter purple shades in the bedroom, i.e., lilac, lavender achieve the same serene mood as blue. Color experts recommend lavender for children and adults in that it's a calm tone and appearance.
Some people paint a single wall in purple to increase the emphasis and highlight a specific part of their bedroom. Self-chosen purple rugs, lamps, pillows in one's room can also emphasize different sections of one's room.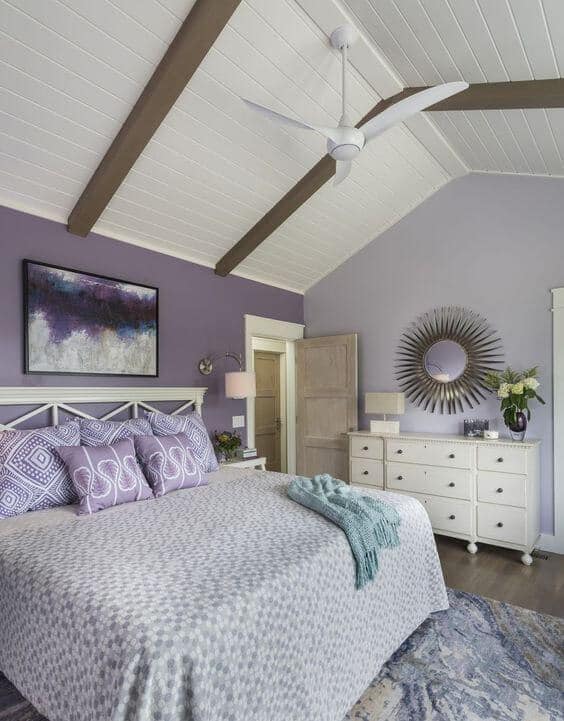 Source: Pinterest
Beige
Beige is considered a neutral color and excellent for facilitating rest and contributing to relaxation; at the same time, it gives warmth to the bedroom and also that refined touch indispensable, especially in classic environments. Therefore, beige is the ideal paint for a classic bedroom, made with predominantly light wood furniture. It is an easy color to combine with different materials and colors, but to avoid creating a too "dull" room, it is better to combine it with more lively colors.
Source: Pinterest
Orange
Orange, strictly in a soft shade, is a reassuring and anti-anxiety color according to chromotherapy. It is able at the same time to recharge the psyche and the body and to give the bedroom a vitaminic, fresh, and modern allure, suitable even for children. However, it is often perceived as very energetic; it is good to bring it into the room in small doses using accessories or small decorations, fabrics, or upholstery.
Source: Pinterest
Pink
Pink symbolizes femininity, but it can also be a cure-all in double or purely masculine bedrooms. In addition, it helps those who have insomnia; it is a lovely, pleasant, easygoing and welcoming, sincere, and harmonious color. Moreover, it can be combined with many other colors to create, depending on the taste, more lively or more minimal and classic rooms.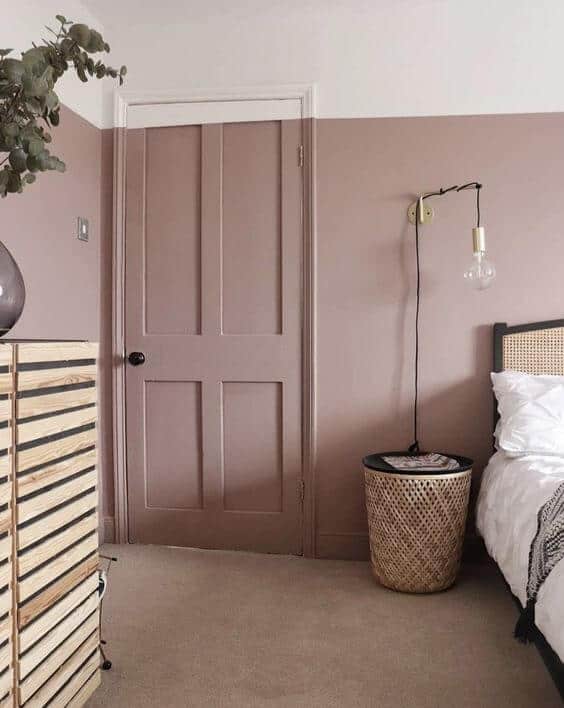 Source: Pinterest
Dove gray
Dove gray could not be missing among the colors for the bedroom suggested by chromotherapy. It is available in infinite nuances to find their favorite; in general, it is hyper refined, classic, contemporary, and easy to combine. The colors with a little brown and gray are more masculine or perfect to combine with feminine nuances. At the same time, those with lilac or pink will be excellent together with black, brown, blue, and white. Dove gray relaxes, emphasizes a modern design harmony, and is now a true evergreen. Furthermore, interior designers consider it the classic bedrooms.
Light yellow is also a lively color that brings energy and a good mood. For bedrooms, it is better to use only its softer variant, excellent if pastel. It also stimulates creativity and concentration and is ideal with the desk or corner dedicated to smart working. In the same way as orange, it is better to use it in a room with furnishings, decorations, and fabrics.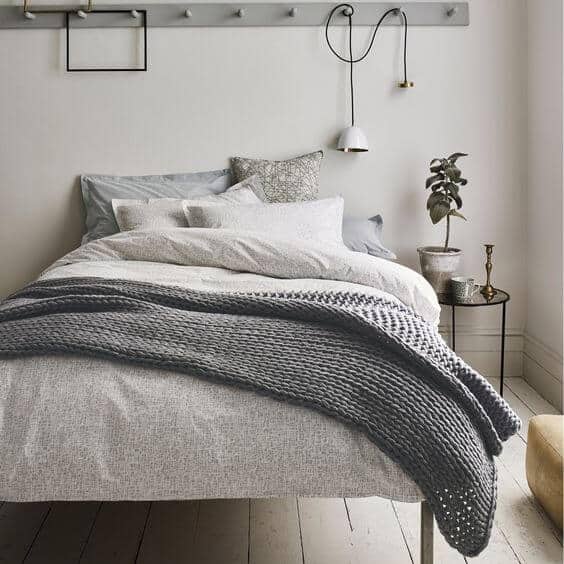 Source: Pinterest
Teal
Teal was one of the colors for the 2020 bedroom most matched with coral, and many have chosen it for years. Teal green is reminiscent of pastel shades and will also be beloved by children, while adults can use it with a painted wall or furnishings and decorations. It is also easy to match, fresh, hyper relaxing, and suitable for all seasons; it characterizes and goes well with the most varied styles.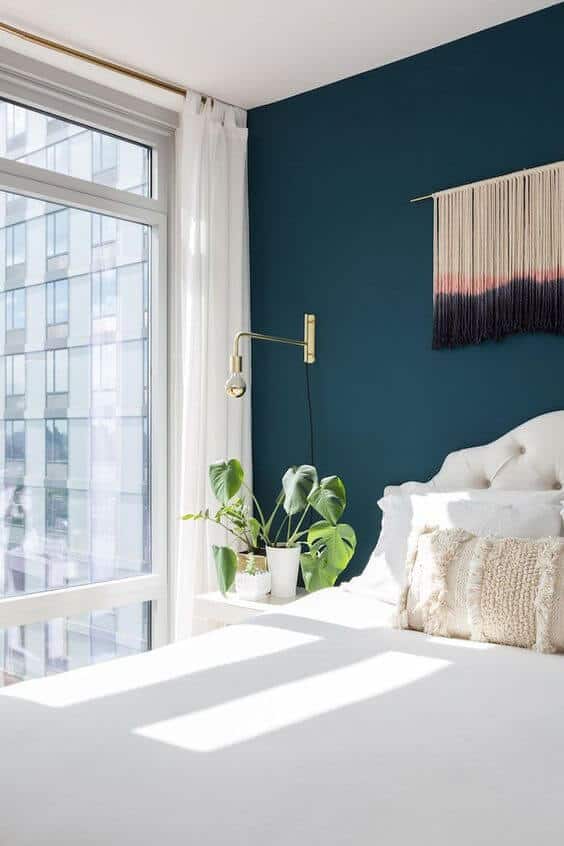 Source: Pinterest
Color Combinations In 2022 Bedroom Color Trends
Color shades are classified and range from the most vibrant shades to the deepest and elegant ones. Some color shades blend so well in others and create a cozy and comfortable environment considering the type of mood one wants to achieve.
A simple Black and white mixture has been popularly used for interior and exterior decor for quite some time now. But, on the other hand, the high contrast black and white combination is a bigtime hyped-up duo that has been widely used for painting, therefore, explaining its rapid appearance on people's walls and its general functionality in interior decor.
It's prominent for producing energy and strength, not forgetting the calmness it generates due to its simplicity.
Combining different colors using one bright shade will allow adding other preferred shade-strokes to accomplish the mollifying effect you desire for your bedchamber. Green can blend well with other colors to make spectacular decors perfectly. Green walls integrate flawlessly with other color shades for furniture, thus achieving the breath-taking appearance anyone would want for their bedroom.
Source: Pinterest
Kids' Bedroom Decoration
Children fancy bright colors and shades that bring a cheerful mood to their surroundings. Wallpapers, Paintings, stripes, and designs add fashion and style to one's bedroom. A child's room should be as appealing and eye-catching as possible. In addition, kids need a lively surroundings to move around and enjoy the well-bred decoration.
Designers recommend dull and muted colors for ceilings and brighter shades for the walls. This helps highlight the walls and emphasize certain sections/parts of the room.
Create an undeniable interesting cool space for your little one. Using some bright and vibrant color shades, you can get to make a child's crib with their best friend. Go for blue color shades when painting a child's bedroom. The following 2022 bedroom color trends will be perfectly commodious to the little kiddie:
Pale green
This bright shade of green color produces plentiful natural light for the bedroom.
This makes the room feel bigger and more friendly for the minor, ensuring enough space for dilly-dallying.
Source: Pinterest
Sky blue
This restrained shade of blue is widely reputable for making people cope with some Z's as soon as they come into contact with their rooms. It achieves a relaxing vibe and creates a peaceful environment for the little guys to rest after having their 'long days'.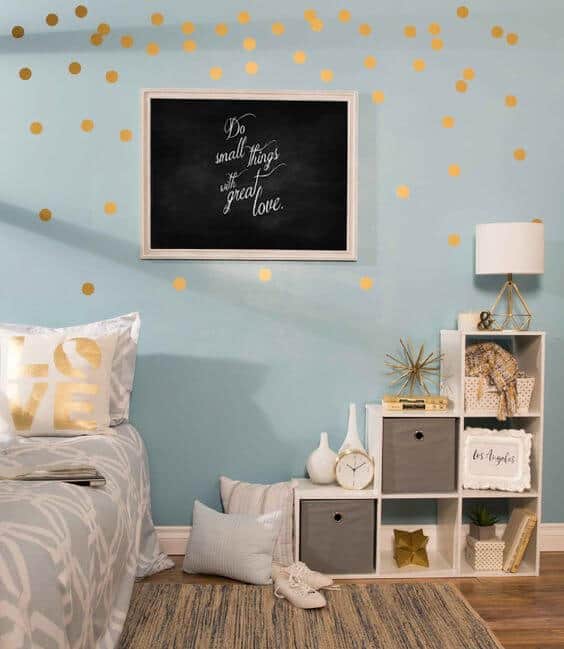 Source: Pinterest
Yellow
The brightness and merriment this fashionable color displays achieve warmth and generate energy around the room. Moreover, this helps mentally stimulate these young ones towards performing their assigned tasks, i.e., homework and other school assignments, quickly and within a concise period.
Source: Pinterest
2022 Bedroom Color Trends – Conclusion
Out of a bedroom, one should create a personal ideal space sanctioned for rest, relaxation, and intimacy. Therefore, you should consider your passions before calling shots and getting to choose the type of color you want for wall paints and general interior decors.
You always have the authority to control the type of mood you want in your space. Ranging from the most vibrant to the deepest shades, you should be able to select the different hues you desire for your bedroom and get to command the atmosphere.
Using the above 2022 bedroom color trends, you'll be able to achieve a specific mood/feeling in your personal space. Set the right mood and make your little palace the most subordinate place on the globe. Consider also these curtains for your bedroom and the rest of the house.
Do you want latest Trends straight to your inbox?
Thank you for subscribing.
Something went wrong.