The end of 2020 and the beginning of 2021 bring exciting trends in the world of interior design. The new season is characterized by a more mature design than in the past thanks to the linear and clean shapes of the furniture, but with reference to the past materials. Read on to understand to latest Coffee Table Trends.
What are the essential elements of a 2021 living room?
A properly trendy living room cannot fail to have comfortable armchairs, a fantastic sofa, and a stylish coffee table, all paired with unique details.
Believe it or not, the coffee table is one of the most essential living room elements. It performs a practical function, serves an aesthetic function, and delineates the difference between a structured room and one that is not organized and well thought.
2021 will be all about low tables made with different materials and in various sizes. Modern coffee tables, in fact, are made of glass, wood, metal, and even plexiglass for an original look and a modern design.
What are the 2021/2022 coffee table trends?
Source: Pinterest
Geometric furniture became increasingly trendy in the last years, and the same can be said for 2021. Say goodbye to traditional round mirrors, substituted by hex-framed mirrors, and to regular square or rectangular coffee tables. Instead, think geometrically: choose hexagonal, pentagonal, or merely abstract shapes.
You are not sure whether an eccentric shape coffee table can fit in your living room? Well, if your living room has no bright accents and is mostly composed of straight and simple lines, the answer is: absolutely yes!
Source: Pinterest
If your living room's interior does not showcase any bold colors, you might want to go out of your comfort zone, and therefore choose a coffee table with an unusual color.
The triangular coffee table with rounded corners is another excellent trend of 2021 coffee tables. The minimalist aesthetic makes it a timeless piece of furniture. In 2021, black furniture will be present in most living rooms, while white coffee tables will be paired with light furniture.
1. Wood
Everybody knows wood furniture never goes out of style. But not always wood – or all types of wood – fit the living room style, especially when it comes to such a central piece of furniture like the coffee table.
A little tip for a stress-free experience: waterproof your coffee table with spar varnish to avoid cup rings all over the place.
2. Steel
Sources: Pinterest
Steel is highly in demand when it comes to interior design, as it adds a luxurious element to the room, and it is also quite versatile. In fact, we can fit a steel coffee table in many interior styles, such as loft, industrial, Scandinavian, hi-tech, and grunge.
3. Glass
Glass is an excellent solution for both traditional and modern spaces. Suppose your coffee table isn't the central element of the living room. In that case, a glass top with finishes that blend in with the rest of the furniture will be an ideal solution. Glass is an excellent material. It creates a feeling of spaciousness and order, even though it requires a high level of maintenance.
4. Marble
Furniture made of marble is quite luxurious and indeed a statement. This material is also very durable but needs proper care and careful use.
5. Acrylic
An acrylic coffee table is a perfect choice for a small living room. This compact and transparent material will allow you to add a coffee table without cluttering the space.
6. Brass
Source: Pinterest
Brass looks luxurious if appropriately paired. If you have a vintage living room, definitely choose an antique brass coffee table. It will catch everyone's attention!
As for the combination of materials, the following combinations will be the most popular in 2021:
wood and glass;
wood and brass;
glass and metal;
wood and metal;
brass and glass.
Modular coffee tables
Sets of two or more tables, made in the same style but usually in different sizes, will be trendy in 2021. They are quite convenient, as they can be put together and separated when needed.
Functional and multi-level designs
If you need extra storage to store books, magazines, blankets, and whatnot, a multifunctional coffee table will change your living room. Find models with shelves, compartments, drawers to get the most out of your coffee table.
Are lift top coffee tables worth it?
Source: Pinterest
Absolutely yes, if your living room is not very spacious, as it can be transformed into a dining table. You will be able to switch from one to the other in seconds, and some options will allow you to fit it at the perfect height.
How to choose the right coffee table for your living room
Source: Pinterest
To choose the right model, you have to take into consideration some aspects such as, for example, the shape of your space and consequently you have to adjust with the size of the table. It must be proportionate with the rest of the environment, which means that if you have a small space, you should choose a compact and functional model. On the contrary, if your living room is spacious, you can indulge in the most unusual sizes and models.
It is equally important that the coffee table conforms to the other furniture's style and design in the living room to give the image of a coherent and orderly environment.
Aesthetics and functionality
Well-placed tables are the heroes of living room comfort – imagine a perfectly decorated space with no place to put your cup of tea or coffee, your magazines, or phone.
You can avoid this problem with a few carefully placed tables that can also turn into extra seating when guests arrive. Think about storage space: you may want to equip your living room with a chest of drawers, a sideboard, or a media station.
A few rules to follow:
You will need to consider how you will use it. Your choice will largely depend on your needs. Don't just think of its aesthetic beauty, but pay close attention to its size as well. So always keep in mind that:
The coffee tables should be at the same height as the surrounding seating, on average 45-50 centimeters.
It is also essential to leave a gap between the sofa and the table so that you can move freely and sit in perfect comfort.
It is also good practice to leave at least 80 cm between the table and the piece of furniture on which the TV rests.
The perfect coffee table for your living room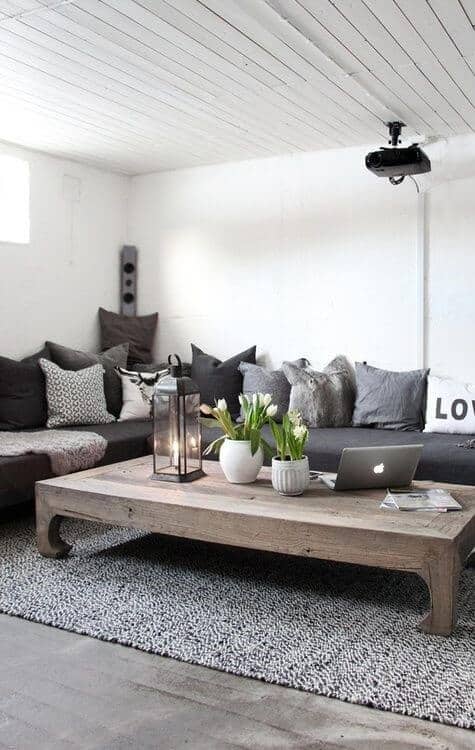 Source: Pinterest
If you have two sofas or a vast living room, the obvious solution is to opt for a large coffee table. The alternative is to consider two smaller elements. These "twin" accessories can be joined when you need a more functional support surface and can also be put aside if you want to give more prominence to other furnishing elements.
But which material to choose? Glass, wood, or metal?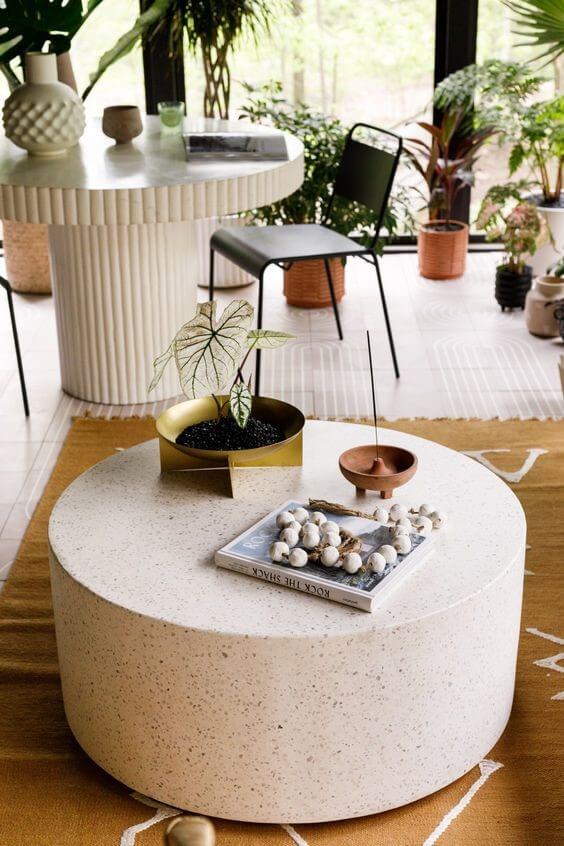 Source: Pinterest
If you are afraid that the coffee table may contrast with the other furnishing elements in the living room, the best choice will be the glass top. In fact, it can be perfectly combined with rugs, which, thanks to the transparency of the glass, will be visible across their entire surface. You can choose accessories with wooden and iron supports.
Furthermore, if you have children at home, the glass version will probably be the most suitable also on a practical level. We know how lively children are and tend to dirty everything that comes within their reach. A glass surface can be cleaned without too many problems.
The smoked glass will also help to deal with fingerprints.
A wooden living room table is suitable for those who prefer warm furnishings, the exact opposite of a metal top, ideal for furnishing more minimal and underground living rooms. It is also possible to mix the materials for a surprising effect. For example, an industrial-style coffee table adds a bit of character to the interior. If your choice falls on a pallet or wheeled model, first make sure it's stable. However elegant this solution may be, the metal legs or base can scratch the floor or stain the carpet. To remedy this, before showing off your new piece of furniture to guests, apply felt pads to the base to make it safe.
What shape should you choose?
As we mentioned initially, beyond the style and aesthetic taste, a fundamental element to consider when choosing your living room table will be space.
If the dimensions available to you are small, whether you want a coffee table next to the sofa or in the center of the living room, the advice is to look for a product with a rounded shape. The top is slightly smaller but very elegant if large in diameter.
A rectangular or square-shaped coffee table fits perfectly between two sofas, especially if placed at an angle. The square table compared to the rectangular one is, however, a little bulkier.
What are the trendy colors of 2021 interiors?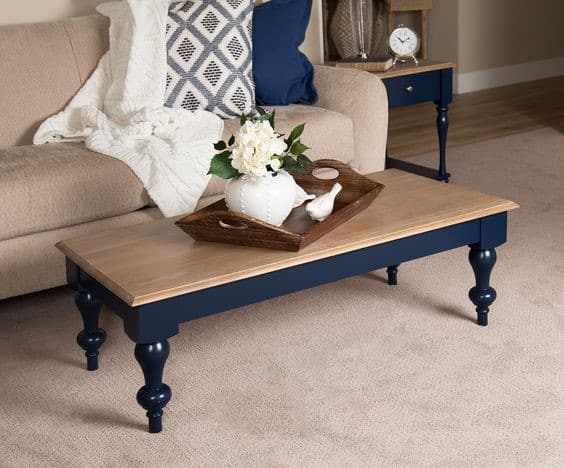 Source: Pinterest
The 2021 home design trends impose a color palette based on Navy Blue (and light gray as an excellent second choice) as the color of the year, see recycled and eco-sustainable furniture reconfirmed, and attest to the "Modern Rustic" (which replaces the industrial style of 2020) as a preferable style to have a modern living room in 2021.
Is gray still trendy in 2021?
The Pantone 2021 color trends are thus a combination of two colors, a shade of gray and a shade of yellow, resulting from careful studies.
Behind the choice of the Pantone Color of the Year 2021, there was, as always, a very accurate evaluation of numerous factors, including global trends in the most diverse fields (from fashion to cinema, from art to design)
Now that you have all the information you'll need to purchase the perfect coffee table, choose your favorite for 2021.
Do you want latest Trends straight to your inbox?
Thank you for subscribing.
Something went wrong.