The Victorian style can be re-proposed in a modern way. In fact, even in contemporary homes it becomes possible to trace the charm of the nineteenth century.
Why decorate in a style like this? The Victorian style furniture is the right choice for those who love and appreciate art and classicism, but also with a keen eye for modernity and linearity: it is a typical choice, for example, of those who want to dare and show their pomp and its own wealth, while going a little against the trend with a more linear architecture.
It is important to create a mix, combining the two eras in a harmonious way. Recreating the splendor of the past with the inclusion of some furniture and accessories will embellish the apartment.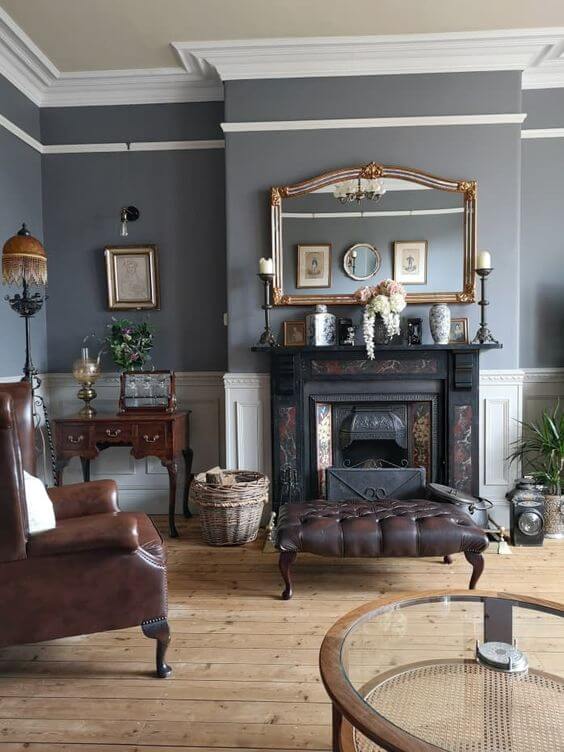 Source: Pinterest
What represents the Victorian style?
The term Victorian style means the furnishing trend typical of English houses of the second half of the nineteenth century. It is a typically English form of expression dating back to the reign of Queen Victoria of England, from 1837 to 1901.
Linked to a sumptuous era, the Victorian style expressed itself in a vast production of furniture and furnishing accessories. Furthermore, elaborate decorations emphasized the high social status of the hosts.
Essential elements of the Victorian style are the sinuous and worked shapes of the furnishings; the color palette, with the preference of bright colors and chromatic contrasts, give a chic touch to the environment.
The materials, with a clear preference for dark wood, oak, walnut or rosewood, should be the result of fine workmanship. Details, such as velvets, lace and brass accessories, are used to complete the environment.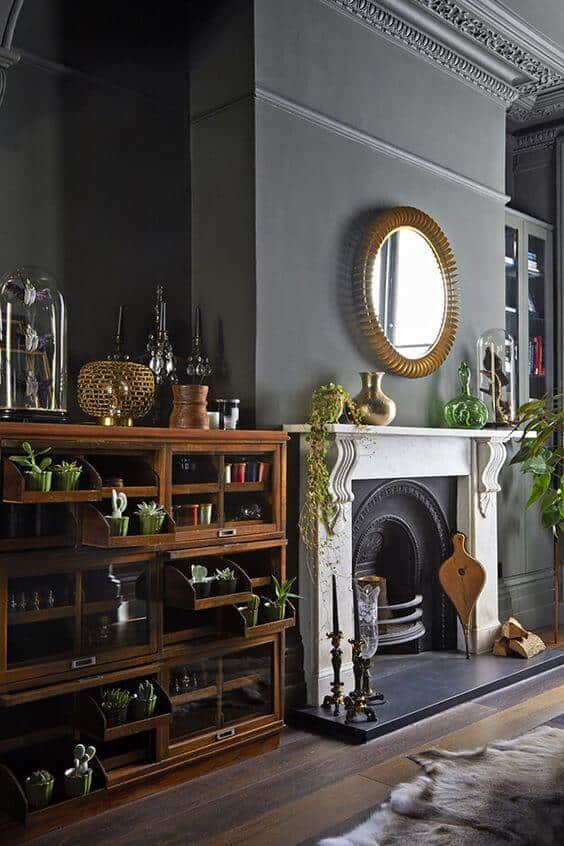 Source: Pinterest
How to design a Victorian style living room
To furnish the living room in Victorian style you will need to buy furniture of the aforementioned style, imposing curtains, luxurious mirrors and above all the walls should be covered with wallpaper. To furnish the living room in a Victorian style, you should find some very special furniture that can be found at antique shops.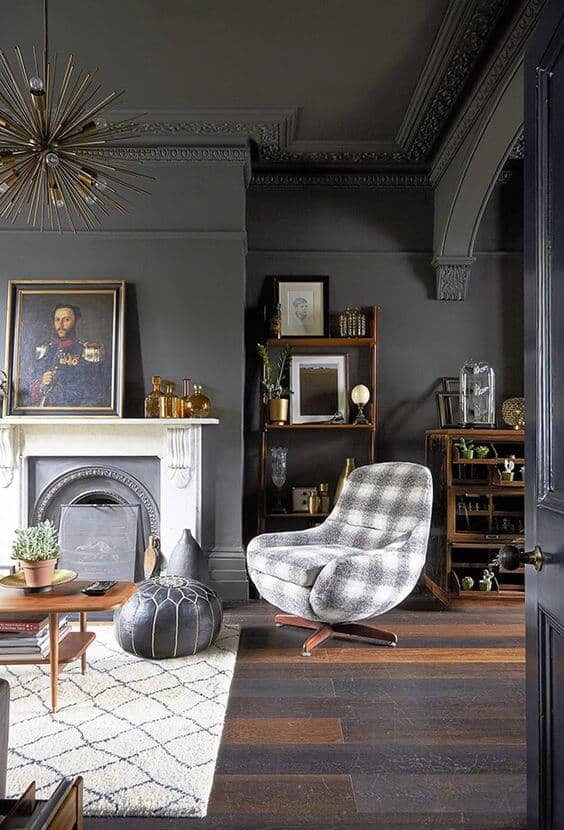 Source: Pinterest
The walls can be covered with wallpaper characterized by very strong and dark colors (blue, amaranth, red), in some cases you can also opt for striped ones. Going to an upholstery shop, you will find the one that suits you best! If, however, you don't like wallpaper, you could paint the walls in shades of gray or even old pink. Don't forget to buy the right curtains. To recreate the Victorian style, you will have to buy plain colored damask ones (red, blue) or striped ones.
Good to Read : Dark Furniture in the Bedroom: How Should You Pair It?
Source: Pinterest
Once this is done, don't forget the floor. In the Victorian style carpets are very important, and they should be brown, black or blue. As for the chandeliers, you should choose brass lamps. Also embellish the walls with antique paintings and mirrors. Remember that the mirrors must have gilded frames and must be very decorated. If possible, make a fireplace. This will need to be filled with gold decorations. Now buy carefully the furniture that recreates the style, and do not overdo it otherwise you could fall into excessive.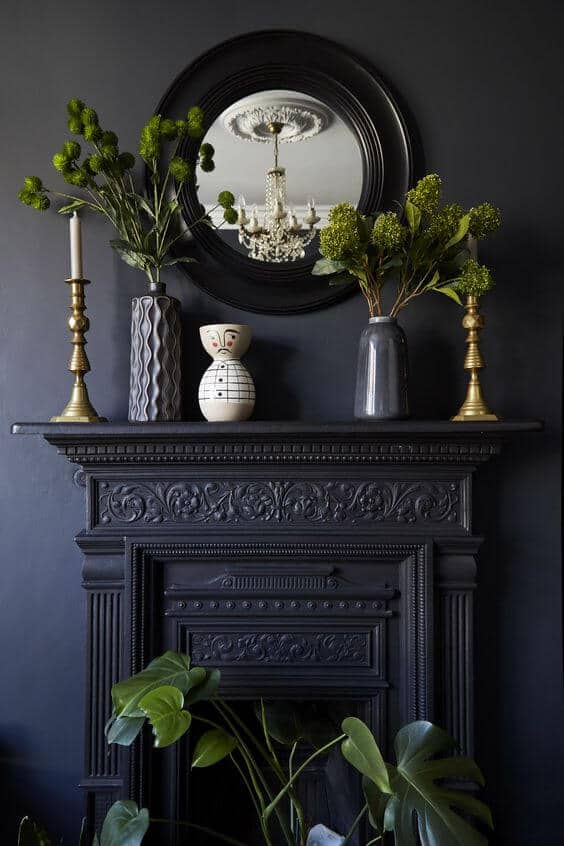 Source: Pinterest
Purchase a sideboard of the aforementioned style in walnut wood, and you'll be set! Its top must be rounded and the feet will be spool-shaped or rest directly on the ground, there should be also some glass parts in the cabinet, which will lighten the furniture. In addition, it will allow you to exhibit period porcelain and ceramic objects placed on lace doilies. In the center of the room put a table. The tables of this style will be of rosewood or briar and will have an oval shape. They will also be inlaid with floral motifs and have, more often than not, bronze inserts. A large crystal vase will be displayed on the table, perhaps full of fresh flowers. On a shelf, place a tower clock.
This will have to be of mahogany wood and its side walls will have thin balusters. I recommend you choose it large and carved!
Now, to furnish the living room in Victorian style, the centerpiece will be the sofa. This will have to be padded, will have a straight seat, armrests and wooden feet. In addition, place a comfortable pouf next to it. Next to the sofa also put an inlaid coffee table. In this way you will have created a truly royal room in your home!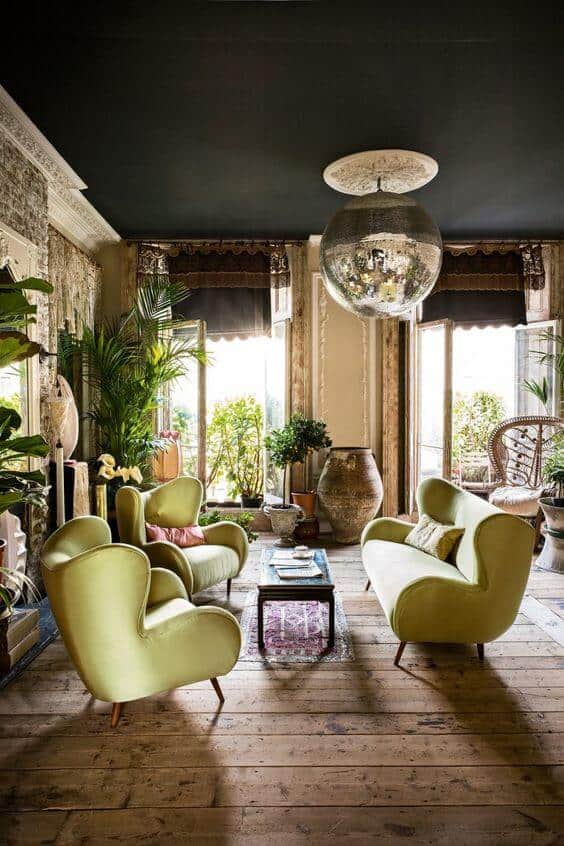 Source: Pinterest
Victorian style: colors
The choice of colors in Victorian-era homes saw the predominance of strong colors. Generally, each room was characterized by walls with a very strong nuance, such as red or wine, forest green and blue. Service rooms and kitchens, on the other hand, not being intended to be meeting places, took on softer shades.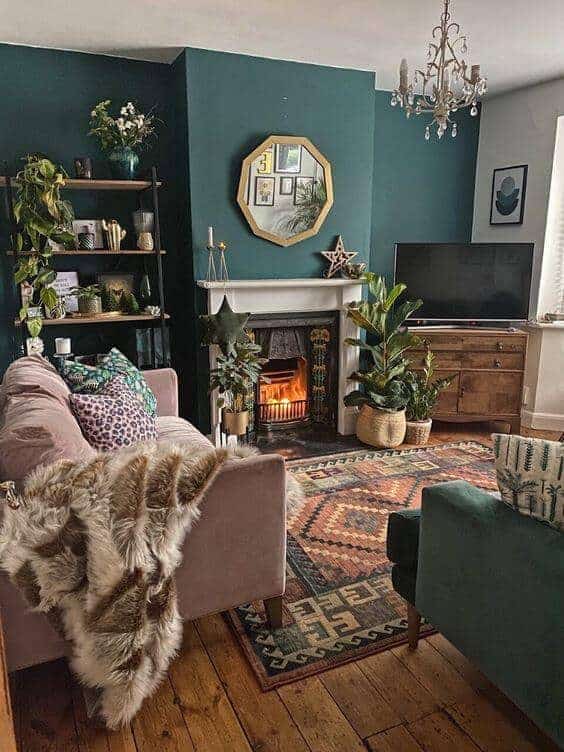 Source: Pinterest
How to mix modern and Victorian style
In the field of interior design, the idea of ​​combining classic and modern elements is increasingly established and in demand. Today a house completely furnished with classic items is not very functional, but those who love the elegant shapes of antique furniture can choose to enrich their modern-style apartment with classic furnishings, such as Victorian or even eighteenth-century furniture. But how to find the right harmony between such different elements as the modern and the Victorian?
Good to Read : Spanish Style Kitchen – Design, Nature and Material
The most elegant way to recreate a mixed environment is to maintain a correct proportion between the styles. If on the one hand the aesthetics suggest that it is unthinkable to furnish a living room half in a modern style and half in a Victorian style, on the other hand, you will really appreciate the choice of a Victorian piece in a modern context. The types of Victorian furniture that best integrate into a modern living room, for example, are a display cabinet and a sideboard. Perfect especially in a very bright room, which enhances the color contrasts, these two pieces of furniture can be positioned in more or less central areas of the room depending on the type of furniture that surrounds them and the importance you want to give them.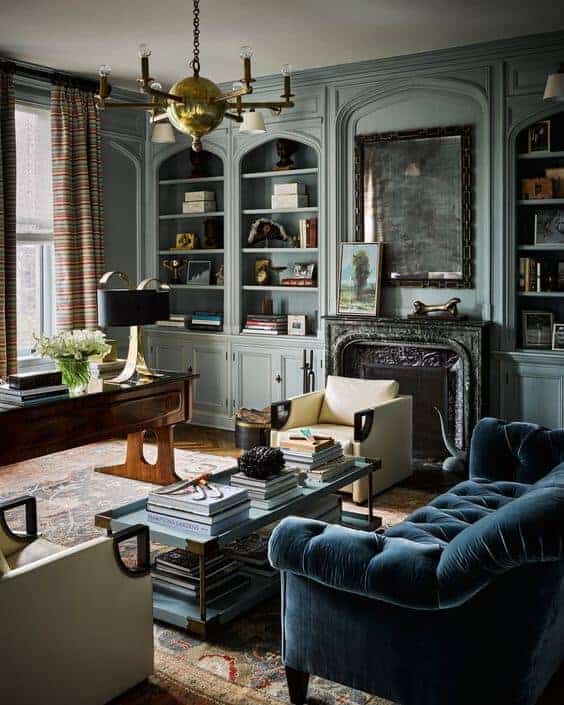 Source: Pinterest
The bedroom is also a perfect room for a mix of ancient and modern. A Victorian tallboy or bedside table goes perfectly with a bed with a linear structure, be it in wood, metal or fabric. And to emphasize even more an antique-style piece of furniture, you can choose to use some accessories from the same period, creating a real corner dedicated to a dip in the England of Queen Victoria. Go ahead, then, and use a stylish lampshade, or to a tallboy enriched with small accessories such as vases or trinkets. And for those who want to create a greater contrast, choose a Victorian wardrobe in a completely modern bedroom.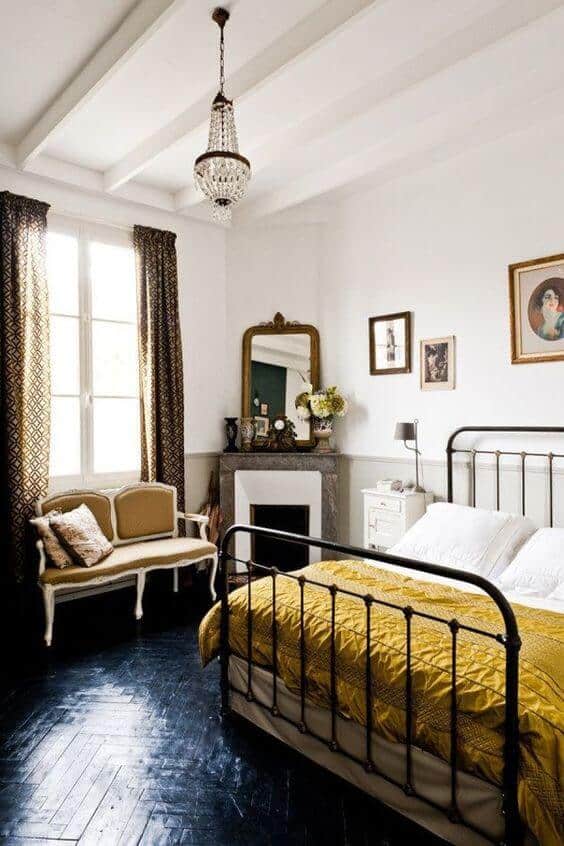 Source: Pinterest
Victorian style living room: final words
A particular element, typical of those who intend to furnish in this style, is the attention to detail that must never be lacking in a home furnished with a Victorian style: it is no coincidence that details are always what makes the difference, and never as in this case can we admit that this is really the truth. A few examples? A crystal vase, with fresh flowers, especially giving attention to soft colors such as pink or white, placed on an antique piece of furniture, can be a characteristic element for those who love the elegance and beauty of simple elements, but at the same time. same precious time.
Decorating in a Victorian style is not for everyone. If, in fact, the style is not mixed with modern elements, the number of people who furnish a house following its guidelines decreases, but those who appreciate this genre know how characteristic and precious a home can be if it follows the dictates of this type of furnishings thus recalling an era now very distant.
So how do you get the best results in Victorian style furniture? By following the guidelines of this style, very interesting results can also be obtained independently: sometimes it is enough to know exactly what we are talking about and what are the essential elements to accurately and punctually reproduce a house following the dictates of that particular style.
Good to Read : How to Furnish a Living Room With Earthy Colors
However, it is also possible to get some more advice, especially if you are not particularly suited to furnishing independently, for example by contacting an architect or an expert in furniture and interior architecture: his advice will be precious to guarantee the achievement of an optimal result. Furthermore, the Internet is an effective and very interesting resource both in finding furniture and knick-knacks to make a perfect Victorian-style home, and for finding information and practical advice also to avoid making mistakes and not to spend too much. Paving the house in stoneware or resin, for example, costs much less than marble, and guarantees a very interesting result.
So, what are you waiting for? Start researching, and create your Victorian living room today?
Do you want latest Trends straight to your inbox?
Thank you for subscribing.
Something went wrong.