Let's talk about some ideas to divide the dining room and living room, which are now often and willingly together in a single environment despite being two environments with very different functions.
There are pros and cons to having a dining room and living room in a single open-space: on the one hand, we have more space, not having partition walls, brighter rooms and certainly you increase conviviality, because you can have guests both on the couch and the dining table.
On the other hand, the classic disorder present in the dining room is indeed not hidden, and even all smells cannot be "enclosed"!
But how do you furnish an open-space? A good idea is to try to keep, at least optically, these two environments separate, highlighting their different functionalities.
How do you separate the two environments?
According to the different degrees of privacy and division, it is possible to use other materials with specific peculiarities.
Even considering the budget available, we range from walls, wood, glass, or glass blocks, to synthetic materials.
The protagonist is undoubtedly the glass, in its various forms and facets, perfect to separate environments without losing brightness and without interrupting the continuity of the whole, giving us an open space effect.
Here are a few ideas to divide the dining room and living room even if they are in a single open-space:
1) Use of a fake ceiling and/or platform
Lowering the ceiling of one of the two areas (the dining room is usually better), perhaps with the use of spotlights, will give the impression of an effective division.
You can also do the opposite and decide to raise the dining room by one or two steps, dividing the two areas. If the final effective height allows it, you can choose to use both the platform and the false ceiling, thus creating two distinct environments!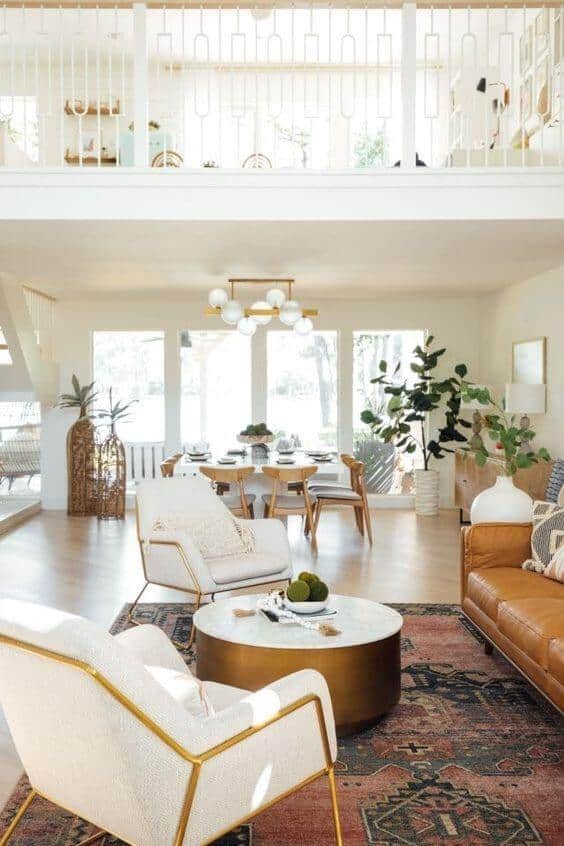 Source: Pinterest
2) Place your sofa with its back to the dining room
With the couch positioned in this way, whoever sits down looks opposite to the dining room; therefore, this will act as a dividing "wall" between the two areas!
Adding a nice large rug will help even more to keep these two spaces optically divided.
If by chance the sofa behind it is not too beautiful to look at, you can always put a sort of console or, even better, a storage unit, which in addition to dividing the two rooms will give more space for storage!
And if the space is tiny, you can place the sofa on the long side of the dining table!
GOOD TO READ : Small Sofa In The Interior Of The Kitchen: Types, Rules For Choosing And Placing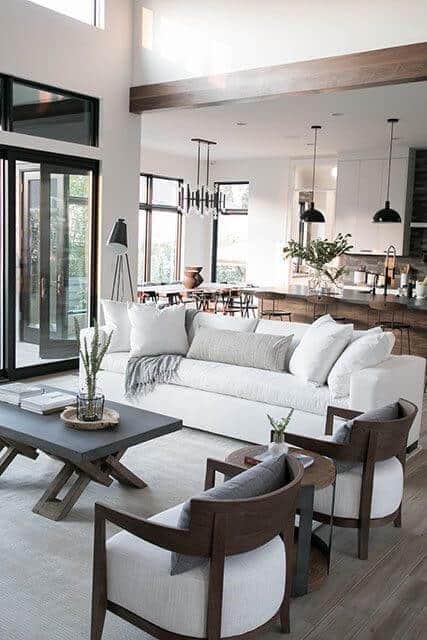 Source: Pinterest
3) Use different or transitional floors
Using different colors or materials for the floors of the two areas will give the impression of two divided environments. It is always a perfect optical trick!
Of course, a clear line is not mandatory to separate these two floors, but by playing with different shapes, the two surfaces can also meet in a playful and "softer" way.
Source: Pinterest
4) The use of color
Color is a genuinely incredible ally! For example, you can decide to divide the living room and dining room using a different color for the walls.
As with the flooring, the platform, or the false ceiling can be painted in a different color. It is an optical effect: the eye, seeing different colors, perceives different environments!
You can be daring by coloring the ceiling with the same color as the walls, creating a sort of box effect for the dining room!
GOOD TO READ – New Dining Room Wall Art/Decor Trends and Ideas for the Season
Source: Pinterest
5) Use of Vertical Dividers
Open bookcases (i.e., bottomless) can be extraordinary dividing elements. In fact, they will delimit the spaces, but without closing them completely and letting the gaze and light pass through.
If there is not enough space for a bookcase's thickness, you can create different open dividers, for example, using wooden slats, or by creating honeycomb or lattice structures.
The important thing, in this case, that they are at full height and that they create a visual separation, but you must still be able to see what is on the other side!
Source: Pinterest
6) Use of Glass Dividers
Glass is an excellent alternative for dividing the living room and dining room. It creates separation but keeps the brightness unchanged!
It is ideal for those who would have wanted two separate rooms because you also have the option of entirely and effectively closing the dining room. This will allow you to really have two different rooms, without losing all the advantages that the open space offers.
You can also integrate them to a small half-height wall, in case you need a supporting part on which to place the sofa, for example.
They are definitely a good option, especially in small spaces, because they let a lot of light through (and therefore you can use them even if your dining room has no windows) and separate the two areas, giving a sense of brightness to the environment.
Source: Pinterest
7) Sliding Glass Doors
Sliding doors or partitions are perfect for separating the dining room and living room, preferably enriched with exclusive coverings; also ideal for adding a touch of class to your home.
This solution allows the closure and total separation of the two environments, which is very useful when you want to isolate the environments even from smells and noises.
This solution is also well suited if we want to create a Japanese-style house.
Source: Pinterest
8) Use of a fireplace
It is undoubtedly a revolutionary idea to divide the dining room from the living room by means of a centrally placed fireplace.
In this way, you can take advantage of the fireplace's calorific power to heat two rooms and enjoy a partition that enhances the design of our home.
Double-sided fireplaces are very useful in this sense, as they'll be accessible from both sides of the room.
GOOD TO READ – Mantel Décor Trends: Here's 14 Ideas To Get Inspired!
Source: Pinterest
9) Use of stylish screens
To subdivide an open environment, an element to separate or circumscribe the areas such as a simple screen can be helpful. The screen must be a discreet shielding element, which does not entail constructing an entire partition wall.
Several companies produce different models of screens for dividing spaces, but for DIY lovers, this is an element that can also be built ad hoc.
It is possible for those who want to dare to purchase the latest generation maxi aquarium capable of reinventing spaces and obviating the environment's separation with an extraordinary and highly effective element.
As always, with a bit of forethought and balance, you can also create divisions by using two or more of the listed solutions together!
Source: Pinterest
Conclusions:
Often, when you have a small house, it is difficult to dedicate an entire room to the dining room and one to the living room, as the result of doing so will often involve narrow and impractical spaces that will be difficult to decorate.
Having a single open space environment allows you to enhance depth, amplify the light and make both environments more alive.
Simultaneously, an open space involves practicality and privacy problems, especially when you have guests at home, and you don't want to have the typical disorder of the dining room on display, for example, when preparing lunch or dinner.
So, you might feel the need to create a partition between the dining room and the living room. But how can you separate the two rooms effectively?
Fake ceilings can give the impression of division
With the back of your sofa to the dining room, you can create 2 different environments
Transitional floors can make the space look divided into 2 (you can also take advantage of different tiles for different spaces and usages.)
Colors have the power to give depth, and to create different ambiences into the same space.
Vertical dividers are easy to find, and they give an amazing aspect into your environment.
Glass dividers and glass doors are a great option for spaces. The light can still get in, and it looks classy.
Fireplaces can be amazing dividers, if this is the look you are going for. Also, they create a cozy atmosphere.
Screens have different patterns, and they can replace walls in a much more stylish way.
Do you want latest Trends straight to your inbox?
Thank you for subscribing.
Something went wrong.