Can a small bedroom be obtained from our living room? How? You will discover how easy it is to create an extra room even when you don't have enough space in the house and the tendencies to design a living room that includes a bedroom.
When you choose a house, there are often two of you, and you don't calculate the need for an extra second room because maybe the expansion of your family is a future project. But the stork could knock on your door earlier than expected, and the possibility of having an extra room immediately turns into a need, in view of the next few years when your child will grow up and will want to have his privacy.
However, when you have difficulty having a small house, it is a problem to have an extra room. However, nothing is impossible, because you can get a bedroom from the living room and thus solve the missing space's problem. Today, you will discover how you can make it happen.
The rules to be respected
Before getting to the heart of the article on tips on how to get a bedroom out of the living room, we need to let you know that there are minimum sizes to be respected when it comes to the rooms in a house. In particular, we refer to the living room and the bedroom.
Knowing them is essential because once you are aware that you have the right sizes to create a bedroom from your living room, you can then proceed with your project. Let's see together which are these square footage rules to be respected.
Each bedroom must have a minimum size of 9 square meters if it is a single room, while if the room is intended for two people, it must be at least 14 square meters.
The minimum surface that a living room must have must be at least 14 square meters. However, if the square footage you have available for your stay is at least 23/24 square meters, these are the perfect measures that will allow you to have both a living room and the extra bedroom you need!
How to divide the living room and bedroom
First of all, you must divide the floor plan of the house. Make a photocopy and start drawing on the floor plan by creating a sketch of how you would like your home to become after the restyling you will do to agglomerate the new bedroom in the living room.
Once you have briefly decided how you would like to carry out your project, you need to decide whether to create a fixed partition wall between the living room and the bedroom or find an alternative solution without building walls. This is where the realization of your project starts.
A fixed dividing wall between the bedroom and the living room
The most common choice made when it comes to finding a way to have two rooms in one often falls on plasterboard. It is a versatile building material that can easily create walls 1-2 centimeters thick where they don't yet exist. It is the most used material in this type of construction because it is easy to work with, it is economical, and the construction times of a plasterboard wall are speedy. So, plasterboard is an excellent material for those who want to modify their living room layout in a short time and at a low cost.
Once you have built the fixed plasterboard wall between the living room and the new bedroom, you have to furnish one room and the other. If the space dedicated to the living room is now small and there is no room for many furnishings, opt for an equipped wall. In this way, you will have the essential furniture, but with the minimum bulk. To make the most of the space in the bedroom, on the other hand, you can opt for a container bed to arrange the sheets and for a built-in wardrobe to slightly clutter the interior space of the room.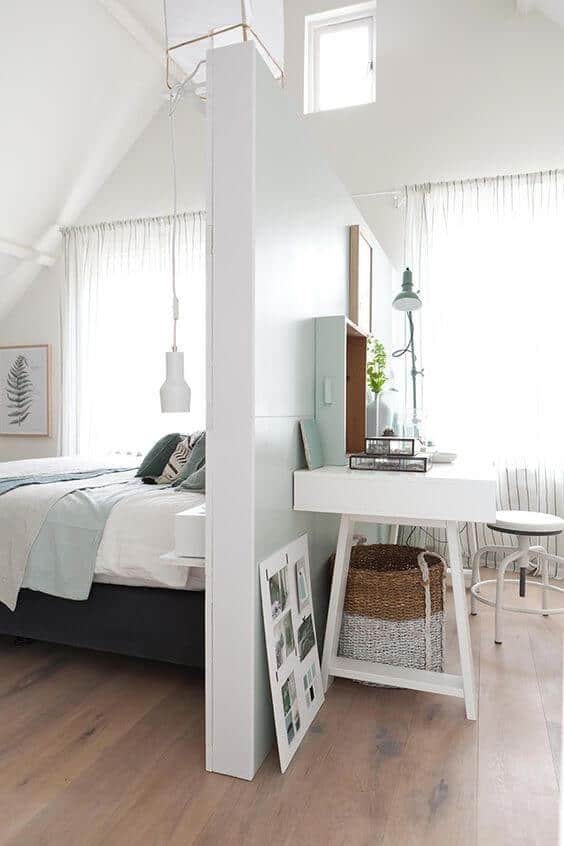 Source: Pinterest
Movable walls between the two different environments
If you do not want too many dividing walls in your home, but you prefer an open space, the right solution for you is the choice of movable walls. These are sliding panels fixed to the ceiling that are superimposed on each other and slide thanks to their tracks.
By choosing this type of element, you will not have walls that divide environments but rather walls that appear and disappear according to your liking. During the day, you could have a communicating living room and bedroom in plain sight, while when you want to have more privacy in the bedroom, slide the movable wall, and you're done. In this way, you can easily watch the TV in the living room without disturbing anyone who is sleeping next to it.
Source: Pinterest
A further alternative could be furniture that divides the two rooms, without the walls doing it. It is a choice used and suitable especially for small houses or in full modern style.
How to choose the furniture
For reasons of space, it is often necessary to resort to somewhat forced solutions at times. Let's see how to furnish a living room with a sleeping area without sacrificing style and without a sofa bed.
Let's say right away that those who have a long and narrow room can choose between several efficient and versatile solutions. Let's start with the loft bed that became famous in the latest years. In an apartment with high ceilings, you can install a mezzanine that allows the setting up a dining area under it.
Source: Pinterest
A screened mezzanine represents another possibility, with a bookcase that also hides a small study corner under the bed. In this way, we obtain a reserved sleeping area without giving up a well-furnished living room.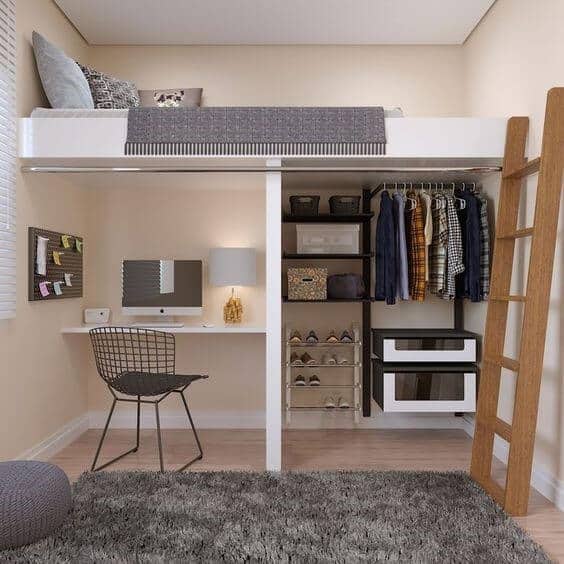 Source: Pinterest
Alternatively, we can leave the bed exposed, integrating it into the living room with the choice of a bedspread that makes it similar to a typical sofa upholstery. Colored cushions will do the rest, making the environment welcoming and fresh. We recommend selecting a narrow bed to avoid its presence being too evident for those who want to choose this solution. A single bed with the addition of decorative cushions can comfortably act as a sofa.
A couple of armchairs and a coffee table with a modern or vintage design pleasantly complete our mini living room.
If there are niches in the room, we can use them to embed a single bed positioned above a low wardrobe, which gives the sleeping area originality and greater elegance.
A bed with decorative cushions can also act as a bench for a kitchen table. It is worth covering the bed well to avoid dirtying or damaging it.
Now let's see some solutions that have used screens for the bed, particularly suitable for rented apartments where it is impossible to create additional walls.
A bookcase screens the bed placed next to the wall at the entrance to the living room. The back has been attractively decorated with wallpaper. If our room is large enough, we could also add a wardrobe to it.
The sleeping area can be screened with curtains. An excellent choice is panel curtains, very decorative and discreet.
We can also mount a sliding door that will allow us to screen the sleeping area thoroughly.
Source: Pinterest
If we have a large studio apartment available, we can create a small sleeping area that will then be closed with a curtain matching the apartment's furnishings. Or you could opt for a counter wall that divides the living area and the sleeping one, leaving it partially exposed. A discreet solution that allows you to maintain a comfortable living space.
The living room can also contain a sleeping area without giving up privacy and conviviality, using colorful and well-matched furnishing accessories. We will be able to combine two such different environments without necessarily resorting to a sofa bed.
2022 Tendencies for furnishing a living room + bedroom
Multifunctional spaces and furniture
When furnishing a living room with an integrated bedroom, creating multifunctional spaces is not an option but a real necessity. The keyword? Convertible furniture with double function. So, what is a comfortable sofa during the day will become a bed at night, or it can be an unexpected wall to hide a foldaway bed.
Source: Pinterest
It is well known that clutter in a small space is twice as annoying, and this is where the most intelligent solutions come into play to obtain spaces – among those available – for storing objects. Any suggestions? Container beds where, in the lower part, you can get a unit in which to place items that have no place elsewhere.
Source: Pinterest
For small spaces to be bright and airy, it is essential to use a light color palette in the studio's furniture: so yes to white and its shades, light neutral colors, and pastel colors almost everywhere – from walls to textiles – with color accents studied here and there. The choice of fabrics is also important: in this case, prefer light ones such as cotton and linen.
Source: Pinterest
Mid-century style furniture is the preferred style for small spaces in 2022, with short and often oblique legs; this modern furniture, with its clean and no-frills design, will help make the studio flat's rooms more spacious and airy.
And suppose you want to make the studio apartment even less crowded. In that case, you can consider using some transparent furnishing accessories that give the idea of ​​not taking up space at all.
Finally, mirrors are great for reflecting light and creating the illusion that space is larger: use large mirrors, perhaps positioned near or in front of a window, to create a more significant effect.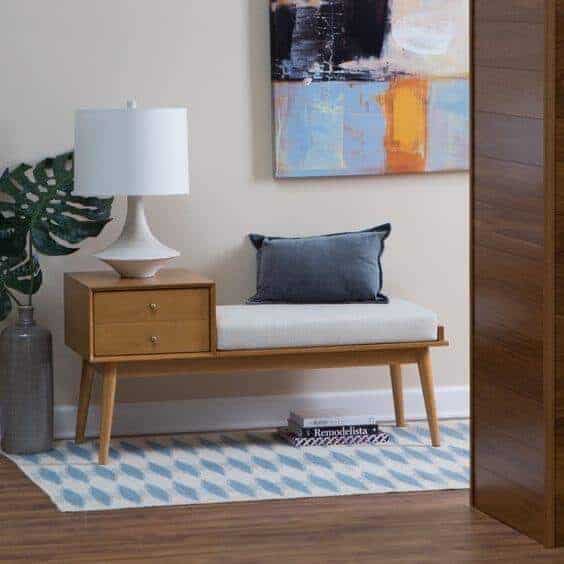 Source: Pinterest
Enjoy creating your living and sleeping space!
Do you want latest Trends straight to your inbox?
Thank you for subscribing.
Something went wrong.