The closet is an indispensable piece of furniture in any bedroom. However, visually, it is a piece of furniture that takes up a lot of space and makes the bedroom seem smaller. so here you will learn new Invisible Closet ideas & designs.
However, it is the bedroom king, and many features make it perfect for our needs. First, it must be large enough to contain the impossible. In addition, it must allow us to keep summer and winter clothing close at hand and stay old clothing and blankets.
This is possible by organizing everything in the best possible way with the accessories inside: standard drawers or divided into compartments, standard or removable shelves and racks, shoe racks, "hanger" modules, trouser racks, tie racks, belt racks …
That's all? Not yet.
Surely it should leave enough space to make the passage comfortable and not make the room seem too full. It must have a strategic position and be coordinated with all the furniture: chest of drawers, dresser, and bedside tables.
There are also what are known as "invisible cabinets," furniture with a design that blends with the environment and seems to be part of the walls. Do you want to have one of these invisible cabinets at home? We are going to give you a few ideas that you will like!
Over the years, various solutions have been adopted in line with home trends: built-in, hinged, sliding, folding wardrobes, and walk-in closets. Of course, the choice is difficult, but it all depends on your tastes in each family's design, spaces, and needs.
Good to Read: Bedroom Built-in Closet
A Custom-Made Invisible Closet
The first option that we will give you is not that it is an invisible built-in wardrobe but that it will be a custom-built closet to take advantage of room space.
For example, imagine your bedroom has a small area below life and a column. It would be a perfect place for a closet. Moreover, it is the ideal place for a custom-made closet.
The grace of custom cabinets is not only that you can get the space you need to have space for all your clothes, but it will also occupy that entire area without leaving any gaps insight that visually clash with the decoration of the bedroom.
The closet can be a little dull color than the walls or a different one. However, it seems part of the bedroom and has always been there.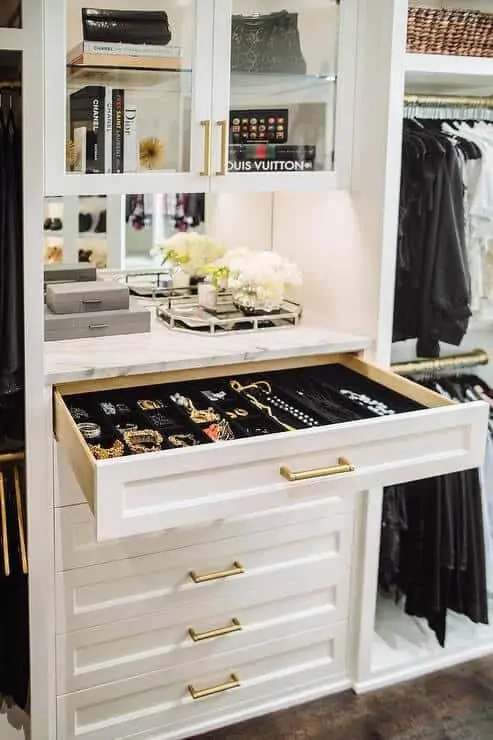 Source: Pinterest
Good to Read: Average Master Bedroom Size, Dimensions, and Layout
High Tech Closet
The latest novelty is the hi-tech closet with a built-in air sanitization system. Some devices can be installed in the walk-in closet or the wardrobe at a later time. Indoor pollution is also this: due to inadequate air exchange, especially in rooms without windows, bacteria, allergens, molds, carbon monoxide, and fine dust can impregnate clothing, generating ba,d however, thanks. Thanks to a natural active principle, the devices developed by the companies ensure that pollutants are eliminated mainly, and clothes are sanitized.
Technology is the protagonist also from the construction point of view. Companies can provide customized solutions on demand, and the wardrobes, with their volumes, can reconfigure the sleeping space. As well as the living room, halls, and corridors. The widespread order can be achieved with modular and coordinated containers, with specialized functions and destinations: home office, dressing room, multitasking module for the children's room, closet obtained at the end of a corridor and made invisible by doors-boiserie, pantry for the kitchen open to the living room.
We are in the era of 'custom-made series,' Each solution is as if it were made to a design, customized on tastes and space requirements.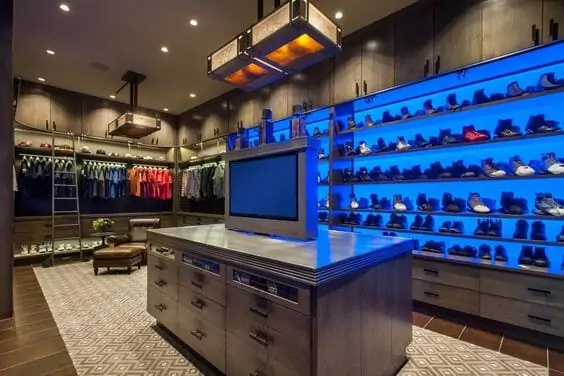 Source: Pinterest
With Sliding Doors, so That It Blends With the Environment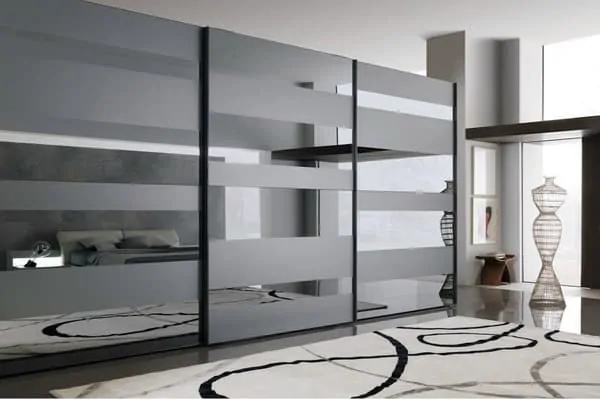 This idea would be somewhat associated with what we have said in the previous point. It would consist of assembling a work closet, fully customized.
Only, instead of putting on swing doors, they would be sliding. The reason? The sliding doors do not require handles to open, and if you choose a color very similar to that of the walls, as if it were a chameleon, the closet will seem to be one more wall.
In addition, you should think about the advantages of cabinets with sliding doors, especially in small spaces. You don't have to worry about moving the bed too far to open the doors.
Source: Pinterest
Good to Read: Bedroom Color Trends – That Will Stand Out
A Closet With Swing Doors, but Without Handles
Minimalist and Nordic decorations have exploited the creativity of invisible cabinets to the maximum by creating furniture that does not need handles to open its doors.
Smooth doors that nobody would say a closet on that wall unless you look at the fine lines of separation between the doors. Choosing the right color will be impossible for visitors to tell if it is an invisible closet or a wall!
Take a Corner
Let's say, for one case, that in your bedroom, there is a small hallway. Instead of putting a closet that takes up a lot of space, why not take advantage of the corner?
With a bit of work, you can create a small closet, or a dressing room, inside that corner. But, do you wonder if that would not expose the underwear? No, because the entire closet would be covered with glass panels.
Modern technology will also contribute a lot of style to your bedroom decoration while giving you the possibility of having your dressing room. And don't believe that it takes a lot of space to get this.
Another option would be to hide the closet within this space, and there is a small changing area with the closet in the background. The problem? That a lot of space is needed, and you still have to take centimeters to the hall. Now, if you think there will be no problem with doing so, go ahead!
Source: Pinterest
Taking Advantage of the Shape of the Space
Do you have a long hallway in the bedroom? A large dressing room? Or will you put the closet in the hallway near your bedroom? If it is one of these options, you have to buy a closet with doors that suit the shape of the space.
For example, if the closet has an L-shape, then it has a bit of curvature in its doors, so there seems to be continuity. And, so that it is not so bland on the surface, it has some stripes of a slightly darker color to highlight them.
Good to Read: Divide the Living Room and Bedroom – All You Should Know
A Decorative Piece That Serves to Divide Spaces
If we told you right now: that you have a large bedroom, why don't you put something that serves as a dividing element? Indeed the idea of putting something like a screen or a curtain of accounts would come to mind.
No, a closet can also be an element with which to divide spaces. The only thing you should look for is decorative; that insight makes it look like a wall. For example, decorate both front and back with the same pattern to make it colorful.
Although the shooters are visible, nothing will happen; it will still seem like a raised wall to separate the bedroom from the dressing area or leisure area. This solution works for both a double and single bedroom.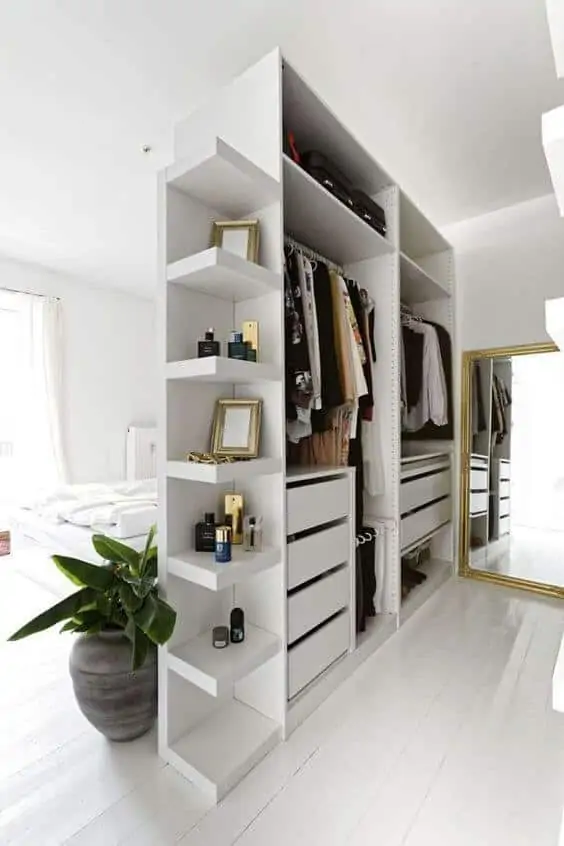 Source: Pinterest
Let the Doors Stand Out
If the doors are obvious, we could not speak 100% of an invisible closet. However, what's wrong with the doors having a little light of their own?
It's about choosing a color that stands above the color on the walls. For example, if the room is painted in light tones, let the doors be lighter, such as white gloss. Or if it is in dark tones, the doors are in an even darker tone, like a black with soft white lines. Have you seen dark furniture trends in bedrooms?
Source: Pinterest
Good to Read: French Doors in the Bedroom: How Can You Make It Work?
With a Paneling
This idea that we will give you for invisible wardrobes for bedrooms is something you have seen many times in hotels. It consists of mimicking the closet with the wall covering.
For example, on many occasions, in the decoration of nautical or rustic bedrooms, we have commented that you can cover the headboard wall in wood. Then the cabinet sticks it horizontally to that wall, with the doors the same color as the wall covering.
They will be two different pieces, but they will appear to be, therefore, ae. A practical and perfect solution for small bedrooms with en suite bathrooms is to take advantage of that wall.
Source: Pinterest
Mirrors to Hide the Closet
Do you remember before we told you that if you take a corner of the bedroom to put the closet, the doors could be glass to hide it?
If you put a custom closet on one side of the room, the doors are made of glass, which will help hide it. Also, mirrors on the walls are a very common decorative element in the bedrooms, so no one will say that there is a hidden closet behind those windows.
Of course, think about the investment that supposes that the doors of these invisible cabinets cannot carry handles since the glass is gradually cracking by the pressure they exert if they are nailed. Stuck? It will be an option, but it is not very practical either.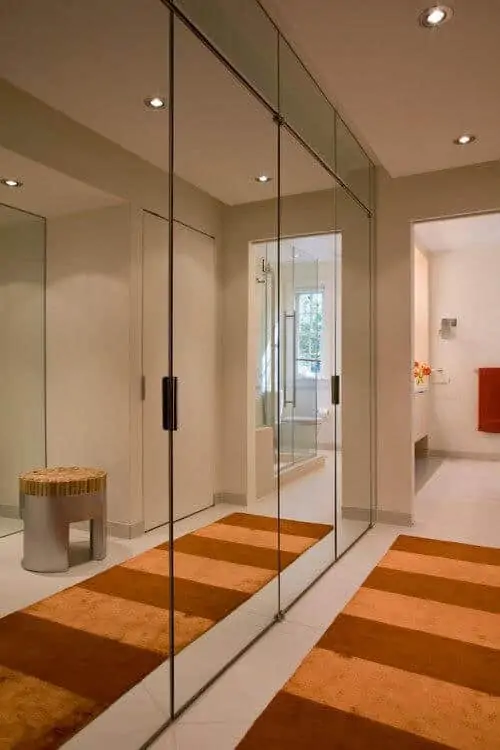 Source: Pinterest
Good to Read: Mirror, Mirror on the Wall: Which Is the Best Mirror of All?
Maintain a Continuity With the Shape of the Room
You may have a lot of clothes, so that you will need a lot of storage space. So, shouldn't you put a closet that follows the shape of the room?
As you have already imagined, we are discussing whether you have a room with a lot of depth, the closet has an I-shape, or an L-shape to take advantage of the corners.
Source: Pinterest
Anything Else We Can Tell You About Invisible Closets?
With the ideas we have given you, you will not have problems putting an invisible closet in your bedroom. But you may have some doubts, so let's clear them up.
Good to Read: Closet Door Ideas and Designs
Do Invisible Cabinets Have to Be Tailored?
No, they do not have to be made to measure, but it is recommended. I think that finding a closet with the perfect measurements for a room gap is not always possible.
In this case, it is better to pay to have a custom closet made for that space. But, as we have mentioned above, you can fuse the closet with the rest of the room, making it a dividing element for the room.
With or Without Handles?
Look at images of invisible cabinets, and you will see two styles. Now, an invisible closet is the imperceptible one. So how do you get this? Fusing it with the environment.
If you do not have handles, it will not look like a closet, but one more wall, especially if the color of the doors is the same as the smooth walls.
Is It Essential That an Invisible Closet Be Built-In?
Of course not, and read our ideas about invisible cabinets, and you will see that you can have an independent closet, only that it will be fused with the environment to look like another piece of this.
The built-in is a solution when the space is tiny, for example, for children's or youth bedrooms that are usually small.
The Mirrors, Don't Forget It.
If you want your closet to look invisible, you should put in some doors with a mirror. An element on one side will camouflage your closet; on the other; it will serve as a decorative element for the bedroom.
It has its advantages, just as it has its drawbacks. But nobody can deny that it will be an efficient solution for the doors of your invisible cabinets.
Do you want latest Trends straight to your inbox?
Thank you for subscribing.
Something went wrong.