When furnishing a home, doors must not only be thought of as a functional element, but also as a decorative one. They are used to connect one room to another and, sometimes we don't think about it, but we go through them continuously! Also, being an entry point, they have to work as a preview to the environment they open on. Unfortunately, their aesthetic potential is not infrequently underestimated, while ingenious solutions can be found that combine practicality and beauty. They, therefore, deserve to be valued, but not just as an additional detail. They have every right to be at the center of the attention that we usually dedicate to the rest of the interior design.
A perfect example of a type of door that can become the star of the hall is French doors. Do you know them? They are all-glass doors: elegant, simple, bright. Just a touch of class that will be reflected in the adjoining rooms.
If you are choosing the doors for your home and you want very bright environments, French doors can be the right solution for your interior design.
But let's take a closer look at this particular type, which thanks to its charm could become a more widespread system, perhaps starting right from your home.
Source: Pinterest
You are ready to change your indoor doors: where to start?
One of the simplest changes, however, perfect to immediately give a new look to the rooms, when renovating the house, is the replacement of the interior doors.
There are so many alternatives, starting from materials including classic wood but also glass or metal, up to the type of opening: hinged, sliding, and folding, just to name a few.
So let's see how to orient yourself in the choice of interior doors, taking into account functionality and without forgetting design and elegance.
Good to Read : The Best Bedroom Design Trends 2021 & 2022
Types of interior doors
Interior doors can be of various types. The most common on the market are panel doors and smooth doors, but let's see in more detail what the main differences are:
Panel door: usually used in residential buildings, it consists of a variable number of decorative or glass panels;
Source: Pinterest
Standard door: with a simple taste and minimal design, it has a completely smooth surface, which also makes it the cheapest alternative;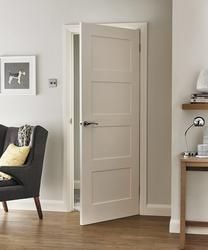 Source: Pinterest
French door: ideal for giving an elegant touch to any environment, in particular a living room, bedroom, or library. French doors have two doors mounted in a single structure and often have a glass insert;
Source: Pinterest
Sliding door: perfect solution when you have little space or you prefer a choice of style that opens to the room like a curtain. The sliding doors, instead of swinging inwards or outwards, disappear into the wall thanks to a special frame.
Source: Pinterest
French doors: what they are
The term French door means door with two independent panels, with the opening inwards.
Interior French doors often have geometrically shaped glazed panels that occupy a large part of the surface of the door itself. The most common are squares or rectangles. Since the glazed surface is very large, this type of door allows a great brightness and is particularly suitable for living rooms, spacious kitchens, and patios.
French doors are also called French windows, precisely because they are formed for most of their surface of glass panels.
Source: Pinterest
What are the advantages of French doors?
Thanks to the wider opening than that of a classic door, French doors are suitable for environments with a large surface.
The advantages of this type of doors are:
High brightness;
Wide opening that allows the passage of furniture or large loads with ease;
Possibility of opening one door at a time, reducing and increasing the opening from time to time;
Possibility of "bringing the outdoors indoors"
Source: Pinterest
How to choose a French door
If your French door is suitable for the outside, towards a balcony, terrace, or garden, consider the design and surface of the glass panels based on the amount of light desired.
If it is a rustic setting, you can choose a door that is not too elaborate, with simple and linear panels. To add elegance and warmth, even in a metaphorical sense, choose a door with many squares instead.
If, on the other hand, your interiors have a very rich and worked decor, focus on simplicity: choose smooth panels without full glass pane.
If your French door is for the interiors of your home, you can choose worked or transparent glass depending on the needs of the room.
For a bedroom or rooms where you want more privacy without sacrificing elegance and brightness, you can choose French doors with matte glass to let the light in but protect it your bedroom from the outside.
In addition to the preference for this type of aesthetics, there are other reasons for choosing French interior doors:
being doors with double panels, they allow to have a much wider opening than standard doors and therefore facilitate the passage of furniture or large objects;
their width is also ideal for those forced to use walkers or wheelchairs;
the double glass door lets in a lot of light, making the rooms brighter and more communicating;
having the possibility to open one or both panels, makes the door more versatile.
Source: Pinterest
Now that you understand what the benefits are, you may be wondering if French-style doors could be a good fit for your project. The answer is yes! In fact, you will find French doors of different types of materials (lacquered, wooden, laminated) and models. It is important to know that the glass of French doors can be transparent, frosted, or even reflective.
Source: Pinterest
French doors in the bedroom
It is important to understand how to integrate the French door into the overall style of your bedroom.
If the bedroom is already richly furnished, it may be better to choose a model with more sober lines, with clear or frosted glass. The frosted glass in fact allows the passage of light but allows you to maintain greater privacy between one room and another. Precisely this quality makes it preferable in cases where the French door is installed in the bedroom, the room which, together with the bathroom, must guarantee 100% privacy.
An important detail to focus on is the handle, which must harmonize with the colors of the furniture in the bedroom and with the flooring. Therefore, space for golden handles like the one in the image, if we want to embellish the environment or if the furniture has neutral or warm colors.
Source: Pinterest
The cons of French doors
You are falling in love with this type of door? Before starting to imagine placing French doors throughout the house, it is also advisable to evaluate the possible weaknesses of this type of solution.
You have to be careful if you have small children, the double door can be dangerous precisely because both door panels can be opened at the same time. Fortunately, and also for practicality, this type of door often has a specific closure that allows one of the two leaves to be blocked.
French doors are very suggestive but due to their technical nature they require a large space, they are not suitable for particularly small homes or to connect environments that would benefit more by optimizing space, for example with a sliding door.
As glass is often used for French doors, you could also consider the privacy issue. Do not get carried away and avoid using them for environments like the bathroom. And if you really can't do without it, consider carefully what type of material you choose for the door mirror: frosted glass or a glass with some decorations can be the solution. Don't forget to also check the safety of the material you choose.
French doors cannot be defined as cheap: their price can start from 200 dollars each and goes up depending on the materials chosen.
Source: Pinterest
Conclusions:
French doors add a sober elegance to any room that they adorn and fit well with almost any type of furniture. French doors are extremely popular as the large glazed surface offers an all-round view of the beautiful open landscapes and at the same time lets in natural light. Unlike sliding doors, however, French doors are more susceptible to high wind gusts. French doors are more aesthetically pleasing, complement traditional homes, and offer a timeless look even in contemporary buildings.
Good to Read : Bedroom Window Treatments And Curtains
Do you want latest Trends straight to your inbox?
Thank you for subscribing.
Something went wrong.