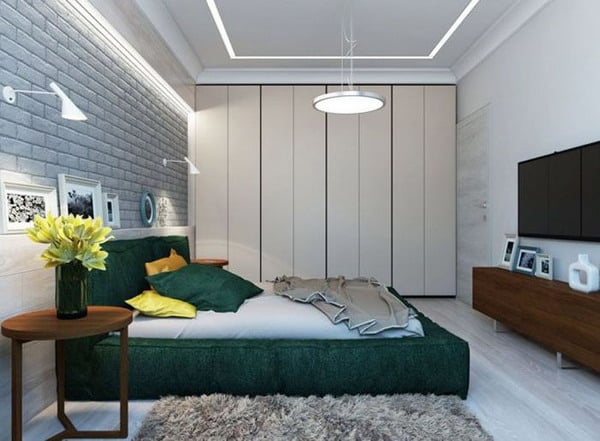 Your bedroom interior does not bring you satisfaction? You can't escape in the room from everyday worries and have a good rest for the new work day? So, it's time to overhaul or redecorate the bedroom! And so that it turns into the most beautiful, comfortable and functional room, when designing it, you need to take into account the fashionable ideas of bedroom design 2020-2021. And what it will be, this article will tell you. In it, we have collected the best recommendations from world designers regarding interior fashion.
Current trends in the design of bedrooms 2021
The design of the lounges 2020-2021 continues to promote the idea of ??minimalism, which came into fashion in the previous season. However, the laconicism of sleeping design does not imply asceticism at all. On the contrary, the room becomes much cozier and more comfortable, its style is becoming more diverse, and the color shades are thinner. The interior of a fashionable and practical bedroom, according to the designers, is based on the principles of environmental friendliness, and its design is aimed at creating optimal conditions for a healthy sleep.
Becoming dominant, minimalistic and eclectic trends dictate their standards, and even classic pompous interiors are lightened and become more elegant. For example, Provencal style is refined and acquires maximum harmony.
As for the color scheme, the shade of the sea wave becomes fashionable. However, it is used not as the main one, but as a bright accent, diluting white and gray interiors. If you want to make the bedroom not only comfortable, but also status, pay attention to the neoclassical style, which involves the creation of historical interiors with the participation of modern materials.
Bedroom Decoration Materials
The trends in materials for decorating the bedroom have not changed much. Designers stand for even and smooth ceilings, which can be made in the form of tension structures of various shapes, plastered or painted in light color.
The walls in the bedroom are usually papered with wallpaper – plain or with some geometric pattern. The lower part of the wall can be covered with wood panels. In addition, imitation of masonry or masonry, reminiscent of the concept of the loft style, is used for cladding. The role of flooring is a laminate, self-leveling floor or carpet. In principle, it is not forbidden to use a wooden board of light and dark shades.
In addition, already well-proven materials can be used for bedroom decoration – paint that is distinguished by low cost, cotton and linen fabric, wooden lining, indispensable for country style, laminate for wall decoration, MDF panels, etc.
Choosing the best style for sleeping
Modern style diversity makes it possible to choose a bedroom interior for every taste and color.
Minimalism. And among the dominant in the design of bedrooms 2020-2021 styles, minimalism can be distinguished. Given the frenzied rhythm of everyday life, the bedroom in apartments and houses should contribute to maximum relaxation and a relaxing stay. And a room designed in the style of minimalism is one of the best options for solving this problem. Spacious, with a minimum of furniture, a predominance of gray-beige-black shades and bright accents that do not overload the space, it boasts a peculiar coziness.
Classic. The interior in this style is called exemplary. The dominance of symmetry and ideal proportions turn the royal chambers with exquisite decoration into a room. In particular, the classic design is dominated by natural colors, gilding, status wooden furniture and accessories creating a warm mood of the room – figurines, lamps, decorative gizmos.
Loft. The use of loft styling involves plastering walls or creating brickwork. Cold colors and textures are in contact, windows should be large and tall, and space should be as free as possible. The decoration is dominated by gray, beige and white colors with individual bright nuances.
The high-tech technological style allows you to rationally organize the space, which is especially true for owners of studio apartments and small bedrooms. Non-standard light scenarios are created within its framework – the installation of lighting along the skirting boards, light canopies, etc. is used. Furnishing techniques involving the use of lifting mechanisms hidden in the walls are also very interesting. This makes it possible to mask the bed during the day, and before going to bed to get a full bed at the touch of a button.
Country. The design of the country-style bedroom turns the room into a relaxation corner for body and soul. The use of this style is characterized by the naturalness of the textures used for its creation – stone, wood, textiles. The main interior items are a massive bed made of wood, wicker chairs, a plank floor, or parquet, curtains of bed shades with floral decorations, fresh flowers or dried flowers.
Provence is a country in French. It is characterized by a muffled gamut of colors, the main of which during design are pale green, lavender, white, cream, light blue, olive, etc. The furniture is installed from natural materials – wood or metal. The bed may have a wrought-iron headboard. Textiles are chosen in natural delicate colors.
Art Deco.  The art deco style involves the combination of a variety of materials, oriental techniques and antique stylized elements, which makes it a godsend when decorating the bedroom of creative natures. A large comfortable bed, massive original accessories, orange, blue, green or purple colors – all this allows you to create an exclusive looking dream room.
Modern design is characterized by smooth and sophisticated lines. The glass, plastic, wood and stone combined with its creation make it possible to create an unlimited number of space organization models.
Bedroom decoration trends for a girl
The design of a girl's room usually has a romantic connotation and is characterized by the presence of much more decorativeness than that characteristic of a room for the stronger sex.
Interior decoration usually begins with clarifying the owner's ideas about the dream room, as well as its zoning. Often, girls have this not only a sleeping place, but also a "working corner" with a computer, as well as a place for beauty guidance. Not only beauty is important to them, but also the maximum functionality of the space around.
Whatever style and colors the room owner prefers, the main wall, ceiling and floor background is better to choose light blue, white, ivory, gray or wood. Based on the room size, the bed can be installed as a full one, and can be replaced with a folding sofa. Its complement becomes minimal furniture – a wardrobe, a bedside table and a chest of drawers with a mirror. The decor uses flowers in vases, paintings, intricate table and wall lamps.
Please note: bulky double beds and spacious wardrobes are forbidden in the girl's room, as they kill her romantic atmosphere. The ideal choice is compact furniture in neutral shades that blends in seamlessly with any interior, from classic to modern.
Making a bedroom for a man
The design of the male bedroom is characterized by a maximum of functionality and a minimum number of details. The ideal styles here are classics, high-tech and minimalism, and colors – blue, gray, black, brown and beige.
An important role is given to furniture, which can be created on the basis of a bed, a spacious wardrobe or even a dressing room. Options for arranging a berth can be different. For example, it can be represented by a bed with an orthopedic mattress or a folding sofa, next to which there will be a compact stand with a lamp. Windows are decorated using blinds or blackout curtains that do not allow color. Laminate or parquet in saturated colors spreads on the floor. For walls, traditional wallpaper, wall panels imitating masonry, MDF panels, etc. are used. The decor is represented by figurines and paintings by contemporary artists, which bring individuality to the design.
Design trends of a matrimonial bedroom
The design of such a room should be comfortable and be based on the preferences of both tenants. Ideally, if this room serves exclusively for sleep, and does not combine a children's room together with a study. But if this is the case, zoning should be used for zoning.
To create an aura of relaxation, the color scheme should be performed with a predominance of light shades. Especially such a coloring is relevant for small rooms where there is not enough light and space. You can opt for pale green, light blue, beige, sand, lavender and pale orange shades. As for wall decoration, the materials here can be used different, but most often it is wallpaper. Combining their colors and textures, you can create a very original interior.
The ceiling surface can also be decorated in different ways. The easiest way is to make a suspended ceiling of a standard, carved or step design, which is at the peak of popularity in 2020-2021. Feel free to choose a laminate in the role of flooring, and near the bed you can provide a small soft carpet.
Lighting trends and bedroom accessories
When designing bedrooms, close attention is paid to their lighting. The presence of a window with open curtains allows you to fill the room with natural light during the day, and in the evening optimal diffused lighting will provide a classic chandelier, or a lamp with a lamp shade.
A good solution in the framework of modern interiors will be the use of spotlights, which are scattered on the ceiling in the right amount.
As an alternative, LED backlighting can be used, built in all around the perimeter under the ceiling, or in some of the functional areas – for example, in an alcove bed.
If you want to diversify your bedroom interior with bright details, you should hang landscapes or images in monochrome black and white on the walls. In addition, the bedroom interior can be diversified with the help of a clock with a quiet mechanism, fresh flowers, laconic figurines. Textiles, for example, the presence of numerous decorative pillows, are extremely appropriate in such a room.
If all the above recommendations did not help you create a clear concept of a new interior for your bedroom, contact a professional designer who will help you. Together with him you can create an individual project of your dream room, whose functionality and appearance will suit you 100%!
Master Bedroom Trends 2020
It is certainly worth investing in your own well-being and this goes far beyond getting healthy habits or entertaining yourself. The house where you live, for example, should always welcome you, because this is where you will have the best moments of your life, and always be your safe haven.
Decorating the home becomes an important feature of those who care for comfort and warmth, making them always feel well received within their own space. After all, it is through decoration that we can make visual impacts, and convey different feelings and sensations – such as making it more inviting and cozy, for example.
Now when it comes to priorities, the bedroom should be our main investment, because that's where we spend hours of our days, whether resting after a long day at work, entertaining and enjoying the benefits that privacy provides.
For you who are looking for the best news and decorative trends for bedrooms in 2020, you've come to the right place. Today you will get to know the key concepts that are redirecting and reshaping the way bedrooms should be.
Trends for master bedroom Decorating in 2020
As man and his knowledge evolve, so does the home and the way we decorate and use it change. Everything is moving towards practicality and sophistication, whether it has a traditional or stripped contemporary style. It really does not matter.
We have reached a point of decoration where interior designers themselves dare to reinvent what has already been invented. There are no more patterns. You can now create mixes of well-defined concepts, such as boho or art deco, for example, and brush it all up with details of your own personality.
But do you know when someone decides to dare and everyone realizes that it really works and makes a beautiful visual impact? The tendency to try to replicate the concept in your own home is strong, as is the tendency to comment with friends and relatives. This is how trends come up, which are nothing but ideas outside the curve that worked very well!
That's why you can simply dare and reinvent the bedroom with your own style; How you can choose to follow some tips from existing concepts, with proven success. This makes it much easier to know which way to go, avoiding disappointment or any other major frustration. Check now the trends for bedroom decoration in 2020.
Bedroom Decoration Designs 2020: Greener
Suddenly many people became aware of the impacts caused by consumerism on the planet and a wave of sustainability and awareness came to light, even reformulating many concepts of decoration itself.
Now and more than ever, preserving nature and being in touch with it within their own home is what many designers are looking for. Therefore, plants must be present in the composition of the bedroom decoration. You can leave foliage near any corner where good lighting hits you, such as arranging through racks, bedside tables, and bookshelves.
In this same light, notice that mirrors and decorative frames fall as a subtle ensemble that offers a more stripped and elegant look.
If you are not a fan of overloading your bedroom space with so many plants, you can create small arrangements to arrange on the nightstand, for example. Notice how the shade of green, even dark, can create a focal point and contrast with other colors.
The burnt cement wall is also one of the major trends for interior decoration, composing just one of several other applications that industrial style decoration has to offer. The presence of a clean frame or decorative canvas in the center of the wall adds to the detail and refinement of the set.
Master Bedroom Decor Trends 2020: More Natural Lighting
Perhaps it was because of this factor that plants came into play, or the opposite: because more plants are needed, there is a demand for more natural light. Now, the most modern and elegant bedrooms are inclined to broader, more well-lit concepts.
In this bedroom, you will find a decoration of refinement and inviting, as every bedroom should be. The investment in earthy tones, such as wood accents, gives a rustic and elegant look that never loses its class – it's timeless. Already the cool colors of the wall tend to clamor for the warmth that rugs  and wall hangings can add.
Here, see how the lighting gets even more prominent thanks to the door that faces the garden, together with large panes. Note also how a well-placed painting on the bedside table can add style to the environment, creating a cozy and welcoming corner.
The colors are well planned and follow a basic concept of decoration, which is tone on tone , which in this case uses blue in its various shades to differentiate layers, items and offer depth to the setting.
Bedroom Decorating Trends 2020: Presence of Natural Elements
The new proposal is sustainability. This starts from a simple plant that beautifies and purifies ambient air, such as furniture and other compositions created from numerous sources. Now the trend is to bet on DIY projects – those of the "do it yourself" style – that have been valued and requested, as well as local artisan products that can add rustic nuances to the set. Elements made of jute, straw, wood, linen and rope complement the arsenal of possibilities.
The pallet, for example, is an affordable and often discarded item that lets you take your imagination to other heights.
Not only pallets, but boxes and various other materials end up being reused to create furniture and add to the atmosphere a much more natural, clean and politically correct air. Wood always fits well in any kind of application and here it takes the lead in framing. The presence of plants needs no comment; It breaks the cold, sober mood of white and adds life and warmth.
Here the wood continues taking the front of the space. This time, instead of being the base of the bed, the pallets served to create the headboard, adding a minimalist and elegant look to the bedroom. Objects that do not have the decorative function, such as the back stairs, add personality and exclusivity.
In addition to the neutral pillows, the bed got a pad with cover textured, which offers elegance and a warm sensation, warm, only the softness of the hair has. Already the cold colors present in various elements, such as gray, ice and light pink, come from the Scandinavian style, which is already trend.
Creating the bed frame is just one of the endless examples this concept can do. In fact the possibilities are so great that it is impossible to be limited. In the example above, the headboard was created with OSB plywood panel. Already the bedside tables, made with fair boxes and ornamented with discs of pine trunks, which served as a base to decorate with candles and plants. Inside, pillows to decorate as well as to star in the setting, creating a subtle and focal point of interest.
Now when the intention is to use natural elements in their essence, nothing more beautiful and rustic than to choose the trunks to create these compositions. Whole pieces can do the bedside function, delivering a rich and unique atmosphere to your bedroom.
Wood has always been and always will be welcome when it comes to decoration. It has a value of its own that no other material can compete with, especially when created through one-piece pieces that bring with it still-present tree details, such as the trunk stains that form beautiful compositions, and the mark of us.
In the example above, from the corner shelf to the headboard were created from this concept. Notice the other elements that make up this scene, such as the wooden block that makes a kind of nightstand; the handicraft pieces, made of interwoven straw, that make the feel of the wall like the bed. There are still well-chosen hats and frames, which have features that "talk" with the other items of the scene and ensure this incredible harmonization.
Master Bedroom Decoration Trends 2020: Textures and Colors
In the many examples shown above you would find texture in various items and in various applications: from the natural texture of the wood to the velvet pillow cover. Where exactly doesn't matter, but what the trend shows is that the bedrooms should have different textures. They can be applied in the bedroom with the help of rugs, pillows, blanket, curtains and various other points. The idea is to bet on creativity and allow innovation.
Here the texture has been applied in various ways. The récamier at the foot of the bed has a texture that resembles jeans, or canvas. The rug adds a sleek, modern look thanks to its faded dark material. We also find textures on the canvas above the headboard, as well as the canvas itself along with the nightstand – the latter two made of wood. We can not forget the pillows and curtains, after all, the fabrics are the wild element when adding textures to the decoration.
As said, fabrics are key elements within the decor and in this bedroom they provided the perfect dosage to achieve elegance. The texture of the blanket contrasts with other surfaces and shapes, creating a unique feeling of consistency and warmth. Again, present woods, as well as plants, which have unique characteristics and impacts. In short, a well-designed environment becomes inviting and capable of enhancing our well-being.
See how knit and wool pieces can add unique results to the bedroom decor. The velvet pillows again appear to contrast beside the pillows. The headboard also appears to be of fabric and consequently adds to the ensemble. The great thing is to realize that you don't have to spend a lot or have amazing knowledge about decoration. With simple details you get these and other even more amazing results.
The mirror appears in several bedrooms and is no longer an exclusive element of the bathroom or vanity units. Now they are part of the decoration, lighting and widening the spaces.
Already in this representation, the texture details gained depth and prominence. Notice how the background (the brick wall) ends up contrasting with soft colored elements such as white and gray. Moreover, it blends perfectly with colors and wood elements, which give a more rustic and inviting result to the bedroom.
Natural elements have their textures, be it in the wood of the chair, in the pallet of the headboard or in the corner drawer. In bed, applying tone over tone yields layers of warmth and comfort. In all, at least three textures in bed alone: sheet, smooth-looking; the blankets and pillows look fuller and wrinkled. The grand finale comes with a strategically positioned fleece blanket to contrast with these elements.
In short, it is not difficult to follow trends. You can absolutely simplify everything we showed here and do everything around alternatives. Creativity is the best ally for those looking to create unique experiences in even more unique atmospheres.
Girl Bedroom 2020
Any girl dreams of her personal space – a feminine bedroom with all the wisdom. The interior design in accordance with gender characteristics is already outdated, the women's bedroom is no longer decorated with pink ruffles, bows and feathers.
The interior design of the bedroom for the girl should correspond to her hobbies, tastes, lifestyle and be as comfortable as possible. Gloomy colors, heavy furniture are not the best options for the interior of a young person. The best choice is pastel, discreet tones.
Light vintage, today, is the main trend in the design of women's interiors. Large windows, high ceilings, a spacious dressing bedroom will make this bedroom impeccable. Very actual shades of blue and turquoise will perfectly complement the beige background, which will make it especially warm and attractive. The main thing is to create a special romantic mood in space.
Girl Bedroom Lighting Trends 2020
The bedroom for the girl is significantly different from the bedroom for the girl. It should be equipped with several light sources: a dim cozy light for a comfortable evening and bright enough lamps for morning makeup. It is also necessary to take into account the presence of a dressing bedroom or a spacious sliding wardrobe, a reading corner, a zone for creativity or for work – various light sources are simply necessary.
Girl Bedroom Storage Solutions
This issue is especially relevant for the women's bedroom – every year more and more things appear here and they need to be stored somewhere.
A corner cupboard is the most logical and compact system for storing clothes, bedding and even jewelry, if it has drawers. The cabinet can be replaced with a chest of drawers, a cabinet or a shelf.
A bed with storage boxes – convenient and bedroomy storage of bed linen, non-seasonal items, accumulated photo albums.
A bench-chest under the window is a modern and rational storage of things. It serves as a place to relax, read in the daylight and, at the same time, a system to save space. And the existing window sill can be used as a shelf for books, boxes, magazines, family photos and interior decor.
Zoning Of Bedroom For A Girl 2020
Even the smallest bedroom can be made as functional as possible, mentally dividing it into a working, dressing bedroom and sleeping area.
Replace the windowsill with a wide tabletop and in one fell swoop you will solve several problems: a work corner, a dressing table and a place for creativity.
So that a large spacious cabinet does not look too bulky, give preference to glossy white facades. Glossy wardrobes and chests of drawers are the most fashionable bedroom furniture to date.
A bed with a beautiful soft headboard is an interior element that does not require decoration, which sets the atmosphere and mood in the bedroom interior.
Girl Bedroom Furniture Trends 2020
The furniture in the bedroom for the girl should be feminine: flowing forms, soft and pleasant to the touch upholstery materials, sparkling mirror surfaces, in general, a combination of many romantic textures in one bedroom.
Another important detail of the bedroom for the girl is the mirror. It should be at its full height so that it would be possible to arrange trying on clothes and create new beautiful images. And if you place mirrors behind the head of the bed, then in addition they will contribute to the visual expansion of the space.
Perfect Girl Bedroom Curtains in 2020
In the bedroom for the girl, monophonic curtains of soft tones are best suited – the lighter they are, the less they absorb light. So that the curtains do not merge with the wallpaper, choose them several tones lighter or darker than the walls. Light curtains visually enlarge a small bedroom, dark curtains reduce and make a large one more comfortable.
The interior of a youth bedroom is easiest to create if you select a central theme and collect the design around it bit by bit, like a snowball. For example, an inspiration can be just a color, or an important event in life, creativity, city landscapes – everything that evokes joyful feelings. Youth bedroom furniture is usually distinguished by fresh bright colors, original shapes and high functionality. If you are especially proud of something, add it to the interior.
Do not stop at one interior style, combine different furniture, color, texture, experiment, create your own positive space, feel free!
Do you want latest Trends straight to your inbox?
Thank you for subscribing.
Something went wrong.