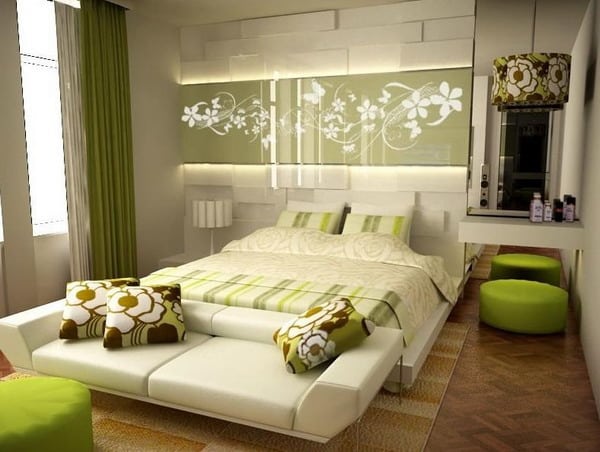 We allocate about a third of our life for sleep, and on this basis we want to make the place for rest as comfortable as possible. A pleasant interior will allow you to relax and forget about all the activities outside the bedroom.
Bedroom Interior design style trends 2021
When we select the style of the interior for the living room, personal office or kitchen, first of all we think about their functionality, with the relaxation area everything is much simpler. Here we can give free rein to imagination, and listen to the desires of our soul. The basis for design experiments for the interior of a small bedroom can be the Scandinavian style, loft, Provence, minimalism, modern style or classic.
Design a small bedroom in a modern style
In the twenty-first century, small bedrooms are usually associated with clear graphic lines, calm tones, and the absence of excess objects.
If you opted for a modern style, and the bedroom needs to be furnished with neat and reliable furniture without additional decoration. The walls and ceiling of the room should be plain. You can use a gray, white or beige color palette. But dark blue, chocolate and black shades are best left for rooms with a larger area. The floor of the bedroom in modern style is covered with a laminate, parquet, or carpet in soothing colors. In order to visually increase the space, you can add chrome fittings, metallic luster, polished wood and mirrors to the interior.
If you want to focus on something in your bedroom, let it be exquisite floor lamps, paintings, indoor plants, or ceramic figures.
Learn more about creating a classic style design in your apartment.
When buying bedding, it is better to give preference to natural fabrics such as cotton or silk. Eliminate sets with bright and catchy prints.
As for light, to create a calm atmosphere, and a good serene sleep, designers advise using spot LED lighting, and matte, milky-white sconces placed at the head of the bed.
Classic style in a small bedroom
This style is suitable for lovers of everything luxurious. The nuances of pink, white, light gray, peach will ideally combine with aristocratic golden-silver patterns, columns, stucco moldings, and of course crystal chandeliers, which are also an integral part of this style.
To furnish this room, carved furniture painted in ivory color with enamel is perfect, and besides, it will create a magnificent atmosphere of royal chambers in your bedroom. Drapes from brocade, satin or velvet to the tone of your furniture will be the best decoration of window openings. When installing the canopy, you can use the same fabric as for the curtains. The bedspread will look great from jacquard, complemented by flickering patterns. The abundance of light in the classic bedroom will make it look like a royal palace.
Small Provence-style bedroom
Provence is created for romantic natures who are fans of the French atmosphere. Pastel colors should be displayed in all interior details. It can be pink, white-blue, pale green, light purple, or beige. For textiles, linen chintz, which creates the impression of burnt matter, is the best fit. It can be decorated with a polka dot pattern, a rhombus, a cage, or a small floral print.
For a small bedroom in the style of Provence, it is best to select simple furniture without any pretentiousness. It can be made of light wood without varnishing, or simply painted white.
How to create a loft-style design, our article will tell.
Loft style as a small bedroom design
If you are ready for the fact that your walls will be left without decoration, and almost all the space will remain free, then this style is undoubtedly yours. Instead of bored old wallpaper or stucco, you can simply leave the wall that is under them untouched. It can also be decorated with imitation of brutal brickwork or concrete panels. A simple bed without legs fits right on the plank floor. The main thing is that your room would look like it's a temporary home of a free artist. No decorative quirks. Of the decorations, you can leave only black and white prints on textiles, lamps for lighting the bedroom, and a mirror in a thin frame.
With beautiful, bright curtains, too, have to say goodbye. Instead, horizontal or vertical blinds can perfectly decorate your window.
Reducing the size of the bedroom will help you to alter a regular window into a panoramic one, and a wardrobe with glossy metal doors.
Minimalist style small bedroom trends 2021
In principle, this is the most profitable option for a bedroom with a small area. This style is good because it does not require any curls, decor, patterns, or other decorations in its design. To save space, you need to use perfectly even, smooth surfaces, clear furniture, simple lamps of geometric shapes, and one or two close in spectrum, or contrasting colors to decorate the room. Such a simple solution is very suitable for business people with a rational approach to life.
The first association with Scandinavia is transparency and coolness. Decoration in airy white tones with light brown or gray-blue accents should be chosen for rooms facing the South, as well as located in a warm climate. Such a finish will help to transfer heat more easily and create a feeling of freshness and lightness. The Scandinavian-style bedroom should remind you of snow-capped mountain peaks and icy rivers.
Color schemes for small bedroom ideas
Since we are talking about bedrooms with a small area, the main attention should be focused on a light palette. Colors close to white reflect more light and visually expand the room.
White color for a small bedroom
White color is lulling, relaxing, and creates a clean, calm atmosphere. In a completely snow-white room, sleep will come in a matter of minutes. and if you want to dilute it with romance, just install color lighting.
Small bedroom in blue tones
Making in heavenly shades relieves nervous tension and cools the body. It will be appropriate if the apartment is often hot. For active, active people, this color will help to slightly dissipate energy and enjoy dreams.
Bedroom in green
Green is the color of life, and to combine it in the bedroom is with calm natural shades: gray, brown, sandy yellow, turquoise or lavender. In addition, all shades of green will fill your bedroom with freshness, and provide the necessary relaxation for the eyes and nervous system.
Small purple bedroom
Purple can be a great addition to green, yellow, or pink elements. Also purple harmoniously looks with white, beige and cream colors. This color will envelop your bedroom with a light haze, and, as it were, will invite you to the dream kingdom of dreams.
Yellow bedroom
This color is perfect for rooms where there is not enough heat. Lemon, saffron, sand and golden fill your room with light and comfort. Shades of yellow cheer you up and fill your life with joy, and combine them best with white, green, blue, purple or brown.
Gray color of a small bedroom
Gray is considered the most neutral and calm color. In the interior of a small room, it will not look bulky like black, because it is softer than this color. In addition, gray will be an excellent background for bright accents, and in itself – laconic and restrained. Light or silver versions of gray are suitable for all interior styles.
Materials and finishes
The choice of materials for decorating the bedroom is not limited to almost anything. The only important condition that should not be neglected is the safety of materials: they should not contain harmful impurities and emit toxic fumes.
Floor in a small bedroom
The floor in the bedroom is best made from warm material. It can be a wooden parquet, a laminate, a carpet. Refusing from dark and heterogeneous colors, and laying boards perpendicular to the window will help you to make the space more voluminous. If you are thinking of laying a carpet in your bedroom, opt for the same shade in which the room was finished. And it's best to cover the entire floor without creating cuts. This will make the small room even smaller.
Walls
The best choice for a small bedroom is light walls, plain or with a small, almost imperceptible pattern. For walls, you can use paint, decorative plaster, whitewash, wallpaper, cork and wood panels.
For the loft style, it is better to choose a masonry of white or grayish color.
Ceiling
To visually make the bedroom higher, the ceiling should be glossy. It is good that light from side sconces is reflected in it. The volumetric effect can be achieved by placing a mirror stretch film in the "frame" of drywall.
For a romantic design, a ceiling in the form of a blue or starry sky, with a cosmic 3D-pattern and elements flickering in the dark, is suitable. Images of planets, large figures, rich tones in the design of a small bedroom should be avoided.
If you approach the issue of bedroom decoration correctly and choose the right design, many owners of large bedrooms will envy your room.
Do you want latest Trends straight to your inbox?
Thank you for subscribing.
Something went wrong.