What are bedroom window treatments?
Window treatments come in a variety of options that you should definitely consider for dressing up the bedroom window; these vary in stylistic range, from vintage to ultra-modern.
Bedroom window treatments include everything from shades to formal curtains and decorative valances and frames that sit above the window. They are often used in bedrooms to add luxury and serenity to the space, but depending on the preferred window treatment, you could achieve a different feel or function. For example, blackout curtains can make it easier for a baby to nap.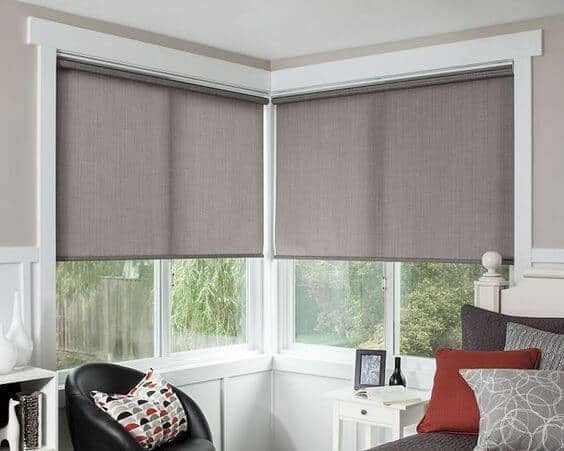 Source: Pinterest
How to buy the best bedroom window treatments
The best bedroom treatments are the ones that work for you. You might want simple curtains for a bedroom window in a minimalist room or heavy formal curtains topped with valances in a vintage-inspired room.
It is also essential to consider the type of window. Bedroom windows come in many shapes and sizes, and some lend themselves more easily to small window treatments like mini blinds. If your window glass is thin, thermally insulated curtains can help improve room comfort.
Choose colors that blend with the room's existing ones, including paint and trim, for a serene and harmonious look. Otherwise, you can add a dramatic touch to the room with contrasting colors and bold patterns. A color wheel can help you select shades that work well together.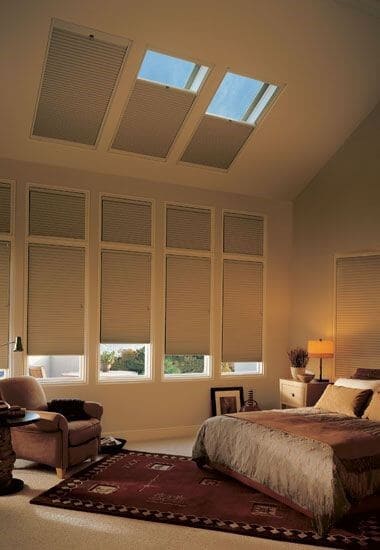 Source: Pinterest
Types of bedroom window treatments
While there are seemingly countless styles, window treatments fall into a few simple categories:
Shutters are generally the most expensive window treatment for a bedroom. However, they add the timeless elegance of wood to your bedroom design. There are ready-made shutters available, but it's generally best to have them customized. This ensures that they fit correctly in your window for maximum protection, privacy, and room-darkening effects, as well as aesthetics.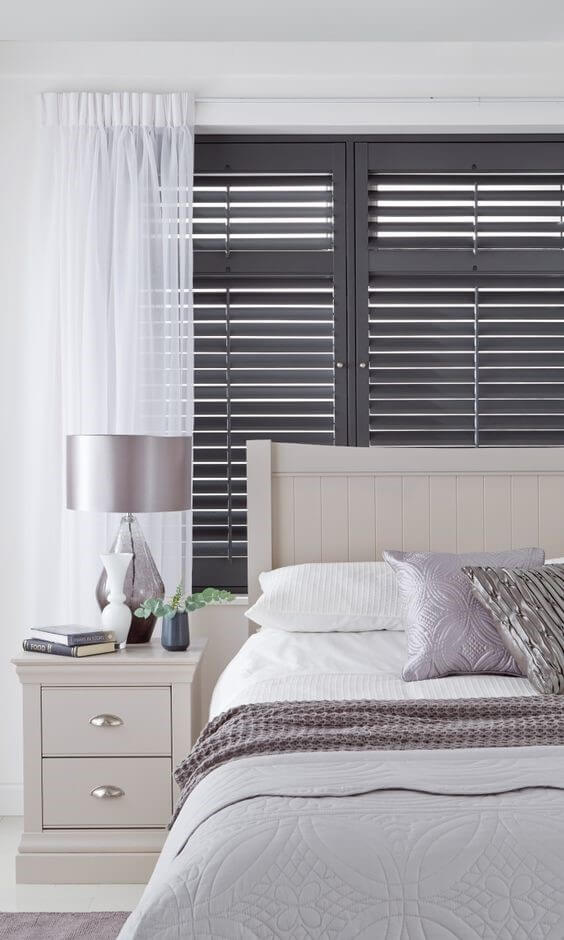 Source: Pinterest
Generally, this is the least expensive option, as blinds are also the simplest of a bedroom window treatment idea. Slatted and operated with a rope or a small handle, the curtains can be placed inside or just outside the window. They can be an excellent choice for modern and minimalist bedrooms.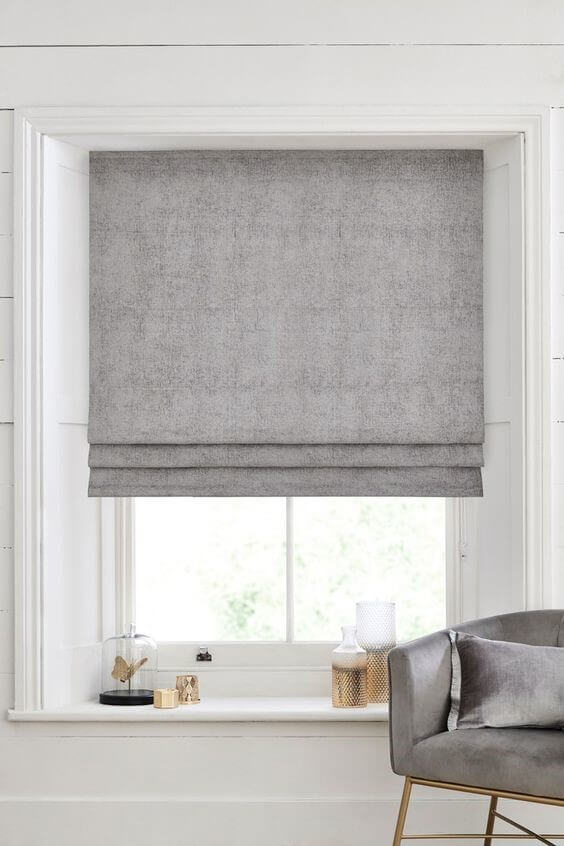 Source: Pinterest
Shades are a fabric option similar to blinds. They come in different styles, from simple roller blinds to elaborately folded roller blinds with varying light filtration levels. Depending on the type, shades can suit almost any bedroom.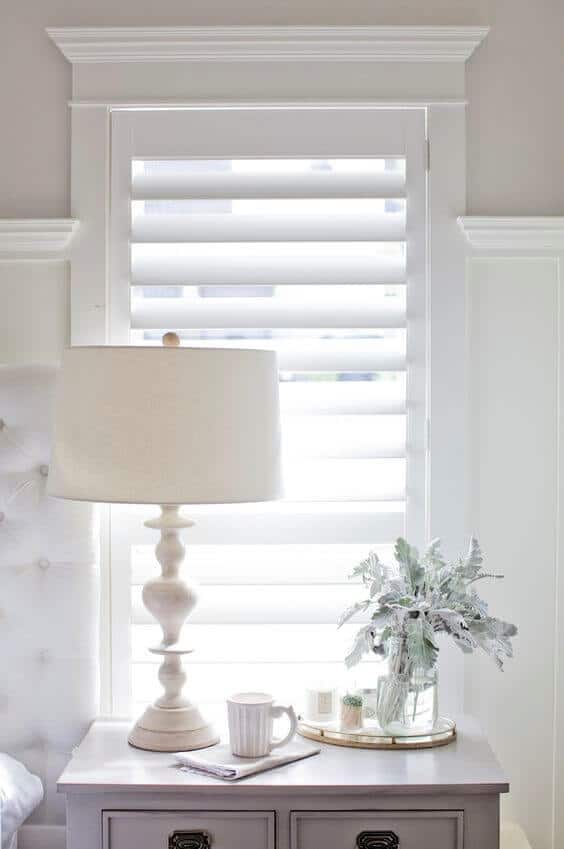 Source: Pinterest
Choose the right size
Choosing the right size window treatment is extremely important. But how to measure it depends on the type of window treatment selected.
For treatments that will be mounted inside the window frame, measure both the length and the width of the window in three different points. Use the narrowest width and most extended length. If they will be mounted outside the frame, measure the outside of the structure and add 1.5 cm to each measurement to consider the overlap.
For curtains or drapes, measure the window's width and add 3 to 8 inches, depending on how much you want the curtains to appear. To choose a length, decide where you want the curtain's top and bottom to be and measure the distance between these points. Formal curtains tend to be floor length or even puddles on the floor, while more casual curtains can hang just below the windowsill.
Interior blinds are measured similarly to curtains or blinds, but exterior blinds are significantly more complicated. Consider having your window professionally measured or follow the manufacturer's measuring instructions for the specific blinds you choose.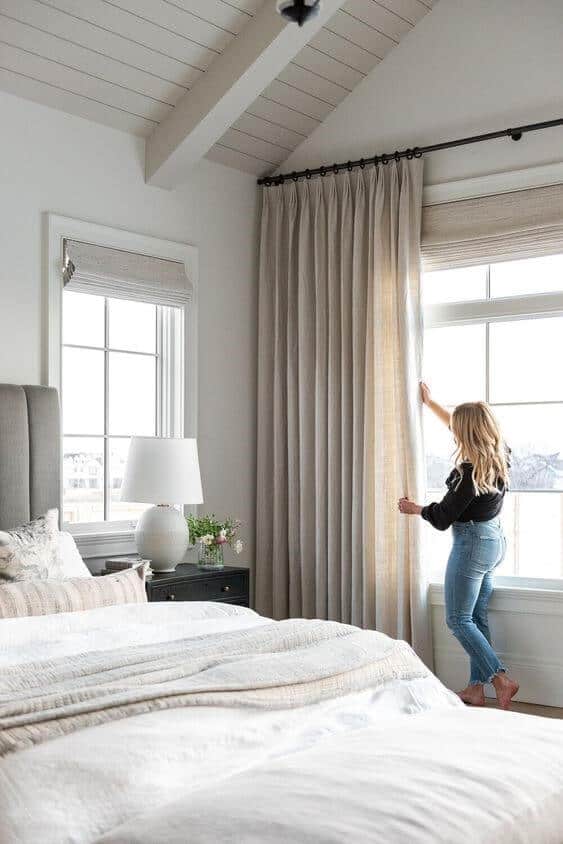 Source: Pinterest
Is a plain or patterned curtain better?
Choose the curtain you like best, plain or patterned, based on the color of the furniture and the room's size. If the furniture is very colorful, and there are decorated carpets, many paintings or prints on the walls, it is better to opt for plain-colored curtains.
If the furniture is classic or plain and without many decorations, printed curtains can add an extra touch and liven up the environment.
If the room is small, choose a pattern with smaller designs (micropattern).
If the room is large, you can opt for large designs or more prominent patterns.
For children's bedrooms, choose from many playful, fun, and colorful patterns.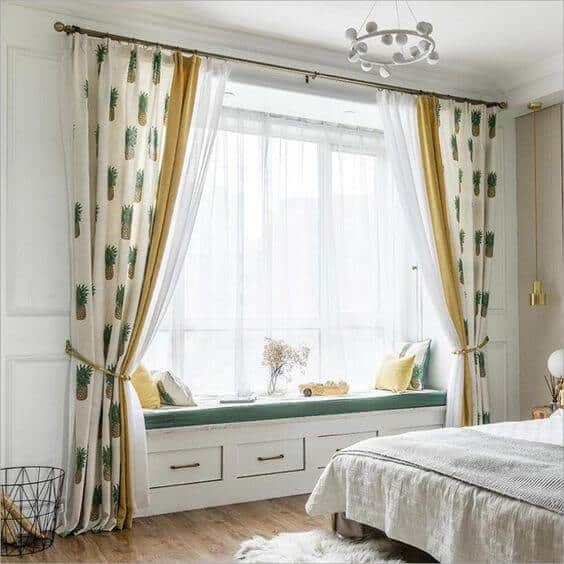 Source: Pinterest
The right degree of transparency of a curtain
Depending on the lower or greater degree of transparency of the fabric, the curtains perform the function of obscuring or filtering the light and protecting your privacy, hiding the room from gazes coming from outside.
Choose light fabrics and light colors for dim environments.
Choose heavier fabrics and dark tones for large, bright bedrooms.
Choose blackout curtains in specific fabrics that help isolate the bedroom from cold, heat, light, or/and noise.
Curtains with a light, almost transparent fabric let a lot of sunlight enter the environment. It is suitable for rooms with little daylight and for cases in which there are no privacy concerns.
Semi-filtered curtains veil the sunlight; therefore, they are suitable for all rooms of the house, bedroom included.
Filtered curtains reduce the passage of sunlight and protect you from people outside seeing what's going on inside the house, therefore protecting your privacy. It is recommended in bedrooms or rooms very exposed to the sun.
Finally, blackout curtains block the light entirely and create darkness in the room. They are ideal for rooms that have no shutters or blinds. If made in specific fabrics, they will help isolate the room from cold, heat, light, and noise.
It is possible to combine two types of curtains: if you need both to filter the light and to darken it, you can opt for a double curtain that allows you to adjust the brightness according to your needs: a curtain with a clear and filtering fabric, and a darker and heavier one, superimposed thanks to two parallel sticks fixed to the unique double supports. The lightest curtain will be positioned internally, closer to the glass, while the thicker and more covering one will have to be placed externally.
You can also combine a filter blind externally with a roller blind to be positioned internally to cover the window when less light is needed.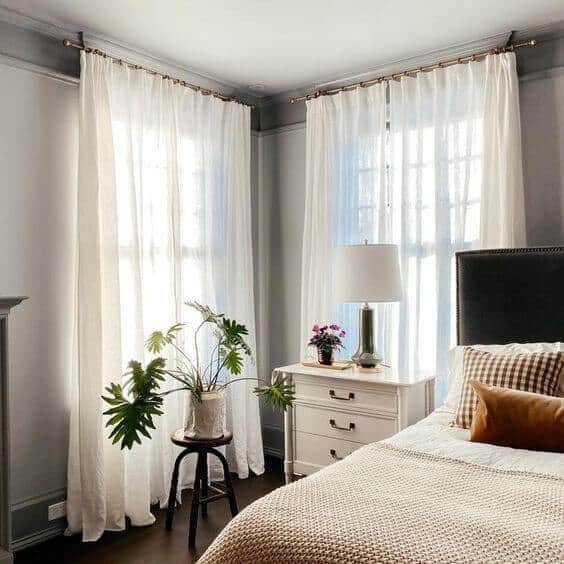 Source: Pinterest
Curtain Fabrics
The composition of the fabric and its processing determine the transparency, appearance, and ease of maintenance of the curtain. The intertwining of the threads forms the fabric. The different way of intertwining the threads is called weave and defines the fabric's strength and appearance.
Always follow the instructions on the product sheet and on the label applied on the awning itself with the relative symbols. These measures vary according to the type of fabric, its composition, and processing.
Source: Pinterest
What style and color should you choose for your bedroom curtains?
Color is the most characterizing element and should only be chosen after painting the walls, having the furnishings, and other decorations (carpets, chandeliers, prints) in place. In this way, you can have an overview of the style and tones of the room.
Each color can create a different atmosphere and reflect the personality of those who live there. For a sophisticated style, choose curtains the same shade as the walls or a darker tone. If you prefer contrast and more lively environments, opt for curtains in a bright color that contrasts with the walls and furniture's color.
Let yourself be guided by your taste but keep these factors in mind:
room size
exposure to natural light
color of the walls
furniture and decorations in the room
ease of washing and maintenance
The color of the curtain changes the brightness of the room:
It is better to focus on light shades for small rooms, which make the spaces seem larger. If the room is large, darker colors can also be used. Light tones are more suitable for dimly lit rooms because they let more light through. Dark or bright colors are suitable for environments more exposed to the sun because they shield more the sun's rays.
Choose the color you prefer and that best suits the room:
Curtains in white and natural tones
Light colors such as white, cream, ivory, and ecru convey a feeling of light, elegance, and cleanliness. They look good in all environments and let more light through, creating a fresh, bright, and spacious atmosphere.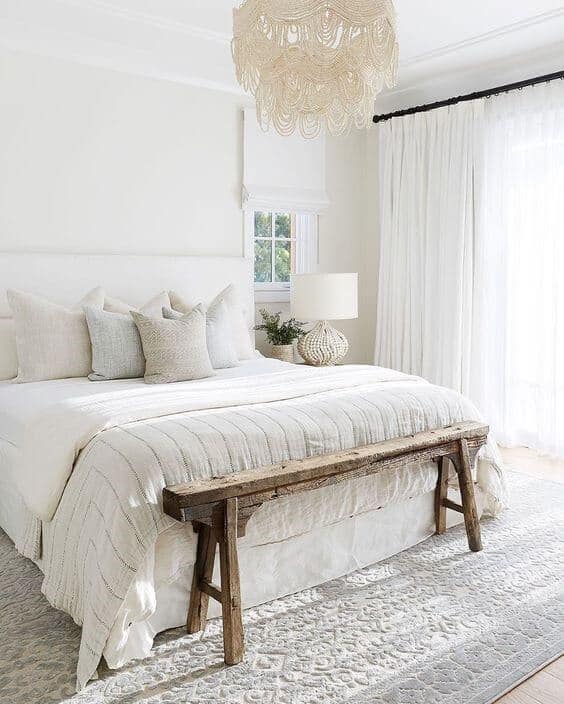 Source: Pinterest
Curtains in shades of brown
The color of the earth has a soothing effect and transmits security. Its light shades, such as beige or dove gray, also look good in environments with medium brightness. More intense hues, such as chocolate, it is perfect for very bright rooms.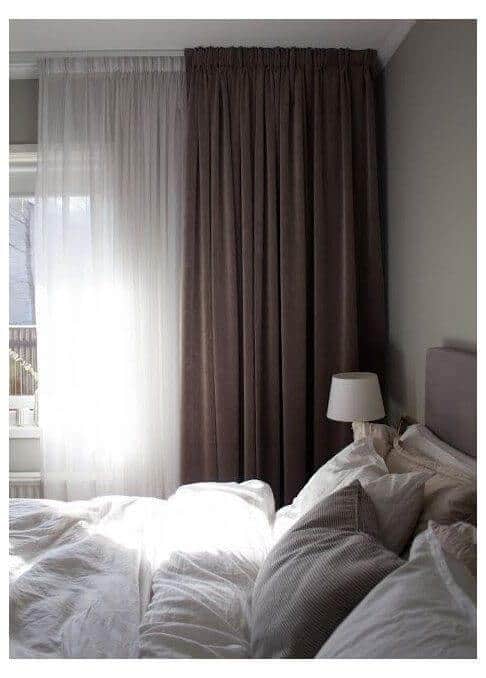 Source: Pinterest
Curtains in shades of yellow, orange, and red
Stimulating and energizing colors that create joy and a good mood are perfect if you want to create a cheerful, welcoming, and sociable atmosphere. Yellow and light orange increase brightness, while dark orange and red are more suitable for very bright environments.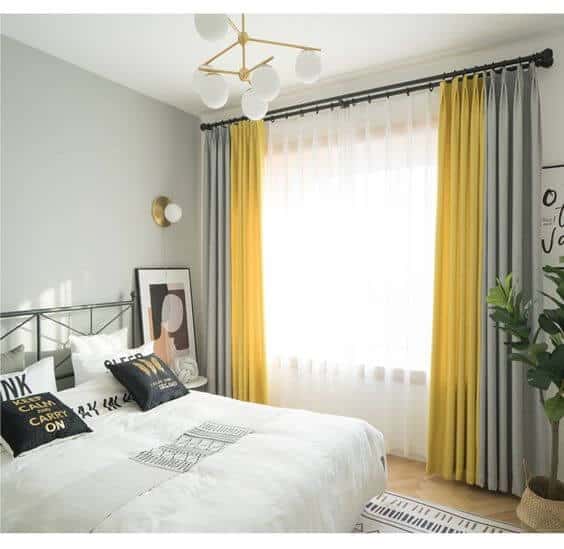 Source: Pinterest
Curtains in shades of pink, lilac, purple
The shades of magenta, wisteria, up to dark purple, lend themselves well to bedrooms, living rooms, and study areas. The shades of pink lend themselves well to all environments to give a touch of refined classicism.
Source: Pinterest
Curtains in shades of blue and green
Cold shades that recall water and nature give a sense of purity and calm. They are suitable in all areas dedicated to relaxation or in other bright rooms.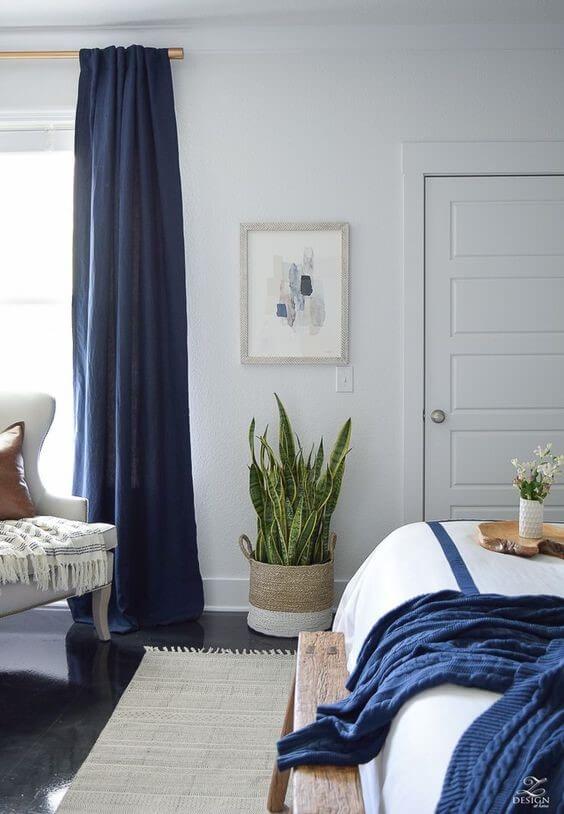 Source: Pinterest
Curtains in shades of gray and black
These are elegant and sophisticated shades, which adapt to all contemporary style environments. They are recommended in environments with good brightness.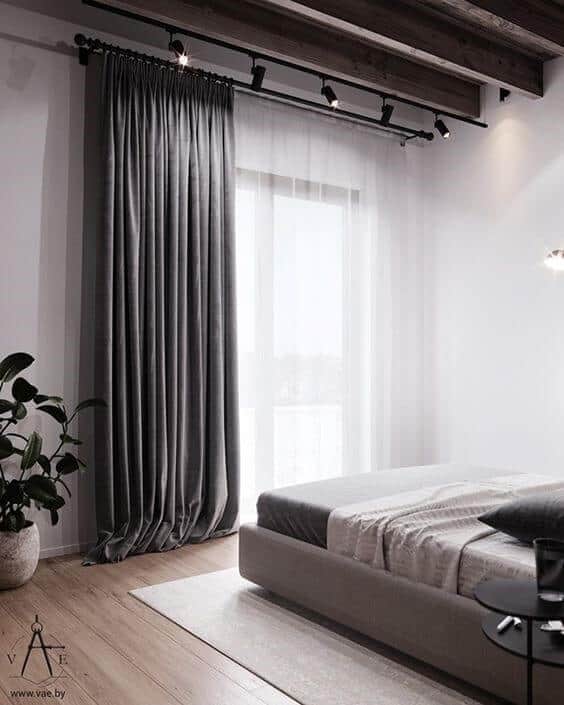 Source: Pinterest
With the information of this article you will be able to choose wisely your next window treatment and your new curtains. Choose colors, styles and sizes according to your needs.
Find some window treatments here
Happy buying!
Do you want latest Trends straight to your inbox?
Thank you for subscribing.
Something went wrong.