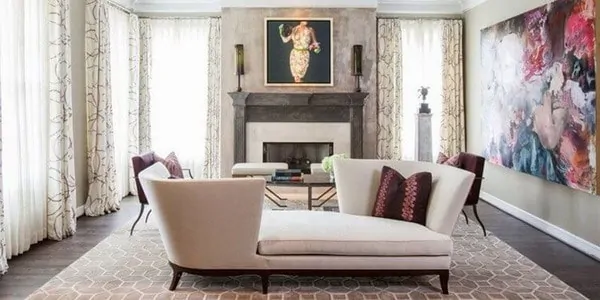 Do you want to change the annoying atmosphere in the living room, kitchen, nursery, or bedroom but are not ready for repairs and major changes? Start by changing curtains that can transform the room and make it more functional and comfortable. And so that the textiles you choose are not only beautiful but also fully comply with the latest trends, we suggest you find out which curtains will be stylish in 2023, as well as get acquainted with the recommendations on their use in the interior from the world designers.
Actual Curtain Trends of Modern Design

In 2023, designers will prefer natural materials like silk, linen, cotton, and natural prints. In addition to flax occupying the top positions, bamboo curtains are also in trend, especially in favor of plain curtains that can perfectly fit into many design styles and give the rooms a finished look.
The trend of the coming year is the curtains of saturated tones. They look great next to beige, sand, and pastel shades of wallpaper. But, at the same time, it is precisely single-layer curtains that are welcomed – multilayering is gradually losing relevance.
You can refresh the interior of any room by choosing curtains of natural tones – beige, brown, green, and blue- and their shades.
The prints that were popular in the 80s of the last century do not leave fashionable Olympus – flowers that look advantageous on curtain fabric, futuristic drawings, and all kinds of geometric patterns.
Natural prints are becoming less relevant – images of animals, plants, and landscapes made in 3D technique.
Types of Fashionable Curtains in the Coming Season

The fashion trend in 2023 can be called curtains. Ideally, they should be as voluminous as possible. However, having ordered their tailoring from airy snow-white fabrics, you can make the room lighter and more spacious.
Japanese and Roman curtains remain no less relevant trend now. The latter, an extensive fabric strip whose length can be changed, becomes a godsend for creating minimalist interiors. By purchasing Roman curtains for the living room or bedroom, you will give elegance and comfort to the rooms. On the other hand, Japanese cloth curtains, remotely resembling sliding doors (in the manner of a wardrobe), can be a godsend for the nursery. In addition to the convenience and comfort of use, such fashionable curtains boast excellent light transmission and the ability to soften too bright a solar glow.
GOOD TO READ: Bedroom Window Treatments And Curtains
Stylish and functional roller blinds also do not lose relevance. Their monochrome versions bring an atmosphere of harmony into the room decoration. The same homemakers who are not afraid of experiments can try on curtains with photo printing on the windows. She can reproduce family photographs, children's drawings, and other pictures, adding a "twist" to the design solution.
Dreaming of creating an atmosphere of luxury and status? Feel free to choose French curtains – pelmets – an unrivaled standard of classic chic. True, they look great in spacious rooms; in small rooms, they can seem bulky. Curtains, whose structure is divided into distinctive sections with many flowing folds, are an ideal choice for studio apartments and large living rooms.
Another trendy trend of the year is oriental-style curtains. Responding to the fashion of exotic interiors, among modern curtains, this is the only option that accepts the presence of pelmets and multi-level cascades. Having beaten the windows in the room with exquisite curtains of golden cloth, decorated with calligraphic ornaments and intricate patterns, complemented by tassels and fringes, you will make the interior chic, worthy of the royal palace.
As in the past 2021-2022, curtains in the style of the country are still popular. However, removing the windows with romantic curtains decorated with floral and floral prints will bring a fresh and tender mood to the room's decoration.
Horizontal blinds, as well as spectacular-looking filament curtains, have retained their positions. Being a woven strip that is cut into numerous "ribbons," they can be plain or multi-colored. The most luxurious look variations are decorated with rhinestones and beads.
Select the Latest Materials for Sewing Curtains

It has long ceased to serve as a means of protection against the light of the sun breaking through the windows and the prying eyes of strangers; curtains have become an integral part of home decor. In 2023, designers and manufacturers of textiles will give users an extensive selection of fabrics for sewing fashion curtains. Naturally, the fabric needs to be selected not only for reasons of fashion but also in accordance with the stylistic interior solution.
The materials used should be harmoniously combined with each other in texture and shade. You can order curtains from the following fabrics:
Natural – linen, satin, cotton, and silk – becoming a godsend for interiors in a modern style. Especially pragmatic is the purchase of linen products that do not lose their color brightness for a long time and never go out of fashion. True, this material is prone to creasing. Cotton fabrics to prevent loss of brightness today are made with the addition of polyester. Want to make your room look more spectacular? Give preference to products made of silk or satin, which bring gloss to the room without depriving it of comfort and fit into most style decisions. For luxurious interiors, designers are advised to choose velvet, chenille, and velour. The texture of matter should ideally be satin or matte;
Synthetic – curtains are sewn from such fabrics almost more often than natural ones. In most cases, viscose is used, which forms folds of different shapes and complexity. Viscose curtains look great in the interiors in the spirit of classics and almost do not crease, combining perfectly with other varieties of curtains.
The Final Touch to the Design of the Apartment

Styles of curtains in 2023-2024 are diverse, and among a huge number of variations of colors, prints, and fabrics, you will certainly find a solution that can become the final touch of the decoration of any room in your house. So, what do designers recommend to us when choosing curtains in one room or another?
Choose Curtains in the Living Room.
This room welcomes guests and gathers with the whole family. And to make her look beautiful and conducive to a pleasant pastime, curtains need to be purchased with an eye to the design style, furniture, color scheme, and wall. A spacious living room makes it possible to hang almost any kind of textile on the windows – rich and elegant looking Austrian and Scandinavian curtains with luxurious prints or simpler but no less stylish Japanese curtains. Decorators advise choosing a more airy model if the living room is replete with decorative objects and densely furnished or has bright walls.
If the wallpaper has a pronounced print, it is better to prefer curtains in monochrome. When the living room is solved calmly and not lined with furniture, curtains with patterns will make its appearance more interesting. In rooms of a large area, you can hang trend curtains that reach the floor surface and even complex multi-tiered structures. However, short models will be a good solution if the living room cannot boast spaciousness. Rolled curtains will be a wonderful purchase if the hostess is an ardent floriculturist.
Note! Fashion trends in 2023-2024 are advised to abandon excessive pomposity and luxury in the design of windows. If you want to make the new curtains in the living room more "chic," use laces, ribbons, and lambrequins in a single tier to make the interior look stylish but not deliberate.
GOOD TO READ: How to Choose Curtains for Living Room
Choose Curtains for the Bedroom
The color scheme is of the utmost importance in this room, and the best choice would be shaded in a single palette with the interior, distinguished by a calm mood – beige, sand, blue, green, etc. It is better to prefer fabrics not prone to dust and are well-cleaned. What night curtains were in fashion in 2023-2024? Now combinations are unusually relevant. For example, variations are possible: blackout rolled curtains in combination with flowing curtains on the sides. Or romantic organza in tandem with softly flowing, light-tight curtains.
Choose Curtains in the Nursery
The children's curtains are extremely important because they protect the younger generation from too bright sunlight and give an atmosphere of calm, serenity, and good mood.
In 2023, the curtains for the nursery will be bright and colorful so that the owners of the surrounding area will like them. Since kids sometimes play with curtains, here, a variety of prints appear in favor – photos of insects, animals, images of flowers, favorite cartoon characters, etc. For children under six years old, it is better to choose fabrics of pastel colors so that they soothe the fidgets played out.
But older children will like more colorful options. And to avoid losing the choice, ask your son or daughter what kind of curtains she would like to see in her room. Do not forget that for a children's room, curtains need to be sewn from safe, better than natural materials that will not harm children's health in contact. And so that a small child could not pull the curtains and cut them off, opt for Roman or short options that extend to the windowsill.
Choose Curtains in the Kitchen
The kitchen can be called the heart of the house, where often there is not only the fair floor, busy cooking breakfast, lunch, and dinner, but also the rest of the household.
In the season of 2023-2024, kitchen curtains sewn from cotton and linen, providing them with long life, are perfectly cleanable and washable. Your kitchen will acquire an actual look if you equip its windows with monocot asymmetrical curtains. If you want something more romantic and sophisticated, pick up curtains with frills, ruffles, or images of flowers in Provencal style. For a small area kitchen, it is better to opt for short curtains for the windowsill, which will be as practical as possible and transform the kitchen interior.
Modern Curtain Rods

Not only the curtains, but also the correct choice of the curtain rod for them – its appearance, design, and design decision – the appearance of the windows, as well as the entire room as a whole, directly.
Modern cornices can vary:
installation method;
production material;
structural performance – they are classic round, profile, string, and baguette.
Based on the installation method, cornices can be:
Wall – are considered the most reliable, firmly fastened, aesthetically looking, durable and comfortable in everyday use;
Ceiling – look very elegant and make it possible to imitate a magnificent "waterfall" from the falling curtains.
Depending on the material of manufacture:
Cornices made of wood will never go out of fashion. Durable, beautiful, environmentally friendly, and long service life, they can have a curly and smooth surface, sometimes receiving leather, metal, or glass elements to enhance decorative properties. Such a cornice is a godsend for interiors in the style of Provence, country, eclecticism, and classic.
Much more affordable, functional, and able to withstand even very significant loads – these are plastic cornices. They vary in size, color, and stylistic solution. On sale, there are models of both wall and ceiling mounts.
Cornices made of metal are highly durable and beautiful. Suitable in almost any interior decoration from classic to modern, they are round or forged and are mounted mainly on the wall. Such products are often purchased for complex window openings.
Note!  Today's most fashionable cornices are combined designs where metal is adjacent to wood, glass, or plastic. For example, a metal cornice can have wooden linings, and the tips of rounded curtains can be decorated with glass or forged elements.
Living Room Curtains 2023-2024

Curtains play a large role in the arrangement of the living room. Properly selected curtains can fit into the interior, comfortably adjust the lighting and visually resize the window. With their help, you can emphasize the merits and reliably hide the flaws of windows and walls.
To follow fashion, updating curtains is often enough. It is necessary to follow fashion trends every year so that the living room always looks modern and stylish. In 2023, there is a huge assortment of curtains, and to always stay in trend, you should familiarize yourself with modern design trends.
What Are Curtain Trends in 2023-2024?

The focus this time is minimalism, the naturalness of the models. This applies to both their appearance and the environment, especially the home interior.
2023 trends for the living room curtains are a simple cut combined with a laconic composition.
The main task of modern curtains is to be functional and practical. However, maintaining a cozy and warm atmosphere in the living room is equally important.
Curtains in the hall should be airy and light. Pay attention to several photos of the new 2023-2024 products.
At the peak of popularity, gray curtains.
Curtains in the room without a lambrequin.
Beautiful curtains with drawings are also relevant.
Two-color curtains are also used.
The main trend of this year is curtains in the hall on the ceiling cornice.
A popular area is curtains for ceiling cornices with stretch ceilings.
The fabric seems to flow in the air, making space weightless.
In What Style to Design a Window Opening
Before choosing fashionable curtains, you need to take care of the interior as a whole. Currently, several directions are popular in which the modern design trend will fit perfectly:
Minimalism. The naturalism and simplicity of the curtains will look great in a room decorated with a minimalism style – neutral white or gray shades that look cozy and modest at the same time.
Scandinavia. The Scandinavian style is characterized by similar neutral colors, occasionally diluted with contrasting black. Heavier curtains will look better here.
Classic. A strict but solemn style, for which heavy curtains with a complex cut of high-quality and durable fabric are suitable.
Provence. Using hooks, you can create the illusion of a comfortable "house in the village" and diversify the curtains with embroidery or handmade.
High tech. The modern style is characterized by cool blue and white colors and light, smooth curtains.
Eco style. Preference is given to cotton or linen fabric for curtains. Curtains can be without pictures or images of the natural environment – landscapes or animals.
Having chosen the most suitable style and designed the interior as a whole, you can proceed directly to the selection of a specific type and design of curtains.
How to Choose Fabric Curtains?

When choosing a fabric, it is important to pay attention to three things – material, texture, and color. They should be combined with each other and the room's general interior.
Material and Texture
Naturalism is in fashion; therefore, the advantage is given to high-quality natural materials. This year will be popular linen, silk, and high-quality satin curtains. To create a feeling of luxury, you can use velvet or wool fabric, velor.
A simple and practical solution will be curtains made of bamboo fiber. Taffeta is ideal in the living room for a romantic and delicate atmosphere.
Fashion dictates its own rules, and today it offers to diversify the interior using textured fabrics for curtains. The modern design offers many fabrics with a rough surface, a striking example of which is the rough linen curtains.
Curtains with contrasting textures will look modern. For example, a smooth satin fabric on which a three-dimensional pattern is embroidered will look fashionable and stylish. The same effect can be achieved by combining silk tulle with velor curtains.
Living Room Curtain Color Trends 2023-2024

The color scheme of curtains for the living room can offer great variability. Neutral shades suitable for most modern styles do not go out of fashion.
Beige, olive, or coffee curtains in the living room look cozy and modest, do not irritate your eyes, and create a comfortable atmosphere. Classic black and white colors do not lose their relevance, especially when combined with each other. Paired with textured black curtains can go a smooth white tulle.
The most popular this year will be various variations of white curtains: White-blue, milky and vanilla shades.
In second place are natural shades: pale green, sky blue or blue, and turquoise of the darker ones – the color of cherries, plums, and milk chocolate.
Brighter colors should not be used in pure form but as a shade. With their help, you can decorate neutral curtains with a contrasting and bright finish or use them as a print.
Popular Curtains for This Year's Living Room

French curtains are one of the most common types of curtains in the coming year. They convey the cozy and romantic atmosphere of a small cafe. With such curtains, it is most convenient to adjust the lighting. They can close half of the window, softening and scattering the sun's rays penetrating the room. It is the subdued light that creates a unique romantic atmosphere.
For such curtains, neutral white color or a simple pattern in the form of a pea, a small square, or small flowers is best suited.
A spacious living room with plenty of free space needs a lot of light. Pastel French curtains made of organza or silk are suitable for such rooms. Thanks to the wave-like folds, such curtains look both sophisticated and luxurious. This type is ideal for a classic-style living room.
Roman curtains, combining elegance and simplicity, fit perfectly into modern trends. They allow you to adjust the light entering the room at any time, easily lowering and raising the canvas to achieve optimal lighting.
Roller blinds are another popular destination. Rolshtora is a narrow roll fixed on top of a window opening, which unwinds and turns into a full-fledged curtain. The designer's novelty was roleta made of bamboo fiber. Look good in small, comfortable living rooms.
Japanese curtains, which are several identical pieces of fabric, look quite simple and stylish for a naturalistic interior. Suitable for both cramped and spacious rooms.
Also, curtains located on the sides of the window opening regained great popularity. This is a classic, practical option suitable for any living room. Additionally, they can be decorated with functional or decorative accessories.
Accessories for Curtains in the Living Room 2023

In a modern interior, there is always a place for well-chosen accessories. Today, simplicity and practicality are in fashion, so it is worth choosing functional jewelry.
Holders or pickups. The great variety of holders allows you to choose the right accessory for any fabric. It can be eyelets, hinges, or straps made of various materials, with which you can easily adjust the lighting of the room.
Brushes. They give a complete look to the composition and create an emphasis on the window space. With their help, it is easy to dilute the monophonic coloring of the curtains to make them a little brighter and more vibrant. Lambrequins. They are used mainly for decorative purposes, giving the curtains a certain shape. You can create a variety of compositions so that at the right time, a little update to the situation.
Ribbons and fringes are also used for decoration. The main thing is not to overdo it so that the curtains retain a certain simplicity and the living room – a cozy, homely look.
New Curtains in the Interior of the Living Room:

Below you will find photos of modern curtains in ordinary apartments. Here you can draw inspiration and bring ideas to life on your territory. Light, airy curtains give softness to a large living room; bright floral prints will accentuate and complete the room's general look.
Beautiful and fashionable curtains can give completeness, harmony, and attractive originality to the space of any room. However, you should not be guided in choosing curtains solely by design trends in 2023 – your purchase should match the style and color scheme of an existing interior, as well as the personal preferences of households. And in order not to regret your choice, carried away by embellishment, and to please a changeable fashion, remember that modern curtain trends suggest laconic solutions in the first place with functionality!
Curtain Trends for 2023-2024

Of flat colors or with motifs, translucent or opaque, in cotton or linen, the curtains are a fundamental accessory of the decoration of your room: not only to avoid the looks of the neighbors without preventing the daylight from entering but from giving it style your windows and make this space so important where you receive friends and family one that projects your personality. For this reason, modern curtains adhere to decorative trends, which in 2023 include ocher tones, green ranges, and materials such as velvet.
The room is the ideal space to reaffirm your decorative style through the curtains: if you choose them in linen, for example, they will contribute to creating a chic and relaxed atmosphere, and if you choose them in printed cotton, it will give a modern touch.
To achieve a harmonious decoration, it is sought that they combine with the furniture and the style already chosen for that space, but 2023 invites you to go further and to look for them to match our cushions or carpets, or that simply give protagonist to your windows
2023 Curtain Trends
When it is impossible to customize the decoration with other decorative elements that require large modifications, the curtains are one of the main accessories to appropriate the space. Therefore they do not escape the decorative trends of each year.
One of this year's trends is to choose double or triple curtain rods, which allow you to enjoy a discreet veil that filters the light and maintains privacy without obscuring the space, as well as decorative curtains that provide color and originality to your room.
Curtain Colors
Nature and its colors are the great curtain trends of 2023. Modern curtains resume landscapes, foliage, flowers, and everything that recreates nature in all its breadth. Curtain fabrics lean towards the greens and all their nuances: pistachio green, fir green, forest green. Likewise, the other color and all its tones evoke the Earth, minerals, and trunks. And we cannot forget the color of the year-living coral, a pink coral that alludes to underwater life.
Curtain Materials and Prints
As for materials and prints, the 70s are back. The velvet of mustard, terracotta, pink, and gray tones, as well as geometric shapes and large flowers of bright colors, prevail. Below we show you ideas for each trend so you can get inspired and choose the one that best suits you. taste
Flora-Inspired Curtains
In 2023, curtains with tropical or flowery prints prevail. They are perfect for a classic or contemporary room. If the other decorative elements in your room are very sober, this type of modern curtains will complement your decor with colors and textures.
Curtains With Geometric and Organic Prints
When choosing the curtains in the room, you usually proceed in two ways. The first is the most common: choose fabrics depending on the color and style of the other decoration accessories. The second, and to which we invite you this year, is to try to complement the style of the room with an element that completely contrasts, such as these modern geometric print curtains that will take center stage in your room.
Dark and Ocher Shades, Inspired by the Earth
In line with the great trend of the year, these tones evoke the lands that serve as a vegetation substrate. Choose these colors if you want a sober yet elegant space.
Velvet Curtains
Velvet is one of the quintessential materials of 2023. Choosing velvet curtains will help you create a more intimate and romantic atmosphere.
Now that you know how to modernize your curtains dare to change them?
Drapery Trends For 2023
The drapery not only reinforces the decorative style of a room or gives a touch of color, elegance, or contrast but also intervenes in the brightness of the room. Therefore, to choose between one model or another, we must consider the decorative style of the rest of the elements of the home, but also the amount of light and privacy we want to achieve.
What Does This 2023 Take To Decorate the Windows?
Decoration trends and the 'must' in drapery and blinds are directly related. This way, daring drapery is worn with natural and colorful prints and neutrals of delicate and semi-transparent materials such as linen, wild silks, or those degraded for more 'boho' environments.
As for colors, two-tone draperies are trending, mixing two tones, either at the bottom or in the entire perimeter of the curtain. This is a very sophisticated and elegant option, as long as good combinations are chosen.
Another trend is to mix different elements and types of textures. For example, the combination of curtains and blinds can be ideal in some rooms, such as the living room. This mixes the stiffness of the blind and the fluidity of the curtain.
If we remembered the trends not many years ago, the drapery should always be perfectly cut at ground level. But instead, the draperies that drag a few centimeters are carried, especially in more modern environments.
In houses with high ceilings, trends order the drapery to be placed almost from the same roof, creating more stylized rooms and giving a greater sense of spaciousness.
The draperies with tassels are carried along their edges in more informal and casual rooms. In the case of children's rooms, colorful tassels are ideal. On the other hand, in the rest of the rooms of the house, tassels of the same tone are better than the curtain fabric.
Drapery or Blinds?
In addition to the personal taste of each one, or the latest trends, some factors can indicate whether it is better to opt for the classic drapery or, instead, for blinds.
For example, in large windows, draperies are the most practical solution. In addition, in these cases, just run them to enjoy the wonderful views this type of window offers.
If several adjacent windows coexist, a single bar can be used to place all the necessary drapery.
Instead, blinds are usually placed in the smaller windows of the house. However, it doesn't necessarily have to be that way.
Other aspects to consider for this choice are the structure of the room and the space in which the window is. If the window has margins on the sides, we can place drapery that opens them to rest in these holes. When this space is unavailable, the open drapery will cover the window's light at its ends. Therefore, when the window is in a corner or has a piece of furniture attached, it will be better to choose a blind that allows you to make the most of the light.
 When the Needs Rule
The window opening mechanism cannot go unnoticed in this choice between a curtain or a blind. In sliding windows, a curtain or blind can be placed interchangeably. On the other hand, the folding windows that open inwards combine better with drapery, which does not hinder the passage of the glass in its opening.
But in some cases, beyond the tastes, there are the light needs of each room. It should not be forgotten that drapery and blinds mainly serve to modulate the amount of light that passes through the windows, give privacy and improve thermal insulation.
When you need to win in privacy, the best option is blind since it allows you to lower it to medium height to prevent prying eyes without losing light.
For bedrooms in which total darkness is sought in the morning or a better thermal insulator, there is entirely opaque fabric drapery, although they are also much heavier.
The type of room and style also affect the choice of placing drapery or blinds.
In elegant rooms and bedrooms with a more romantic and relaxing touch, the curtain fabric encourages elegance and makes these rooms more welcoming. On the other hand, in rooms such as the bathroom or kitchen, where there is smoke, humidity, and dirt, it is convenient to minimize the fabric that covers the window. In these cases, the 'screen' blinds of fiberglass or PVC-coated polyester thread may be a better option. These blinds are more practical because they are more easily cleaned with a cloth and a little water.
 a Matter of Taste
Although we consider all this, we can never put aside our style. If you identify with a more classic, vintage, or rustic style or are looking for a cozy, homely, or warm atmosphere, better use drapery.
But if you define yourself with a more minimalist and industrial modern style, opting for a blind or screen is preferable.
However, in some cases, the best option is not to place any type of fabric or element that interferes between the window and its views.
Do you want latest Trends straight to your inbox?
Thank you for subscribing.
Something went wrong.