In this article we will examine the challenges of organizing sleeping arrangements in small urban dwellings and go through the bedroom trends 2021. We will take a look at trends in furniture design and modern furniture designs, current trends and innovations in the choice of materials and colors; and summoning – what will be announced in bedroom design in 2021?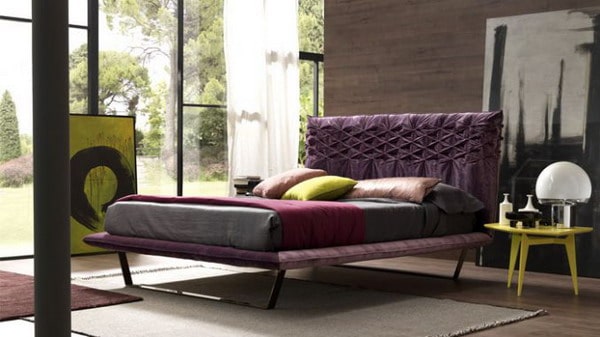 The projects of small urban dwellings evoke ingenuity and combinative thinking. Creative zoning and spatial planning is essential when it comes to tight spaces. The comfort of the residents is closely linked to the sly design of their place for peace and privacy – the bedroom. Successful ways of securing a small, quiet corner for these needs are shown by the following two projects.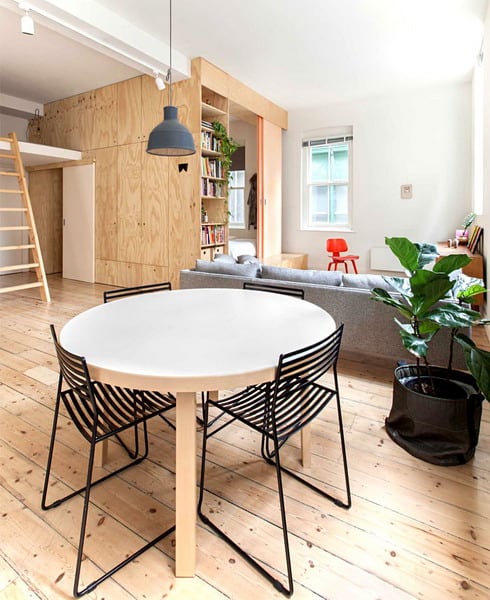 Small bedroom trends 2021 and bedroom ideas 2021
The first – the Flinders Lane Apartment by Clare Cousins Architects is housed in a landmark building in Melbourne and designed for a young family. With a light, almost filigree light-wood construction, the designers separated a small niche for the bed platform, which can also be considered part of the living space and its bright, modern decor. The continuity of the materials, the high ceilings and the abundance of natural light create an inviting space that, in addition to its cleverly defined functions, has an elegant aesthetic. This dynamic is very comfortable and functional in modern lifestyle arrangements and designs. This design has one more plus – it's made with modest means and lends itself to low-budgeting  in bedroom trends 2021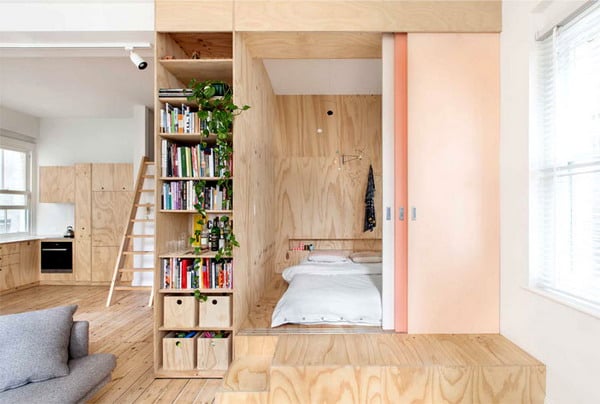 This creation by Rue Temple is an excellent example of how small urban living can look much larger and more dynamically modern, yet has an elegant simplicity and a bizarre spirit. This small, modern apartment is located in Moscow, Russia.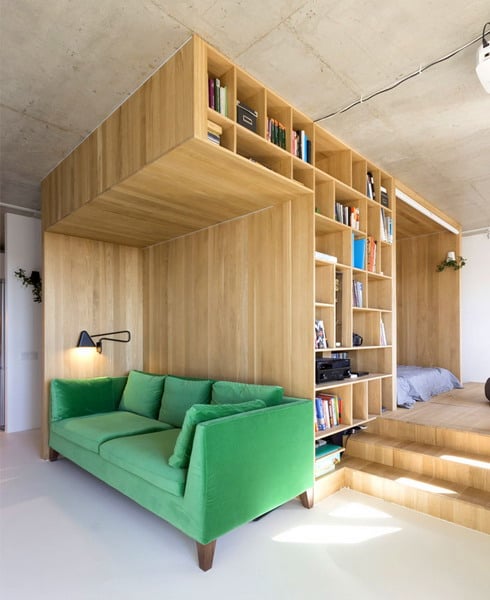 Here, the bedroom platform is part of a thoughtful, bespoke wooden construction. Their warm and vital presence is contrasted with the finishing industry of concrete floor and floor finishing. Together with throw pillows it forms a perfect relaxation and leisure area.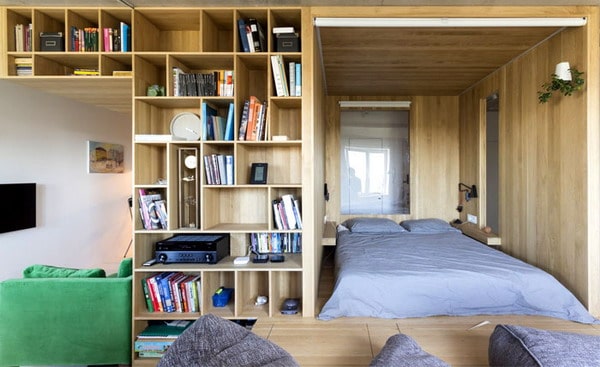 As we predicted in Interior Design Trends for 2021, the reality of small townhouses dictates new conditions in contemporary design and requires a more creative approach.
If, in the previous two examples, the bedroom, thanks to ingenuity and creative constructs, has in other cases become part of the living room, there is neither room nor the possibility to separate a bedroom from the main living area – so another choice could be appropriate. The sofa bed – a necessity, but also a possibility. The new trends and design lines offer some very fresh and fascinating examples to choose from.
Sofa bed
This is a nice modern piece of furniture – the Convertible Sofa Open by Letti & Co. Designed by Paola Navone. The sofa-bed system is available in functional and elegant colors and is made of fabric or imitation leather and is suitable for a variety of design combinations. It's perfect for daytime functions – entertaining guests or quietly reading a book, but it's also prepared for meeting the sleeping needs in every household.
The Celine sofa bed is another option. Producer of Flou and design by Riccardo Giovanetti – the sofa bed, is spacious, deep and cozy. It offers soft flexibility and modern style. It can be considered as an armchair – chaise longue that can be quickly transformed into a comfortable single bed. Equipped with another plus – the fully removable covers made of fabric or Ecopelle (easy to clean), this sofa bed is a dynamic addition to the interior.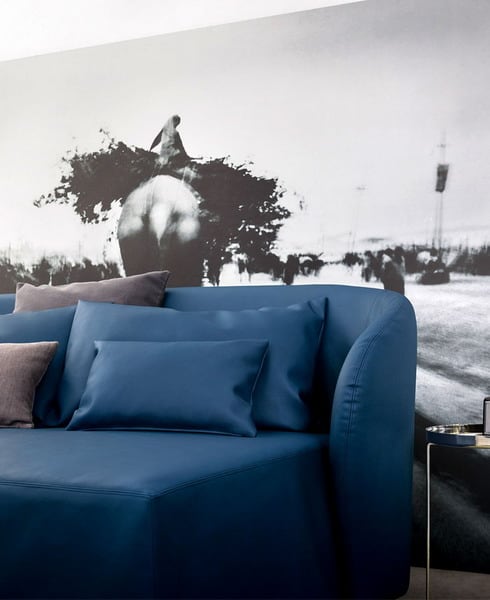 Choose the color smart – the colors and textiles in the decor composition can set the atmosphere faster than anything else. So it does not matter – light and airy, or dark and moody, the color scheme combined with geometric shapes and warm shades is able to reflect the old world atmosphere in a contemporary context. But no matter what you combine – carpets and curtains, textured bedding or other design elements take into account that the main purpose of the bedroom is rest and sleep, so choose colors that encourage this.
Dark blue and light woods will be the new trend for next year. Combined with gold-colored furnishing accessories, they will create contemporary spaces with a unique and unmistakable style. Scandinavian-inspired wood will be the new must, therefore you might want to look for a bed sofa in this material.
In its raw shades it will become a key point and give a natural accent to your environment. In 2021, it is important to restore a sort of contact with nature at home as well.
Source : Pinterest
Modern bedroom furniture with retro inspiration
As in many other aspects of interior design, the retro reference in the bedroom will play an important role in the upcoming 2021 – 2022 season. Here are some tips that will, in a sense, secure timelessness for your retro mood.
Here is a fascinating example of the retro atmosphere in our bedroom, the Bonaldo Collection – showcasing several products in retro chic style. Lacquered surfaces, strong geometric shapes and warm colors keep the senses in this collection. Furnishings and furnishings are elegantly reminiscent of the refined ambience of Mad Men (a cult American television series) that pays tribute to the timeless 1970s style interior design. The strong personality of the cuff leather bed designed by Mauro Lipparini lies in the tailor-made details, in its simple elegance and is developed in different timeless colors: white, anthracite gray, dove gray, amaranth, black or silver.
Source : Pinterest
Fabric bed
Speaking of retro – we should mention the return of Velvet as a textile to create stylish, soft furniture examples – sofas, beds and benches. The colors are dramatic, warm and bright.
Velvet is a fabric that has made a strong comeback in the last year. Not only on the fashion catwalks around the world but also in the interior design sector. Have you ever thought of inserting elements into your bedroom such as upholstered armchairs lined with colored velvet or velvet cushions on your bed or for your carpet? Watchwords: velvet and color. Indulge yourself in introducing touches of emerald green, acid green, red, blue or purple… Your home will take on a warm, elegant and at the same time welcoming aspect.
Like in this product by Bolzan Letti – the Nice Light model. The headboard of the double bed is furnished with an original, handmade three-dimensional processing, which has a romantic and charming effect. This bold feature is elegantly contrasted by the essential simplicity of the thin base and the linear shape of the bed.
Source : Pinterest
Solid wood bed designs
Another global trend in interior design that can be cleverly applied to the creation of your bedroom area is the search for a natural, cozy and earthly feel. So you can always count on a combination of natural materials and green accents for a fresh, trendy bedroom. The wood is the never-failing material that can create a cozy, warm atmosphere in all circumstances.
Take a look at this example: the solid wood double bed by Pianca. Modern, elegant and with a delicate retro atmosphere. The high natural material of the construct and the characteristic round corners of the silhouette give the warmth and coziness of each environment in which they are located.
This is the third of the design models created for Pianca, covered in smooth leather on the headboard – minimal and sophisticated, the bed still carries the romantic retro vibe of the 60s.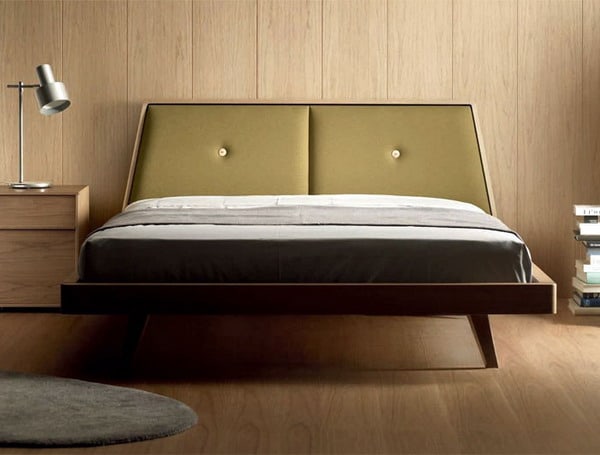 This Loa, Treku wood bed, designed by Angel Martí and Enrique Delamo, is a sumptuous piece of furniture that mysteriously unites the rustic feel of a handmade object, the bold contemporary ingenuity and the romantic retro vibe. A grooved frame with rounded corners, natural fabrics and buttons are the hallmarks of the Loa bed that completes the picture.
Another big trend in bedroom design is the container bed, with drawers and attached shelves: it is a particular model, designed to think about all the possible needs of the users.
In addition to being a container, it has around drawers with different sizes and compartments in which to store baskets or other objects;this is usually completed by a small pull-out shelf located near the head of the bed, which offers the possibility to comfortably place a book, a cup of coffee or your phone while it is charging thanks to the ease with which it can be raised and lowered.
Obviously, the choice changes according to everyone's tastes and needs, but in general the container bed with additional compartments is the solution that more than any other allows you to take advantage of every inch of space inside your bedroom.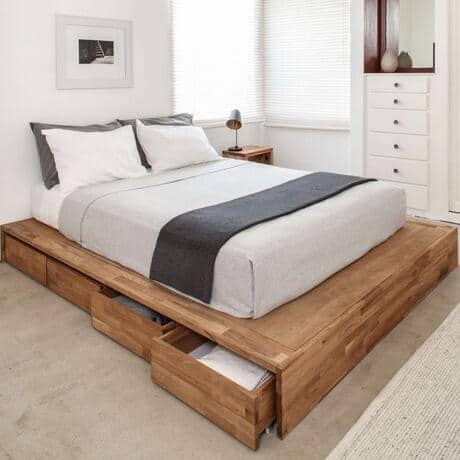 Source : Pinterest
Everything in one – bedroom and bathroom design
Combined sleeping and bathing areas are becoming increasingly popular, and some of the best examples are in hotels.
At this boutique hotel in Sala Ayutthaya, Thailand, the wooden structures and beams are juxtaposed with local brick walls, marble and the finest linens. The open design of the space brings a lot of natural light (a wonderful addition to the natural range of building materials) and the free flow is a feeling for the residents. The exquisite luxury combines with exotic hints and modern minimalism – a successful combination as a connecting element.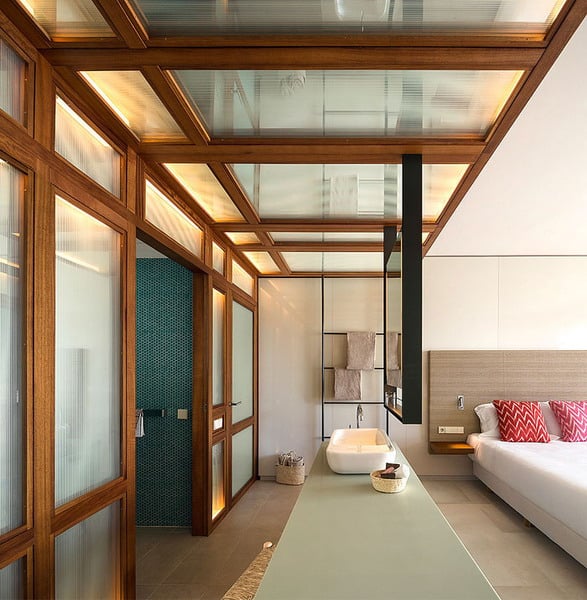 Here in the Hotel Cala Esmeralda – in the decorations of the rooms, the inspiration of the decade in which the hotel was originally built, preserved with the traditional craftsmanship of this Balearic island and mixed with the comfort and the luxurious design elements of the present. The careful selection of materials and furniture was chosen by designer Isabel López Vilalta to create a contemporary, fresh and colorful image. The furnishing compositions are mainly in simple, clean lines with bright accents – like the red textiles in the guest rooms. The open space, which connects the bedroom with the bar, has a unique charm and individuality for the space.
Although we have shown combinations of bedrooms and bathrooms, especially in hotel decors, this tendency is also becoming more common among private residents.
Source : Pinterest
 Luxury master bedroom – leather, brass and marble
Manufacturer Flou Design by Rodolfo Dordoni, Iko Bed – presents an eye-catching design combined with the purity of the shapes, the unsuitability of craftsmanship and the use of unusual materials, such as steel in combination with other luxurious materials such as leather, marble and brass. The end result creates an elegant and harmonious mood that expresses a high formal and qualitative value.
In recent years, marble has made a comeback. It is a very trendy material and it gives elegance and refinement to any environment. Being very expensive, the mistake not to make is to cover the walls and floors in marble. This risky choice would make the environment look too cold and aseptic. Instead, choose some details in marble, and pair them with brass and leather elements for a luxury bedroom.
Source : Pinterest
Bedroom design materials for the season 2021/2022
When we think of materials for making beds and other bedroom furniture, there is an essential requirement – they should be natural and organic. It's healthier, more aesthetic and with a wider range of materials to choose from. We all love wood, linen, cotton fabrics, velvet or leather – so a rich selection. They are rich as tactile and aesthetic sensations. The designers follow the wishes of their customers. And their main task is to establish a successful and trendy combination of materials and textures.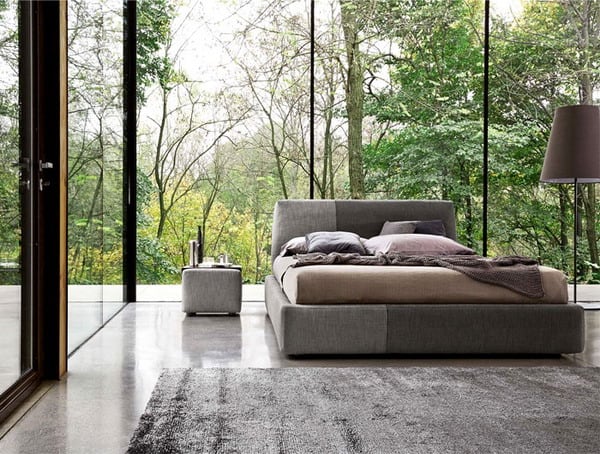 Ditre Italia's Sanders bedding offers designers a blend of textile and leather with zippers for a more dynamic combination. With the many options available to the Sanders bed, there are no limits to your imagination. It also invites with its cozy, comfortable appearance and it is elegant enough to cater to many different bedroom designs.
In the more luxurious Iko Bed by Flou collection, manufacturers used a stylish combination of steel, brass, marble and leather to create a unique bedroom decor.
Using different materials: leather and wood, the designers of this stylish, modern bed – the Kauffman of Nadadora – have found a perfect balance between functional and innovative design. The two overlapping headboards, for example, are very comfortable to read in bed and at the same time secure a secluded storage space in each bedroom.
If you are looking for some previously unseen elements, innovative materials are the new furniture frontier in 2021. Recycling and new technologies create harmonious and stimulating environments. The use of plastic has been reduced to a minimum. Transforming polluting materials into functional and fashionable furniture is an ecological trend that combines modernity, practicality and respect for the environment. Aluminum cans, newspaper, glass bottles are all materials used to create pieces with a unique and original design.
It is an eco-sustainable path that is developed with a view to greater awareness of protecting the environment. It is fashionable to incorporate natural elements into daily life: evergreen plants, stones and crystals, shells and starfish are just some of the elements that recall the beauty of nature within the four walls of the home.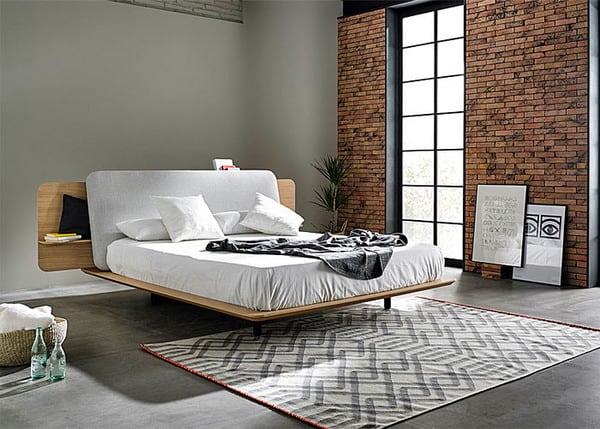 In summary, we can say that nothing old is neglected this season – the colors, shapes and materials from the 60s and 70s of the XX. Century still pushing. The forms will be elongated; The furniture is designed to fit in both small urban homes and larger suburban homes without losing their elegant silhouette and presence. The velvet is back, as well as the deep, generous colors: purple, blue and green. So do not be afraid of colors – choose a color and emphasize the other color combinations.
Do you want latest Trends straight to your inbox?
Thank you for subscribing.
Something went wrong.