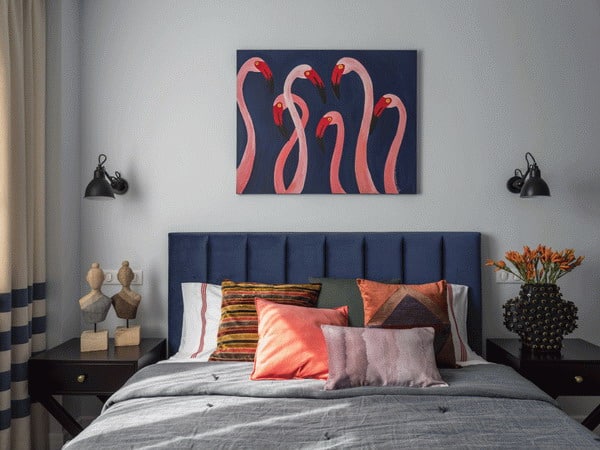 In a modern bedroom 2021, it is not recommended to put a lot of furniture. The space should be comfortable, functional and spacious. Properly planned environment contributes to quality rest.
The modern style of the bedroom is, rather, those styles that will be in fashion soon.
The design of the bedroom in a modern style involves minimalism and functionalism. Try to make every corner in the bedroom functional. No oval two-level ceilings. A white matte ceiling will be a winner. For walls, use neutral shades.
Contemporary bedroom style 2021. What are the trends in fashion?
Fashionable styles in the interior of the bedroom do not change as quickly as in clothes. Trends persist for several seasons or years. Currently, trends that are relevant in the near future can be identified.
Eclecticism and contemporary in the bedroom
Eclecticism involves a combination of several different directions in the interior of a modern bedroom. The selected styles are characterized by similarity and lack of strong discrepancies. A mixture of classic and modern styles is used. But do not think that eclecticism allows a combination of incoherent directions.
Eclecticism in the bedroom
Color spectrum. The choice of color depends on the style used to design the bedroom. Both bright and bed shades can be used. If the chosen direction is characterized by bright shades, then the designer should use a soft, neutral color as the background shade. Catchy colors should be present in interior elements, textiles. They can create contrast or a smooth transition from one color to another.
Parquet or laminate flooring can be used as flooring for a modern bedroom. Parquet drawing can be continued on the walls.
Eclecticism involves the selection of furniture of the same tone, the same elements for decor and decoration. For example, velvet textile elements can be complemented with a decorative metal vase.
The stylistic direction of contemporary music is in many respects similar to eclecticism. But there are some significant differences. The style has the following features:
the layout is bright and concise;
the room is divided into functional zones;
lack of a large amount of furniture, the presence of natural light;
simple and clear contours;
background design without catchy colors, they must be present in the decor;
rejection of intricate accents;
use of modular and built-in furniture;
connection of matte and glossy surfaces;
minimal use of classic and ethnic style decor is allowed.
The leading trend in contemporary music is minimalism. On its basis, a combination of various stylistic decisions is allowed. The room is furnished with low furniture without intricate texture. Zoning is carried out visually using curtains, screens, furniture, ceilings with different heights and more.
Contemporary bedroom style trends 2021
Eco style
Fans of natural materials and natural colors can create a modern bedroom in an eco-style. This option is ideal for parents in whose room the children sleep. The use of natural materials promotes quality rest and peace of mind. The modern bedroom in eco-style will not be overloaded, creating a feeling of comfort and spaciousness.
The interior of the bedroom in the Scandinavian style is characterized by the presence of elements from natural materials and significant wooden accents. The bedroom is decorated in bright colors. The flooring is made of laminate or parquet. To dilute the situation it is recommended to purchase patchwork bedspreads, soft carpets and more. Skillful design decision will make the bedroom bright and comfortable.
Neoclassicism
Neoclassic is a modern classic style. This design area is especially relevant for rooms with high ceilings. Expensive materials must be present in the interior: leather, granite, marble, wood. For walls and ceilings, calm, discreet colors are selected. The emphasis is created by arches, borders, columns, stucco molding, expressive lines.
Minimalism
The modern bedroom is characterized by a small amount of furniture and bright elements. The main color scheme consists of black, gray, white, brown shades. The bedroom remains spacious. The style is especially relevant for people who are very busy at work, for whom the bedroom is a place of rest and relaxation.
Loft
Loft is another modern style for the bedroom. The interior should be traced unfinished wall decoration. They are covered with rough plaster or masonry is imitated. The ceiling of the bedroom can be decorated with a board painted in shades of white. A combination of various objects in a cold color scheme, non-standard decorative elements is assumed. The loft is characterized by a maximum of space in the room and window openings from floor to ceiling.
Art Deco
Creative people often choose this style for their modern bedroom. The use of a variety of material, elements in an oriental, ancient design is implied. The owners can put a large bed, create an emphasis on volumetric elements of the decor.
Modern
Fans of a harmonious modern bedroom interior with soft outlines and elegant elements prefer the modern style. To decorate the bedroom, designers combine various materials: plastic, wooden, glass, stone objects. This direction does not limit the selection of colors, which allows you to create a cozy, unique atmosphere.
Modern colors for the bedroom
In the coming year, experts predict the following trendy colors of the bedroom:
Neo-Mint (new mint) is suitable for futurism lovers. Fashionable color for the bedroom. A gentle shade blends perfectly with white, making the interior fresh and light. When using more saturated colors, the room will become fun and cheerful.
Purist Blue (blue base) is the most common today. There is no catchiness, like that of mint, which makes it popular among lovers of a calm lifestyle. Great for a bedroom in a contemporary style.
Classics (a combination of the color of purple and pink) is the color of black currant. Popularity is explained by the possibility of using it as an accent or basic shade.
Cantaloupe (faded orange). Color attracts with its optimism and determination. It can be used alone or in combination with shades of yellow.
Mellow Yellow (mustard) has been popular for several years. This is due to the fact that the color is ideally combined with both bright shades and dark colors.
Colors for the bedroom in a modern style (timeless)
The most common colors when decorating a bedroom are the following:
White color in a modern bedroom can focus attention or be a background. Properly selected elements will help get rid of the feeling of a hospital room.
The interior of the modern black bedroom in a competent performance contributes to the feeling of comfort and tranquility. If the bedroom is large, then one of the walls can be painted black. With a small area, it is recommended to do with a black bed.
To create an atmosphere of calm and relaxation, it is recommended to use shades of gray in the design of a modern bedroom. You can dilute the gray color scheme with bright objects in the form of textiles or decor elements.
The bedroom, decorated in beige shades, creates an atmosphere of comfort, tranquility and warmth. Fans of beige can choose any shade from light milk to coffee. To create an accent, you can dilute the room with bright objects.
To revitalize the bedroom, it is recommended to dilute the interior with bright accents in the form of decorative elements or textiles.
New bedroom zoning trends in 2021
The design of the modern bedroom involves zoning with glass partitions (in the loft style). This technique is perfect for a small studio apartment. If you have a large bedroom, then separate the dressing room with such a partition.
Bed as an accent
Now in fashion beds with a soft headboard.
Equally popular beds with canopies and pillars in the corners. It is recommended to install such furniture only in large sleeping rooms, since it requires a lot of free space.
Small modern bedroom with a black partition
For zoning a modern bedroom, you can install a black partition (called "in the style of a loft"). In order not to overload the small room, black should not be the predominant color. A combination of black and another neutral color with a bright accent is recommended. Excess black will overload the bedroom, which can ruin your vacation.
Modern bedroom 12 sq. meter with a partition
To create lightness and airiness in a bedroom of 12 meters in a modern style, shades of white will help. A partition of this color does not burden the space, the room will be cozy and spacious. If white is used as the base shade, it is recommended to dilute it with bright objects or accents. Such a room contributes not only to a relaxed vacation, but also will cheer you up.
Gray bedroom in a modern style of 9 square meters with yellow curtains
Cheerful natures can use for the design of a modern bedroom 9 square meters. meters gray background with bright yellow accents. Yellow textiles will dilute the boring gray range, add sunshine to the room and cheer up after a hard day's work. In addition to curtains, you can use other yellow textile elements: pillows, rugs and more.
Cozy and warm bedroom in a modern style with green curtains
Fans of the classic interior in the bedroom can create an accent with green curtains. The atmosphere of coziness and family warmth is achieved by skillfully combining light colors in the design of walls and ceilings with catchy accents in the form of textiles and furniture. In this case, do not overload the room with dark colors. 2-3 elements are enough.
Bedroom in the style of modern classic 12 square meters with gray curtains
Gray shades in a modern bedroom of 12 square meters. meters create an atmosphere of calm and relaxation. The gray textiles in the classic bedroom will combine perfectly with the background light shades and bright accents in the form of pillows, vases and more. Gray curtains are perfectly complemented by a blanket of the same color. Gray color should not be too much involved in the design of the bedroom, as its surpluses with inept use will make the room faded and boring.
Gray bedroom in a modern style of 18 square meters
Modern and practical people can design a bedroom in gray colors. Skillful design decisions will not overload the room of a modern person and will not make it boring. Different shades of gray and other muted colors can be used in the bedroom. At the same time, do not forget about the bright elements in the form of paintings, flowers, vases and so on.
Do you want latest Trends straight to your inbox?
Thank you for subscribing.
Something went wrong.