Today, we are talking about a type of welcoming, warm interior design, full of charm and character. The farmhouse style escapes modern sophistication, is simpler and more natural.
Born in North America in recent years, the Farmhouse style, after some successful TV broadcasts, finds more and more fans also in Europe. It is a modern interior decoration, but which evokes the past, always looking for a certain authenticity. It is a more refined, sober and studied American rustic style down to the smallest detail.
The farmhouse style allows you to create clean, elegant and soulful spaces. It is a rustic and eclectic style at the same time, which allows you to combine old decorative elements with new ones. This is one of the keys to its success.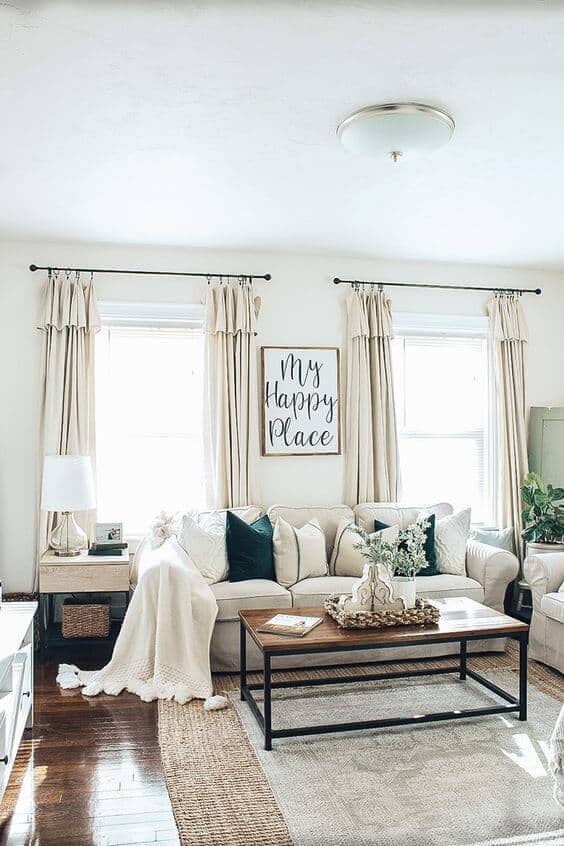 Source: Pinterest
But the most important aspect of the farmhouse style is its feeling of "evolution". That is, its decoration grows over time, little by little, with the addition of always new elements. In short, it is not the result of an immediate decoration, completed altogether following a pre-established order. Therefore, it is very important not to buy furniture that combines with each other in a very obvious way: you must avoid the unpleasant artificial effect, that of having bought everything in the same store.
If you are looking for farmhouse style TV cabinet, check out:  tv cabinet
Is farmhouse style out of fashion?
The first thing you should consider is that it doesn't really matter, as long as you love this style and you are willing to take the commitment of applying it to your interiors and seeing it for the years to come. However, if you are really looking for something in style, you should know that 2020 was the year in which farmhouse style officially became out of style and has been substituted by Industrial farmhouse style.
Farmhouse Modern Style
Rustic style within American homes, saw, in the early 2000s, a shift towards more international influences, especially towards the Old Continent: French Provencal country, Tuscan rustic style and such. The time had come for a new aesthetic, more American, and that's where the Farmhouse Modern Style came into the picture, often abbreviated only as Farmhouse style, which we can trivially summarize as a mix of Industrial Chic and Country Chic style.
The history of the Farmhouse Modern Style
Like the industrial chic style, the modern farmhouse style focuses on the architectural authenticity of the space. The aesthetic origins of the style are varied: many aspects are influenced by North American royal farmhouses and other examples of American country architecture, which appear to come directly from the paintings of the artist Edward Hopper and his 20th century contemporaries of "American Realism".
As for the style inspirations from the recent past, it has its origins in the Country chic and Shabby chic furnishings, very popular in American magazines such as House Beautiful and Architectural Digest, since around 2005.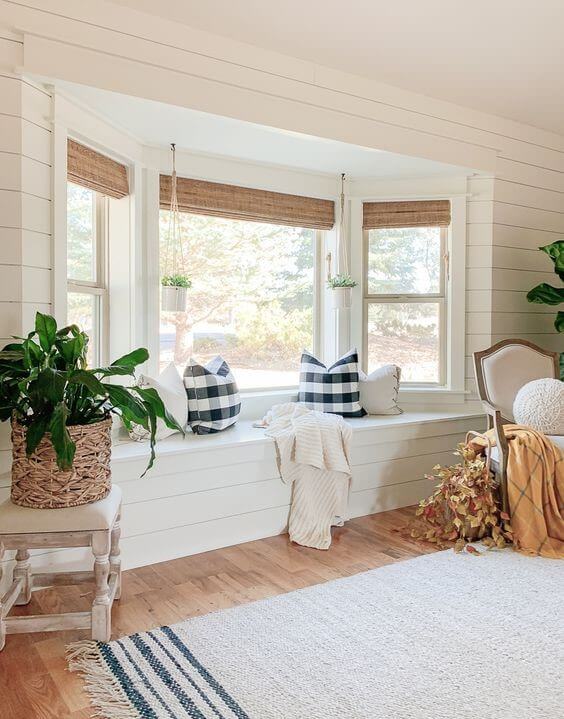 Source: Pinterest
As you can imagine, it is a reassuring and nostalgic style of a provincial past. In an era dominated by technology, style leans towards an American aesthetic of "handmade" and durability. Modern Farmhouses have many points in common with the Industrial chic style: although the former is inspired by old farmhouses, while the latter by old factories, both speak of a long-lost desire for authenticity and American history.
Farmhouse style: why should I love it?
The main starting point in the Farmhouse style is to start from an architecture that is consistent with the style itself, therefore a farmhouse or an apartment of an old country house, with high ceilings and beautiful exposed beams or alternatively also a house in the center that is not luxurious.
Precisely for this reason, using the Farmhouse style for a city reinforced concrete house is like creating a loft where there is no loft. However, a bit of inspiration (especially by mixing styles) can be taken, just as elements of the industrial style are inserted into normal apartments, without reproposing the style entirely.
In our opinion, it is always better to avoid transforming our home into something that is not, just because we are in love with a style.
Another main feature of the style is the mixture of rustic elements (recycled wood, antiques, etc.) with the sobriety of contemporary aesthetics (neutral colors, few embellishments, airy and open spaces).
If you are looking for farmhouse style table lamps, check out: table lamps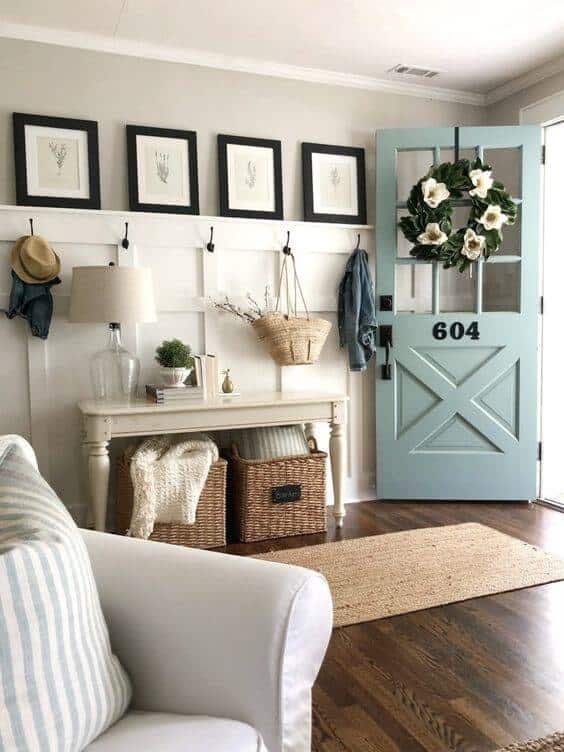 Source: Pinterest
If you are looking for some accessories, here's a few you might like: office organizer, mini potted artificial plants, windmill wall art, rustic letter board, metal flower vase, towel holder.
Farmhouse style: why should I hate it?
Farmhouse style is a difficult design to implement, especially in houses and apartments that were not meant for it. In fact, if forced too much into an environment that doesn't present the characteristics of farm houses, this style will look unnatural and just out of place. Furthermore, farmhouse style works best with vintage and repurposed furniture, rather than furniture sold today under the farmhouse style label, which could turn your home into an artificial space with no real "soul".
How to create a farmhouse interior
Create open space living areas with open kitchen and living room, perhaps with a nice island. Use light neutral colors, especially a mix of white, black and brown (wood).
Bring out natural materials, especially wood and stone for a natural, rustic feel.
Avoid excesses of decoration: no floral patterns for sofas and curtains, no wallpaper. Focus on rustic simplicity. Characteristic of this style are natural fabrics and linens in neutral colors or graphic designs, which give the rooms a fresh look. Very popular in this style are the checked patterns, in black and white.
Use reclaimed furniture, such as old cabinets, chairs, wooden tables, baskets, or anything else you think would add some character. Yes to furniture repainted in neutral colors, but without excessive wear, as in Shabby chic. Very in vogue in this style frames or signs with hand-written lettering with calligraphic fonts of modern lettering.
It integrates some elements chosen from other retro styles, in particular the industrial and vintage styles: 1950s armchairs, modern antiques lamps, industrial-chic style stools, white porcelain and similar. Quality over quantity is fundamental to this style: visit flea markets, second hand shops and online sales to save money, but also consider investing in one or more central pieces of furniture.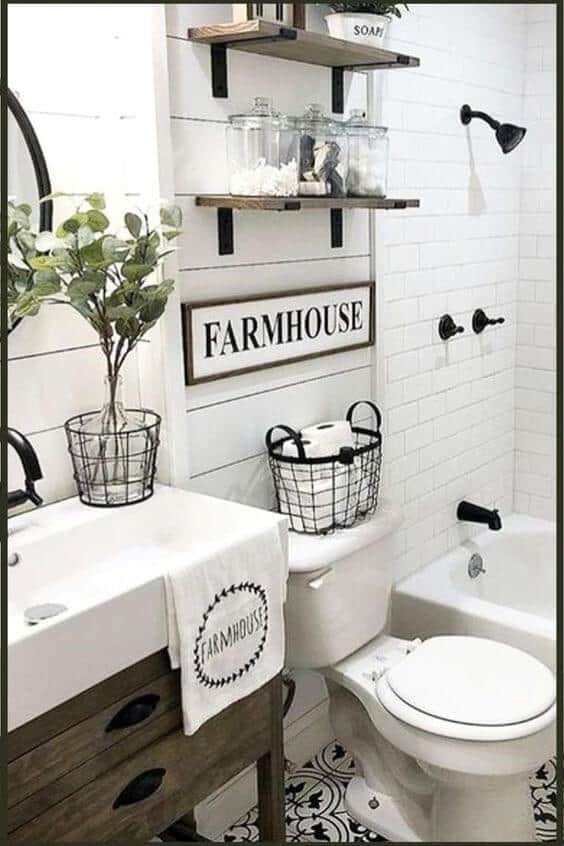 Source: Pinterest
With such a style, it is always necessary to avoid the unpleasant artificial effect of having too much "coordinated" and monotonous furniture, in order not to give the impression of having bought everything in the same shop. The key is always a harmonious interior, but with personal touches.
Do you like houses with a cozy and rustic atmosphere? Here then are the characteristics and secrets of the farmhouse style that offers warmth and tranquility.
Farmhouse furniture
The farmhouse-style furniture is large, sturdy, with a patina that denotes the passage of time and gives character to the rooms. They are, in many cases, furniture reused and restored respecting the original colors and textures.
The tables are large and rustic: like other farmhouse-style furniture, they are built to last and made of solid wood. An element that cannot be missing are the benches, especially at the entrance to the house, or even at the foot of the bed or as a seat for the dining table. They are versatile, practical and give that aesthetic contribution characteristic of this decorative style.
There are several types of chairs that we can use. In particular, we recommend the tolix chairs which combine perfectly with the rustic farmhouse style tables.
If you are looking for farmhouse style kitchen bar stools, check out: Bar stools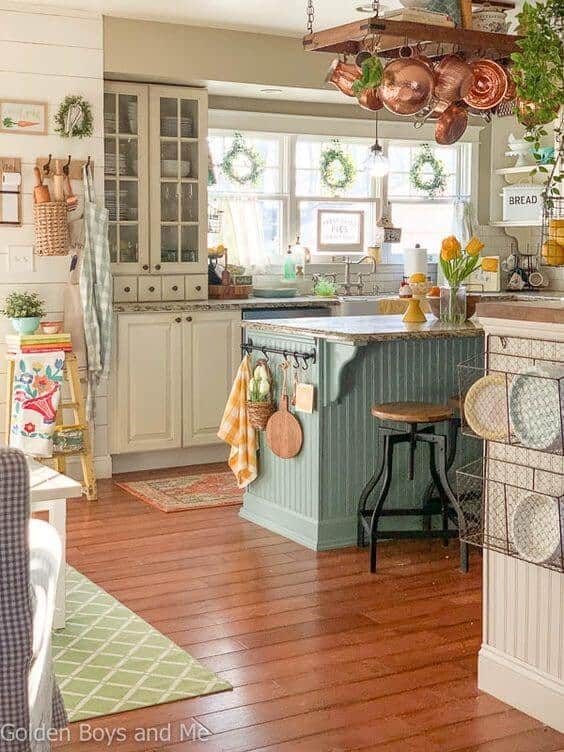 Source: Pinterest
Shaker chairs are also another good option. Both are austere and simple designs that combine perfectly with this decoration. Four-poster beds and large wardrobes are other furnishing accessories that will add character to the farmhouse style of your home.
Colors
The main color is white, but cream colors are also very much welcome. Walls, ceilings and furniture are painted in white, ivory or light beige. They are perfect for creating a bright and very welcoming atmosphere. They can be combined with soft shades of lilac, pastel yellow and turquoise to create a nice contrast.
Source: Pinterest
You can also add pops of color by using fabrics, for example in the form of lines or squares, which are essential in this style. Pillows, throws, blankets, even curtains and bedding are the ideal complements to accompany and complete this farmhouse style.
The accessories
Now let's see what elements you will need to give the final touch to this style. An important role is played by normal household utensils, which must be those present in a classic country house. Rustic vintage accessories will be perfect for recreating the atmosphere of the traditional American farmhouse.
We will use baskets, watering cans, metal and wooden kitchen utensils, retro telephones, iron hangers, shoe racks for boots at the entrance. And vases with plants and flowers almost everywhere.
If you are looking for farmhouse style kitchen cupboard, check out: Kitchen cupboard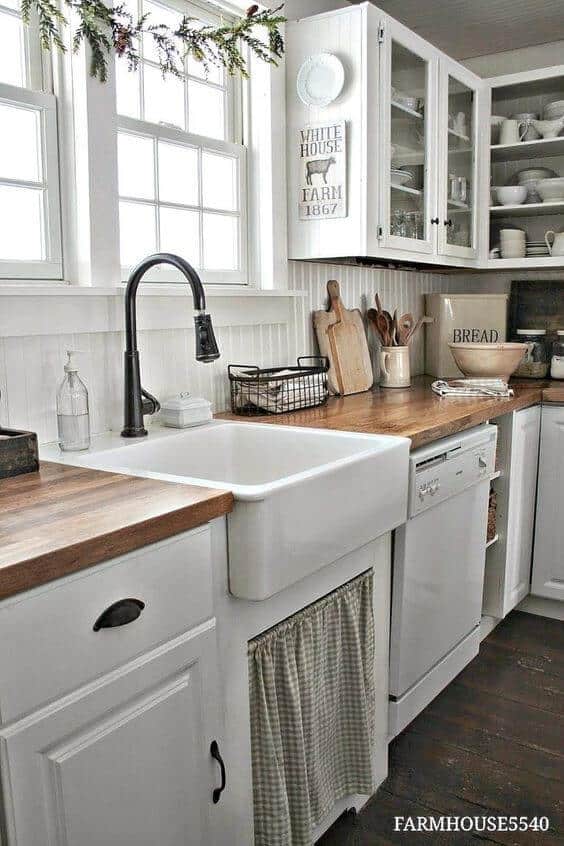 Source: Pinterest
Other decorative elements, to be taken into consideration, are the old barn doors. Especially to embellish a key environment such as a kitchen, or simply to separate spaces in the form of a sliding door. It would also be ideal to add a painting or a work of art that recalls a country house and its animals. In addition, even the addition of some industrial elements can complete the overall view of this elaborate style.
Conclusions
Why is farmhouse style so popular? Because you don't have to live in a large rural villa to recreate the farmhouse style. In recent years it has become very popular and, therefore, it will not be difficult to find decorative elements and furniture that will help you transform your home.
However, try to respect the features of your home and to not force your hand by buying too many trinkets and artificial farmhouse furniture and decorations. You might instead want to choose another type of design and add some farmhouse elements within your home.
Do you want latest Trends straight to your inbox?
Thank you for subscribing.
Something went wrong.