2021/2022 Design Trends: Vintage Style
When we hear someone express the desire to furnish a house in a vintage style, the first thing that comes to mind is: "Again?". Tracing back atmospheres and emotions through furniture is a trend that has been raging for some time, to the point of seeming to have done its time. Yet this trend of resorting to pieces that are at least twenty years old shows no sign of disappearing. Vintage style is practically everywhere: in trendy restaurants and luxury interiors, in hotels and design galleries.
Raise your hand if you have never thought of furnishing even a corner of the house with an objet trouvé, an expression that in French indicates what you can find in flea markets and specialized shops. Glamor magazines that offer fashionable interiors are nourished by vintage references. The homes of designers, creatives, and celebrities are also full of vintage furniture.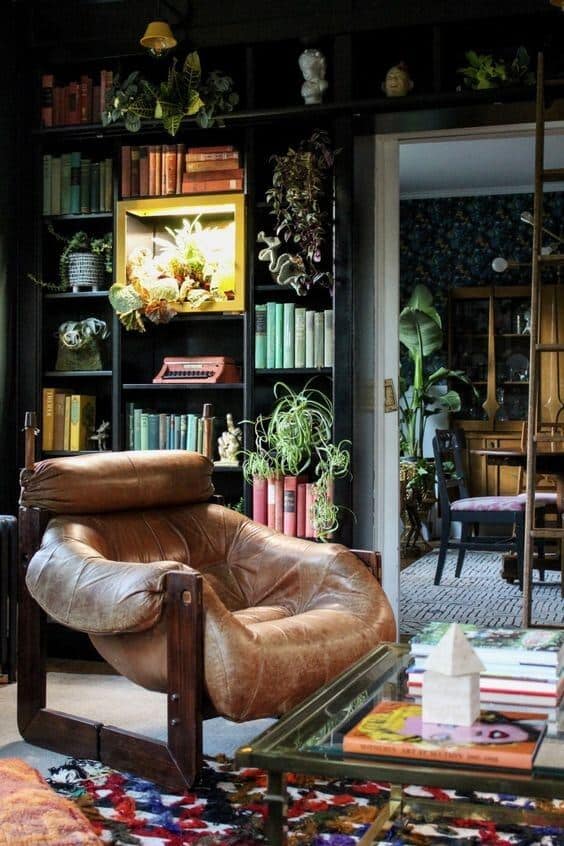 Source: Pinterest
This phenomenon has undoubted psychological reasons. The patina of time, in furniture as in fashion, adds value to things: it is that nostalgia effect that leads to rediscovering iconic objects and furniture, which have become a cult, and to frequent flea markets and the growth of the brocantage phenomenon (another French word for trading in antique objects). The term vintage itself comes from the old French vendange or harvest.
How will 2021/2022 vintage designs be like? Let's find out:
Velvet
Velvet is back in fashion and fills the house with its innate elegance. Whether it's an armchair, a sofa, or a simple cushion, we can't give up its warmth and its chic nature, and we won't in the years to come either.
Accessories, furnishings, decorations; the new trends for next year speak of velvet as one of the essential materials for design furniture. But the question is always one: will we choose mass-produced velvet items or authentic vintage ones? You already know our answer, so let's talk about vintage velvet accessories and their value in home furnishings.
Source: Pinterest
Sitting on a soft velvet armchair is a pleasure that is a shame to deprive yourself of. But how to orient yourself in the choice? The 40s, 50s, and 60s of the last century gave us a vast range of genuinely fantastic velvet armchairs. It ranges from those in metal with rigid armrests, passing through those in wood, full of warmth and comfort, to those in leather, all perfectly mixed with velvet, to guarantee a unique softness and the ability to adapt to any home furnishing style, from industrial to classic.
One of the most significant advantages of armchairs – and sofas! – of the 40s and 60s lies in the fact that the designers of the time, following the most popular trends, never were afraid to use color, giving life to objects that, even today, cannot go unnoticed. From the warm shades of orange, ranging to shades of blue and red, velvet seats will enrich the home with warmth and refinement.
Less is more: minimal vintage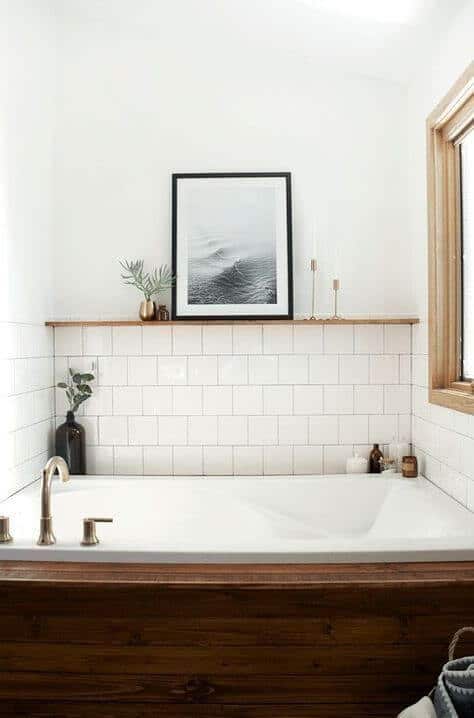 Source: Pinterest
Don't be scared, as the watchword that will unite vintage trends is "less is more." Any accessory or piece of furniture must be chosen with great care and attention. It must be harmoniously contextualized within our homes and respecting the canons of minimalism. You will have to commit yourself to make every room of our home welcoming but essential. Prefer geometric patterns and square shapes but above all, have fun playing with fabrics. They will be another real must!
Bright colors
Source: Pinterest
It's official; it's time to say goodbye to pastel colors! We will welcome more eclectic and vibrant shades instead. Used with the right care, and without sacrificing our unmistakable good taste, they can give that touch of 'character' and movement to any room in our home. If you wonder what the hottest colors will be for 2021 vintage trends, the answer is simple: Electric blue, lemon yellow, bright red, and dark green. We are ready to dare! Are you?
Click here to check out a beautiful and colourful wallpaper, perfect for your vintage kitchen.
Metals: Gold, Silver, and Rose Gold
Source: Pinterest
Essentiality, however, must also rhyme with elegance and refinement. Your home will have to be transformed into a precious environment. The undisputed protagonists will be metals such as brass, gold, silver, and above all, rose gold. Perfect to be used as finishes for our furnishing accessories. Gold-plated coffee tables with marble tops, sophisticated chandeliers with brass structures, and crystal drops can be combined with sofas with velvet fabrics.
Check out an amazing vintage golden mirror right here!
Glass
Source: Pinterest
In all its varieties of shapes and colors, glass will be another significant trend of 2021/2022. Design objects in tempered or opaque worked glass will not be missing in the homes of all design lovers, especially in the screen-printed version! You will find lots of furniture and furnishing accessories with glass details: unique and original! If you love to play with light and recreate welcoming and relaxing atmospheres inside your home, you will be captivated by this trend.
Check out a great pair of vintage glass vases right here!
Vintage and Industrial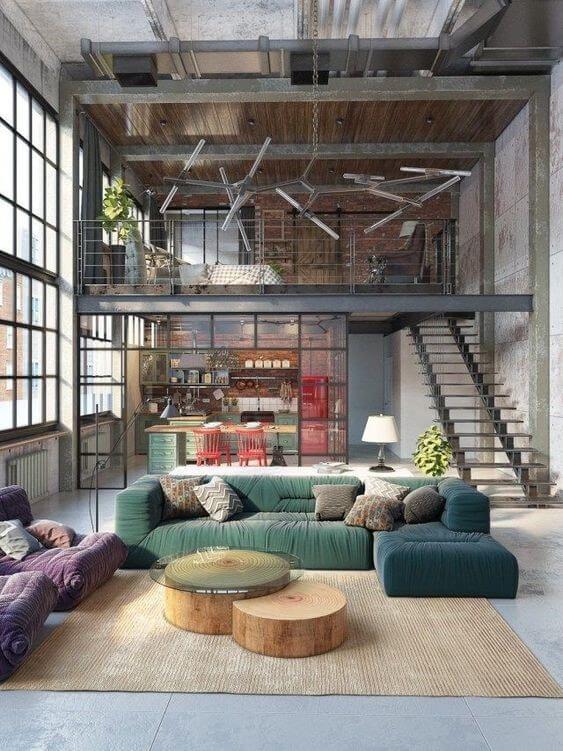 Source: Pinterest
The beautiful journey back in time already begun in 2018 will continue in the next years. A dive into the past, which combines the rigid elements of the industrial style with the romanticism of vintage or retro-flavored objects. With the warmth of its materials, such as solid wood, the vintage spirit meets and blends with the industrial style's rigorous character and its elements in steel, metal, and glass. Some industrial pieces seem to come straight out of old factories: work tables, old signs, plumbing pipes, and metal stools. Simple objects with a metropolitan cut, which meet with recycled elements, such as velvet sofas, leather armchairs, and old frames, will give a more elegant and sophisticated touch to our rooms.
Animalier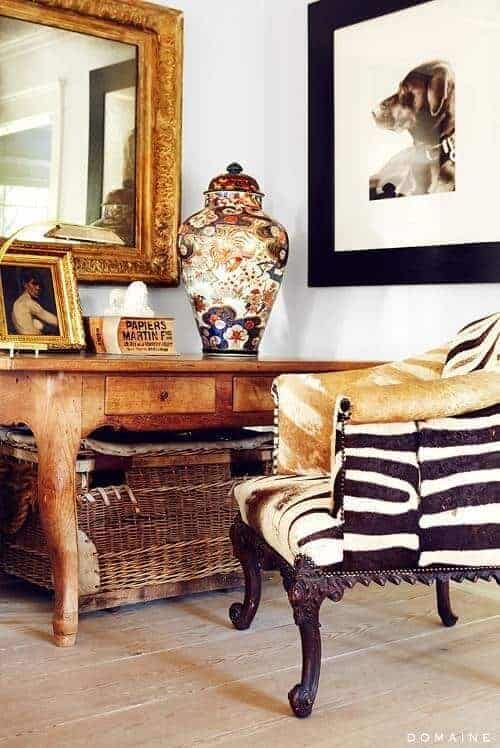 Source: Pinterest
Are you ready to leave for distant destinations with 'jungle' connotations? The animalier, in its leopard and zebra stripes, will be another strong trend that will make our home change 'skin'. A wild and sensual trend that will surely conquer the most daring spirits! Here's a piece of advice: use it primarily on textile furnishing accessories and carpets, being careful not to overdo it: the risk could be that of finding yourself living in a super kitsch jungle.
Here you'll find a cozy and glamorous animalier throw blanket that will certainly pop in your vintage home!
Which era should you get inspired by?
The 1940s and 50s style furnishings: the era of modern antiques
Source: Pinterest
The 1940s and 1950s were the years of rebirth. The world got back into motion, and among the outstanding innovations, there was also the development of mass production of furniture.
Those who lived in this period saw the transition from handmade furniture, often with decorations and inlays of a certain prestige that few could afford, to more straightforward, industrial ones, more affordable for everyone.
In recent years there has been a great revolution in design, a style that is now known as modern art.
American design from that period also became iconic. Who does not remember the houses of Grease or even more of Happy Days?! Nostalgics who appreciate this mood will easily insert pieces of that period within a modern context.
They are two furniture styles united by the almost total absence of frills that can coexist nicely, as long as you are careful with the color choices.
60's style furniture: pop art, bright colors, and rounded shapes
Source: Pinterest
The 60s are those of the advent of pop art, with its bright colors, rounded shapes, plastic, and wood that form a previously unthinkable meeting. The optical illusion style invades curtains, carpets, fabrics, wallpaper.
This period's furniture responds to futuristic imagery, is no-frills and minimal, but that meets combinations of bright and crazy colors.
The 60's style is reflected in strong colored walls and floors with geometric patterns, including the most classic, the checkerboard one. Recalling the Sixties at home is not easy: balancing elements so rich in personality requires an excellent knowledge of the world of design and its rules.
Here's a very colorful 60s pillow cover: check it out!
70's style furniture: wallpapers and bold colors
Source: Pinterest
The 1970s were the years of wallpaper and bold colors, years in which wood was set aside a little in favor of the more "contemporary" plastic.
An era where orange, yellow, and brown reigned, where the geometric and regular shapes of the previous two decades' furniture were abdicated in favor of curves.
It is an intricate style that requires a lot of attention to be incorporated into modern furniture or to meet other elements with a completely different style.
Check out these 70's geometric curtains!
Vintage-style: remember to be consistent!
Vintage interior design is as fascinating as it is dangerous.
If you think it is enough to buy any vintage furniture, accessories, or objects as long as you like them, or worse still, rummage through the cellars or attics of your grandparents to dust off a random nightstand or sideboard because "old is beautiful," then get ready to a disappointing result!
Any home must be furnished with harmony and lived with pleasure.
It's okay to combine elements from different eras and styles. Still, it's essential to recreate an absolute continuity as well, or you'll end up putting together the perfect junk store rather than a charming vintage home.
Do you want latest Trends straight to your inbox?
Thank you for subscribing.
Something went wrong.