The boho-chic style is a combination of two terms: boho, short for bohemian, which refers to the lifestyle of 19th-century artists, and chic, a French word synonymous with elegance. The Bohemian lifestyle has always been associated with creatives and intellectuals on the fringes of social structures and is extremely unconventional. Learn all the types of Boho-chic Interior Design Trends in this article.
The term boho chic was born in the early 2000s as a trend in the world of fashion, which then also arrived in the field of interior design. The boho-chic style is a mix of other styles: from the Far West to the hippy movement; from the ethnic style, which goes from Africa to India, passing through Morocco, to the Scandinavian one. Boho chic is a very original and personal style, full of different colors and finishes, lots of green and unique pieces.
A fundamental part of the boho-chic style is the mix between old & new. The spaces are always full of furniture, objects, art, and lights, both vintage and modern (alas, this style is not for lovers of minimal!). Each space must tell the story of those who live there through the choice of unique pieces. In fact, boho-chic houses never look alike: the use of many unique vintage pieces means that each home has its stamp and style.
What are the Boho-chic Interior Design Trends of 2023?
Main trends of 2023
Focus on creative recovery
Source: Pinterest
The recovery of old furniture and materials and the creative reuse of second-hand pieces of furniture to give a new life to are the basis of the home boho chic style decor.
Visit the flea markets and therefore go hunting for objects and furniture from different eras and cultures to which you can give a creative and decidedly special existence!
Mix styles and colours: instilling personality into the environment will be easier than you think.
The key element: colour
Source: Pinterest
The chromatic element is essential in a boho-chic environment. Its appearance must be unconventional and unique (as the bohemian culture wants) as well as light-hearted (as in the best boho tradition). Therefore, the contrast between intense colors becomes essential in creating a boho-chic space.
The fundamental elements in 2023 will remain color, wood, and curious objects collected from around the world!
A touch (or maybe more) of green
Source: Pinterest
If it is true that plants and flowers are always essential details, in the boho style they are even more so, becoming much more than simple outline elements.
In fact, green blends wisely with lights and colours in the environment, giving life to the contrasts and chromatic illusions typical of this trend. That's not all: plants can often also be used as natural furnishing elements to create barriers, partitions, and "alternative walls" within the space.
So, what are the requirements of the perfect boho designer? Fantasy, flair, and… green thumb!
Main Boho Chich trends for flooring in 2023
Like furniture, floors should also be made from natural materials wherever possible, which is why hard coatings such as parquet or cork floors are particularly suitable, just as laminate flooring is a great alternative. However, even carpeted floorings fit the design of a bohemian wellness oasis.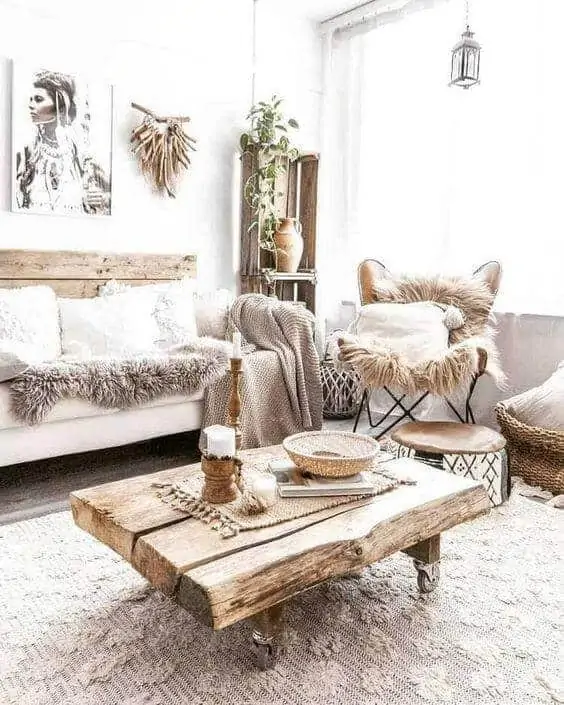 Source: Pinterest
Floors in natural wood stand out for stability and high quality, combined with a noble design. Available in numerous types of wood, to reproduce the boho-chic style, it is necessary to resort to warm and rustic decorations. The parquet floor's simple look can be enhanced with soft home textiles, decorative home accessories, or eye-catching wallpaper.
Various practical properties complement the attractive design. On the one hand, parquet is distinguished by excellent strength properties. On the other hand, this wooden flooring impresses with its ecological and healthy production.
An exceptional alternative to parquet is laminate flooring, which combines functionality and design in a single floor. Thanks to the multilayer structure, the laminate stands out for its extraordinary stability and ease of maintenance. In addition, it impresses with first-class acoustic values, which create a pleasantly calm and quiet atmosphere in every room.
There is hardly a floor covering that exudes as much comfort as carpet, which is why the fabric is well suited for the cozy boho style. In particular, the rug in natural earth tones creates a harmonious base. Besides, this textile flooring has some beneficial practical properties. For example, it effectively isolates footfall noise and has an incredibly gentle effect on the joints. Also, the fabric's surface acts as a dust filter, which guarantees a significant increase in air quality in the room.
Main Boho Chic trends for walls in 2023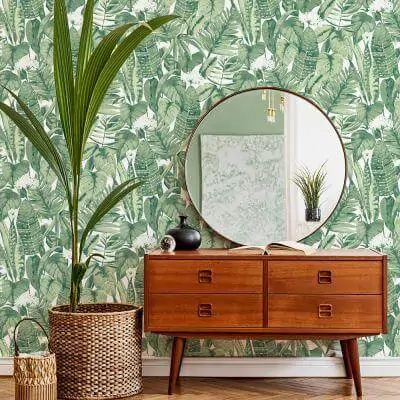 Source: Pinterest
The right wallpaper can tell a story and, in this way, give each room an individual touch. In addition to a classic plain wallpaper, which can be updated with a suitable boho decoration, patterned wallpapers are particularly ideal for recreating the bohemian style. So, you can take a journey through time with vintage wallpaper or experience Arabian nights with oriental wallpaper. A floral wallpaper also echoes the freedom and naturalness of bohemian furnishings.
Boho Chic elements not to be missed in 2023
A garden in the house
Source: Pinterest
Turn your room into a magnificent garden! The vertical garden trend is now well established, and lately we have also seen many houses decorated with pots hanging from the ceiling for hanging plants. Large terracotta pots are also a must for the interior, not just for the terrace: consider decorating your home with plants that purify the air!
Here you'll find some Macrame Plant Hangers that will go perfectly with your new boho-chic home!
Patterned fabrics
Source: Pinterest
Floral patterned sheets, patchwork blankets, and colorful pillows make your bed special and unique. A canopy bed with mosquito nets or ethnic curtains is also an elegant choice in typical boho style.
Click here to check out an amazing cotton boho-chic tribal rug!
Floor (and other) lanterns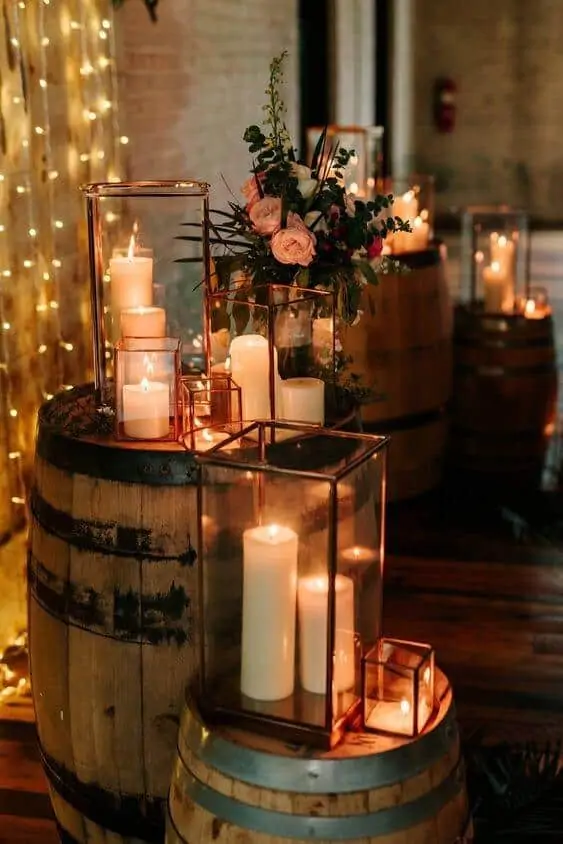 Source: Pinterest
Lanterns are a must in boho chic décor, not only for the outdoors, but also to decorate the living room. Floor lanterns are incredibly fashionable: place them near the sofa, combined with a blanket with fringes.
Check out these three boho-chic lanterns, you'll love them!
Boho hammocks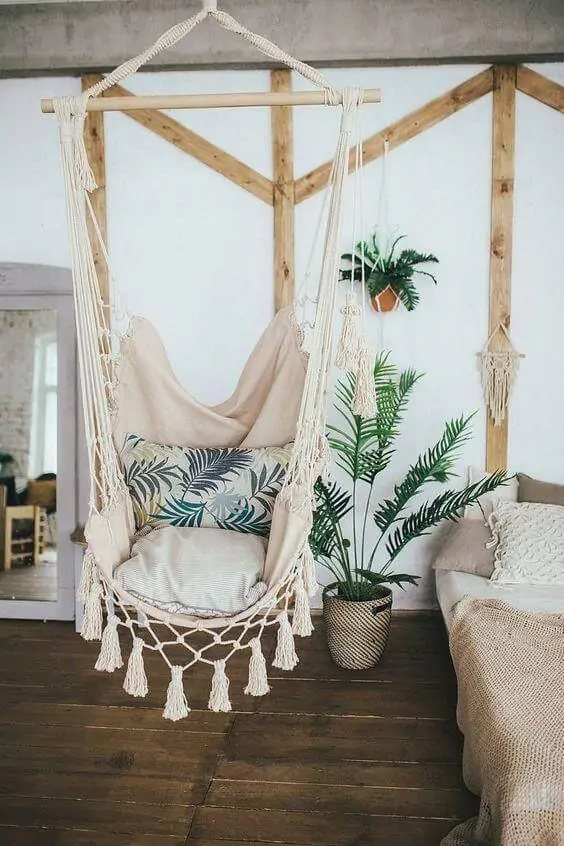 Source: Pinterest
Very hippie! Decorate a corner of your bedroom or living room with a hammock and surround yourself with rattan and wicker poufs. Swing-style hanging chairs are also an excellent idea and, at the same time, very comfortable, elegant, and stylish decorative pieces.
We promise you'll love this amazing Boho-chic macrame hammock, check it out!
Candles, candles, and more candles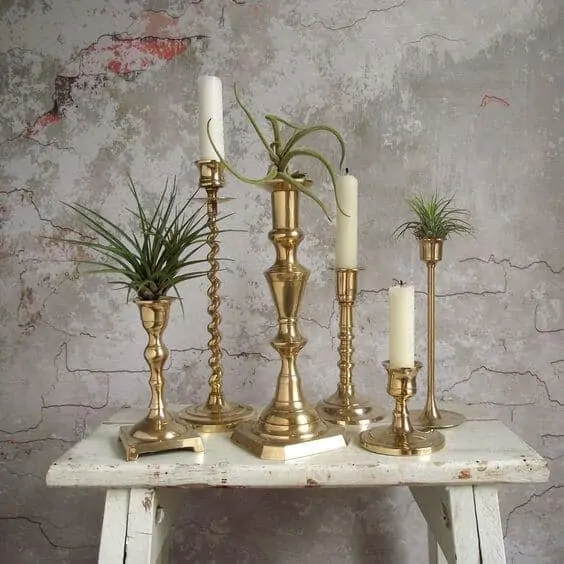 Source: Pinterest
What should absolutely never be missing in a boho-chic style home? Candles, obviously! Place them in clear or coloured glasses to create a romantic glow in any room.
Check out these amazing Himanalyan Salt tea light candle holders!
Boho Chic Rooms in 2023
In the living room, large, welcoming and soft sofas with rounded shapes cannot be skipped. Your sofa will be perfect to host friends for the evenings, as well as an ornament with an oriental touch.
After a long day away from home, the bathroom must become a place dedicated to rest and relaxation. A bathtub, in which to lie down comfortably, is ideal for a Boho Chich bathroom, and soft rugs cover part of the floor to make the environment safe.
A trendy boho style kitchen is not only eclectic and whimsical, but also comfortable and welcoming. A rough wooden table should be the main element. Combine a round solid wood table with precious rattan or Vienna weave chairs. Ancient objects will then be perfect on the table and the shelves in plain sight, as well as antique charm furniture such as cabinetries and wooden chairs.
The bedroom furniture is designed to convey emotions in the observer. The headboard of the high bed, preferably in wood, is surrounded by paintings and images that decorate the wall. There is no shortage of furniture and wardrobes. Plenty of fabrics: for blankets, curtains, and carpets, in natural material and bright colors.
Since travel means meeting and knowing, the exteriors are places dedicated to moments with friends, where you can enjoy time together.
Colours and materials
Boho Chic, as already mentioned, is synonymous with unconventional life with an imperfect look. The style of furniture is also distinguished by the splendid decorative accessories and fabrics made from natural materials. After all, it is the mix of different styles that makes boho-chic special!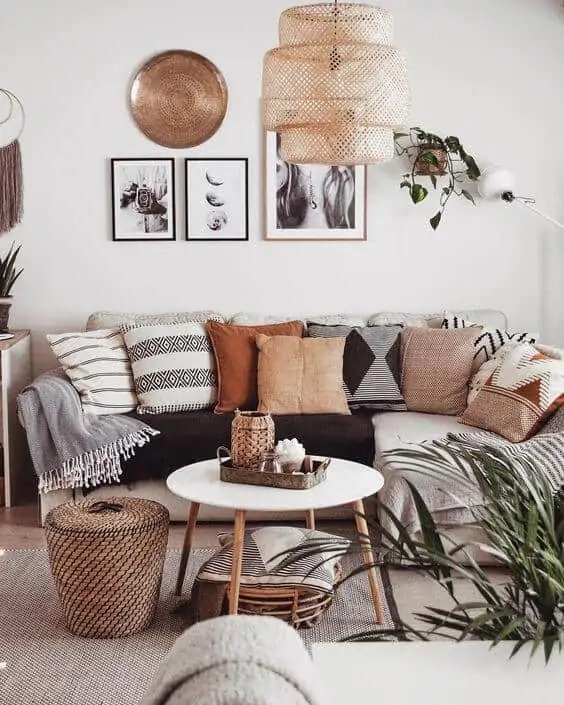 Source: Pinterest
If you want to design your home in a boho-chic style, consider the following colors, both for more important elements like walls or sofas, but also for small accessories:
brown
beige
olive
khaki
ecru
cream
These "basic" colors are combined with bright shades of blue, purple, red and yellow to create a true bohemian atmosphere. For example, on a cream-colored sofa, combine patchwork blankets and pillows with fringes and ethnic patterns. It is important to pay attention to this aspect when choosing the color.
Remember that black is banned from the boho-chic style!
The ideal materials
Coming home after an exhausting day at work, relaxing and enjoying the peace of your home: sometimes there is nothing more beautiful and often it is merely the little things in life that we appreciate so much. Soft faux fur pillows, fringed rugs and wool throws in pretty colours are an absolute must.
In order not to feel cold in the morning after getting up, it is worth investing in a Persian with an oriental pattern which, placed in front of the bed, will make the whole room much more comfortable by blending beautifully with the boho style of your bedroom. The boho look becomes even more fascinating with natural materials such as wood, leather, rattan, cotton and linen.
Do you want latest Trends straight to your inbox?
Thank you for subscribing.
Something went wrong.