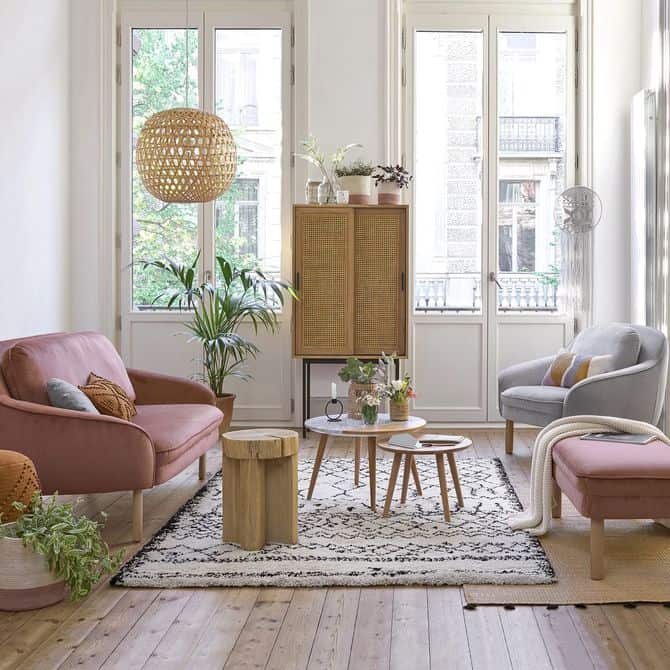 To tackle the year well, we dive right into the decor trends. Between wallpapers, paints and fabrics, 2021 will inevitably be very colorful! And that's pretty good news, isn't it? Zoom on the 10 decorative trends that will make us crack this year.
What will your interior look like in 2021? The decoration trends have arrived and it's time to delve into all these novelties to refresh your living room, bedroom or bathroom. And we reassure you right away, there is something to do.
To decorate your walls, you have the choice between geometric paint and printed wallpapers. In 2021, we are focusing on color, in particular on mustard yellow which is installed on plaids, cushions and even furniture. Outside, make way for nature and greenery. If you are lucky enough to have a large garden, go for a beautiful natural swimming pool. Otherwise, opt for a green wall or a vertical garden.
Here are 10 decorative trends that will make us crack in 2021, according to the Pinterest platform.
All the decoration trends that we will love in 2021
Painted tiles
Can you no longer see your bathroom with its red tiles? Do you want to opt for a retro-style splashback to stylize your kitchen? Do not panic, it is useless to break everything! You just have to repaint everything and presto, you find the room of your dreams thanks to a stroke of paint. This trend is rising more and more since Pinterest recorded a 1276% increase in searches associated with "painted tiles".
Geometric painting
After the colored walls, the trend is towards geometric painting. Choose shapes and color and off you go: your piece takes on the appearance of works of art and is colored as if by magic! The search for paint in geometric shapes has increased by 225% on Pinterest in recent months.
Mustard yellow
On the color side, we opt directly for the very bright mustard yellow. It goes perfectly with gray, pine green, navy blue, white and of course, black. We mix colors, dark and light, to play on contrasts and bring our living room to life. We adopt a mustard yellow wall or a sofa, an armchair or a simple cushion. On Pinterest, this color has seen an increase of 45% in searches.
Vertical gardens
Do you have an exterior wall to clothe and you don't know what to do with it? If you have a green thumb, opt for a vertical garden. Using plants, shrubs and flowers, create a real green wall, which will surely brighten up your patio or garden. On Pinterest you will find perfect tutorials and inspirations. On the platform, associated searches increased by 287%.
A sheet metal interior
Do you like the industrial spirit? Opt for a sheet metal interior, especially by cracking for a tin effect wallpaper. You can place it on a wall, in your kitchen, your living room or your bathroom, for a more authentic effect. On Pinterest, searches for "sheet metal interior" increased 563%.
An original wallpaper
The wallpaper is on the rise, and it is felt on Pinterest, since the associated searches have increased by 401%. No, it is not tacky and yes, it is really trendy. Even more when it is adorned with original and offbeat patterns, that it tames the colors and prints. It is only placed on a wall panel, to brighten up a room or to determine a reading corner, a desk corner, etc.
An arrangement of cacti
Cacti and succulents, we love it. In 2021, we will love them even more thanks to this trend which consists in creating pretty floral compositions. It is the best way to opt for a more plant and natural decoration, without overdoing it. And above all, cacti are very easy to maintain!
A contemporary fireplace
In winter, nothing better than a good chimney fire to warm up. In 2021, we even opt for a beautiful designer fireplace, which goes perfectly with its interior. We forget the big old models and we rather dare something more modern and aesthetic. On Pinterest, searches increased by 763%.
A natural swimming pool
Forget about chlorine! The new natural pools are perfect to blend in with the natural spirit of your garden, while offering you the opportunity to bathe in clear and delicious water. We arrange them according to the area of our land but also and above all, according to our desires.
Textile art
To change eternal paintings and dusty posters, we fall for a creation in fabric, thread or ribbon. This year, it is the textile art which asserts itself on our walls and which imposes it in all the rooms of the house. We shop for his work with small creators or we compose it ourselves. Above all, we place it in plain view.
10 Trendy Colors For Your Decor In 2021
Like every year, new trendy colors are essential in our interiors and define our future decoration favorites. Discover the 10 most beautiful colors that we will love to adopt in our living room or in our bedroom in 2021.
Each year, the colors are renewed and punctuate the new trends. They thus determine the innovations and colors that will brighten up our interior. Without turning everything upside down, you can simply opt for subtle color details, such as cushions, vases, frames, plaids, dried flowers, etc.
However, if you want to repaint your living room or bedroom, this may be the right time to immerse yourself in the trendy colors of the year. And in 2021, there is plenty to do: the color chart surprises us and reassures us, it wakes us up with soft and bright shades.
Discover the interior color trends that will make the year in decoration and fall in love without hesitation.
Hazelnut
Light tones settle in our interiors. We opt for a light brown, which pulls slightly on hazelnut with warmer shades. It's the perfect color to energize a room, without falling into the classic creamy white.
The purple gray
Gray is still omnipresent, like every year. This year, it is adorned with purple reflections and thus gains warmth. It is perfect for dressing the walls of a living room or the details of a bedroom and thus offers a cozy and cocooning universe.
Green in all its variations
This year, green is essential in all rooms of the house. Above all, it is available in all possible and unimaginable colors. In 2018, we heard a lot about sage green, but in 2021, it is mainly bottle green that settles on our walls. Vegetable green is also everywhere, it mixes with lighter greens or more electrifying greens. No matter which one you choose, it will be perfect for lighting up your interior.
Ochres
From light clay to darker terracotta, all the earthy tones will be perfect for this year. We fall for a terracotta wall, which dresses and styles a kitchen or a bathroom, for example, without overdoing it. With gray, green or even blue details, it is the perfect decorative alloy.
Yellow
After having invaded the decor trends of 2018, mustard yellow is also being installed in the new products for 2021. Suddenly, it is recycled with small discreet touches like cushions, vases, decorative accessories perfect for styling a room. On the walls, yellow is also available in light yellow, pastel border, or on the contrary in lemon yellow, much more conspicuous. It's up to you to choose your favorite shade.
Midnight blue
Forget the gray blue and immerse yourself in a beautiful, dark blue night. With golden or pink details, it is perfect for structuring a pretty room by dressing a single wall or a reading space in a living room, for example. We love it in painting but also with patterns or prints on beautiful wallpapers.
The coral
Obviously, this is the color of the year 2021, that chosen by the Pantone trends institute. Certainly, this bright color imposes but precisely, why not play with it? Forget the little details and rather dare the walls (or curtains, at the limit) of this shade to wake up your interior.
The pink
Attention, do not rush on any rose. This year, we are opting for a light pink, far from garish. We choose a pastel pink, very light or, on the contrary, on an old rose that is a bit past, gray border. They will both mix wonderfully with velvet, for example.
Peacock blue
Like duck blue, peacock blue has already been present for several seasons. However, this is not a reason to abandon them this year. On the contrary, we integrate them fully into our decoration and we superimpose them with paint on the wall, a sofa, cushions and why not a carpet?
The Red
This is the big surprise of this year 2021: generally, red is not very present in decoration because it is difficult to integrate into a room without ordering too much. To adopt it, we still opt for a slightly dark red rather than a real frank red. And in the end, we would almost get used to it.
If you hesitate between several colors, don't forget to try several paints first to make the right decision. Again, for bright or very frank colors, first favor the accessories before launching a big paint job!
Do you want latest Trends straight to your inbox?
Thank you for subscribing.
Something went wrong.