Macramè creations to add a boho-chic touch to the home
It has a very ancient history, yet it has managed to carve out a place of honor in the contemporary world. Macramé, or lace which, instead of being sewn and embroidered, is made by weaving, knotting and wrapping threads or cords, is an art that boasts a long tradition. It is said that it has Arab origin, and that it was the navigators who brought it to our coasts in the 1400s, in particular to the Ligurian ones, where it has become a real local tradition. Since then, the technique to make it has never changed: only manual skill can give life to the wonderful macramé decorations for the home that evoke a romantic, boho-chic world, with that rustic and natural flavor resulting from raw (and ecological ).
Pinterest
Undoubtedly, our aesthetic taste has changed, which has led the macramé creations to take on more contemporary appearances, varying the patterns and knots, the aesthetic result and the intended use. This form of traditional craftsmanship has carved out a special niche in the contemporary world, becoming an Instagram star. Macramé creations, tutorials to make them, the most skilled artisan-designers (it seems to be an all-female passion) are a real social trend.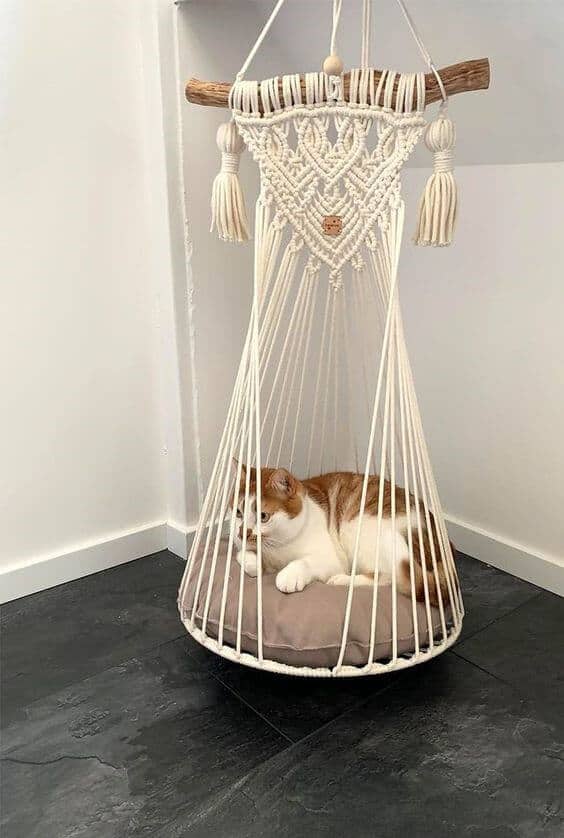 Pinterest
But let's go back to home decoration: there are several possibilities with macramé to add a boho-chic touch to your home by enriching it with accessories that arise from knots and weaves. Decorative tapestries, flower pots, frames, pillow cases and blankets, coasters, placemats and even jewelry, handbags and fashion accessories.
Here are some suggestions to add a romantic touch to the home with decorative macramé items.
Which decorative objects in macramé can you buy?
The most common among the decorative objects in macramé is the tapestry, the wall element that furnishes, gives a special touch to the atmosphere and gives a bohemian charm to the rooms, with a hint of 'ethnic' taste. The great weave of knots, windings, intertwining, unravels from a wooden support, more or less refined.
Pinterest
Another common element in the world of macrame is the hanging planter. The combinations for weaving a vase holder with this technique are almost infinite, so you can design a sort of 'hammock' in which to insert the plants that you want to enhance. The effect is superb, both with a single pot and with a combination of different plants. The final result is reminiscent of nature, lianas, and brings home an aesthetic revolution in green.
Pinterest
A lovely lampshade for hanging chandeliers, which creates a romantic play of shadows with and light, to illuminate any room in a soft, romantic, magical way. The lantern effect is extremely decorative and is enough on its own to enrich the aesthetics of a room. Also in this case the cord is sturdy cotton, of a raw color, and is perfect for contemporary environments where natural and warm materials are used.
You can also find mirrors, coasters, pillow covers earrings, and fashion objects made of macramé.
Modern macramé
The tools to make it are always the same: hands and textile fibers … patience and creativity.
The diameter of the wire to be braided becomes larger, almost like that used by sailors knots. Supports have been added, such as the wooden or iron structure on which the projects unfold and the fibers are also synthetic.
Pinterest
In the art of home decor, macramé "embroideries" are used for many furnishing accessories. All the creations, as in the past, use the weaving technique: knots distributed to create patterns, repeated motifs that give life to unique and original objects.
Best macramé Ideas and Design
1. Cute Wall Hanging Macrame Decor
These two pieces of macramé decoration will look great anywhere in your house. They will fit on your bed headboard, living room wall, fireplace, baby's crib, as well as for events such as a wedding.
The items are made of vintage brass and linen fiber, as well as wood.
Product Features –

2 Pcs wall hanging macrame
Fit for any environment
Ivory and Gold
W 24cm (9.4″) x H 70cm (27.5″)
Slight variations are possible
Sturdy
Individualistic piece
Perfect for a narrow space
Looks beautiful
---
2. Mkono Macrame Woven Wall Hanging Décor
Product Features –

Elegant bohemian decor
100% pure cotton
Symmetrical design
Handcrafted
Size: 13″ Width x 29″ Length
Small dimensions
It looks very cute
Good quality

Small dimensions
Different than the picture
---
3. Handmade Macrame Wall Hanging Shelf
This beautiful shelf is made of wood and macramé, and will be perfect hanging on any of your walls, holding plant pots, small lamps, crystals or any other small collectibles you own.
This shelf comes in a versatile style, and can be hung from the ceiling or the wall with a simple hook. It will work as a perfect addition to your interior décor, and give a boho touch to any room!
Product Features –

Made of 4mm pure cotton
Strong flexible woven design
Ready to be hung
Fits flower pots
Adds warmth and texture to the house
Looks great
Perfect for three/four plants
Sturdy and well done
Easy to hang

A bit crooked
Long shipping time
---
4. 2 Pcs Owl Macrame Wall Hanging Tapestry Art
Do you like little owls and you're also a fan of macramé? Then we have the perfect item for you: a little owl standing on a wooden stick, that will look great in a nursery, playroom or even in your living room. If instead you don't want to hang it anywhere in your house, buy it as a gift, as someone who likes boho will absolutely love it!
Owls are symbols of wisdom, and will help you look into your future and keep your dreams happy and serene.
Product Features –

Lifelike design
Suitable for any room
Size 31″ LX 11.8″ W & 16″ LX 5.9″
Perfect statement piece
Perfect gift
High quality and beautiful
Well made and flawless macramé
Cheap price
Looks great hung

Some customers complained about small defects
---
5. Macrame Wall Hanging Boho Tassel
If you are a minimalism fan, but you'd like to get some macramé items within your interior design, this wall dècor piece will be perfect for your taste. It comes in two colors, and can either be hang or simply positioned on furniture.
You'll get two pieces, one white and one orange, and they will both be unique, as they are completely handmade.
Just remember not to submerge it in water: if you need to clean it, a damp cloth will be enough. However, feel free to iron it if the basket tassels are wrinkled.
Product Features –

Multifunctional and decorative
Natural fibers and sweet grass
Woven wall hanging circle
Expect slight variations
Perfect boho touch
It comes with a handwritten note
Amazing quality
Minimalist cut

Smaller than expected
Some customers complained that it came late
---
6. Macrame window curtain
This is a statement piece that will look great on a window, on walls, or even as bed curtains. It is made of 100% cotton and every piece is completely unique, as they are all handmade. With it, you won't get the hardware necessary to hang it, but it will be extremely easy to do so. The pattern is complex and looks absolutely great, especially with a simple interior décor.
Product Features –

100% cotton
Boho-inspired
Authentically vintage
Hardware not included
Great price
It looks gorgeous
Great quality
Pretty and versatile

Measurements not as described
Some customers complained about the product being stained
---
7. Macrame Plant Hangers
Are you looking for a simple and effective way to display your plants, but you don't have enough space on your furniture? Then you should definitely opt for these plant hangers that come in a set of 4, which are simple but absolutely gorgeous.
The items are completely undyed and come in a natural color: they will give you extreme 70s flashbacks!
Product Features –

Great way to display your plants
Set of 4
Natural color
70s flashback
Great quality
Perfect for small and large pots
Great price
Perfect for indoor plants

Some customers complained it was tangled
Some customers complained it smells
---
Macramé furnishing accessories do not go unnoticed, whether in cotton, wool, synthetic fiber or other material. By themselves they can fill an entire unadorned space and we can think of them as works of art that make life at home more delightful. They find space in all rooms of the house, from the bedroom with macramé headboards, to the curtains in every room and to the pendants in the living room and in the garden.
Choose whichever item you like best, and think about the possible uses you'll do of them. If you're looking for a decoration, we particularly recommend the macramé owl: a unique piece that will add a lot of character to your space!
Good to Read : Wall Mirror!, Which is in trends now?
Do you want latest Trends straight to your inbox?
Thank you for subscribing.
Something went wrong.