Despite the abundance of constantly improving varieties of wall finishes, wallpapers do not lose popularity, acquiring a new sound in different eras. The trend of the coming year surprises with the opportunity to pick up the original wallpaper trends 2021 that meets modern fashion trends.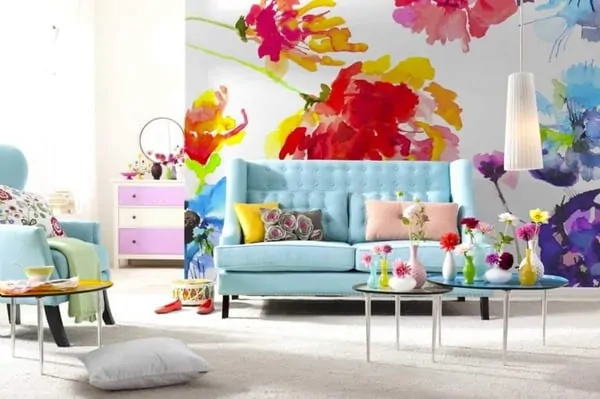 Beautiful wallpapers – a win-win solution for any interior
Knitted wallpaper trends 2021: a unique pattern on the walls
Cozy "knitted" wallpapers based on the peculiarities of the Scandinavian style relevant in recent years become the trend of 2021, offered by world famous design studios.
This is a version of minimalism with peculiar notes of retro. This design looks very original, as it is an image of a fabric knitted from thick yarn.
Advice! It is advisable to use "knitted" wallpaper to decorate one wall. To enhance the effect and create an exquisite interior corner, a sofa is set, covered with a large knit blanket with a pattern identical to the wall image.
Knitted wallpaper is a stylish piece of furniture that will add warmth and personality to it.
Beautiful 3-D wallpapers 2021: an overview of the best options
The use of three-dimensional printing in an amazing way transforms the usual wallpaper, turning them into exquisite widescreen images.
Volumetric imitation of a variety of textures, color, geometric compositions looks realistic, creating an amazing charming atmosphere. Illuminated options and mysteriously flickering fluorescent canvases are available.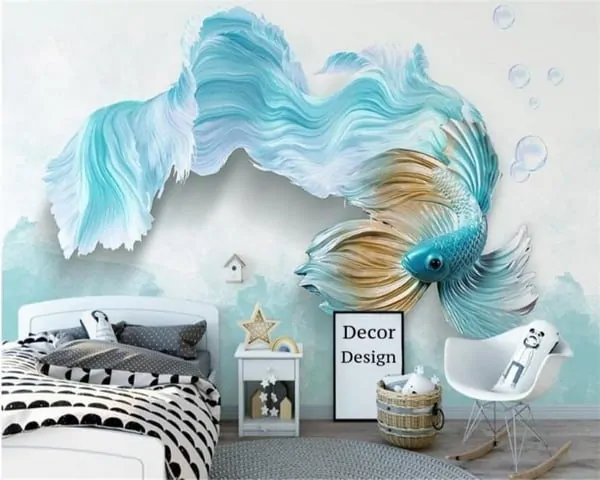 Beautiful 3-D wallpaper with a picture of a fish
Important! Volumetric 3D wallpapers 2021 will fill the most unremarkable interior with brilliance, however, it is important to follow the advice of designers and design one wall in 3-D format, keeping the remaining planes monochrome, choosing a tone in a single color scheme.
If you'd like to check out some nature inspired paintings, check out these beautiful prints
Textile wallpaper trends 2021: new items and trends this year
The fabric of jute, linen, cotton, silk or artificial fibers, velor, felt on a non-woven or vinyl basis firmly holds the top lines of the rating of these types of finishes.
Textile wallpaper features exquisite decor. They are environmentally friendly, resistant to fading, temperature fluctuations. Valued for high sound and heat insulation characteristics.
Successful use of textile in the interior of the living room
Liquid wallpaper trends 2021: pasting tricks and help in choosing
Liquid wallpapers remain fashionable and in demand , attracting with simple application on the surface and able to mask minor cracks, chips, elevation changes.
The range is presented in a wide range of colors, while you can independently make a certain shade accent, focusing on the general style decision of the room.
The main advantage of liquid wallpaper is that after drying the mixture does not leave seams, it can have a different texture. If desired, at the kneading stage, sparkles can also be added to them, which will give them special expressiveness.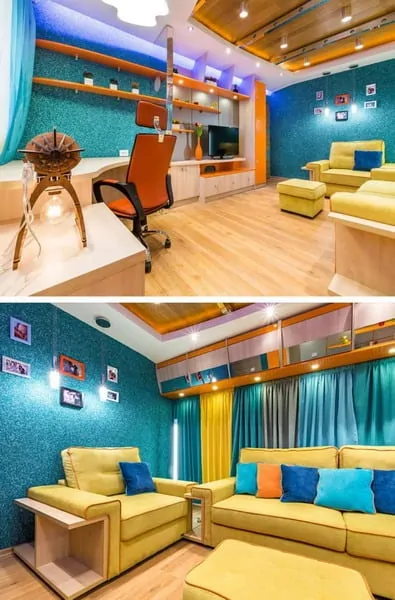 Liquid wallpaper will fit perfectly into the interior of the children's room
The method of applying liquid wallpaper on the wall is very simple, and the result of the work done will pleasantly surprise you
Neoclassical wallpaper trends 2021: creating a thoughtful interior
Creating a corporate design for wallpaper trends 2021 and focusing on fashion trends, well-known brands offer neoclassical motifs among the new products this year.
If you want to create a prestigious interior, you can choose a textured finish with elegant floral ornaments, ennobled with gilding. Looks aristocratic classic pattern on modern wallpaper with a gold and silver backing.
Wallpaper in a neoclassical style will radically change the character of the room without overloading the interior with unnecessary details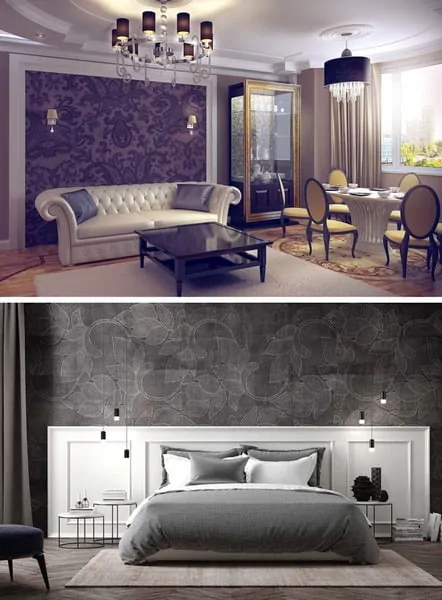 Beautiful neoclassical wallpaper in blue design
Trending wallpapers 2021: romantic notes in interior design
By 2021, advanced murals are at the peak of demand. In the trend, images that bring perspective into the room. It can be a path that goes into the distance, a window with incredibly beautiful views behind it. Fills the living room with a sense of luxury, the image of the fireplace with a majestic decoration or bookshelves with rare editions in rich bindings.
Gorgeous flowers, enlarged on the entire wall, exotic landscapes, elegant bouquets are popular. You can choose a picture, a reproduction or even a photograph yourself and order any plot, having previously thought over how harmoniously it fits into the interior.
Photo wallpaper with flowers is a favorite technique in the design of a bedroom interior
Hi-tech Wallpaper
Until recently, high-tech wall decor did not involve the use of familiar wallpaper. However, among the novelties of 2021 from well-known brands, connoisseurs of high-tech interior will already be able to pick up varieties of such finishes with a pronounced metallic effect.
Interesting textures, glossy surfaces, images of microcircuits, geometric shapes become relevant. You can choose plain colors, including fashionable achromatic. You can follow our other article on art trends which shows you where to place paintings and how to decorate room.
Bright high-tech interior
Wallpaper options for loft style
Well-known brands showing exclusive loft-style 2021 wallpapers did not ignore the surprisingly realistic imitation of precious wood, brutal stone, exotic leather, retro brickwork, aged crumbling plaster. All these textures are in demand when creating the still fashionable loft style, characterized by a revolutionary atmosphere, as well as unexpected combinations of glamorous things and deliberately rough finish of the planes.
Loft-style brickwork will emphasize the exclusivity of the furniture set
Despite the fact that wallpaper simulating brickwork will be appropriate in absolutely any room, their choice should be approached with special responsibility
Ethno Wallpaper
Ethno-theme attracts the attention of designers with a wide palette of proposed thematic plots reflected in modern wallpaper.
Indoors, landscapes of wild jungle, hunting battles of African tribes can arise.
Drawings resembling a patchwork made from leather pieces will recreate the Native American flavor.
A room with elements of the Egyptian style will be decorated with wallpaper imitating majestic marble.
The Provence style is characterized by an elegant delicate floral ornament.
Good to know! The novelty of such coloristic refinements is reflected in the high quality of materials and realistic images.
Stylish design of the living room in ethnic style
Eco-friendly design and wallpaper
Environmental design is still trending, and its popularity in 2021 will only increase. The range of such environmentally friendly finishing materials includes eco-friendly wallpaper made from fabric, paper, as well as cork or bamboo.
Advice! Choosing the last two options for gluing, it is worthwhile to dwell on the design of one wall by them. At the same time, the high thermal insulation ability of the cork, which also absorbs external sounds, is also taken into account.
Bamboo variety fits well into the interior with oriental motifs
2021 trends in wallpaper design
Innovations in the field of wallpaper production are surprising in their diversity, which allows to choose a modern finish not only according to the criteria of durability of the material, but also according to aesthetic characteristics.
Prints and drawings
Among the variety of textures and ornamental solutions, one can distinguish the original modern wallpaper trends 2021, which continues to gain popularity and will remain relevant for a long time.
The deliberately hypertrophied image of a flower, an elegant twig, a butterfly, an exotic plant attracts attention, becoming a central element of the entire interior. Such a print is placed on one wall or decorate some part of the room, which allows you to visually zoning the space.
Advice! Furniture, curtains, flooring for such an interior should have a calm neutral color in order to balance the overall color perception.
Beautiful bedroom in delicate floral shades
The splendor of blurry pastel combinations
The trend of 2021 is a universal non-contrasting pattern – floral or geometric, solved in very light colors (gray, bluish, coffee, beige).
This design fits into a variety of styles and creates a feeling of light and spaciousness in any room – living room , kitchen, bedroom , children's room.
Scandinavian style looks flawless, especially with pretty wallpaper on the walls
Gradient design
Among the trendy varieties of wallpaper trends 2021, a gradient design stands out, performed more often in muted exquisite pastel colors.
Important! A smooth transition from more saturated to light is oriented from the bottom up. This solution expands the space, gives it a dynamic modern sound and a sense of comfort.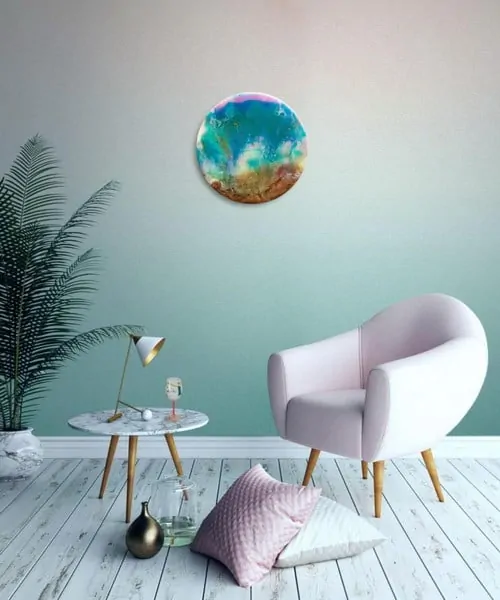 Gradient wallpaper can be safely called the standard of modern interior
The gradient design of the wallpaper is presented in an incredibly wide range of color shades and textured variety.
Geographic Maps
Cloths of wallpaper that depict geographical maps , this is another trend in 2021. Preference is given to aged cards with artificially expressed scuffs from previous eras with slightly blurred contours.
Such decoration gives the interior an extraordinary mysterious atmosphere, filling the space with a sense of intelligence and good taste. It is created by the impression of the owners as creative curious people with a broad outlook.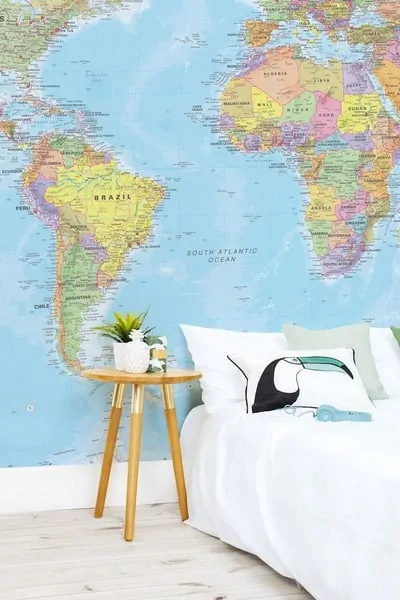 Trendy bedroom design with beautiful world map wallpaper
Maximalism or a riot of colors
The striking design of wallpaper trends 2021, which this year is becoming quite relevant, is gaining ground. An unusual exclusive interior is created using paintings, on a white background which intertwine, intricately intersecting several bright colors, as if randomly spilled in a chaotic order.
An interesting trend version of "blurry" wallpapers, the pattern on which is felt as if it is located under the water column. Such motives fascinate, allow you to relax and get the necessary rest after a busy weekday.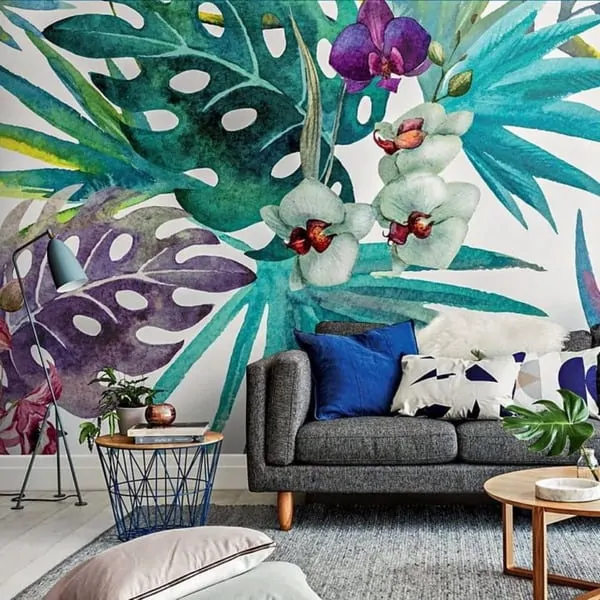 Bright accents help create a unique atmosphere of warmth and comfort.
Ornamental wall solution
Ornamental solution. Constantly improving plant, flower, geometric, animalistic motifs remain popular.
If you wish, you can fill the room with a natural color scheme, picking up images of a sweet-hearted birch grove, exotic jungle, flowering garden. There are many options.
Floral ornaments from the image of modest daisies to the stunning majestic inflorescences are selected, focusing on personal preferences.
Geometric prints bring dynamics, among which are dominated by honeycombs, zigzags, rhombuses and hexagons.
The vertical strip is still relevant, creating a feeling of spaciousness.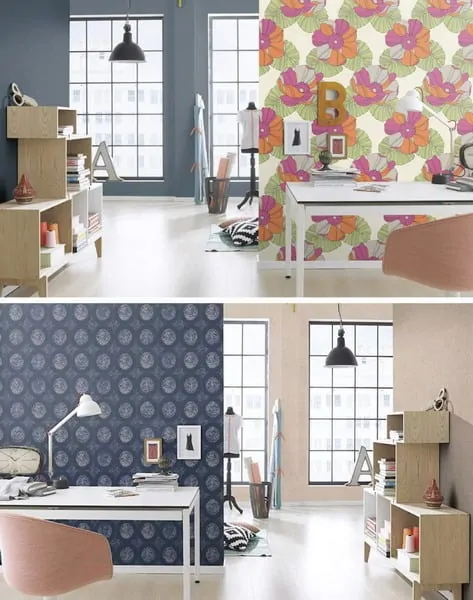 To create a unique design, it's enough to decorate at least one wall with beautiful wallpaper, the main thing is that they fit well into the overall style of the interior
Conclusion from the read
Choosing fashionable wallpaper in 2021, it is important not only to decide on the color and ornamental sound of the wall decoration, but also to create a harmonious holistic image, in which furniture ensembles should organically fit, as well as the design of windows, floors, and ceilings.
The range of wallpapers is constantly updated and improved, which allows you to independently create an interior that meets fashion trends.
Do you want latest Trends straight to your inbox?
Thank you for subscribing.
Something went wrong.