How to create a trendy interior design in 2021, starting from… the doors! Follow our guide on Door Trends 2021.
With the new year, we have seen that the furnishing trends are numerous and very different from each other. However, each colour and each element has its right location within the walls of this new and fresh 2021.
We have highlighted modern styles, materials, and modern interiors trends that we'll see in the upcoming year, but today we'll talk about internal doors.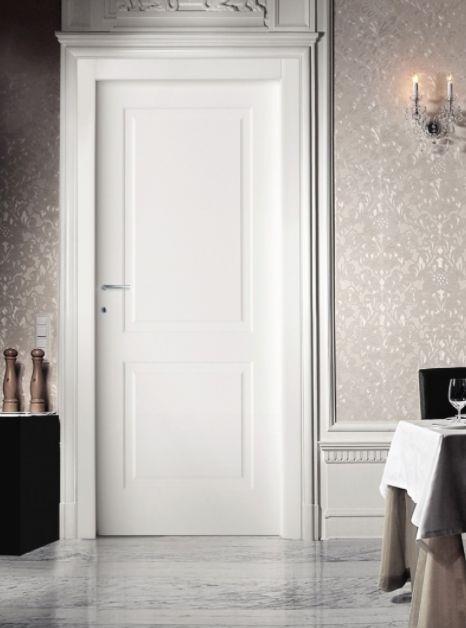 Source: Pinterest
Today, doors are not merely an entrance door or exit door through which you can change rooms; doors become an integral part of the furniture and, very often, give that extra touch of modern styles to the room.
This year's trends highlight at least three types of doors, two shades of colors, and two primary materials. Are you planning the rooms in your new home or do you want to renovate? Do you want to find out what the 2021 trends for interior design will be?
Let's find out!
The doors of 2021
If all of 2020 was the year of wallpaper and therefore of surprising and evocative patterns of all kinds, the essential furnishing accessories of 2021 are the mirrors, in total opposition to the previous year. Simple mirrors and geometries, which require bright environments, certainly increase natural light, giving a triumphal entrance to all your guests in the house.
With a wide diffusion, the colors in vogue are undoubtedly metallic shades and neutral colors, which, apparently, never go out of fashion.
Source: Pinterest
PVC windows and entrance doors, of course, will not need retouching, as PVC is and will always be perfectly easy to combine with all modern and minimal interior spaces. Fixtures in this material, for example, are produced in a wide range of colors and can be easily repainted to suit any living environment. Simple neutral color doors and windows with large glazed surfaces, to leave room for light, complete the list of the trends of 2021.
The minimalist furniture of 2021 focuses on square shapes and geometric patterns, which create essential environments. Everything aims to create an elegant simplicity. Long free walls, few furnishings present. The Modern style leaves little room for useless or very bulky furniture but enhances the essential ones for living the room. Sofas are soft and comfortable for you to relax in the evening after work in front of the television. Armchairs add a pop of colour with their large colourful cushions. Carpets warm the living area without being bulky.
Yet, to combine black and white, the minimal 2021 furniture has very bright colours, including lemon yellow, electric blue, deep red, and dark green.
Types of door trends in 2021
Full-height doors: give a sense of grandeur and greater ceiling height.
Full-height are also called ceiling doors, precisely because they extend vertically over the entire wall.
Source: Pinterest
Choosing a door that reaches the ceiling means opting for an unexpected, original, and scenographic hypothesis. The door is very slender and the environment more elegant. Being so high, when it remains open, it features the rooms more connected from all points of view – architectural, visual, and functional – and the light between the rooms spreads better and in greater quantity.
Wide doors: with this type of door, designers have gone wild
You will have noticed this by leafing through magazines and looking at furniture sites and blogs: today, home interior design style tends to prefer larger and multifunctional environments rather than a separation of the house into multiple rooms with reduced dimensions and specific functions. Today, designers must respond to the needs of ever-changing lifestyles, which increasingly interpret the use of the home for professional purposes as well. In environments of this type, the few doors included in the project assume great importance, both on a functional and aesthetic level. This is why the doors become larger and larger, representing a statement inside a room.
Sliding doors: made of glass elements or solid wood and functional to save space.
Sliding doors also known as floor to ceiling door. It must be said that sliding doors can be installed both inside and outside the wall. If you choose a sliding door that slides inside the wall (retractable sliding doors), these can slide and fit inside the walls themselves, in a special box previously created to house them.
Source: Pinterest
If you choose the retractable door, the wall is free. This way, it can accommodate various pieces of furniture, while inside, it will not be able to accommodate systems, cables, sockets, switches, plugs to fix shelves, and so on.
Door color trends in 2021
There are unlimited color options to choose from, but We would say choose the color based on your interiors and exterior design. Below are the few popular color tones.
Deep dark: after so many seasons in which Scandinavian style, with its light and bright colours, has dominated among different trends, a return to dark tones is expected for 2021. Among the fashionable door colours, there is, therefore, space for finishes such as Black Oak.
However, the colour must not create dark and narrow spaces. This is why dark tones are often combined with marble, which with its intensity makes everything brighter, or with glass doors and Natural wooden furniture, chosen in lighter finishes such as bleached oak or silk oak.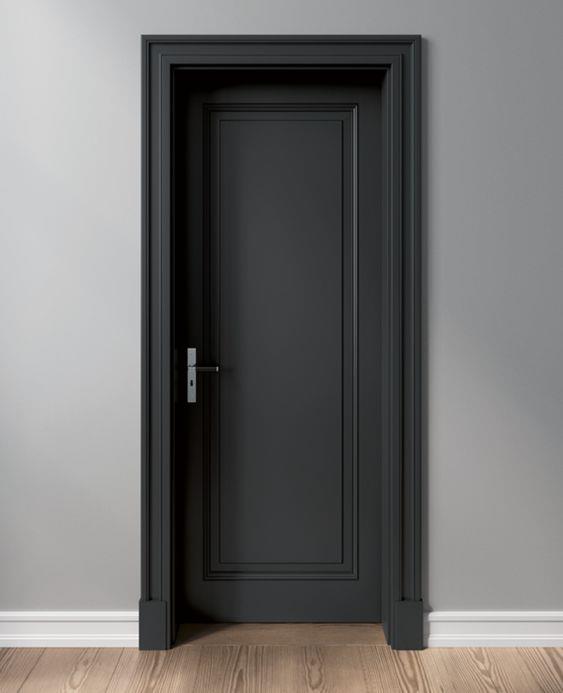 Source: Pinterest
Bright color: a further response to the light and delicate shades of the Scandinavian style is colour. Bright colours have returned to be protagonists, and this has also influenced the colours of internal doors. As you can see in the following example, choosing coloured interior doors already means furnishing the environment, starting from the door frame. This is calm tones so you should use to make your door looks elegent
Source: Pinterest
If you want to experiment with the colours of modern interior doors, you can also opt for a tinted flush door. So you will be able to choose the colour with which to paint the door, perhaps coordinating it with the wall.
Marble: A trend that had already appeared in recent seasons but has now truly established itself is the return of a prestigious and eternal material such as marble. We suggest it in different combinations.
Main Door designs and trends for 2021:
Sustainability and respect for the environment
Sustainability and respect for the environment are increasingly crucial in choosing the type of doors and windows.
Source: Pinterest
Also, in 2021, the focus is firmly on the issues of ecology and sustainability. Therefore, the path undertaken continues with the research and experimentation of doors and windows with low environmental impact. In fact, the innovative natural materials obtained thanks to recycling and new technologies create harmonious and stimulating environments. The eco-sustainable path develops greater awareness towards environmental protection: solid natural wood doors, PVC frames (100% recyclable), and wooden windows and doors represent, from this point of view, a choice that rewards sustainability policies.
Minimal Style doors
Source: Pinterest
A simple and functional house is the trend of 2021, a confirmation of the trend towards minimalism. Minimal doors, in addition to being elegant, offer many advantages and features, creating a clean and tidy environment, able to generate less stress and lift the mood. The real luxury is the quality of the simplification of the spaces, not the quantity. Also not to be underestimated are the evergreen pantographed and engraved doors, timeless.
Glass doors
Source: Pinterest
People are increasingly looking for environments where natural light invades everything. Natural light plays a specific role. Good lighting allows you to transform environments, making them spacious and welcoming. A glass door responds to this need, reflecting the light and contributing to the feeling of spatiality.
Contrasting interior doors: green light to combinations
If the invisible effect benefits essentiality, sometimes even a single contrasting detail transforms a room's appearance. Especially if the element in question is an internal door, to be lacquered or covered with bold color combinations.
Source: Pinterest
The new 2021 trend allows this, which sees not only complementary shades but also different furniture styles coexist in close contact. The minimal is tinged with the exotic, the industrial winks at vintage, and the barriers become less rigid.
Considerations before deciding on your Interior and exterior doors:
Is it necessary to choose the same doors throughout the house, or can you be daring with variations on the theme?
In general, it is good to opt for everything coordinated. In the living room, the primary material is glass, mainly when used in large sliding panels. Simultaneously, in the sleeping area, wood is cozier from an aesthetic point of view because the thermal and acoustic insulation guarantees privacy.
How to coordinate the doors and floors? In particular, how to combine wooden doors and parquet?
Do you want to achieve a warm effect and a classic line? Oakwood, in its infinite surface variations, from heat-treated to pickled, is ideal. The important thing is to even out or detach clearly between the surfaces. Half measures don't work. For a minimal effect, the door can be made of glass with inclusions of LEDs, and the floor can be made of large stone-effect ceramic slabs.
Do you want latest Trends straight to your inbox?
Thank you for subscribing.
Something went wrong.