Choose your design according to your horoscope
How to furnish your home according to the zodiac signs? What are the right colors and strengths of each zodiac sign? Here is a practical guide with everything you need to know on how to decorate the house according to your horoscope.
Zodiac Signs trends – Furnish your house according to your horoscope
If you believe in the horoscope, you should know that home décor also affects your mood and state of mind. We have identified the tips that astrology gives un on environment, colors and the right interior design for each zodiac sign.
Aries
Source: Pinterest
People born between March 21 and April 19 are Aries – a fire sign, which values ​​experience more than material goods; consequently, you will feel more at ease in a minimalist and functional environment: choose a few decorations that represent you and don't be afraid to leave empty spaces in the house.
Active and fierce: Mars rules Aries, so which color could work best than red? Touches of crimson and bright pink in the home, especially in the office, will keep your motivation high.
You are sensitive to light and colors, and the wrong shades have the power to bring you down; this is why we advise you to avoid muddy or soft colors and strengthen your spirit with bright tones.
Use red as an accent in any room, especially in the kitchen and dining room; it stimulates the appetite. The Aries is a warrior and has a naturally competitive spirit: you will love to decorate with symbols of your achievements and adventures or other elements that can motivate and spur you: they will be perfect inspirational quotes, trophies, or memories of your victories and experiences.
Taurus
Source: Pinterest
Taurus is ruled by the sensual Venus, which gives you a natural talent for decorating. You are deeply sensitive to the home environment, and you need to live in a comfortable and well-kept space. Every detail matters to you, and you are not afraid to invest in getting the best of everything. Taurus loves material objects and the arts: you love beautiful things, and your home is a canvas on which to express your style. You are elegant but not too formal, you have an eye for art, and you may even own some original works.
Persian rugs, paintings, leather sofas, and artfully framed photographs suit your tastes. Relaxation for you does not disregard class and elegance: for the Taurus, comfort is as important as style. For you, the house is synonymous with ease. Since you are very fond of rest, the bed is one of the essential furniture pieces and must be comfortable and spacious. Your home is a showcase. You love to show it off; you love to cook and entertain guests, so you will love showing them an excellent collection of wines and artwork and making them comfortable with your home theatre and comfortable furnishings.
Those born under the sign of Taurus are known to be stubborn, but they also have a softer side, which is reflected in the sign's colors. Decorate your home with pink and blue to embrace your romantic side and bring a little sweetness to your home: large pillows and soft blankets will help you settle in.
Gemini
Source: Pinterest
Those born between May 21 and June 20 often have personalities with opposing sides. When it comes to decorating, it could be a problematic aspect. Still, as Geminis eventually come to learn, it can be an exciting challenge to put your great creativity to work. The secret lies in finding the right balance, mixing the ancient with the modern, traditional taste with eclectic elements, soft tones, and bright colors.
You love variety, so it is vital to create combinations of style and colors that are stimulating for your creativity; you can risk unusual combinations on the walls with orange and lavender, hot pink and dark green, following the inspiration of the moment, because in the long run, you are subject to changing of mind. You will probably have to satisfy your desire to repaint. Try to develop feasible projects and not to invest your energies in too many directions, you risk changing your mind before you're finished; as far as furniture is concerned, you can choose more than one style, focusing on a certain number of elements; by studying the combinations in advance, you will end up with the result that is anything but boring, without risking a too chaotic environment.
Cancer
Source: Pinterest
Cancers are creative and romantic; they live the home as a welcoming and relaxing refuge that reflects their quiet and nostalgic soul. Because you need to feel safe in your home, surround yourself with items of sentimental value, such as souvenirs, family photos, and keepsakes. Be careful not to accumulate too many, you often find it hard to separate yourself from things precisely because of the experience they are linked to, but they risk turning your nest into chaos. Periodically practice decluttering; it will help you keep order inside and out.
Cancer is the sign of family, so that you will have lots of framed photos of family and friends. You love food and the home as a place for meeting up with family and friends; therefore, a large dining table will allow you to bring together two of your favorite things (eating and communicating). You don't like a waste, and you love vintage, so you could dedicate yourself to the restoration of old furniture that you don't want to throw away; you will give them new life and indulge your artistic inclinations. Please don't overdo it with romantic details: too many lace and flounces could be redundant. Silver, pale blue, and white will help you to give the environment an atmosphere of tranquillity.
Those born under the sign of Cancer are happy with black and white, in all their shades; if you want a different color for your walls, choose a pure and clean shade and decorate them with warm light accents for a quiet and welcoming atmosphere.
Leo
Source: Pinterest
Ruled by the Sun, Leos love natural light and fill their home with potted plants and herbs. You love comfort and class, and your home should be just like that: even if you like furniture with clean and essential lines, avoid choosing too austere and excessively modern pieces that could cool the rooms. You are attracted by furniture of critical dimensions, but be careful not to overdo it because too imposing elements could diminish the other furniture or make the spaces smaller. Since you are masters of hospitality and entertainment, arrange the dining room to accommodate important dinners, with an excellent porcelain service.
The perfect home of Leos is welcoming and familiar, but also regal and majestic; it is full of bold colors such as deep red, bright turquoise, and plum. Mix elements in warm colors with white walls or floors.
Being a sign of fire, you cannot give up the fireplace as the center of the living room to relax in the winter afternoons and after a nice dinner. Of course, all animal prints are welcome, so green light for leopard-print pillows combined with silk, velvet blankets, and other deeply sensual touches. A large kitchen is also essential, as you love to cook and express your natural creativity with food.
Virgo
Source: Pinterest
Virgos are born perfectionists, and the decor of the house reflects this characteristic. Being an earth sign, those born between late August and mid-September will find themselves more comfortable surrounded by soothing tones. Use greens, browns, and whites to decorate the house; you are always looking for the perfect arrangement of the furniture, and you want it to be as tidy and functional as possible; so we advise you to orient yourself on comfortable and simple furniture, with soft and neutral colors such as celadon green, dove gray and white.
Avoid antiques, laces, carpets, and over-loaded decorations, as you are uncompromising on cleanliness, and these elements could complicate your life. Try a flat-woven rug, some ethnic or spiritual pieces (in wood, for example), fresh plants and flowers decorated with small splashes of pillows, and plum or burnt orange vases. You are passionate readers, and an extensive collection of books will be the perfect piece of furniture. You don't like to throw away, convinced that things can always come in handy, and despite the collections and the things you can accumulate, you will always find a way to ensure that everything is still clean and flawless.
Libra
Source: Pinterest
Those born under Libra's sign have an expensive taste and are lovers of style, as they are dominated by the planet of beauty, Venus. You are sensitive to beauty and expect only the best for your home: an avant-garde home theater, an impressive collection of books, or a huge walk-in closet full of designer clothes. You are admirers of physical and interior beauty, so you also love cleanliness and order. Libra is the most artistic sign of the zodiac, so that should be true even when it comes to interior design.
Always looking for balance and symmetry, you may be afraid to mix colors and styles, which we encourage you to do, balancing the proportions using colors and materials in moderation, without losing sight of the overall result.
Libra loves relationships, so make sure your home is guest-friendly. Decorated in pairs – two bedside tables, two matching vases – to evoke the atmosphere that best suits your sign, a lover of company. You are a social sign, so build the space so that friends have their spot in it too. Curate your guest bedroom if you have one, or invest in a sofa bed.
Scorpio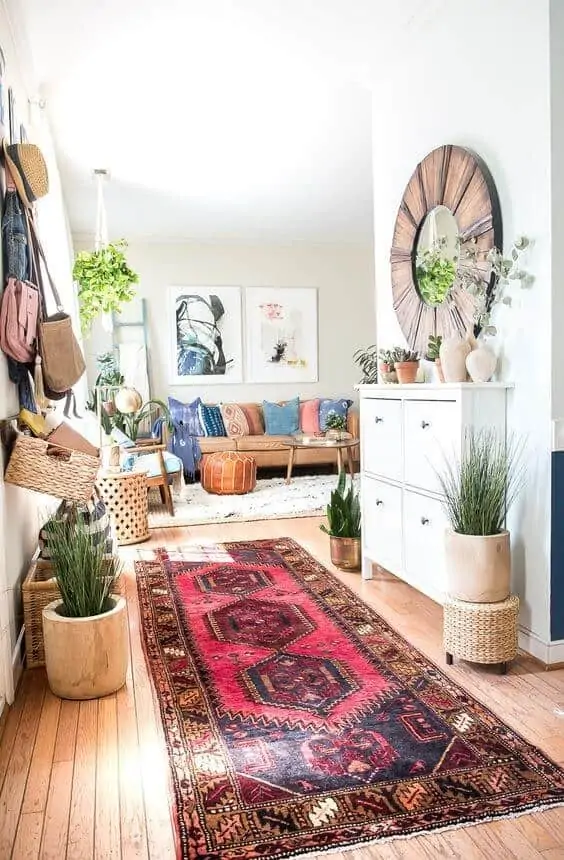 Source: Pinterest
Scorpios are sensitive and mysterious, love privacy, and love to relax at home after a tiring day. Unlike other signs, you don't mind being alone, and when you do, you savor the tranquility in your refuge away from the outside world, where instead, you often have the feeling of being too exposed and vulnerable.
Your home is a sanctuary for you to physically relax and mentally recharge, leaving the rest of the world outside. When it comes to furnishings, flashy and confusing styles are not for you: you feel at ease in well-thought environments, so we advise you to find subtle and refined elements, furniture with precise lines and intense colors, which transmit well-being and harmony.
Look for high-quality furniture, perfectly finished, with surprising but straightforward textures; you might have fun scouring local flea markets for the perfect, one-of-a-kind treasure, and haggle until you get a great price. Although neutral or muted hues appeal to you, vivid colors such as red awaken sensuality: red exudes vitality, confidence, vigor, and erotic passion and can create the necessary feeling of intimacy. Incorporate it into your home, with a few rust and orange-red accents and scattered details.
Sagittarius
Those born under the sign of Sagittarius do not like being locked in one place for too long and probably will not stay indoors for long; this does not mean that they do not need an environment that reflects their interests. You will need space for books, travel treasures, and the numerous projects you usually work on, as you are thirsty for knowledge and in constant exploration.
Sagittarius loves open spaces, so our advice is to make your home as airy as possible: large windows, natural light, spacious balconies or gardens, are all elements that will help you not to feel trapped. Your home needs to convey a feeling of warmth, vitality, and inspiration to indulge your curious spirit and put you at ease. You are the international traveler's sign, so bring this sensitivity home with landscapes, collections from your travels worldwide, ethnic touches, or anything with a Zen touch (your character is prone to oriental inspiration and spirituality).
Your shades are bright colors such as orange, chartreuse green, and hot pink, and since you are optimistic and generous, shades of pink and purple in your decor will also be perfect for expressing these soothing qualities.
Capricorn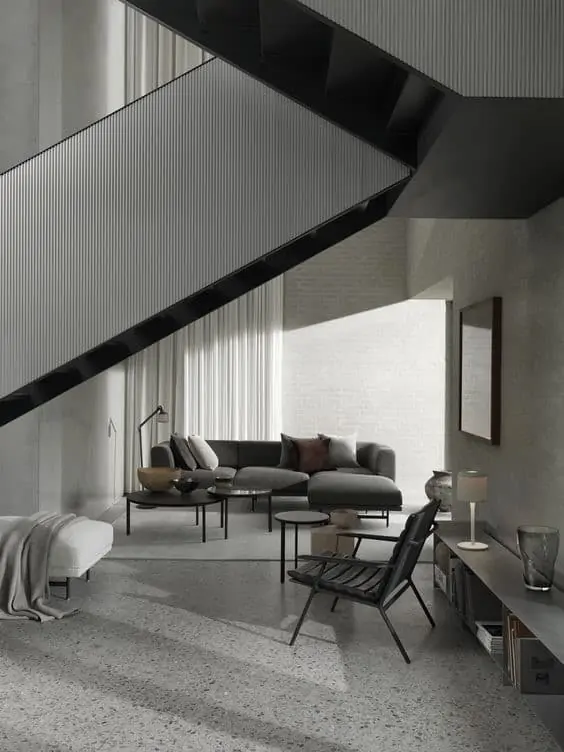 Source: Pinterest
Capricorn appreciates goods and styles that stand the test of time. As a result, antiques, especially family heirlooms, will likely find a place in your home. Those born between the end of December and the beginning of January will thrive in a traditionally designed home: wooden floors, dark finishes, and light walls; if you consider yourself a modern soul, you can choose minimalism, using soft colors, steel furniture, and designer decorations. Try not to overdo it, risking to make the house look like an electronics showroom, but focus on a beautiful blend of heart and soul, classic and modern, comfortable and functional, and you will get a perfect balance.
The austere Capricorn will sacrifice comfort for practicality, but don't forget that your home is a place to relax; forgo a few elements in favor of some home touches, such as soft fabrics, comfortable mattresses, and soft pillows. You need a cozy and comfortable space to come back to after a hard day at work. Our advice is to take this into account when choosing furniture, as creating an environment that is too minimalist and cold will not help refresh your spirit.
Capricorns are reliable people, and their lucky colors are shades of dark blue, burgundy, forest green, or gray. Don't go overboard with dark tones, though: add festive touches with fresh flowers or some piece of art. You are a nostalgic sign, so decorate with family items, memorabilia, and framed photos.
Aquarius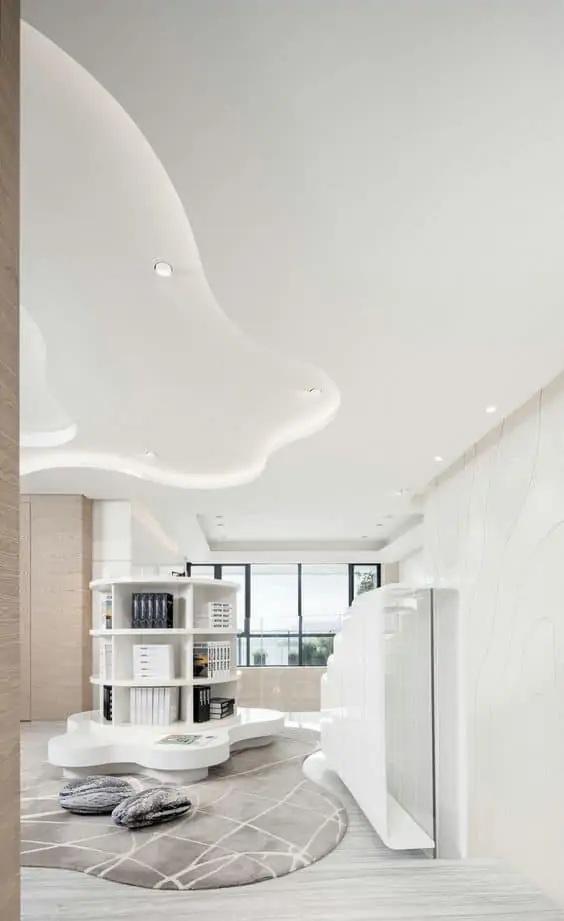 Source: Pinterest
Aquarius governs all modern and futuristic things, and your home should reflect this aspect: leave the antiques and upholstered and furnished sofas alone.
Aquarius is the sign of the water bearer, so fill the house with vases and urns; if you have the chance, add an indoor waterfall, a goldfish pond, or a relaxing Zen fountain. Use the ocean's vibrant shades and colors, such as blue, purple, indigo, and salmon. You may often feel limited or constrained both physically and mentally: embrace a minimal design aesthetic to make your home more open and spacious. As a sign of air, Aquarius also requires extensive and very airy spaces: natural light, large windows, cascading plants, and a kitchen with suspended pots will create the feeling of openness you crave.
Pisces
Source: Pinterest
For Pisces, the house is a welcoming refuge to recharge their emotional batteries. Your zodiac sign is intuitive and free-spirited, so chances are you don't always want to follow traditional decorating rules. Embrace intuition and a more eclectic furniture style: you have a great sense of style, and you can decorate every room with taste and originality. You can dare with different styles, characterizing the rooms according to your multiple moods, introducing whimsical and unique objects. You are a sign of water, so it would be ideal for adding elements such as an aquarium or a fountain. Meditation cushions in silk, natural fibers, and serene sea colors such as lilac or celadon green will satisfy your spiritual side and the dreamy depths you keep hidden. Create a sensual atmosphere throughout your living space, imbued with feminine touches such as scented candles and room fragrances. Pisces love photography so that you can hang film posters and framed photos.
Pisces, who were born in late February and early March, will find peace when surrounded by shades of purple – if you're not ready to paint your walls such a vibrant hue, incorporate shades of purple, plum, or lavender into your dining room through fun plates, centerpieces or tablecloths.
Do you want latest Trends straight to your inbox?
Thank you for subscribing.
Something went wrong.