As every year, the new furnishing trends arrive on time, but at the same time those who want to furnish their home must also be careful not to choose what in 2020 is out of fashion, so as not to have an "old fashioned" home. To avoid mistakes, here is a series of tips for you, prepared by the designers and by those who constantly deal with the sector.
Find out what decorative trends are overdone and at this point also incredibly out of fashion, even if they are still used at home. Let's bring some modernity into our homes and stop following these boring trends!
Just look at your past to understand that change is part of the dynamics of life. It is a constant phenomenon and even in the field of interior design there are resources and solutions at some point look just obsolete and unfashionable. In this article, we will focus on decorative trends that are now out of fashion.
1. Clutter: walls, screens and desks
Composition of paintings for the living room.
Source: Pinterest
There was a period (not too distant in time) in which we tended to fill the walls with paintings of different sizes, mixing the style of the frames and hanging them in dense compositions, do you remember?
Well, it's gone out of fashion. The current trend is to carefully select the pieces to be exhibited, create a composition and seek a certain harmony between the paintings.
Yes to equipped walls and bookcases, to be filled with volumes and photographs. No to the classic decorative vase for one or more plants. Yes to vertical gardens, perhaps at an angle, developed strictly in height, which will give oxygen and well-being to the apartment.
Screens are "out"
Source: Pinterest
Yes, we know well that it is an object for which many are crazy about, but it must be admitted that screens are also among the decorative trends most out of fashion right now.
For years they have proved to be an effective trick used by many interior designers to separate spaces and delimit environments, but they have now been replaced by open shelves or custom-made furniture. Definitely more modern and practical.
Desk: the simpler the better
Forget corner desks, those including the bed or a wardrobe structure. Today a fashiobale desk is simple, small, without too many shelves. And if there is not enough space for your documents, you can use closed wall modules, so you can also cover the clutter.
2. Ethnic style and matching furniture
Out of fashion decorative trends: the animalier.
Source: Pinterest
Another thing to avoid, at least for now, is the decoration of rooms with an overload of ethnic objects. Forget the combination of animal print fabrics with tribal objects, pearl accessories, all in a profusion of wood and leather.
You can use a few tribal objects but in the context of a simple and bohemian style, on the other hand, as this is the current trend.
Matching furniture: no to that!
Source: Pinterest
Matching furnishings are another absolutely obsolete trend. It is therefore forbidden to buy the same sofa and armchairs for the home, as well as a set with a bed frame and bedside tables, wardrobe and chest of drawers. It is always better to combine different pieces, in styles and patterns, which can give a touch of originality to the room.
A table coordinated with the chairs is also an outdated trend. And if it is a rustic style, in wood and high, even worse. Better to choose a lower table with different chairs that can give a touch of novelty to the dining room or kitchen.
3. Bright colors, kitchen details and cacti
Yellow kitchen, a decorative trend now out of fashion.
Source: Pinterest
If you analyze the new furniture trends, one of the "musts" for 2020 is the use of neutral and light colors, with a particular appreciation by designers for warm shades, including beige, ivory and pink, declined in all their "nuances" and capable of giving a truly elegant touch to walls, furnishing accessories and fabrics.
Kitchens with overly bright colors have also gone out of fashion. They might have looked modern and fun, but in reality, they focus too much attention and help to make spaces smaller, as well as being visually heavy.
People who prefer bold colors can opt for white and black, in this case especially for sofas, cushions and chairs and upholstery. Be careful not to combine the choice of black with glass and plastic, preferring instead combinations with metal elements and natural materials.
Speaking of kitchens, it is better to avoid handles
Source: Pinterest
In addition to strong colors, the large tubular handles protruding from the furniture are also out of fashion: as they are an element, so to speak, rather dated.
Again, the reason lies in the "visual noise", as they greatly reduce the space. The current trend includes smooth doors with pressure opening and camouflage handles.
Enough with the cactus!
Source: Pinterest
It's true, they were fine with everything and they are beautiful, but we are sick of seeing them around. It's okay to have some cacti if you really like them, but it's no longer fashionable to use them as a decorative motif for prints, fabrics or jars with painted cacti… It's too much! Undoubtedly, it is one of the most unfashionable decorative trends.
4. Total white and paisley
We are all fans of minimalism and bright spaces where white is the predominant color. However, nowadays it is considered more attractive to add a few strokes of color by means of fabrics, plants and decorative objects.
The bedroom of the new millennium becomes a place of comfort and well-being: the mattress is fundamental, to be chosen in the most modern materials for a hyper-restful sleep, and the furnishing accessories must make the environment unique and sumptuous, like that of the best 5 star hotel.
So yes to perfumes and essences, silk velvet – natural and precious for curtains and bedspreads, soft and light rugs, and, above all, for those who really want to feel like a king in their home, the canopy bed – easier to make than what you might think – with coverings adapted to the seasons: heavy and enveloping fabrics for winter, light and breathable fabrics for the summer.
The paisley print has had its day
Source: Pinterest
When it comes to prints, fashions are constantly changing and paisley prints are among the motifs that come and go. Its colorful and sinuous shapes are no longer among the current preferences. Nowadays, less charged and more delicate motifs are preferred.
As for the bathroom, there are many decorative trends that have alternated over the years and that end up going out of fashion soon. One of these concerns the glass vanity tops. Ideally, they might seem like a good idea, but they prove to be extremely difficult to keep clean and spotless.
Lately, synthetic resin materials are the ones that offer more alternatives, as well as being very beautiful.
Decorations are used to make every room in the house unique, starting from those that go on walls. It is ok to use wallpaper, which in addition to being applicable very easily are also washable and available in many varieties, allowing for example to create a tropical forest with trees and lianas or a beach. In these cases, of course, it will be necessary that the furniture components are themed. Even the lighting cannot be improvised, since it is one of the fundamental aspects to give a personal touch to the home.
5. Plastic and PVC are OUT, metal is IN. What about wood?
With 2020, metal, in all its variants, returns to be the protagonist in our homes; from chrome plating to silver- and gold-plated materials and oxidized metals, all choices capable of ensuring a strong characterization and lots of light in the rooms.
The handcrafted wrought iron furniture elements represent a real "must", many of which can also be found in customized and designed creations by the few masters of the sector who are still present in the field. Another material that is back in fashion is velvet, used both as a cover for sofas and for the bed, with the possibility of using it also for tables.
Wenge wood furniture with large windows.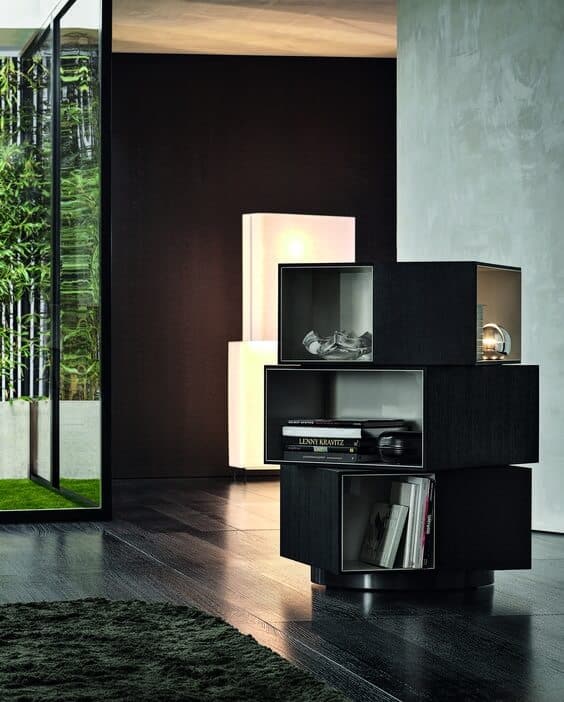 Source: Pinterest
Wenge wood has a dark-toned finish; an almost black chocolate brown, very popular several years ago. Currently, the trend is to opt for something brighter, for clear and relaxing environments, such as the Danish hygge trend, where there is no room for dark colors.
These are just some of the decorative trends that have now been declared absolutely dead. Some of them are extremely easy to modify. You will see how beautiful your home will be, after making it a little more modern and fresher! You can follow 23 DESIGN TRENDS that have stood the test of time.
Do you want latest Trends straight to your inbox?
Thank you for subscribing.
Something went wrong.