Recycling is an art and, as such, it is within everyone's reach. This is the slogan of the latest DIY trends 2021-2022, especially in terms of furniture, which are called DIY, an acronym for Do It Yourself. It's about setting your imagination and creativity in motion, without necessarily having to be artists. The origin of this trend dates back to the 1970s and has never known times of crisis since then. In recent years it has been very successful because it is very close to the theme of environmentalism, even becoming a lifestyle. Through this trend, disused objects are recovered, giving them back life and transforming them into unique and particular pieces, perhaps even changing their intended use. What is old becomes new but above all beautiful.
1. Repainted old frames
Source: Pinterest
Do you think one of the walls of your house is too empty but there are already too many colors in the room? You can decorate it with frames painted like the wall itself, an interesting solution also suitable for refreshing the look of old and ruined frames.
Color thus becomes a unifying trait between support and decoration. The frames, recycled and recovered, should be in different styles and shapes, to obtain more effective results. Painted in the same tone as the wall, they do not disappear, but on the contrary, characterize the space by capturing the gaze in a game of true chromatic inclusion. The three-dimensional shape of the frames will emerge from the wall to transform everything into a very elegant material game.
2. Pallet bookcase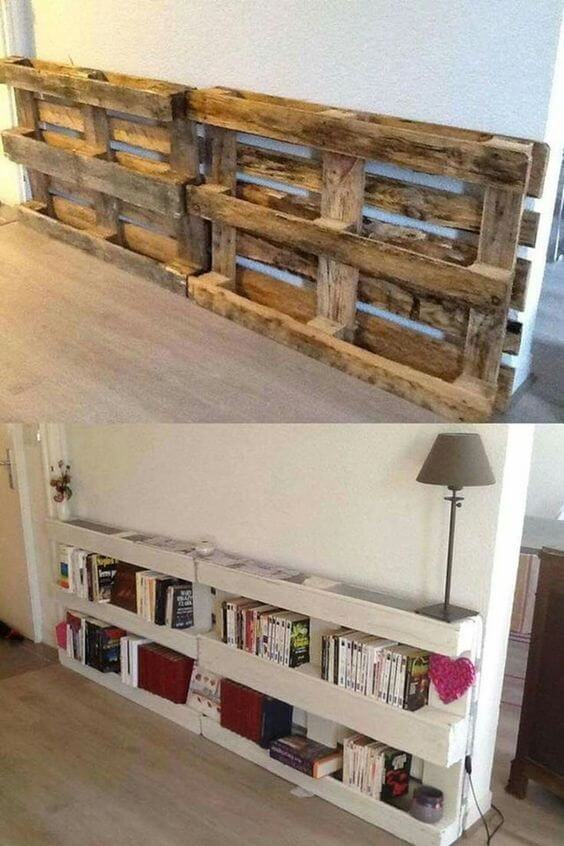 Source: Pinterest
A super-ecological idea to transform a very common wooden pallet of those used in warehouses to place boxes, in a nice and cheap do-it-yourself bookcase, at almost zero cost. A little attention to detail, a quick coat of color, and the pallet will embellish the living room or the corner dedicated to reading. A winning solution for those who love to recycle and transform anonymous objects into useful decorative elements with an attractive style.
3. Wooden hangers' shelf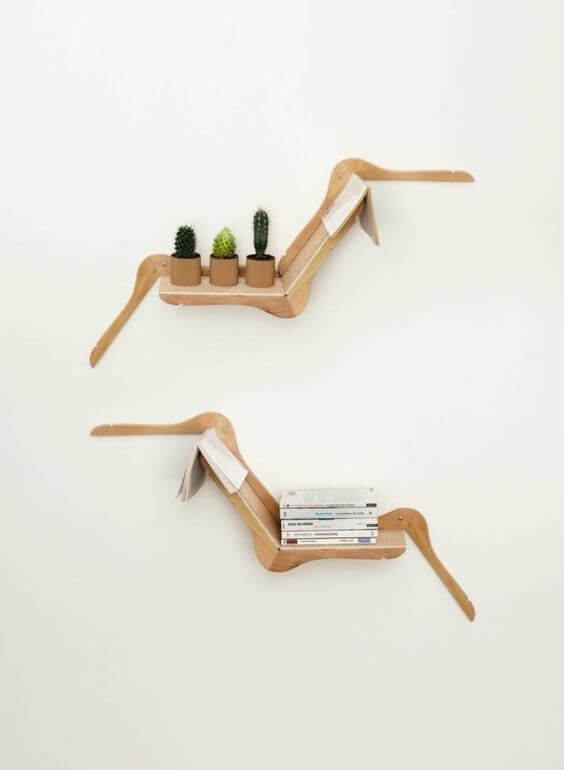 Source: Pinterest
Also perfect as a Christmas gift, the Nordic style shelf to be made with wooden hangers has a double purpose: that of an original support surface, decorative for the wall, and the "ethical" one of recovery of objects no longer used.
To create an original wall motif, you can add other modules, a perfect solution for a corridor that is perhaps a little empty because it is narrow, where the Nordic style DIY shelf can add a touch of minimalist design.
If you don't have any suitable ones, here are some wooden hangers.
4. Wooden crates turned into vases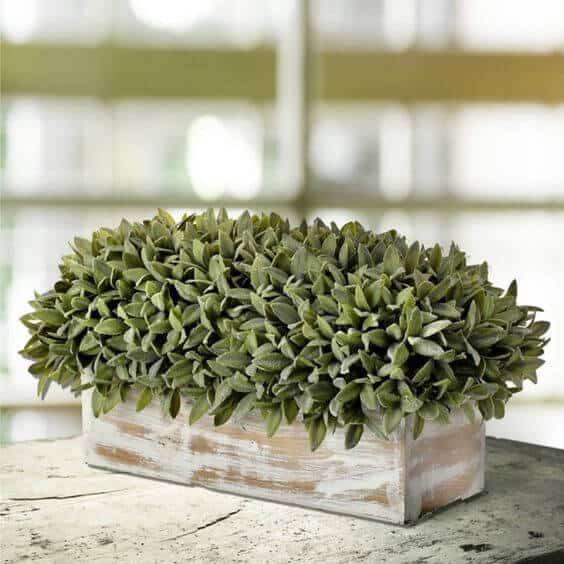 Source: Pinterest
In setting up a terrace, a fundamental part is played by the presence of flowers, but above all by their presentation in vases. What if these were not all the same, but of different shapes and colors? One solution may be to build do-it-yourself wooden crates, which combine several, creating colorful compositions, pleasantly and harmoniously.
Here you'll find some beautiful distressed wooden crates for your DIY projects.
5. A wall of photographs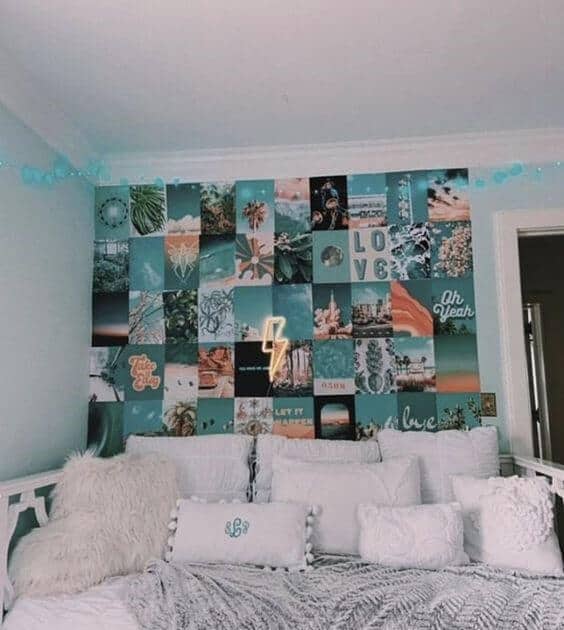 Source: Pinterest
We know how simple and fun it is to take thousands of photos with a smartphone and we also know many of us have an unbridled passion for Instagram. If you can't help but detach yourself from your profile to look at your amazing photos again, here comes the most obvious and least considered solution: print all the photos and wallpaper an entire wall.
Many websites provide these services, but you can also decide to print them yourself. Filling a wall with many photos is perhaps the most classic method among those we are evaluating to decorate a wall at home, but there are so many ways to hang photos that will amaze you.
6. A wall of flowers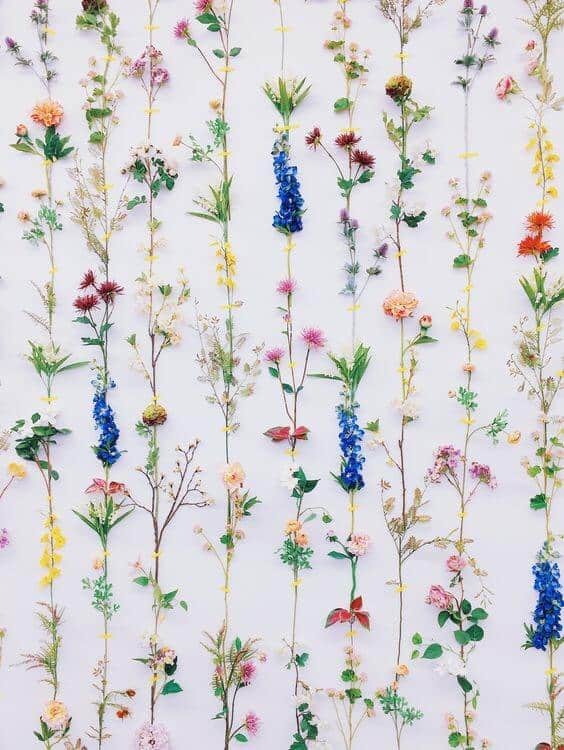 Source: Pinterest
Decorating a wall with real or faux flowers won't matter, the effect will be electrifying either way. The most classic choice is with wallpaper, alternatively, a simple solution is to hang images of old books and encyclopedias of flowers.
If you have a green thumb you can risk creating a real wall of pots of aromatic herbs for the kitchen, a functional and creative choice. If instead, you prefer faux flowers to avoid the risk of obtaining a "still" effect, the possibilities are different, let yourself be inspired by the beauty of nature!
Here is some beautiful faux lavender that will look great on your walls! You'll find plenty more online.
7. Headboard made of old books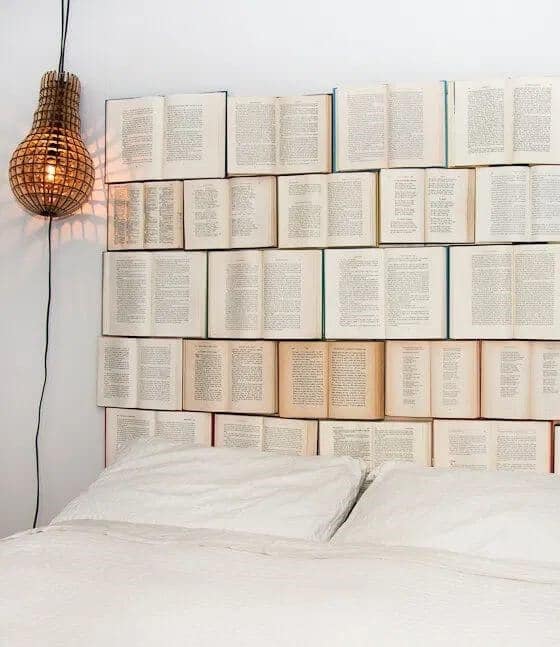 Source: Pinterest
To make this headboard, you first need a wide wooden panel according to the dimension of the bed. The panel will serve as the (not visible) structure of the headboard, in fact, old books will be glued to the latter, preferably a large number so as to make the final effect even more impactful.
You can choose various ways to fix them to the panel, the important thing is not to leave empty spaces between one book and another. To avoid putting too much weight on the wall, you can use open books, gluing the back cover to the panel. If you don't like the effect of the fluttering pages, you can open them where you like and apply glue along the perimeter of the open book. This way you will have all the books open and fixed. Once everything is assembled it's time to fix the composition to the wall!
Here are some cool vintage books that you can use for your DIY projects.
8. Flower vases made of bulbs
Source: Pinterest
If you have just burned a light bulb, don't throw it away, but use it for an original DIY idea: transform it into a DIY vase! First of all, wear gloves so that if the bulb breaks while you are holding it, you don't risk cutting yourself.
Then with a hacksaw cut the steel tip of the bulb: only a couple of centimeters will remain of the steel part. With pliers, extract the internal wires: finish with the pliers also the metal edge. To prevent the sharp parts of the bulb from being exposed, get some colored felt strips to cover the metal edge.
Then take some wire or string depending on where you want to hang your vases made with the light bulb: wrap them around the open part of the light bulb. Then pour the water and insert your flowers. Follow more 20 decoration trends.
9. Clothespin planters
Source: Pinterest
The DIY vases with clothes pegs are very easy to make and will furnish your home with taste, elegance, and originality. You will only need a simple tin box and lots of clothespins to create them. You can choose either pegs made of wood, or colored plastic, as you prefer. You can also look for some in different sizes and shapes: give free rein to your imagination to make these objects and give an extra touch of creativity to your rooms.
Take the tin can and simply pinch the clothespins all around: in the blink of an eye you will have your colored jar with the clothespins. Inside you can put an aromatic plant or a single flower, like a tulip.
Here are some beautiful clothespins in many colors and patterns.
10. Succulents' painting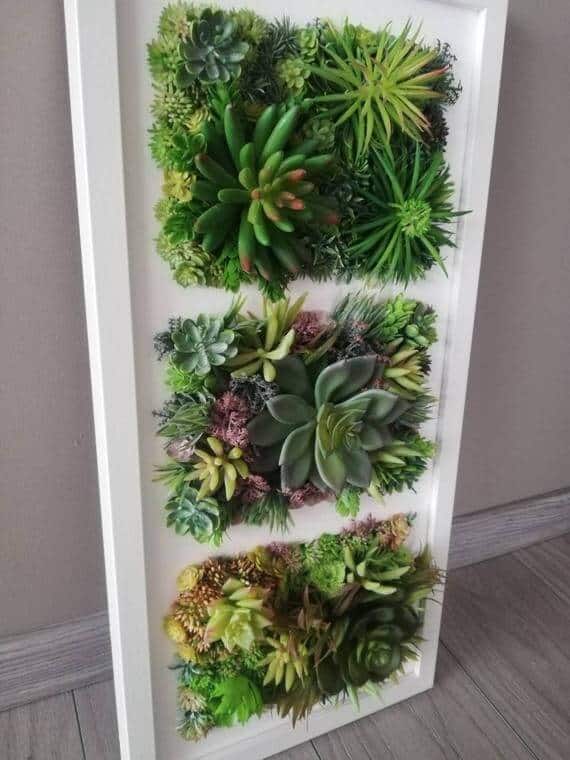 Source: Etsy
Succulents are very versatile, so much so that you can use them to create even a painting to hang on the wall. Get yourself a frame first: choose the size according to your needs, but try to choose a frame with thick edges so that the succulents do not completely cover it!
You will then have to create a small wooden drawer that will have the main purpose of containing the earth of your painting. Take the measurements of the frame, and make sure that your box fits into the area of ​​the frame which is generally protected by the glass.
Before fixing the box to the frame, you will need to insert a thin metal mesh between the two parts: the mesh must be small but must allow you to insert succulents inside. A half-centimeter mesh will tend to suffice. Then, prepare the soil for your succulents: add a few pebbles to the universal soil to keep it light and drained.
Get enough succulents so that they can cover the entire surface of the picture: remove them from the pot, clean the roots, and pass them in the rooting powder.
Make a hole in the center of each small square with a stick and insert the succulent. Spray the composition and leave the painting resting horizontally for about two weeks: during this period the roots of the plants that will hold the ground in place will develop.
Here are some beautiful live succulents you can use for your DIY projects!
In general, other tendencies that we have seen consistently during these years and that we'll see more of, in the upcoming months, are floral motifs and nature-inspired creations, that spread during spring and continued over summer. Furthermore, all that is minimal and Scandinavian will make a huge come back, especially in terms of DIY. Colors will acquire increasing importance, together with the coupling of different materials and shapes.
What are your favorite DIY projects, and which of those in our list will you try first? Let us know in the comment section.
Do you want latest Trends straight to your inbox?
Thank you for subscribing.
Something went wrong.