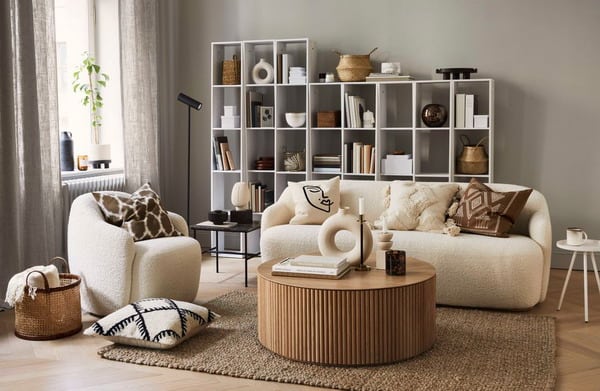 What does 2021 have in store for decoration? Between the assertive colors, the natural materials, the velvet and the rounded shapes, I promise, there will be something for everyone. If you are impatient to discover all the inspirations that will punctuate this year, it's here! Zoom on the 20 decorative trends that will make us fall in love.
What will your interior look like in 2021? The decoration trends have arrived and it's time to delve into all these new features to refresh your living room, bedroom or bathroom. And we reassure you right away, there is something to do.
To decorate your interior, you have the choice between Scandicraft or vintage style. In 2021, opt for bright colors, yellow and blue at the head of the trend or, on the contrary, nude tones, more discreet. Finally, make way for rounded shapes and imperfect curves to bring softness to its interior.
Here are 20 decoration trends that will make us crack in 2021, spotted at the Maison Objet trade show and on the Pinterest platform.
Natural materials
Already trendy in 2020, natural materials will still be very popular in 2021. After rattan, wicker, rafia, seagrass and bamboo, cane is on the rise. This braiding technique is available on furniture, armchairs but also lighting and accessories of all kinds. To be on trend, mix it with other coveted materials, such as velvet and linen. Not too much is needed, the right measure is to find to adopt it elegantly.
The Scandinavian style is reinventing itself and giving way to the Scandicraft trend. Less minimalist and refined, the new Nordic style allows some fancies to warm the decor and energize it. More textures, more colors, raw wood and natural materials for an ultra-cozy atmosphere. If light and pastel shades are sure values to adopt this theme, you can also opt for some more subdued and intense colors like deep green, duck blue and all natural colors such as camel, taupe or terracota.
Curves and rounded shapes
In 2021, the furniture is rounded off. A strong trend inspired by Art Nouveau which favors curves. Expect to see collections of rounded sofas, oval mirrors, round tables and other rounded corners flourish. The curved design and the rounded forms are part of the decorative trends to adopt without delay.
Velvet
Velvet has not said its last word. Already well established in trends, the velvet decoration is essential in all interiors. As beautiful to look at as pleasant to touch, the velvet is both chic and comforting. Perfect for warming the atmosphere in winter. To adopt it easily, bet on curtains, cushions or the essential velvet pouffe.
Spicy yellow
Did you love mustard yellow this year? Good news, in 2021, it is still there, and the palette of trendy colors is enriched with ocher, golden or curry shades. Enough to spice up your decoration with discreet touches or sunny areas. Another advantage: the yellow spicy version can be used in any room in the house, from the living room to the kitchen, including the children's room!
Nude colors
In terms of colors, you will have to bet on nude. The trend is neutral tones and powdery shades, beige and gray gray at the top, very easy to marry. Adopt a palette of soft colors to create a cocooning space: old rose, pastel pink, camel or light brown. On Pinterest, there is no shortage of decorative inspirations to see life in nude!
The iridescent decoration
After fashion and beauty, it's the decor's turn to dare the iridescent effect. The trend being for luxurious materials with a predilection for marble, velvet and gold, this new obsession is not surprising. Furniture, tiles and other decorative objects are therefore adorned with rainbow reflections, very daring. Easier to understand, the mother-of-pearl decor invests the dishes for a table that shines brightly!
The wax print
In 2021, we prefer wax! Graphic and colorful, the wax print stands out brilliantly in interiors. Let yourself be carried away by this motif full of pep's. His repeated designs are brilliantly part of the trend of original wallpapers and coatings. On accessories such as cushions, this African fabric brings a good dose of cheerfulness and style.
Ceramic
In the "slow decor" movement, ceramics is essential as a return to the sources and to the authentic. Dishes, pots, vases, jugs and other trinkets are seduced by its charm and irregularity. If you too, you want unique and handcrafted pieces, find all our ideas to integrate ceramic in your decor.
Maxi tiles
If the small tiles continue to be all the rage for the kitchen and bathroom splashbacks, in 2021, the decor sees things big. Adopt maxi tiles both in the bathroom and in the living room. Textured on the surface, concrete, stone and even parquet effect, they offer an ultra-modern decoration. The ideal? Opt for the same tiling on the walls and the floor.
The faces
This is a tendency to lose your head. Ancient, ethnic, surreal or poetic faces make a remarkable appearance in the decor. On a cushion, a wall poster, a vase or plates, the sketched, drawn or painted portrait is available in all styles.
Blue
Blue represents a strong trend for 2021. With a preference for dark and dense blue and peacock or duck blue, tending to green. Klein blue, deep and bright, is also still very present. And THE color of 2021 chosen by Pantone is Classic Blue, a soothing and reassuring blue, which is about to invade the next decorative, fashion and beauty collections. You might as well get ahead!
Wall weaving
This year again, the textile art asserts itself on your walls and imposes it in every room of the house. XXL version as a headboard, macramé wall decoration… wall weaving will be everywhere. Better yet, compose your work using the many DIYs available on the internet, for a unique decoration.
Dark wood
The light wood, typical of the Scandinavian style, is somewhat neglected in favor of a darker and more assertive wood. Walnut, with its deep chocolate color, is perfect if you are looking for an elegant and warm appearance for your decoration.
Vintage style
Compass feet, retro colors, velvet, graphic patterns… the Vintage style draws its inspiration from the 70s and the Thirty Glorious. To adopt it, nothing better than to hunt around for furniture and decorative items. Without forgetting to add color to your home! Orange is one of the reference colors of the retro style, but also brown honey, yellow and blue. What give pep's to your interior.
Tripods
Furniture and accessories with three legs take possession of the decor. Tables, vases, lamps or even dessert tables… there is something for everyone! One watchword: singularity.
The total white look
White too classic? Not if we give it relief and style! Thanks to a clever mixture of materials and textures, white becomes warmer. Combine this immaculate color with a beige color scheme and warm the room with soft carpets, faux fur and woolen plaids. Find all our cocooning inspirations to help you.
Curly wool
After taking the fashion world by storm, curly wool takes hold of the furniture. The sofas and armchairs from the H&M Home spring-summer 2021 collection use this fluffy material. Proof that this trend is made to last.
Paper lamps
Fall in love with Japanese-inspired paper lights and lamps. Design and light, they create a subdued atmosphere and are ideal in the bedroom and living room. And good news: you can find it absolutely everywhere (Ikea, La Redoute, Leroy Merlin, Asos…) and at a low price!
The lounge chair
The chair lowers. The trend is for low seats, in fibers and natural materials, to gain comfort. These low armchairs sublimate any type of room and bring a touch of natural charm. And above all: you can enjoy it indoors and outdoors, on your terrace or in your garden.
Do you want latest Trends straight to your inbox?
Thank you for subscribing.
Something went wrong.