A home is, or should be a haven of an evolving mix of all the things that are best for you or rather the things you love most. Color trends are one of the major things that you ought to put into keen consideration whenever you think of giving your home décor a new taste. That's why; home décor color trends 2022 is our topic today.
Your house being part of your home should be one of the things you love most. I guess a well-decorated house gives more comfort than attraction. For every season there is often a new trend, especially for home décor.
They give us what a nice home décor should be like. An update for your styles should be a nice option rather than having to change entirely. Various color accolades stone our homes over different seasons and have proved to be that delightful all along but let's see, what are the ones that decorate our homes best in 2022.
Trend 1
Expressionist artwork
You can best refer to this as abstract energy. If you ever feel like a person looking at anything in the interior of your house should feel something, this should be your first stopover for selection. Oftentimes, artistic impressions are meant to evoke certain emotions in us.
Now how about if you bring that on your home décor. As already implied, it suits interior home décor best and naturally brings up the best of feelings according to the presented artwork. A blend of your best colors in palleted patterns could serve you best in this field. Remember with décor, we ought to be so bold with color.
A question might be coming up; where do you use this style? The art suits any room and naturally cleans up the impression as far as interior décor is concerned. Like in the past season, tactile designs and bold color patterns on our cushions, statement rugs, or even wallpaper designs style the interior décor effectively.
To that effect, color matches are key in developing cool artistic designs. A mauve blending with a little navy blue or an ochre red with some mustard creates an effective cool interior environment, satisfying nice décor in the interior.
Source: Pinterest
Trend 2
Neutral designs/ structured simplicity
Anyone could easily tell that this is a similarity if not an evolution of the Nordic retreat of 2021. Already we are getting a suggestion of neutral coloration. People have different tastes and to some, a comfy cool atmosphere of neutral colors tops their charts.
With beige as our base color, yellow, unlike any other time, emerges as nice neutrality. Natural warm neutrals bring in oatmeal and buff( natural) for a nice selection. Being an evolution of what has already been there the trend seems to have only dropped the cool grey test for yellow warm comfy environments.
Understated, honest, and simple stylistic craft is the best way to go for structured simplicity. To achieve this, you ought to be ready to go for unrefined finishes with much emphasis on texture and tactile quality instead of bold coloration or quick fix bought pieces.
Structured simplicity is basically grounded on a shift or retreat from the outside world but a major uplifting yet simple profile. Most importantly, such décor is a suit for a small kitchen or a bathroom.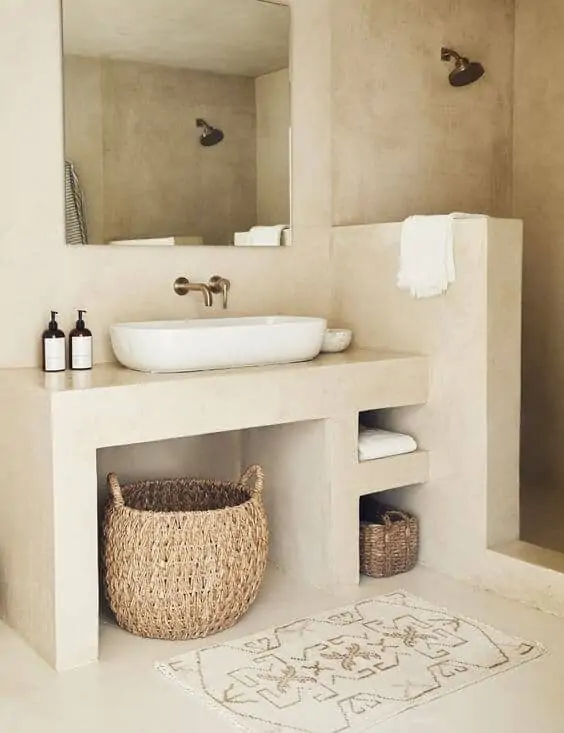 Source: Pinterest
Trend 3
Retro fusion
Here is one of the catchy home décor color trends that continue to rock the world of decoration despite their existence in the past season, 2021. Retro fusion is still a popular trend in 2022, more of such classy color trends might be discovered in home décor color trends 2023 and home décor color trends 2024. For us to have talked about style in its full proportion, we ought to have touched a little of our classic styles that still have space in the world of interior décor.
We are talking about a classical taste from the bygones. That's way back into the '70s. Some describe it as a nostalgic design that celebrates a hundred years of the Bauhaus philosophy in full modernity yet simple to satisfy.
In line with Nightwatch green and tan, you can achieve simple yet inviting contemporary styles with a little of well crafted clean pieces from contemporary art. Your interior décor is well sorted with this type of classical aesthetic, especially for your study and dining sections.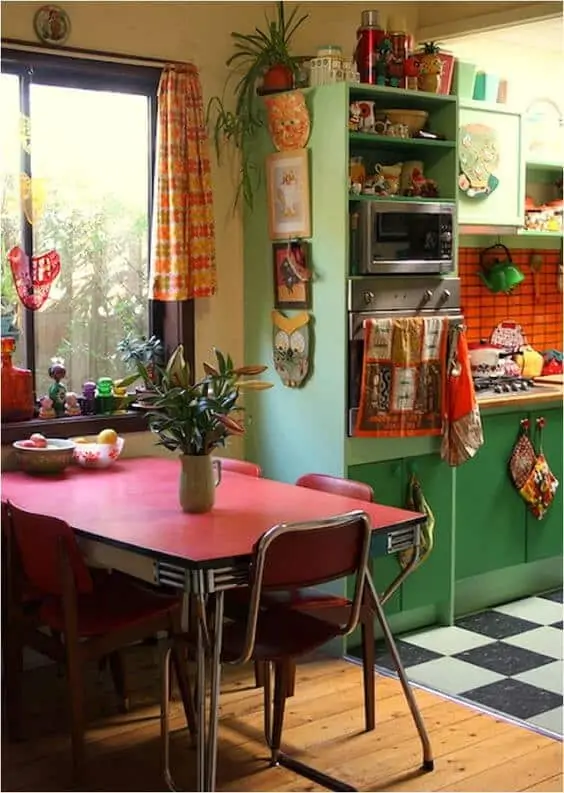 Source: Pinterest
Trend 4
Honest comfort
I've been looking at a style that would satisfy simple decorative and effective timely décor for winter and spring alike. This honest comfort trend caught my eye. We need to make our homes the Havens of our comfort and the place that you should certainly enjoy being.
Again, honest comfort makes up for any home fashion. The simplicity originates from attention to bare bricks and exposed beams in case you're to apply it to a country cottage. A mix of cool blue and grey tones silence the worry around your beddings, cushions, and even sit around tables.
A hearty composure behind this style seems to put a lot of emphasis on low profile maintainable attributes that touch on weathered wood, time-worn finishes, and even faded tones with the main accent colors revolving around a warm pink and brown.
Source: Pinterest
Trend 5
Pale and matte
Some people seem to dislike colors and tones that attract attention. In-home décor color trends 2022 a popular trend that satisfies this is pale and matte. For both light and dark themes of interior décor design, a frosted background often works out excellently.
This pulls a soft experience with dark environments over color tones that from a glance do not seem to draw so much attention. Any section of your interior décor could house this powerful yet "silent" trend that drifts away from other noticeable trends.
Source: Pinterest
Trend 6
Refined glamour in pewter and dusk rose sheen
Unlike any other Sheen compilation, this trend with shiny pewter and dusk rose compilation offers the right interior decoration for less bubbly themes. The selected basement coloration brings a low profile comforting environment that arises from a mix of luxury materials such as pewter velvet and silver on light sheds and walls.
Velvet with shiny polished Sheen is better said with attachment to a shiny glamorous flare on the beddings and rugs. Key in this trend, you ought to consider minimalist lighting and rounded shapes with polished Sheen tones and themes.
Source: Pinterest
Trend 7
Colorful tones
A bold statement might define your best color trend for 2022. Colorful sections on your home décor are key in the exact thing you need. Starting from your wallpaper designs, rags, or even a whole wall, you can make a bold statement with colored influence.
A butterfly decorated wall on one side of your bedroom with equally decorated beddings and lampshades gives a perfect example of such a bold statement. Again, like many other trends, colorful sections of any part of your interior completes the bold statement attached to colorful tones.
Alternatively, you can opt for multicolored walls or even pillows, cushions, and beddings all with attractive and very noticeable but contrasting color matches that end up decorating your interior very well.
Source: Pinterest
Color Paints That Go With 2022 Color Trends
Hunter green
Hunter green comes into the home décor color trends 2022 as a classical taste that seems to be rooted so much in masculine preferences. It compliments navy blue on the classical platform and does pretty well for walls and floors on any section of interior home décor.
The color can also have a pick on the cabinets and curtains to match with either your cushions or bedsheets for your living and bedrooms respectively. There is less focus on texture for color paints and therefore any of your preferences for texture could fit your décor in this case.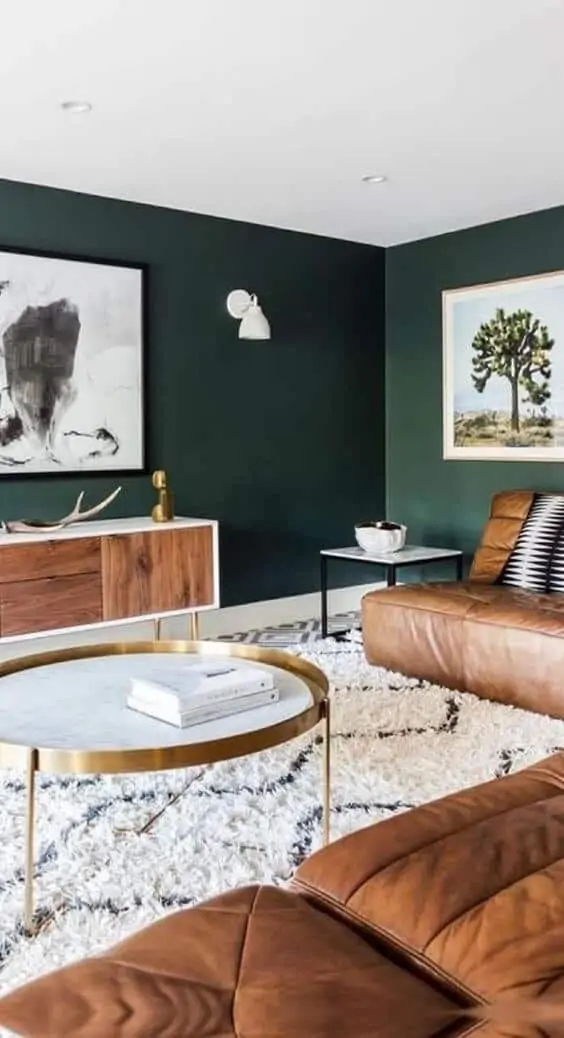 Source: Pinterest
Classic blue
It is a pop up in every home and seems to have taken so much influence on a good number of people. Boasting a suggestive "sky at dusk" impression, this classic trend gives your interior home décor a refreshing and more welcoming look and comfort that makes it largely impressive. Many cannot classify it under either low profile or bold statement themes that brim the color trends and that makes it a choice for many.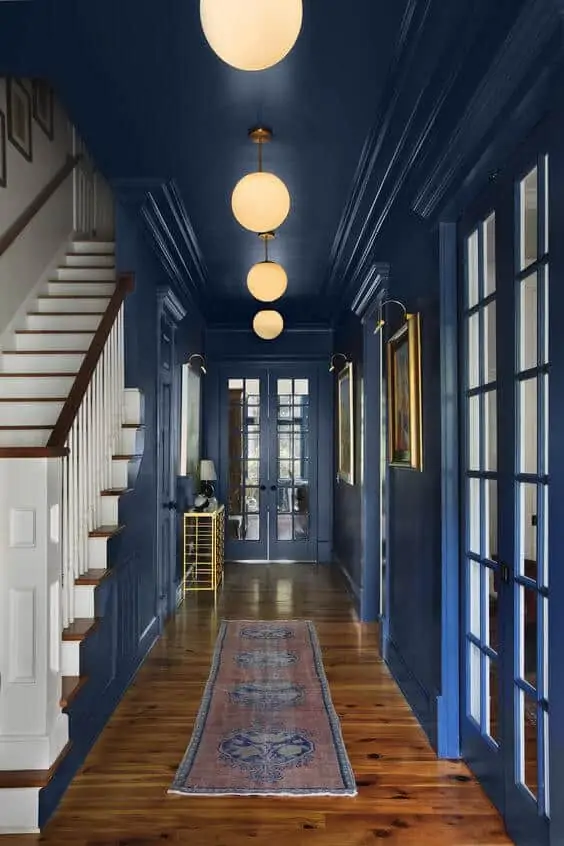 Source: Pinterest
White
White is seemingly a never-ending preference in the color trends and as a result of its persistence, it takes some good space in the color trend. A comforting experience for the interior of your home décor could be emergent from a deep frosted or dark background and white serves you perfectly in this.
Source: Pinterest
Light Sky
There is something about re-emerging from quarantine with a renewed sense of admiration for nature, starting from the sky.
There is no doubt that this is part of the inspiration for the Cyan Sky color trend. But more than that, it means the use of color to promote well-being, rest and optimism. The Light Sky mood board is made up of a range of blues, which speaks to this sense of renewal.
Although nature is a great inspiration, there is also a slightly otherworldly element in this color trend of 2022, which opens up space for interesting interpretations and experiments. Designers can go wild both with color and with shape, to satisfy a costumer who desires joy and tranquility: with cyan sky the will to live takes full expression.
Source: Pinterest
Nude Pink
Nude pink is the symbol of hope and motherhood. It is a positive and "carnal" color, which inspires a certain sense of security and optimism for the future: its use after the pandemic confirms the need for confidence in a recovery.
A color that calms the primitive instincts, attenuates emotions such as anger and aggression, but also the sense of abandonment and the desire for revenge towards others, feelings that, due to the difficulties of the period, have spread.
Source: Pinterest
Pearl white
There is a real desire to keep order and cleanliness: it is not just a need, but a new way of being. Pearl white is the emblem of hygiene, of a new post-Covid life aware of how much a house must be attentive to health, clean, and tidy.
The Pearl White color trend promotes healthiness, a clean environment with a touch of elegance. The white pearl mood board is made up of a range of shades of white and almost gray.
Source: Pinterest
Petroleum Green
Petroleum green is one of the most popular colors in recent years, considered by experts in color psychology suitable for interior design as a color with positive tones, able to relax mind and body thanks to the feeling of serenity it transmits.
It is no coincidence that we are witnessing the wide use of petroleum color in furnishing choices, but also in the field of clothing and make-up, thanks to the great charm of this beautiful and elegant color.
Source: Pinterest
Magenta
Magenta is an "unconventional" color that prides itself on being unique, and is friendly and welcoming. It is pleasant, and impossible to ignore. We see it in this photo in a joyful and refined environment; it goes perfectly with petrol green, yellow and black.
Source: Pinterest
Orange
In the furnishing of your home, preferring orange means wanting to give a touch of vitality to the environment. Orange represents sunshine and openness. Hosting friends and relatives in a living room with furniture and furnishing accessories in this color means wanting to communicate and knowing how to open up to others. Orange is back in fashion in environments precisely because the main need in 2022 will be to return to socialize and spend more time with friends and loved ones.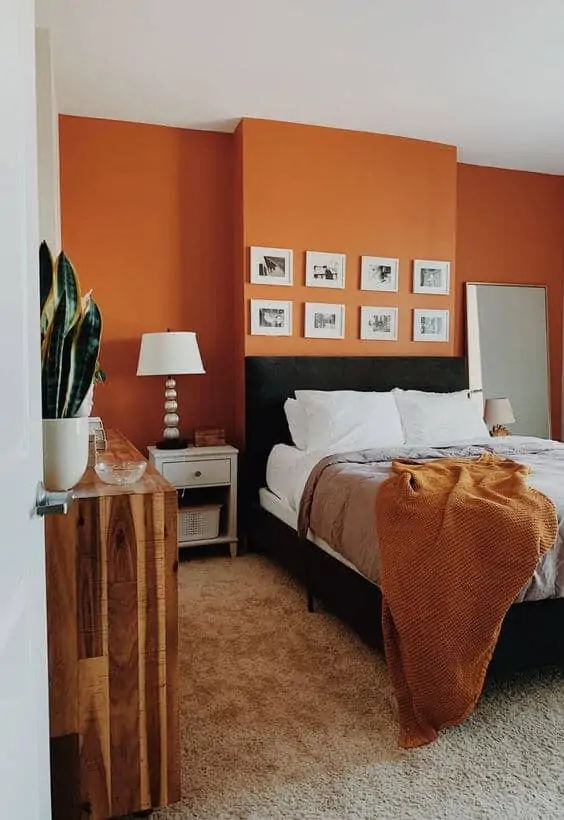 Source: Pinterest
Home Decor Color Trends 2022 -the Final Word
Color defines the taste of anything in the face of decoration and is often the main focus when we are talking about home décor. Trends are also major and are more of what people tend to dwell on in case of selections for their decoration preferences.
Home décor color trends 2022 is therefore a fruitful discussion that brings you very close if not exactly where your home should be in terms of décor in such an era. Bearing in mind that your home décor is a key aspect of how organized your life is, it comes back to what we've seen in all sections above.
Do you want latest Trends straight to your inbox?
Thank you for subscribing.
Something went wrong.