Stylists are already looking to 2021 as well as architects and interior designers. What will be the trends for the new year in terms of furniture? Let's find out together.
Today we publish an article on the furniture trends of 2021, we immediately leaned on the articles of the website which remains a reference point for all those who have to do with home furnishings.
The 2021 furniture will be above all functional and personalized, characterized by the use of a variety of materials, first of all recycled ones such as organic plastics. An eye always attentive to nature without sacrificing elegance and contemporaneity.
I also went to look for products like this or this that always serve in a house, both for a more economical heating that helps us to contain costs and to have a more relaxed and calm sleep that can allow us to work better then the day after.
What I want to say is that we need to identify good products first and then we can think about what are the furnishing trends, the news that most interest us and which we aspire for the house of our dreams.
Being in step with the times is not something to be discarded a priori, and even if we do not have a large budget, we cannot but think of being able to compose the rooms of our house in a surprising and fascinating way.
So even if the year has just started, I have a beautiful idea that concerns trends, that is, to put them in a list of 10, all different, to give you a hand to furnish your new home or to improve the home you already have and you want to keep up with the times.
Follow me, it will be a lot of fun.
The 10 furnishing trends of 2021
Even if we are only at the beginning of the year, we are already thinking of making you all more informed about current projects and we have studied the trends of interior design of 2021 to make the most of the spaces and also to make the idea of find out what may be current for this type of more fashionable furniture.
It should also be said that we study together materials and finishes that will serve to create a very strong style return of some design objects that will be very strong in our homes. The designers are very happy, at the beginning of 2021, with some truly amazing solutions that can be inserted even in a more classic decor, like little fashion pearls.
1. Tempered glass table
Today, decorated glass plays an important role in furnishings. Both colored and textured can be customized according to different needs and the type of furniture. Used for doors, stairs and kitchen tiles it is trendy and very current. In fact, glass gives the space a realistic and trendy look.
The very famous designer Patricia Urquiola has questioned exactly what are the materials used to build furniture that we find in all our homes and made modern, using materials never used before for this or that piece of furniture, also a table or a kitchen counter.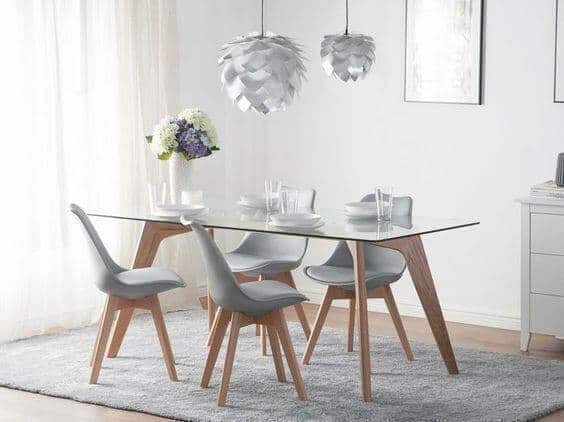 Source : Pinterest
The designer, in fact, created a collection of tempered glass tables that are super light, not even made of plastic, and that have very prominent veins, as if they were marble tables.
These tables, which are oval, are placed on asymmetrical legs and are dynamic and very beautiful to look at with this veined pattern of glass that seems to be almost fluid because it changes from anywhere you look at it.
This creates dynamism and movement.
2. Bottle green color of the year
It is not a novelty that green is one of the most used colors, especially in living rooms. But this type of green, almost a nocturnal hunter's green, is the trend of the year 2021 that differs from the dull black that is trendy this year and that matches perfectly with the glossy finishes and furniture with a strong impact visual.
Be careful not to overdo it because a room that is too full of greenery cannot give the same impact as a color that, instead, is on some element and not on everyone. A green sofa, which stands out on the rest, or a green carpet on a bright marble floor is fine.
To furnish your home living room according to the 2021 trends, blue is another predominant color, flanked by the soft colors of the earth, as opposed to past seasons in which very charged shades prevailed. Particular attention is also paid to lighting, especially if provided by natural light: to make the spaces even more comfortable.
Dark blue and light woods will be the new trend for next year. Combined with gold-colored furnishing accessories, they will create contemporary spaces with a unique and unmistakable style. Scandinavian-inspired wood will be the new must, used not only for floors but also to cover walls and ceilings.
In its raw shades it will become a key point and give a natural accent to your environment. It is important to restore a sort of contact with nature at home as well.
Obviously, all this goes hand in hand with the idea of eco-sustainable furniture. In fact, wood together with glass and stone become popular and widely used materials. The house will be the nest where you can relax and recharge your energy.
Another combination in vogue is that of the two opposite poles: white and black. This timeless combination is simple and bright and never goes out of style.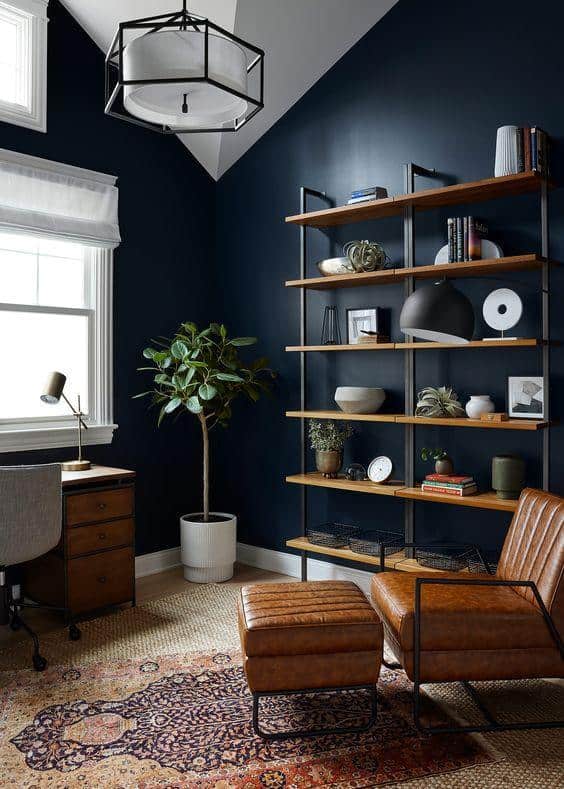 Source : Pinterest
3. Mobile homes
The trend of 2021 also evaluates what is the structure of the apartment or home and, even in this case, prefers the fluidity with movable walls, as in the films of Batman, which do not leave the perimeter of the room but change, following what we need, the layout of the room.
This is one of the most intriguing trends of the year because it allows you to have a game house that is able to change its appearance based on what we need. Even a small space can become much more welcoming with retractable walls.
We put the case of living in a very skimpy apartment and having only one room where there is a kitchen and a sofa bed. When we have guests the environment can remain unique but with a wall hidden at night that environment can be divided to let us enjoy our sleeping area in peace.
Source : Pinterest
4. Compact and functional furnishings
Always returning to the idea of the small house and, above all, where everything can be done and can be fully lived, it is good to know that even the furniture becomes functional and that the furniture becomes compact, not pompous, but that they serve all that which we need.
A simple and functional house, with few decorative objects, is the trend of 2021. Few furniture with an essential style, without useless and bulky objects. Minimalism is not only elegant but offers many advantages. A clean and tidy environment based on different priorities creates less stress and lifts the mood.
Especially in the presence of small spaces, the combination of this style with soft colors gives a pleasant and peaceful look to the whole environment. True luxury today is not quantity but quality in the simplification of spaces.
Perhaps we also realized this in those big chains that sell cheap furniture: the examples of proposed houses are always a few square meters and the furniture is always functional to what is the little space of modern houses.
And we need furniture that does their job and doesn't take up space but just comfort.
Source : Pinterest
5. The return of the boho-chic
I know that many of you had forgotten that boho chic style that for years has been the master of what were the most ethnic houses of the 90s and the beginning of the 2000s.
Now that I have reminded you of this bohemian and hippy style, I'm sure you are remembering that rich, layered look that created relaxation and even a little mess in those huge rooms about twenty years ago.
Now it is back in a more incisive way, to render an extravagant character in those houses that have space available and that allow a more messy corner, more lived, more of colonial or oriental style.
Source : Pinterest
6. The furnished terrace
I know that most probably many of you will be thinking that the terrace has always been a must have but a terrace where everything is made of wood, even just a solid and cheap chipboard, I'm sure you hadn't thought of it yet. And in a well-furnished terrace you cannot miss the table, the sofa and even the shower corner for those sunny days when the terrace can become a splendid solarium where you can sunbathe, just like on the beach.
Source : Pinterest
7. The ceiling becomes a furnishing element
I know that every year there are always these as the Pantone color of the year (this year it is green hunting) but that sometimes it is not the color that does not make a room boring, especially if we stick only to the color of the walls without think too much about furniture.
Then we think of the ceiling, taking up the fashion of the 1920s that had great interest in the decoration of the ceiling. A decorated ceiling, although we probably never thought of it, makes a room seem fuller or brighter, based on what we need, it's clear.
I know that very probably none of you ever started thinking about the geometry of the ceiling or how to put some decorations into practice but the idea, instead, of working on that part of the room also allows us to be less full of furniture because the concentration towards the ceiling it will also allow for a simpler but at the same time full and decorated room.
Source : Pinterest
8. Curved furniture
Always following this trend of fluidity and mobility, the furniture itself must also have their curves, not be square or too sharp.
We are talking about a trend that resumes a very famous style in the 60s and then set aside for years, indeed even, in some decades, ridiculed. Never make fun of this or that model of furniture because fashion is cyclical and there is always something coming back, one way or another. The rigid lines, which have been the center of attention for years, are definitely set aside at this time.
Why doesn't the rigid line like it anymore? Because more space is given to the curve, to femininity, to a sensuality of forms that makes the environment warmer. And this can be found in sofas, tables, beds and even carpets that fill the room and give a new, modern sinuosity, in step with the times that are, again, fluid, iridescent, dynamic.
Source : Pinterest
9. Geometric and tribal models
While for what concerns the geometry we can say that that never goes out of fashion just as we cannot say of the tribal models that make a bang every 10 or 15 years and that then sadly fall into oblivion for as many years.
Even if we are no longer due to opulence, as in the magnificent 80s it must be said that the warmth, familiarity and passion of an ethnic print is a nice idea to place even in a room with minimal furniture, or rather to give a note of color to a room that would have been cold and schematic.
Obviously we are never talking about a straight leg raid that turns an apartment into an area of the savannah but of small tricks (a small jewel, a statuette, a couple of pillows, a plaid, a print) that make the room less serious, less rigid, more fluid indeed.
Source : Pinterest
10. Eco-friendly furnishings
These last 20 years have made us much more aware of our planet and of the needs of our world to be able to stay healthy for as long as possible.
We have also learned that we cannot always think of exploiting the raw materials because these materials will end sooner or later and then it will be very difficult to try to repair the damage done by the brutal looting we do in this or that other area of the planet. Then the real trend is to use recycled materials, even the marble of some tables or this or that finish is recycled.
The real fashion is to not spend money on this or that design object of some kind of precious material but to make sure that you have a very beautiful object that is not harmful to the ecosystem. Only in this way will we be able to preserve this world for our children for our future.
There is no luxury that holds, therefore. The tendency is to have a functional home, with some elements a little more thought, even out of the ordinary (like the carpet).
You don't have to surprise yourself with a pure gold table (we are not in the eighteenth century) but you can surprise with an unusual shape, but with a color that is not too much in the same room, with a decoration on the ceiling that no one would ever imagined.
We must always imagine being in small houses, we have no more money and opulence to imagine who knows what villa with who knows what size, so the house is mobile and is very safe as we imagine it can be.
We have cleared the walls, which can move, and with them the rigidity of some forms that always remain very little nice to look at. We like curves because they create movement as well as create movement and we who live in motion, who do not have a fixed occupation, who do not have a big house, who do not yet know where and how we will live, we need a house that resembles us and that it no longer represents the solemnity of the static life of the last century but that represents what we are in this historical moment in which we are only nomads, in passing, with a life that has no fixed points but is always dynamic and outside the box.
Source : Pinterest
It is essential that natural light invades the whole environment. In contemporary trends there are no longer walls and or dividing walls: the real must is an open space environment where everything becomes usable and functional. Natural light plays a certain role. For this reason, large windows and light curtains are chosen that allow the passage of light. Good lighting creates spacious and welcoming environments.
Nature marries technology through the use of recycled materials placed in a minimal and functional environment. This is the new furniture trend for 2021.
And how did you think of furnishing your home or room? Did you ever imagine it could be nice and interesting to take ceiling decorations or do you like green walls or the sofa? It is not a table that makes your home more or less beautiful but your imagination, the creativity that you want to show off from the furniture.
Do you want latest Trends straight to your inbox?
Thank you for subscribing.
Something went wrong.