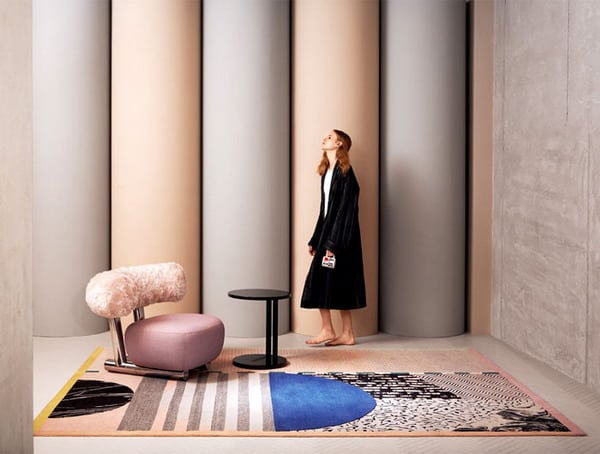 Today, interior design is not only about functionality, today it is also about customization, aesthetics and beauty. The house in the modern sense is a sensitive line between the spiritual and material owner, its deep reflection of the "I".
Since last year, trends in interior design went beyond the basic functionality, designers began to use a holistic approach to the design of space and furniture. Today, professionals take into account not only functional needs, but also put deeper semantic meanings in objects of use. And apparently, such an approach can soon be called the basis of design, and not the trend of one year.
We have compiled a guide to current trends in the world of design and furniture, fashionable palettes and materials so that you can easily bring a breath of fresh air in your style in your home in the style of 2021.
1. Trend color palette in the interior
PANTONE 16-1546 Living Coral color
Pantone Institute experts travel around the world every year, communicate with people, monitor the entertainment industry and films being shot, art exhibitions and new artists, as well as the fashion and design industry, trying to identify the main trends for determining the color of next year. One of the main criteria is also changes in socio-economic conditions.
As a tactile and humane color, in "fluffy carpets, cozy blankets and luxurious upholstery" the "living coral" creates feelings of warmth, peace and care in the house. Due to its enthusiastic nature, this color adds a powerful color effect to any room, whether in the form of decorative accessories, countertops or on the wall.
Dulux Spiced Honey Spiced Honey Color 2021
Each year, color experts at the Dulux Global Center for Aesthetics, in collaboration with experts on trends in design and society, choose the color of the year Dulux. This year, the color "Spiced Honey" was chosen – a warm amber shade that reflects a new positive attitude towards life.
DULUX | color of the year 2021
The Spiced Honey color is incredibly versatile. Combining it with other colors, you can come up with a variety of design options, depending on what kind of atmosphere you want to create in the house: from soft and calm to cozy or full of energy.
Combined with soft pastel shades, Spiced Honey helps create a relaxed atmosphere. Combine it with rich red and greenish-blue tones to create a room in relaxing tones. And if you complement it with vibrant vibrant colors, then the surrounding space will energize and prompt you to action. Here we used the golden shades of this color along with muted gray and pink tones to create a relaxed but sophisticated atmosphere.
PPG Industries Night Watch Night Watch color 2021
Headquartered in Pittsburgh, PPG Industries is a global supplier of paints, coatings, sheet glass, fiberglass and other products. PPG continuously invests in research and the work of a global network for the selection of colors: its experts study social and demographic aspects, record the slightest changes in the market environment and taste of consumers.
"Night Watch" may be bold and vibrant, but it is incredibly versatile. "This color can be represented in the interior as an accent wall in the bedroom or dining room, it goes well with gold or brass details and decor," suggests Di Schlotter, senior PPG marketing manager. "For exteriors, Night Watch is a great alternative to trendy black or deep blue-black, and it also works well as an emphasis on doors and shutters."
Powdery palette in the interior
"Powdery color is a new neutral base. It combines with gray and natural shades in a soothing palette. It can also be combined with vibrant colors such as navy blue, green or citrine, and easily allows the vibrant color to be the main character. " – Rob Royer, CEO of Interior Define.
Nude palette in the interior
One of the latest trends in interior design is the use of nude, neutral colors and shades, warm, earthy and barely noticeable. Over the past few years, gray has dominated the neutral palette of interiors. But the sandy shades returned and, as it seems to us, were completely boring.
2. The use of relevant materials in interior design
A rock/ stone
The connection of man with nature is carried out in various ways, but one of the main ones is tactile touch. Therefore, designers note the importance of using natural materials in interior design, including wood and stone, this is not only a source of positive emotions, but also a pleasant visual complement.
Various textures of rock types, marble, quartzite, terazzo, travertine and others are used today in the most unexpected variations and combinations of applications, from walls and floors to curtains in the shower.
Especially worth noting is the terazzo. The old Venetian flooring technique is undergoing a rebirth. Modern designers went further and transferred the pattern of marble chips to literally everything: tiles, furniture, dishes, and even textiles.
Metal
Interior designer Joy Moiler, believes that the metal will be used very extraordinary and in unusual combinations. The expression of designer's ideas through metal can even take on a more sculptural character.
Already today, the Italian factory De Castelli, which is an innovator in metalworking, is able to stop the oxidation of stainless steel, aluminum, copper, brass and iron at the desired stage and apply this material in furniture and decor.
Natural fabrics in the interior
Now more than ever, natural fabrics are on the wave of popularity. Upholstery, textile for curtains and decor, bedding in the most stylish spaces – is a variation of natural fabrics, linen, cotton, wool. It is like a kind of retreat to a calm, even suburban life, surrounded by a metropolis.
The use of natural fabrics will work in a variety of interior styles from Hamptons to Boho, from Provence to Scandi and almost any other in between.
This is especially true in the bedroom. Crumpled natural plain underwear, for example from linen, not only a reference to hygge interiors, but also a comfortable dream for the owner.
Velvet in the interior
The search query "velvet" on the Internet over the past 6 months has increased by 400% and is the most popular search among fabrics.
It's no secret that pure styles are not in trend today: an attempt to comply with the canons of classic or Scandinavian design, rather, impoverishes the interior than makes it more solid. That is why eclectic interiors look especially stylish, including those created by combining soft and expressive velvet with other materials.
It is believed that the active texture of velvet welcomes only modest "companions": cotton, tulle or synthetics. However, modern eclectic interiors only benefit from an unexpected combination of fabrics – for example, voluminous woolen pillows on a velvet sofa.
Velvet itself is a very self-sufficient material, therefore, modern trends assign it the role of an accentuating material, and not the main one.
3. Receptions and decor items in the interior
Star theme
The theme of space has swept the inspiration of designers, so in 2021 you can safely buy decor items strewn with stars and galactic landscapes, lamps resembling constellations, wallpaper with a bright print and unusual dishes.
Fringe
In 2018, at the Maison et Objet decor and furniture exhibition in Paris, everything was dotted with velvet and fringe. Fringes decorated poufs, sofas, wall panels, pillows, carpets, chandeliers and table lamps, mirrors. The modern sound of fringe has found its place in the list of trends for the coming year.
Fringe adds a touch of appropriate coquetry, home glamor and comfort.
Nautical Theme
The nautical theme in interior design trends 2021 extends to the design of upholstered and cabinet furniture, carpets, and decor items. Neutral in color wallpaper with the image of pearl shells equally easily fit into public and private rooms. Ceramic tiles in the shape of fish scales decorate the bathrooms and kitchens.
Partitions Crittall
Partitions in the loft style, or as they are called Crittall partitions still hold a strong position in the modern interior.
Durable, stylish, universal, they perfectly divide the space without loss of sunlight, can serve as a dividing wall in the shower room or just be an accent decorative element. Partitions perfectly complement almost any style from mid-century to scandi.
Crittall's style is not new. In 1860, Francis Henry Crittall, an iron merchant in Essex, first used this method to create windows in a steel frame.
Geometric patterns in the interior01
While geometric symmetrical patterns almost never go out of style, ethnic motifs seem to come go out every 10-15 years. But today, they breathed new life and began to appear more and more often in the frame of modern design. Very neat, not catchy, but emphasizing beautiful ethnic motifs and vibrant geometry fill the space.
Wallpaper styles
Now the wallpaper is truly experiencing a new surge in the wave of popularity.
Twenty years ago it seemed that such wall decor was a relic of the past. In the late 1980s and early 1990s, wallpapers were completely unfashionable.
Minimalism and restraint reigned in the design, the "color revolution" had not yet occurred, and the very idea of working on wallpaper collections seemed somewhat ridiculous and ridiculous.
But today, wallpaper has become one of my favorite design techniques. If you consider the wallpaper in a modern interior, then most likely you will see them all on one wall, as an accent element. Bright, graphic, they perfectly enliven the space. Modern technologies today allow them to be glued not only in dry rooms but also in bathrooms and on building facades.
3. The influence of styles on interior design
Art Deco
After Mid Century Modern, well rooted in our interiors, the hunt for Next Big Thing began. More and more designers are finding that
Art Deco has spent enough time waiting and should go on stage as soon as possible.
As one of the most inspiring, luxurious and glamorous periods in the history of design, he is already beginning to conquer modern luxury spaces.
Bold geometric shapes, patterns, expensive materials, an abundance of mirrors that visually expand the space and vintage aesthetics are characteristic features of the style.
High-quality materials, art deco elements and handmade craftsmanship combine to create the utopian image of luxury in the future. We look back at the past and surround ourselves with a calm, disposing aesthetic in a modernist spirit. Skillfully combined and honest materials, unpretentious luxury create a new kind of comfort, as well as give intimacy and tactile experience.
Hygge
In 2016, the word hygge was included in the list of the most popular words of the year according to the New Oxford American Dictionary. But in 2021, this concept will not slow down.
Today, the hygge in the interior is an answer to urbanization, like a small cozy oasis in a huge metropolis.
To understand how to place a hygge in your space, we suggest you familiarize yourself with simple tips from the editor and author of books on Scandinavian design and lifestyle-Christina B. Kjeldsen in the article: Life in the hygge style.
Boho
Boho style never completely disappeared, but its influence on the world of design for the last time mattered about a decade ago.
Boho or boho chic is a design for those who want their house to be filled with life, carelessness and bold colors. Only here you can see a unique combination of oriental and French motifs or a luxurious antique mirror next to a colorful homespun rug. In a word, this design is designed to maximally reflect the inner world of the inhabitants of the house and create the ideal atmosphere for creativity.
Do you want latest Trends straight to your inbox?
Thank you for subscribing.
Something went wrong.