Embellishing your home with art installations is one of the best options you can choose if you want to create an environment of refined elegance. Today we will deal with the latest design trends in interior decoration and in particular we will do it by showing you the latest art trends for interior design, that will surely be the perfect source of inspiration for your space.
Let's talk about 2021's art trends:
Used as a unifying element of interior design, paintings take on the role of focal point within an environment from time to time, they can represent a fusion between the different shades of the ambiance and finally give your home character and uniqueness.
How to choose your art pieces
When choosing the paintings to showcase in our home, and in general for any other environment, it will naturally be necessary to take into account the furnishings and colors that characterize them. Ideally, you would opt for a work of art that acts as a glue between the walls and the furnishings in an almost natural way. Check out the example below:
Source: Pinterest
If, on the other hand, you prefer to dare, you can opt for a point of total detachment from the uniformity of the living room by choosing paintings, for example, with bright colors and designs capable of immediately captivate the interest of your guests, just as in the next image:
Source: Pinterest
Choosing paintings for a modern open space, within a big space with very high ceilings, can be a bit more challenging. In this case, you can opt for an artistic creation capable of covering an entire wall or a portion of it in order to also connect areas with different functions within the house.
Particular light and shadow points can characterize and embellish your space, and the choice of paintings must therefore respond precisely to such exhibitions. You can opt for abstract paintings or portraits that are always in line with the personality of your home.
Let's look at 2021's art trends in interior design:
1. Nature and Earthy paintings
Source: Pinterest
Landscape paintings and canvas prints, which depict animals, flowers and leaves and characterized by warm shades inspired by the colors of the earth, return to decorate our walls: will it be the strong renewed call to nature that we have been experiencing in recent years?
This trend is not just a furniture trend for 2021: it has even inspired the new high fashion collections with its beautiful shades. The fabrics inspired by tigers, leopards and tropical motifs colored the walkways with the most courageous patterns, also amazing with beautiful shades, including the recreation of certain red barks of some varieties of trees, the intense red of the oxidized iron of the canyon, the colors of the desert and those of the earth.
But the color of nature is green: associated with rebirth, spring and sustainability, it seems to reflect that renewed desire for calm against the daily stress that we live in big cities.
So if we can't go for a walk in the woods and breathe some fresh air so as to lift our spirits, we are "allowed" to take it directly to the home or office: if we can't transform our walls with lush walls of living leaves we can always choose to decorate them with images of tropical nature and sea, mountain or green landscapes, all over the wall.
If you'd like to check out some nature inspired paintings, check out these beautiful prints
2. Line Art Paintings
Source: Pinterest
Line art (or line drawing) is an image that consists of several straight or curved lines placed on a background (usually light), with no gradations in shading (darkness) or hue (color) to represent two-dimensional or three-dimensional objects. Line art can use lines of different colors, although it is usually monochrome. Line art emphasizes color, hue and appearance. However, solid pigment and dot areas can also be used in addition to lines. The lines can all be of a constant width (as in some pencil drawings, of different constant widths (as in technical illustrations) or of unlimited variable widths (as in brushwork or engraving) .
Line art can lean towards realism (as in many of Gustave Doré's works), or it can be a caricature, cartoon, ideogram, or glyph.
Before the development of photography and halftones, line art was the standard format for illustrations to be used in print publications, using black ink on white paper. Using pointillism technique and stroke technique, the shades of gray could also be simulated.
One of the most fundamental elements of art is the line. An important feature of a line is to indicate the edge of a two-dimensional figure or a three-dimensional figure.
Here's a beautiful line art prints collection we thought you might like: check this out
3. Where to place the paintings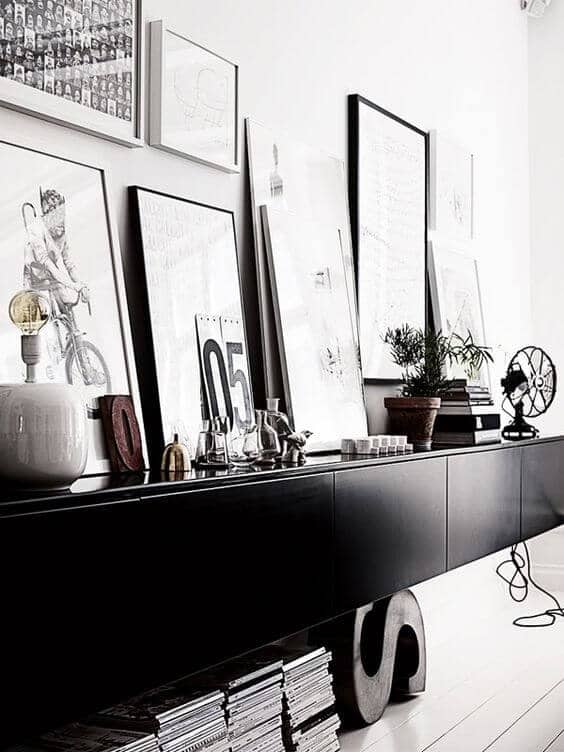 Source: Pinterest
The trend in recent years has been to place paintings on furniture, shelves and even on the floor or stack them on top of each other to obtain particular compositions, in colors and shapes. Design combinations that highlight every niche, every corner of the house. Sometimes they might give the impression of being positioned a bit haphazardly, but everything is studied in detail, from the frame to the painting.
The new trend of placing frames and mirrors on the floor, furniture or shelves is very popular. This is particularly true because of the absolutely particular atmosphere that is created by doing so: placing a canvas on the bathroom cabinet or inserting a small group of them on the living room sideboard, creates a communication game that will be able to bring out the personality of those who live in that environment.
Even the most traditional or vintage paintings can be placed on the floor of the living area or bedroom. The same goes for mirrors: a large antique mirror placed next to a modern and minimal piece of furniture, creates a perfect balance between present and past, giving a refined and stylish environment.
Shelves for paintings, preferably with curved ends, are undoubtedly a trend in the interior. They are fixed to the wall and serve as a support surface for paintings, frames, canvases and photos. Original and functional, they allow you to only make a small hole on the wall and then move paintings and accessories, creating always different combinations.
Using a bookcase wall as a picture display is a truly original idea. With a thickness of about ten centimeters, it allows the display of paintings, frames, canvases and photos.
In the absence of high wall units, it is possible to insert a shelf above the kitchen top to place paintings and knick-knacks, changing their arrangement whenever you want. In the bedroom it is possible to create a structure that acts as both a headboard and a shelf. Useful indeed to support paintings and photographs, but also books and design objects.
4. Decorating the walls with vertical art: 80s photographs and prints
Source: Pinterest
Wall decorations are able to transform environments and give new light and contrasts to spaces and to the rest of the furniture. There are many ways for transforming and enhancing walls and one of these is vertical art. In fact, art and photography, as means of communication and expression, function like words.
Lovers of total white and soft shades shouldn't worry, as they still work very well, but a must for 2021 is the inclusion of eclectic details in bright and energetic tones.
Great attention is instead paid to airy open spaces and industrial-style interiors: here it is easy to play with dividing panels, screens, paintings and panoramic posters. You should experiment with bold colors and signs of the "return to the 80s": a dive into the past, which underlines a search for freedom of expression and contrasts, from post-modern to eclectic styles, up to the art of graffiti.
There are many ideas for decorating the house with the primary and playful tones of graffiti and the creativity of street art trends that are perfect for lovers of the post-modern. For lovers of surrealism, the inspirations come from Pollock, up to collages, assemblage and interesting three-dimensional compositions.
Check this out for 80s photographs and prints ideas
5. Frames are as important as paintings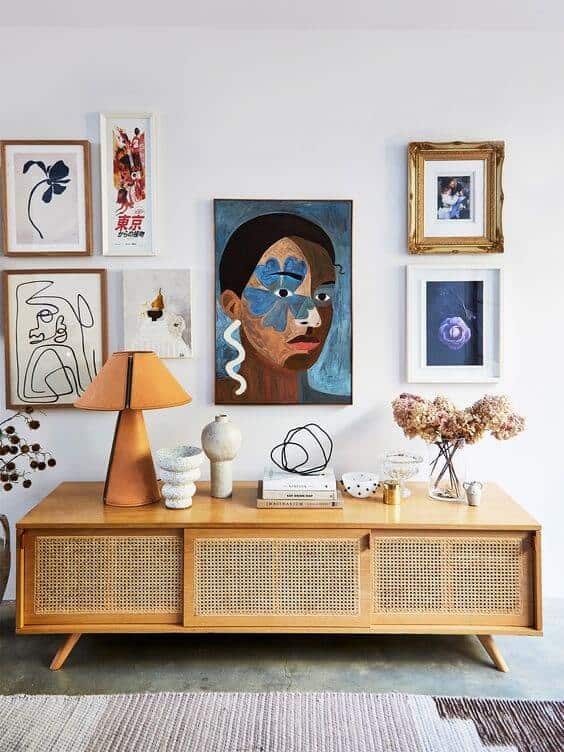 Source: Pinterest
An effective frame should draw the eye to the work, without disturbing the vision. Attention must be focused on the subject of the painting. Only later will the observer pause to view the work in its entirety.
An overly elaborate frame can detract from the work. The latest art trends speak of basic and minimal frames, with simple and thin lines.
If you want to give a more original touch to your paintings, you can choose unframed canvases. They will look like they have just come out of the artist's workshop! You can find unframed canvases here
Choosing your art from latest art trends might be overwhelming, but hopefully with this article you might be able to do it faster, and to create a clean and beautiful environment.
Have fun!!
"Creativity takes courage." – Henri Matisse.
Do you want latest Trends straight to your inbox?
Thank you for subscribing.
Something went wrong.