What is high-tech design?
High-tech furniture essentially is modern furniture enriched by a real technological laboratory, almost aseptic and structurally minimalist, where the pleasure of aesthetics is combined with the functionality of every single corner of the house.
A piece of furniture therefore should blend well and integrate with the futuristic style, typical of spaceships environments.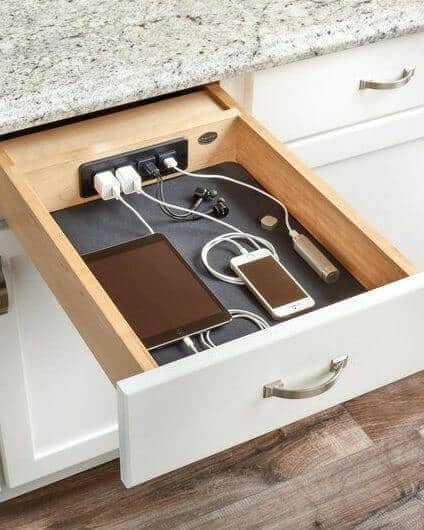 Source: Pinterest
Hi-tech furniture is characterized by creativity and innovation, as well as by comfort and functionality. It is basically a style of furniture with clean lines and geometries.
Features of the high-tech style:
minimalism and rationality;
cold and light colors;
linearity and angles;
lack of ornaments and floral motifs;
prevalence of innovative materials including Corian, resins, concrete, plastic, glass, metal;
use of metallic colors and glossy finishes;
hidden and stage LED lighting;
large presence of home automation and modern technology
How to create a high-tech kitchen
Tidy, clean, designer: the perfect kitchen, just like the one you see in magazines and on social media, is modern and minimal. Pure and geometric lines, immaculate worktops, large and empty "tactical" surfaces, hi-tech appliances that are attentive to consumption: these are, not necessarily in that order, the characteristics that a contemporary kitchen should have.
Source: Pinterest
Easy to say, less to do: how to find your way around all the offers available and how can you find the best solution for your home? First of all, seeing what the market offers live. Remember that you should also be helped and advised by an interior designer, present on site, so as not to make mistakes already in the design phase, that you might regret in the future.
Finally, follow latest smart kitchen trends and have clear ideas on the main aspects: that is, in a kitchen, everything – from accessories to floor material – contributes to the final look of the room, and this must be taken into account from the very beginning of the project.
The choice of materials and colors
In a modern kitchen, the main element – together with the shapes – are the materials. Along with increasingly eco-sustainable choices – such as wood, metal and quartz – there are also avant-garde trends. The most innovative materials, in particular for the kitchen tops, have a very long life, are easy to sanitize and are resistant to both heat and water, remaining perfect for a very long time.
One of the protagonists is certainly Corian, certainly one of the most avant-garde materials together with Sileston, Hi-macs-In addition to these, steel is widely used for finishing and for enhancing details. For the flooring, vinyl PVC floors are of particular interest.
Source: Pinterest
By choosing these products, you will have the certainty of creating an environment that is not only aesthetically perfect, but also durable and practical. In short, the watchword for setting up a modern kitchen seems to be the mix of beauty and durability.
The main color is white, in its glossy lacquered version, a color that creates simplicity and also that pleasant monotony for lovers of the technological furniture genre. Contrasting colors used are black and gray.
The warm colors find space in the LED lights and in a few elements, as the chromatic dominance must be neutral.
Today's modular kitchens – which can be adapted to measure – are perfect for managing every single inch of space in the best possible way. Of course, the an overabundance of furniture is forbidden in a modern and scenographic kitchen; but exposed wall units, shelves, furniture with sliding doors and retractable elements will help to build an environment with a hyper contemporary and elegant look.
Source: Pinterest
In this context, the role of colors is also important: neutral shades are the easiest to manage for a minimal effect, especially "bright" with some colored complements. Timeless classics such as white, gray and even black are ideal for this.
Latest generation appliances
A high-tech kitchen can only include state-of-the-art appliances, performing and at the same time attentive to consumption. Depending on your preferences, you can decide whether to screen them behind panels of the same type as the kitchen cladding or to display them as real works of art, which become the strong points of the environment. Finally, in trendy kitchens, the hood plays the role of an authentic piece of furniture: have you already seen scenographic (and super efficient) solutions that can be brought into your home?
Source: Pinterest
To transform your home into a home automation house, there are many smart accessories that can be controlled by apps on the mobile phone or by voice commands, just like in a science fiction movie. These include SMART IKEA accessories, Google accessories including Google Home and mini, or Alexa.
With smart tools, you can connect your home and control it from your smartphone or remote controls: while seated or remotely you can start the washing machine or configure the temperature of the heating systems, monitor the house, manage the internal and external lighting and much more.
Smart Appliances: what and why?
Only ten years ago it didn't even seem possible, and yet the house of the future is already here. The basic feature of smart appliances is to be able to connect them to the home WiFi network in order to remotely control them. But the real revolution actually lies in the possibility that today we really have to "communicate" with them, configuring our smart home network and connecting every single appliance to it.
The result is a real integrated and efficient environment of which we have total control through our smartphone, which in this case becomes a remote control, a control room perfectly functional to our needs, to carry out many domestic operations that we were previously forced to perform only in person, thus optimizing the time and energy of our day.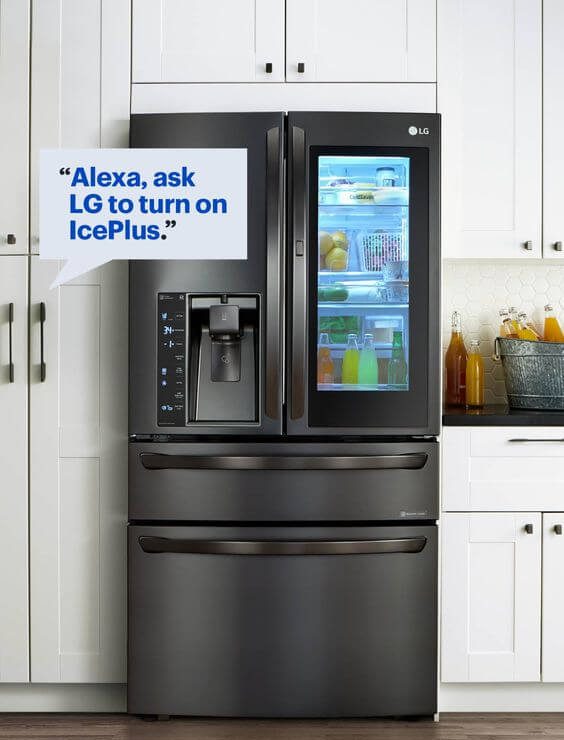 Source: Pinterest
There are now many smart appliances and home appliances available on the Amazon site: boilers, thermostats and fridges, all with WiFi connectivity. With a simple touch on the app of our smartphone you'll be able to turn on the water heater and set your coffee machine.
Even kitchen hoods, hobs and vacuum cleaners have now become smart appliances, connected to our WiFi and optimally controllable from a distance. Let's see others:
Smart oven: through the app you can consult recipes, cooking phases and methods, as well as temperatures. Once cooking has already started, it is also possible to remotely change all the settings and be notified when cooking is finished with a simple notification, as well as for any anomaly the appliance should present;
Smart washing machine: washing programs can be set remotely;
Smart dryer: programming, start-up, control and personalization of drying programs;
Smart refrigerator: some models are even equipped with internal cameras thanks to which you can check the food inside at any time. The features of the app to be installed on your smartphone can be truly manifold: from advice on where to place food, for better conservation and a reduction in waste, to the control of some sensors that notify you of any temperature changes in case you have forgotten the door open;
Smart coffee machine: you can remotely choose the type of drink and program its preparation, as well as be warned if the water or other ingredients are running out.
However, this is just the beginning: you can also connect your water system with a smart tap, that will filter water and provide sparkling water as well. Choose a smart microwave, or a smart food drier, to create wonderful snacks with zero efforts.
Source: Pinterest
If none of these appeals to you, you can also opt for a smart multi-function robot, a smart kneader or mixer, or a smart dishwasher.
For the most traditional users, instead, there are plenty of smart lights and smart plugs, to make every piece of your kitchen remotely controlled.
Appliances with WiFi functionality: advantages
We have seen how the use of smart appliances can be innovative and captivating. But do we really need it? Now let's see the main advantages thanks to which they can be extremely useful to improve your life in many ways.
Remote programming: the first big advantage is to be able to connect the appliances to our WiFi network to control them at any time, even when we are not at home;
Connect the appliances together: thanks to the WiFi functions of these appliances you can create a real network that can be controlled directly from your smartphone;
Check the status of the appliance: by constantly monitoring the operating status of our smart appliances, many of the classic domestic problems can be prevented, ensuring that the appliances are always used in the best possible way;
Optimize times and activities: schedule and do housework while at the gym, out for dinner, or on a stroll, reading or playing in a park. This is the real revolution of smart appliances;
Save energy and money: the direct consequence of an optimal and controlled use and above all the possibility of optimizing the time we have to dedicate to housework is undoubtedly that of saving precious energy and money, controlling consumption and avoiding unnecessary increases in the bill.
What's your favorite smart appliance, and what will you choose for your smart kitchen?
Do you want latest Trends straight to your inbox?
Thank you for subscribing.
Something went wrong.