LED is an electronic component that, when a minimum current passes, emits light without infrared and ultraviolet, turning on immediately. Light-Emitting Diodes (LED) technology represents the evolution of solid-state lighting, in which the generation of light is obtained using semiconductors rather than using a filament or a gas. Furthermore, it is more energy-efficient, has a longer lifespan, and is more sustainable.
It also allows for innovative and creative use solutions that integrate light into our homes, cars, shops, and cities. Over time, LEDs are destined to replace traditional incandescent lamps and fluorescent lamps.
Why should you use led lights?
Thanks to the high illuminance characteristic of LED lamps and bulbs, it is also possible to replace fluorescent lamps (compact or neon) with LED equivalents that consume much less energy, that is with a decidedly lower power (in watts), achieving significant economic savings.
For example, it is possible to replace a normal 40 W neon lamp with a "led tube" (consisting of almost 300 small LEDs) which consumes no more watts than the first. Follow this post to look lighting ideas and trends
How long will led lights last?
LEDs still maintain 70% of the initial light output after 50,000 hours. This does not mean that it is necessary to replace them after this period. In fact, if this reduction does not create excessive annoyance, they can be safely used up to the complete loss of brightness, estimated in 100,000 hours.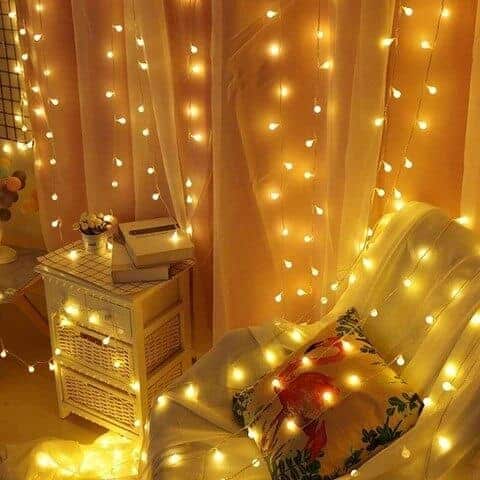 Comparing the duration of the LEDs and that of traditional lamps and assuming an average operation of 6 hours a day, we note that:
the average life of a filament bulb is about 1000/1500 hours (250 days)
the average life of a gas-discharge lamp is approximately 4,000 hours (666 days)
the average life of a fluorescent lamp is 6,000 hours (1,000 days)
the average life of a led lamp is 50,000 hours (8,333 days)
Is LED polluting?
LEDs contain silicon powder, and they do not contain gases that are harmful to health nor toxic substances, unlike fluorescent and discharge lamps (metal halides and sodium vapors).
The emissions of U.V. rays, which in general are harmful to humans for long exposure over time, is zero. The emissions of I.R. rays (infrared radiation), harmful to the eyes for direct exposure, are also zero.
These types of emissions are also very harmful for textile and leather products, as they are made of materials which are very sensitive to U.V. rays. In fact, loss of color brilliance and sclerotization of materials, especially natural and therefore more valuable ones, are often the inevitable consequence of long exposure to artificial light: one more reason to use LEDs in the lighting of commercial premises.
Which are the best LED decorative light strings?
1. LED Photo Strings
Let your photos or cards shine in a beautiful, welcoming light. You will only have to insert 3 AA batteries to use these lights, much more convenient for indoors, and not recommended for outdoors because they are not water proof. With this battery-powered light string, in addition to the "normal" light string you will get integrated photo clips, brilliant and easy to apply anywhere. In total, you'll get 20 warm white led lights with total length of 7.2 feet.
The led light clips can also hold heavier items, such as cardboard or fabric, and are perfect decorative lights for your living room, bedroom, home, coffee shop, shopping mall, bookstore, Christmas trees, wedding, party and much more!
Product Features –

Innovative design
Battery operated
Hold Your Memories
Perfect as a gift
100% Satisfactory Guaranteed
Innovative powered light chain
The light chain
The clothespins
Perfect for decorating

It is very delicate, so it can break easily
Some buyers thought it would have been longer
---
2. Waterproof Fairy Lights
High quality and foldable, these decorative led lights are made from silver wires and come in a warm white light. They can be easily foldable into any shape, for indoor or outdoor party, and can be used as decorative led lights for indoors and outdoors.
Each light string has a length of 7 feet and 20 mini LED lights, and they are ideal for creating a warm and romantic atmosphere at birthday or Christmas parties. Waterproof and safe, with high efficiency and a long duration, they don't warm up, and the wire part is completely sealed for your safety.
These light strings are safe to use and touch, with nothing to worry about.
Product Features –

12 pack silver version
Flexible silver wire
IP65 Waterproof
Safe and Energy-saving
Perfect for kids room
High quality
Waterproof
Great for indoors and outdoors

They don't come with a remote
The battery pack isn't waterproof
---
3. Outdoor bulb lights
This outdoor LED light string produces a warm light, and the bulbs are bright enough without bothering your eyes. It is great for creating a pleasant and romantic atmosphere. This outdoor light string is suitable for use in the garden, balcony and gazebo, as well as for parties.
Furthermore, they are perfect to cover large areas, as the length of a wire is 100 feet.
Each bulb has a hook attached to the base that allows you to easily attach it to a cable, and it is also useful for attaching it to trees. In addition, the string is waterproof, which makes it perfect for outdoor environments.
Product Features –

Patio lights
Durable and waterproof
Energy saving
Easy to install
100% Satisfactory Guarantee
Works great
High quality at a low price
They create a great atmosphere

They don't last long
Not completely waterproof
---
4. Dimmable bulb lights
This light string includes 15 led bulbs, and in the package, you will also find 2 led bulbs to be able to easily replace them should a couple break.
This light string is composed exclusively of led lights, to allow you to save about 90% on your bill compared to classic halogen lights. Furthermore, these lights have a duration about 30 times longer than the classic lights on the market.
These lights are waterproof and storm resistant: basically indestructible!
Product Features –

Waterproof
Dimmable lights
Ideal for Outdoor Lighting
Smart installation
Satisfaction Guaranteed
Easy to install
Good quality
Easy to hang

Very delicate
Not completely waterproof
---
5. Solar LED light string
You like decorative lights but you are trying to be sustainable, or to cut down your bills? We have the perfect solution for you: a solar LED light string.
During the day, the efficient solar panel converts sunlight into electrical energy stored in the built-in rechargeable battery, and the string lights will automatically turn on at night.
These string lights are a great decorative accessory to light up indoor and outdoor spaces, such as gardens, patios, a fence, and much more. Furthermore, the copper wire is flexible enough, easily bent into any shape you like.
Choose this beautiful and sustainable product and create a romantic atmosphere anywhere you want. With a high battery capacity up to 1200mAh, this solar light only needs to charge 6-8 hours during the day and can light up for 8-14 hours at night.
Both the string lights and the solar panel are waterproof, so you won't have anything to worry about when using them as it rains.
Product Features –

Outdoor solar string lights
8 Romantic Light Modes
Solar powered & Auto on and off
IP65 Waterproof and durable
Bendable string
Work great in sunny rooms
Low consumption and environmental
They look beautiful

They won't work unless they stay in a sunny spot
---
6. Curtain Lights
As soon as the curtain lights are put into operation, the remote control must be configured because if you buy two, they can be paired with the same remote control and you can set the same effects for both. With the remote control you can set the brightness, the light effects and the timer you prefer.
The socket is equipped with a button where you can adjust the intensity or modes of the lights. Also included is the booklet with explanation on the functioning of the curtain.
It is suitable for bedrooms, terraces, balconies, gardens, windows and walls, as they are warm and inviting curtain lights that will help you create a nice atmosphere.
Thanks to the unique design and high quality of the string lights, it is the perfect Christmas gift for your loved ones, but also a wonderful decoration for your home.
Product Features –

8 Functions
Memory Mode
Low consumption
No heat and no radiations
Warm white lights
Great for every indoor environment
Great as a Christmas decoration
The remote works great

Some customers complain that the lights didn't come with a remote
---
7. Led Light String for Outdoor Use
This beautiful light string works perfectly outside, as it is completely waterproof; furthermore, it can be set to 8 different modes and 12 different colors.
It is also very easy to set, thanks to the 21-key remote control, and perfect for DIY decorations in any room of the house and for many events, such as weddings and parties.
Product Features –

16.4 feet and 50 pcs Led Bulbs
Indoor and outdoor use
Easy to control with remote
Waterproof and Safe
Widely Application
Easy to control
Perfect for indoor and outdoor use
Great colors

The colors are quite intense for bedroom use.
---
8. Easter String Lights
These beautiful string lights will work wonders around Easter times. They are, in fact, egg lights, with an extra-long string of 9.8 feet.
They are perfect to be hung on balconies, trees, fences, stairs, as well as around the house.
Each small bulb comes in 5 different colors, and two modes: a flashing light and a continuous one. You will only need 3 AA batteries to use it, and they won't consume them in a short amount of time.
What you'll really love about this light string is its design: the eggs look like they are about to break and release some cute baby chicks!
Product Features –

Easter themed lights
Bright lights
Safe lights
Simple to assemble
Look expensive
Work great
What are other pros of LED lights?
LED lights do not emit warm light, so they can be placed anywhere with no fire risk,
They do not require maintenance,
They are compatible with most dimensions, connections, and power supply voltages
Conclusions
All the lights we've described deserve your attention, but our favorites definitely are The Easter String Lights: they have a unique design, and look absolutely marvelous. What are your favorites? Let us know which ones you bought and send us a picture of the results!
Good to Read : Best Wall Mirror
Do you want latest Trends straight to your inbox?
Thank you for subscribing.
Something went wrong.