Finding the best portable carpet cleaner on the market means knowing your needs and choosing accordingly. In the guide that follows, we describe, to help you in the selection process, the various types of portable carpet cleaners for sale and, we'll give you an overview of our favorite ones on the market. Given the large number of portable carpet cleaners offered at low prices by brands that are little or not known, we have considered those for which the producer guarantees technical assistance.
How Many Types of Portable Carpet Cleaners Are There?
Just perform an online search to find yourself faced with an infinity of apparently very different proposals. However, if you do not know how to choose a good portable carpet cleaner, we will come to your aid, trying as always to create a little order and highlighting the most important characteristics.
Source: Pinterest
First of all, we distinguish handheld carpet cleaners from portable carpet cleaners, also called portable vacuum cleaners. The former are almost always rechargeable, have poor performance batteries and limited suction power. The latter exists in the variant with wire and without wire, with batteries of medium power and sufficient to suck up solid bodies heavier than ordinary crumbs. While handheld vacuum cleaners show poor efficiency when used as a vacuum cleaner, portable carpet cleaners also perform very well as handheld vacuum cleaners. Therefore, the buying advice that we provide you in this comparison article concerns the most versatile portable carpet cleaners.
There are rechargeable portable carpet cleaners with limited autonomy and mini corded vacuum cleaners. Some are equipped with a fixed or removable motorized brush. This is a suction nozzle with a bristle roller inside that rotates at high speed. When this is set, the portable carpet cleaners are usually referred to with the term mattress pad, indicating the primary use for which they are designed. When the motorized brush is removable, it is part of the accessories that accompany the appliance. There are also 2-in-1 portable carpet cleaners integrated into a frame that transforms them into real electric brooms. It is a product category that we like due to its design and versatility and which we suggest, as you will notice as you continue reading, to consider strongly.
Cordless or Corded Carpet Cleaners?
Which portable carpet cleaner should you buy? Is it better to rely on a model with a rechargeable battery or a more classic one to connect, when needed, to the electrical outlet? According to our experience, portable carpet cleaners do not require the freedom of action and movement that is often expected from electric brooms or vacuum cleaners with which we use to clean the entire floor of the house. The use of portable carpet cleaners is often localized, i.e., limited to the point or points of the house where the sofas, armchairs, curtains, and carpets are located. This means that having a rechargeable portable carpet cleaner does not offer many more advantages than a classic corded one.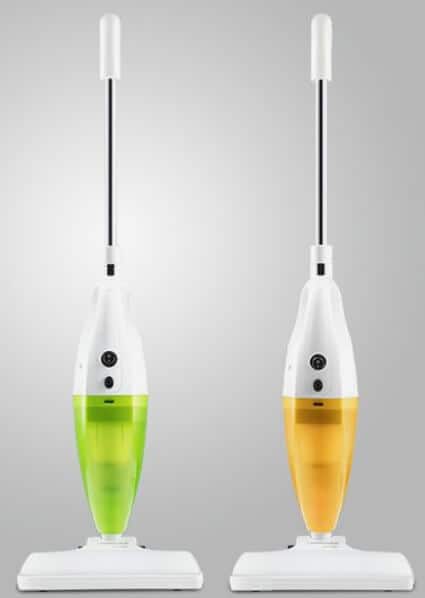 Source: Pinterest
Not only that, consider that cleaning sofas and mattresses often takes time, more than it takes to remove dust, hair, and hair from a regular hard surface. From this point of view, a rechargeable vacuum cleaner could limit your action to the duration of its battery which usually does not exceed 15 minutes (at minimum power). But, unfortunately, due to their small size, the portable carpet cleaners have to integrate equally small batteries, not able to store large amounts of energy.
Therefore, evaluate according to the use you intend to make and, why not, the online offers. For example, cordless handheld carpet cleaners are preferred if you use them almost exclusively as handheld cleaners for a few minutes a day.
Weight Can Make a Difference
If you carefully read the opinions expressed online by those who have already purchased a new portable carpet cleaner, you will notice that they almost always refer to the weight. Whether it is the cheapest model or the portable carpet cleaner proposed by the best brand of the moment, the weight is a specification to consider carefully.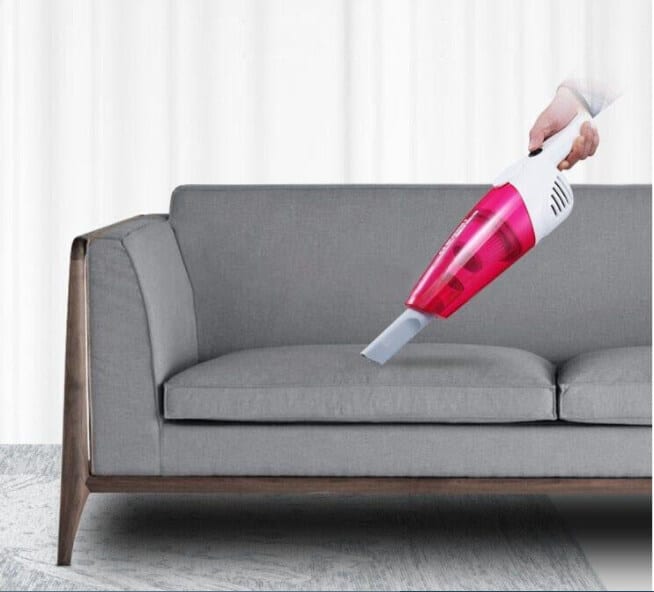 Source: Pinterest
This is because any handheld vacuum cleaner, with or without a cord, unloads all its weight on the owner's arm, not on the floor, as happens with electric brooms and vacuum cleaners, with or without a cord. As a result, cleaning a sofa, mattress, or set of pillows continuously for several minutes can be a strain on your arm, mainly if you are a thin or older person.
The Corrugated Tube Increases Its Versatility
It is one of the most useful but timeless popular accessories, at least for this household appliance. The corrugated tube, more commonly called a flexible tube, allows cleaning in hard-to-reach places. Its usefulness is greatest if you buy your new portable carpet cleaner to clean the interior of your car, van, or boat. The possibility of fixing different nozzles at their end, with or without bristles, will allow you to clean between and under the sofas, even in spaces just a few centimeters thick. On the other hand, if you buy a carpet cleaner for padded surfaces or mattresses, you can also do without the corrugated tube.
Top 8 Portable Carpet Cleaners
Now that you have a full picture of the type of carpet cleaner you should buy, it is time to talk about the best carpet cleaners.
1. Holife Handheld Vacuum Cordless Cleaner
This carpet cleaner is among the most powerful on the market, and it works for up to 30 minutes. It also comes with three attachments, and it shuts off when it overheats. Furthermore, it is incredibly lightweight.
Product Features –

7KPA Powerful cyclonic suction
Max 100W (Rated 90W) powerful motor
Super long running time (up to 30 minutes)
3 professional attachment
Multiple protection
3.4 lbs of weight
Works great
Easy to use
It cleans really well

Takes longer than a full-size vacuum cleaner
Some customers got a defective vacuum cleaner
---
2. BISSELL Pet Hair Eraser
This model is perfect for pet hair, especially thanks to the motorized brush tool and the lithium battery. In addition, it has a large bin that's quite easy to clean and a set of specialized tools.
Product Features –

For every Bissel bought, the company will donate five euros to an animal charity
Removes dirt and pet hair
14V lithium-ion battery
Dirt cup capacity: 0.7 l
Large and easy to empty
Set of specialized tools
Perfect for hair and dust bunnies
Perfect for carpets
It doesn't take long to charge

You can't simply buy the paper replacement filter, you have to buy a new plastic assembly
Not very powerful
---
3. Black+Decker Dustbuster
This Black+Decker model has a 31.8 ounces dustbowl capacity, a crevice tool for hard-to-reach areas, and a wide mouth design for large debris. It is lightweight and portable.
Product Features –

Dustbowl: 31.8 ounces capacity
Washable bowl and filter
Crevice tool for hard to reach areas
Wide mouth design
Lightweight and portable
The wall mount is very convenient
3-6 hours to charge
The charger automatically reduces power consumption when charging is complete.

Doesn't stay on long enough
Not great for hair
A bit loud
---
4. Shark CH951 UltraCyclone Pet Pro
This Shark Carpet Cleaner has two powerful air streams for great suction, a long-lasting filter, and motor life. You can detach the self-cleaning pet power brush and a washable filter. It also comes with a crevice tool and an XL dust cup.
Product Features –

Two ultra-powerful cyclonic airstreams
Detachable self-cleaning pet power brush
XL dust cup
Lightweight (2.8 lbs)
Washable filter for easy cleanup
Cleantouch dirt ejector
Lithium-ion technology
Crevice tool and scrubbing brush
Perfect for pet hair
Easy to use and clean
Good for small jobs

It takes a long time to charge
10-15 minutes battery length
---
5. Dirt Devil Scorpion Handheld Vacuum Cleaner
The weight of this model is under 4 pounds, and it works great for pet hair and car cleaning. It also comes with a removable rinsable filter, equipped for powerful, long-lasting performances.
Product Features –

Power and portability under 4 pounds
Great for pet hair and car cleaning
Removable rinsable filter
Small but powerful
The filter is easy to cleanout
It cleans really well
---
6. Aposen Handheld Vacuum
This handheld carpet cleaner is powered by a 16KPA suction and has a double HEPA filtration system. The filters are completely washable, and the vacuum cleaner is incredibly lightweight and has a cleaning reach of 23 feet.
Product Features –

16KPA Suction
5000W ultra-high powerful motor
Double HEPA Filtration System
Multiple-use and lightweight
One-click dumping and large-capacity dust cup
Mini vacuum accessories
Great suction
Perfect for cars
Sturdy
Easy to clean

The battery doesn't last long
It gets quite hot
---
7. BISSELL AeroSlim Lithium-Ion Cordless Handheld Vacuum
This Bissel model comes with a lithium-ion battery and provides 12 minutes of cordless cleaning power. It is compact enough to be stored in the car or brought to the office. It also comes with a USB charger and has a sleek design.
Product Features –

Every Bissel purchase helps save pets
Lithium-ion battery provides up to 12 minutes of power
Perfect for bringing in the car or in the office
Crevice tool & dusting brush
USB Charger
Sleek Design
Small
Powerful suction
Great price

The battery life is too short
Battery overheats
---
8. VacLife Handheld Vacuum
This cordless and portable vacuum cleaner is perfect for deep cleaning, as it comes with professional attachments to better meet your cleaning needs. The vacuum also includes a LED light, should you need it while you clean.
Product Features –

Cord-free and hassle-free
Deep cleaning
Professional attachments
Led light design
Customer Support
Perfect for fur
Compact and effective
Lightweight and versatile

Smallmouth
You can't store the attachments
---
What else to Add?
These models guarantee a great final result, even though some are better suited for specific purposes and others are better for other situations. For example, if you need a vacuum cleaner for your car, we recommend the AeroSlim by Bissel, and if you need one for pet fur and hair, we recommend you try out the number 8 in our list by VacLife.
Do you want latest Trends straight to your inbox?
Thank you for subscribing.
Something went wrong.