When bookcases and shelving are not an option for reasons of space or budget, shelves come to our rescue by giving us a place to store everyday objects, souvenirs, or other decorative elements that will serve to give character to the room.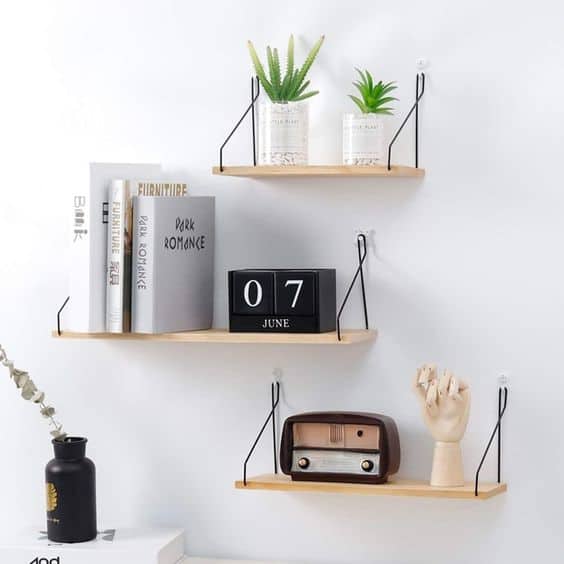 Pinterest
Not only do shelves take up little space, but they fill the walls and not the floor, maximizing the functionality of the room.
Pinterest
Versatile, within reach of every pocket, we can use them in any room with excellent results, from the kitchen to the sleeping area, even in the bathroom – an environment that is difficult to furnish due to humidity.
Pinterest
But with so many options to choose from and styles to decide on, buying a floating shelf can put our patience to the test. In this article, we will investigate the most important points that we will have to evaluate to find the best wall shelves on the market and buy the perfect one for our home environment.
What can you put on shelves?
The must have items for a perfect shelf styling are:
vases
stop books
books
prints, photos and paintings
souvenirs
glass or crystal elements
boxes
decorative objects
plants
baskets
Where can we put shelves?
We all spend a lot of time in the living room, where different activities are carried out, so an element that does not take up space but offers a support surface for all the objects you need is useful.
Without a doubt, shelves perform their function perfectly in the kitchen, as it is a room full of objects to be arranged and stored continuously: the shelves will be your allies to keep the room always in order.
In the bathroom, as in the kitchen, there is never enough space for storing objects, and a series of shelves are ideal for solving the problem.
Both in bedrooms and in children rooms, shelves are the ideal solution, they are almost mandatory. As for the use you can make of them, you have plenty of choice: books, bed linen, lamps.
How do you install shelves?
Evaluate whether plumbing pipes or electrical cables run through the wall
Mark the holes on the wall
Mark holes on the wall
Insert the retractable shelf holder in the wall and insert the shelf
Insert the shelf holders into the holes with a hammer, screw them with a wrench until the dowel expands inside the wall and rigidly blocks the shelf holder.
Once all the elements have been screwed in, insert the shelf.
What are the best floating shelves?
Practical, decorative, and versatile: floating shelves can really solve the problem of where to store small and large objects that we do not want to hide inside the furniture.
Whether it's books, LPs, or precious collections, exhibiting and storing what we care about has never been easier. For generations, shelves have fulfilled this role, and over the years, they have never been abandoned: indeed, they have evolved to become the real furnishing elements of a bare wall.
Pinterest
In this section, we have chosen some of the best-selling floating shelves online and reviewed them to find out more about the aspects that made them so popular and help you find the right model for your needs!
Following, you'll see the best floating shelves on the market.
Best Floating Shelves [Product Reviews]
1. <strong>Cubic floating shelves</strong>

To give movement to a wall in the house without going too far, these rectangular shelves in sets of 3 are a brilliant choice for contemporary decor.

They come in a classic white color that goes with practically everything, pre-assembled, and therefore must simply be hung on the wall using the hardware kit that will arrive in the package.

They will be excellent for storing books, DVDs, CDs, or merely the objects we want to display in the room, therefore we can use them in all rooms of the house.

Get this fabulous shelf here, on Amazon.com

Product Features –

Set of three square shelves, one small, one medium and one big
White finish
Unique and adaptable look
Light materials
Easy to install

Simple instructions to install
Sturdy and durable
Good value for money

They aren't very big
A few clients complained that the shelves were damaged

---

<strong>2. Vintage wall shelves with 5 hooks</strong>

Are you looking for a functional solution to furnish the entrance? Not sure where to hang cups and tea towels in the kitchen? Or maybe you want to keep the towels and everyday products in the bathroom tidy? These and other scenarios can be solved brilliantly with this vintage-style floating shelf made of metal and wood.

It has an upper shelf capable of carrying up to 55 lbs of load and horizontal hooks and bars on which to hang clothes, cups, hats, or any other small object that needs to be kept tidy but within reach.

Sturdy and versatile, they will look amazing in both classic and more contemporary style environments.

Buy this wonderful shelf on Amazon.com

Product Features –

Stylish organizer
Functional shelf
3 single and 4 double hooks
Space saving wallniture
Sturdy wood design

Easy to install
Enough space for everything
Sturdy
Well thought-out and useful design

Some users complained about the product being damaged
It doesn't hold heavy bags

---

<strong>3. White floating shelves</strong>

This set of crossing white shelves presents a decidedly modern look. Indeed, they will change your environment entirely and capture everyone's attention.

Ideal for giving completeness to a modern living room wall, they support up to 33 lbs each – a frankly winning solution for holding small books, video games, and any other small object to show off.

They are not large and purely functional shelves; instead, their design will truly make a difference in your environment. However, they will still hold your stuff and help enhance both the environment and what we will insert on it.

Find these particular shelves right here on Amazon.com

Product Features –

Set of 2 intersecting shelves
Beautiful white finish
Hardware included
Decorative and functional
Dimensions: 17'' x 17'' x 5''

Easy to put together
Great quality
It looks awesome
Perfect to place small objects

Some customers complain that the shelves were damaged
Too difficult to hang them
Some customers complain that the hardware is missing

---

<strong>4. Rounded floating shelf</strong>

This unique accessory is not just a simple shelf but also a real piece of furniture to give character to a bare wall.

Made of metal and reconstructed wood, it is shallow but relatively wide in radius, with three small shelves on which to place the objects we want to display. An item that we will want to buy for our home or as a gift which will undoubtedly be much appreciated.

A stylish addition to the living area, kitchen, or bedrooms!

Get your own rounded floating shelf here on Amazon.com

Product Features –

Rustic and contemporary look
High quality stained wood
Iron galvanized brackets
Quick installation

Easy to assemble
Very sturdy
Unique and eye-catching design
Very light weight

Not very large
Wobbly and flimsy
Crooked

---

<strong>5. Wooden floating shelves</strong>

This is an original and unique wall shelf that resembles three shelves intertwined with each other: an intriguing variant of the classic cube shelves typical of the furniture style so popular today.

They are very convenient in terms of money and from the point of view of practicality: no assembly required and concealed anchoring with hardware kit included in the package. As simple as hanging a picture, elegant and original like a small modern work of art.

A space-saving shelf with a significant visual effect that reminds us a little of Mondrian's paintings, with its cubes intertwined with blocks of color.

A smart choice for living and non-living areas, where we will be able to exhibit small everyday objects that are not too large or deep.

Find them on Amazon.com

Product Features –

Intersecting floating shelves
Beautiful white finish
All hardware included
Dimensions: 25.5'' x 17.75'' x 4''

Easy to assemble
It looks great
It holds a few pounds
Easy to hang

You need to make too many holes on the wall
Crooked

---

<strong>6. Floating shelves for the bedroom</strong>

With a load of 40 lbs each, these wall shelves are absolutely perfect for supporting many school books and much more in a bedroom. They have a very modern design, in wood and metal, as it is used so much today, with a simple line but still capable of intriguing the eye and giving character to the wall.

Not only for your bedroom but also useful in any other room of the house, the set includes three shelves of different sizes that we can hang together asymmetrically to play with movement or to place in order of dimension.

These shelves are also quite sturdy, made of solid wood and metal. A perfect combination that will last for years.

Here's where you'll get your own, on Amazon.com

Product Features –

Stylish shelves
Suitable for contemporary style
Sturdy and easy to install
Perfect to display collectibles

Easy to install
Quick to put together
Solid shelves with rustic aesthetic
Cheap cost

They smell bad
They are a little wobbly

---

<strong>7. Floating shelves for your living room</strong>

Another set of wall shelves in wood and metal but this time with an incredibly modern geometric design, ideal for giving vitality to the living room wall.

Shallow and light, but capable of supporting a load of up to 17 lbs each. We can use them to showcase our collections, souvenirs, photos, or other important objects.

They are straightforward to install because they have a dowel for the screw on the two corners of the iron structure where we just have to fit the head of the nail, just like we would do with a painting. Not to mention that they already come with all necessary instruments included, an excellent advantage for those who are not familiar with DIY jobs!

Get your new floating shelves here on Amazon.com

Product Features –

Country style shelves
It comes in different sizes
Made of MDF
Easy to install
Great to organize the space

Stylish
Perfect to maximize space
Sturdy
Very inexpensive

Some clients complain that the product was broken
A little crooked

---

<strong>8. Floating bamboo shelves</strong>

A splendid solution for decorating the entrance, bathroom, or bedroom, this bamboo wall shelf is very light and functional.

It has a depth of 8 inches, sufficient to place the many small useful objects of daily use, whether it is a bag, a scarf, or bathroom accessories, depending on the room in which we will mount it.

It can hold a maximum load of 11 lbs and a length of 20 inches. Compact but not too much, above all, it is beneficial for keeping our clothes or towels in order, thanks to the four metal hooks placed on the lower bar.

Beautiful, practical, and with an excellent value for money, the ideal purchase for all budgets!

Here are these beautiful shelves on Amazon.com

Product Features –

Durable Shelves
Magically transforms the walls
Organizes while it decorates
Green Design
Easy to mount

Good quality
Pretty design
Easy to assemble

A little uneven
One of the screws doesn't work

---

<strong>9. Floating shelves in wood and metal</strong>

Who said that wall shelves must be anonymous? This awesome shelf includes a beautiful decoration of music notes and a pentagram.

This is a choice that will make the little one's dreams, and it is ideal for a bedroom because they are not too big and yet they are in a sturdy and resistant material, very safe for the very young. It is indeed a unique design, which will be the envy of their friends.

And if we are children inside, this shelf will give a dreamy note of originality to the living room, study, bathroom, or kitchen: it is so beautiful that it is a shame to use it.

Here's the Amazon.com link to your new favorite shelf.

Product Features –

Simple wall shelf
Decorative and practical
Perfect for displaying things
It comes in three sizes

Cute and Sturdy
Easy to install
Good quality materials

We couldn't find any complaints from customers

---

<strong>10. Heart floating shelves</strong>

Dedicated to all the romantics out there, this heart-shaped wooden shelf is small, cute, and just perfect for showing off our softer side.

This is the ideal design choice for a bedroom, but it will also fit well in your living room, kitchen, or – why not – even in the bathroom. It has a more decorative than functional purpose, but we can store small objects and make it even more special.

Refined, elegant, and it is easy to mount on the wall: it will arrive already assembled.

For lovers of the shabby style, romantics, or for those looking for something feminine to store nail polishes and make-up, these three shelves are just perfect!

Don't pour your heart out for a new shelf; just buy your new heart shelf here on Amazon.com

Product Features –

Trendy look
Iron and wood
Heart design
Multi-functional organizer

Great for little girls room
Easy to put together
Nicely packaged

Quality issues
Not very secure
Smaller than expected

---

Things to consider while buying

We are almost at the end of this guide. However, there are still some aspects we want to tell you about. It is important not to ignore any of these, as they are key to making sure you are making a good purchase. Keep them in mind when planning - success is guaranteed.

Use
Design
Space
Weight
How many to buy

First of all, you need to decide what use you will make of the shelves. Keep in mind that if you want to expose heavy objects you will need to make sure that they hold their weight. If you are going to use them for books or paintings, those with a "U" shape will work best. Analyze the room where you want to put them, because some models are only suitable for specific rooms in the house.

The design of your shelf is important. Although it is a functional element, aesthetics still has its value. You have to adapt it to the decor of the rest of the room, even if it doesn't need to be of the same colour and style. If you are looking for something a little particular, check if it fits with the environment where you will install it.

It is important to measure the space where you want to put the shelf. When taking your measurements, consider the opening of doors, windows and furniture. you must position the shelf at a completely safe height, to avoid small accidents.

The weight that the shelf can handle is another aspect to consider. Remember that a retractable shelf can withstand a weight between 3 and 5 kilos. Of course, always read the manufacturer's instructions carefully.

When you go buy your shelves, you need to know how many to buy. One might not be enough for a large wall. In furniture, there is the so-called "3" or "odd" rule. It is based on the proven fact that the human brain perceives compositions of 3 elements, or in any case elements in odd numbers, as the most beautiful.

The reason is that the human mind pushes the eye to search for the center of a group of elements, and then focus attention on a subject. When there are 3 objects, everything is easier for the eye because it immediately finds the focus of the scene it is looking at. You can still use the shelves in even number, but take this detail into account: you will get a more aesthetically pleasing composition. Also, it can be useful if you only have one shelf, if the wall in which you'll place it isn't too big.

Tools you should use

The toolbox needed to put this furnishing accessory in place is always functional and useful for the economy of the home space:

Meter.
Pencil.
Level.
Tape.
Drill.
Dowels.

Obviously, you must have the shelf available with the necessary screws and brackets to keep it in place. Before starting to work, make sure that everything is ready and in line with your needs.

Last Recommendations

Like any other piece of furniture in the house, shelves also require periodic maintenance. To keep the substrate intact longer, it is essential to clean it frequently using a suitable and possibly non-aggressive detergent, and then carefully dry the surface with a soft cloth or absorbent paper.

If you have fixed the shelf to the wall using screws and plugs, from time to time check that the brackets have not lost adherence to the wall and that they are perfectly stable, especially if they bear the weight of a large number of objects. The same caution is also necessary if you have chosen double-sided tape or silicone, since these are materials that could weaken or give way over time.

Let's wrap it up!

A shelf is a perfect place to showcase our collections or the objects we always want to keep an eye on. Whether these are photos, memories, or art pieces, a shelf allows us to insert objects on the wall that we want to highlight with a minimum expense.

A shelf can also become the highlight of a wall. By choosing a design model, with particular lines and colors, the wall shelves will no longer be the tool with which to exhibit decorative objects but the real piece of furniture that defines the room.

Now that you've collected some exciting inspiration for your walls choose your favorite shelves and start decorating!

Good to Read : Best Countertop Dishwashers

Did you like the post? Pin it!

Do you want latest Trends straight to your inbox?

Thank you for subscribing.

Something went wrong.

Do you want latest Trends?


straight to your inbox

Thank you for subscribing.

Something went wrong.