Are you looking to update your home decor and stay ahead of the latest trends? Well, you're in luck because I've got the inside scoop on the rug trends for 2024-2025! Whether you're a fan of bold patterns, natural materials, or minimalist designs, there's something for everyone in the upcoming rug trends.
Gone are the days of boring, plain rugs that blend into the background. The rug trends for 2024-2025 are all about making a statement and adding a pop of personality to your space. From vibrant colors and intricate patterns to unique textures and shapes, these rugs are sure to be the focal point of any room.
In this article, I'll be sharing the top rug trends for 2024-2025, so you can stay ahead of the curve and create a stylish and contemporary home that reflects your personal style. Get ready to transform your space with these exciting rug trends!
As far as 2024 – 2025 trends, specialists and interior designers say that vintage rugs are going to be the talk of the town, together with Moroccan rugs and geometric rugs. YES, they are back.
Good to Read: Choosing a Best Rug for Your Home
A little background about Rug:
Vintage Rugs:
They are usually handmade, therefore you might think: will they last long enough? And the answer is: YES! Because they are handmade, vintage rugs will age perfectly and look more, well, VINTAGE with time. This aged effect makes the rug beautiful and the right color will fit your ambience perfectly.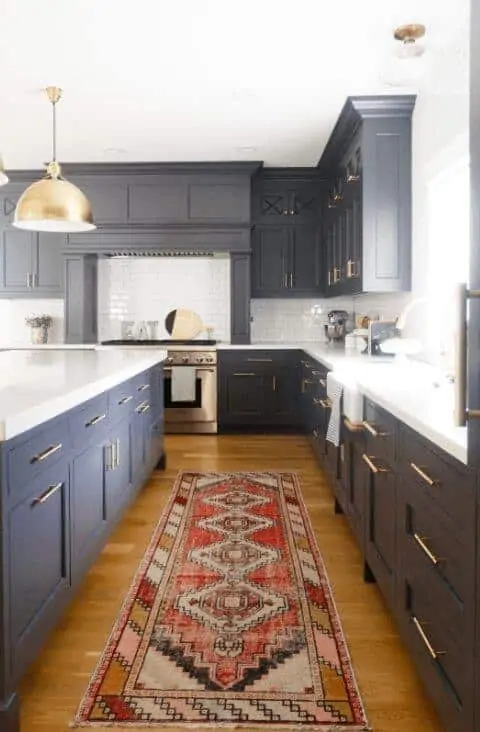 Vintage rug as a runner for a kitchen space
Source: Pinterest
Vintage rugs might look classic, but they can be placed in different interiors and in different styles. The color scheme is endless, so you can rest assured you will find something to match your environment.
They also have an advantage that sometimes can be controversial: They hide dirt. In some cases, that works wonders, in others, you might not be able to see when it is dirty.
Despite that, it is a wonderful idea to have a vintage rug, as it lasts long and looks good. It is also important to consider rotating them once in a while, so you make sure the parts are equally used and therefore, the rug will look the same on all sides.
Checkout the latest design on Amazon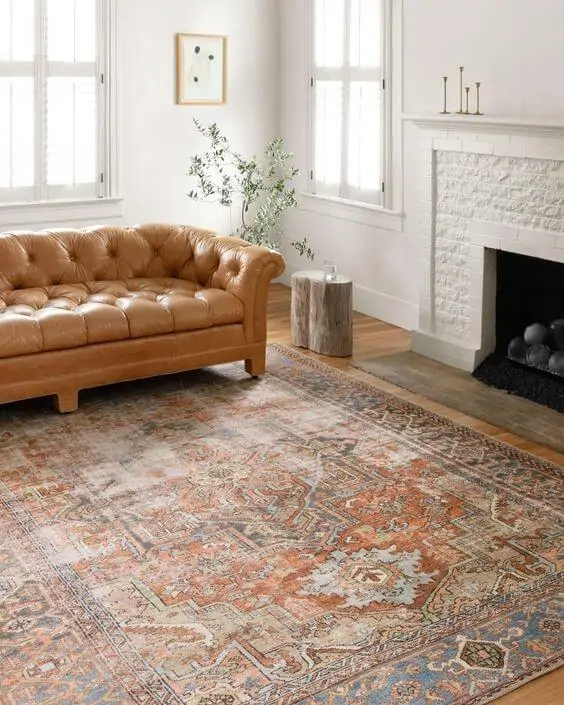 Source: Pinterest
Moroccan Rugs:
Moroccan rugs usually provide insulation, which means that the cold from the floor won't pass through and you'll be able to walk bare feet and feel the warmth of the rug.
These types of rugs represent a statement in your space, they are beautiful, practical, and will last long.
Despite that, you can place one in any part of the house, as you can find thousands of different patterns and color variations, from light to vibrant ones.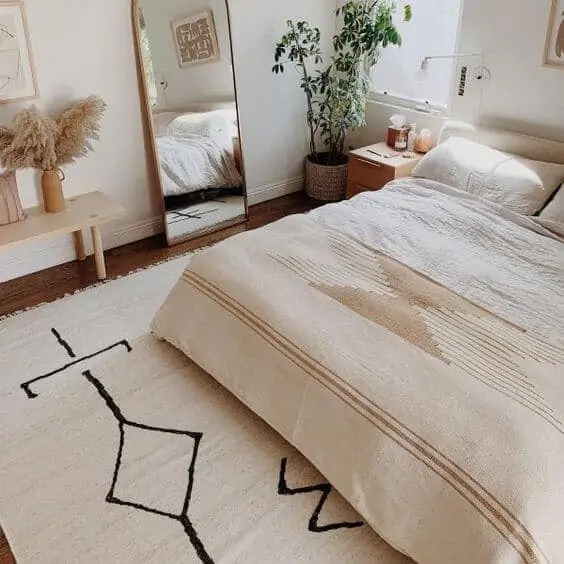 Source: Pinterest
As you might know, Moroccan rugs come from Morocco, they are handmade, and usually made by tribe women. The dyes used to paint the rugs are complicated to maneuver and require a vast knowledge to be worked with. Therefore, Moroccan rugs can be quite expensive, but definitely worth having.
Checkout the latest design on Amazon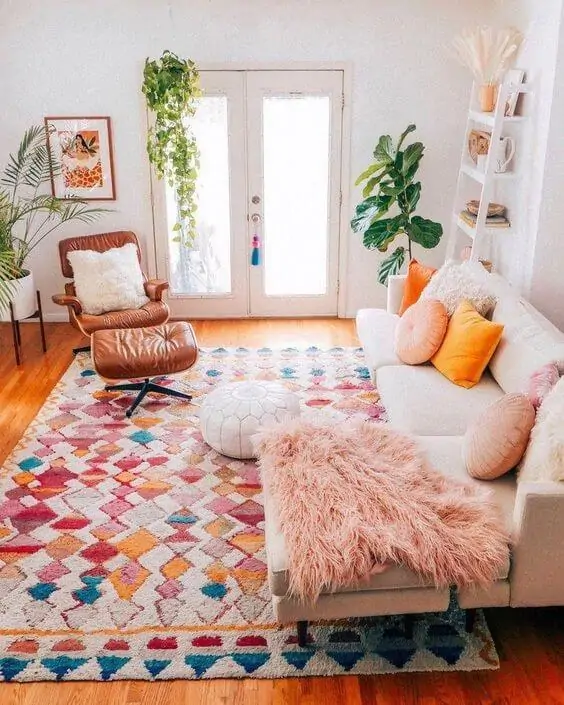 Source: Pinterest
And last but not least:
Geometric Rugs:
These beautiful and trendy rugs never really abandoned the market, not even for a second!
Geometric rugs scream modern, minimal, and contemporary: this is why you might see them in a lot of different spaces, from kids' bedrooms to couples' bedrooms and living rooms, and even in offices!
There is no stop for geometric rugs, the patterns are always different, with different colorations, and you can find them in different materials, such as wool and cotton.
They can be affordable but can also be pricey. Again, it depends if you want to go with something that will last longer or if you are the kind of person who constantly needs change. If that's the case, you might want to choose something a bit more affordable.
Checkout the latest design on Amazon
Source: Pinterest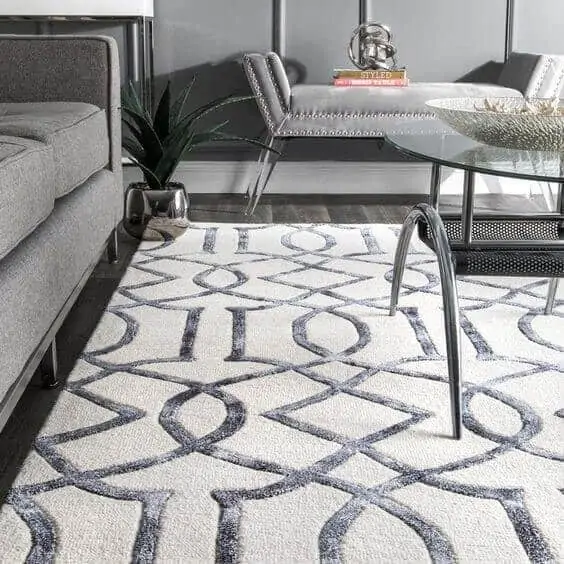 Source: Pinterest
You might have some doubts about how to position your rug:
– Does it go under the furniture?
– Does it have to be bigger than my couch to cover the whole area?
Well, we are here to help you cease those doubts.
Positioning Your Rug: A guide
As we all know, a rug is an important accessory to any room. It brings coziness to an empty room, even if it is only composed of white walls and furniture, and it creates a delimitated area, in case you have an open space. Furthermore, it brings comfort and a sense of warmth to a bedroom.
Rugs have to 'embrace' the space. In a living room, a tiny rug in the center would look uncoordinated and out of place, while a big one embracing all your furniture will create an amazing area.
Source: Pinterest
If you are positioning a rug under your dining table, make sure to center the rug with the table. The chairs should be inside the rug area (making sure they are easy to pull/push when you are using it.)
Source: Pinterest
The same principle applies to couches, if your couch is touching the wall on the back, you can place your rug under the couch, making sure the edges are equal on both sides.
Source: Pinterest
Furniture has to be placed on top of the rug, not outside of the rug area: in that way, you avoid scratches that can permanently damage your floor tiles.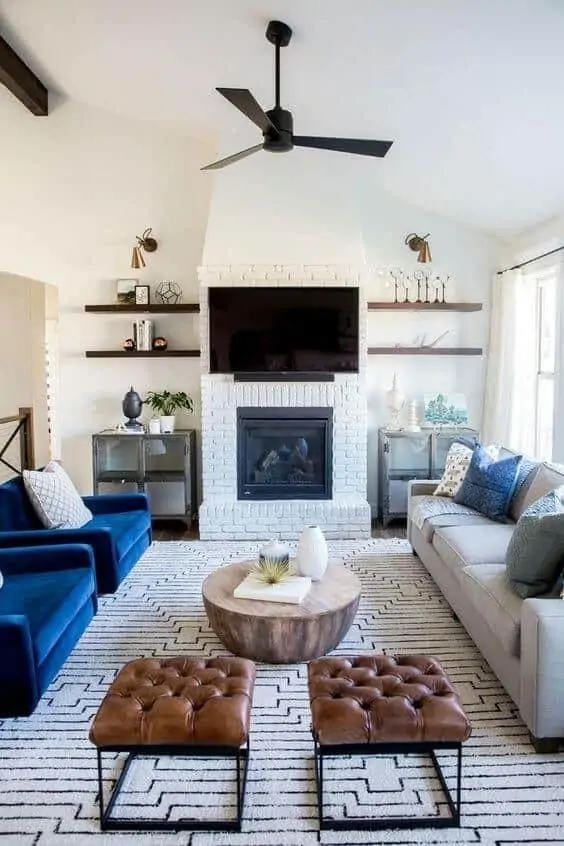 Source: Pinterest
As for bedrooms, it is quite common to have a portion of the rug sticking out of the bed, which is perfectly normal and acceptable. You can also rock the style by placing two smaller rugs on both sides of the bed.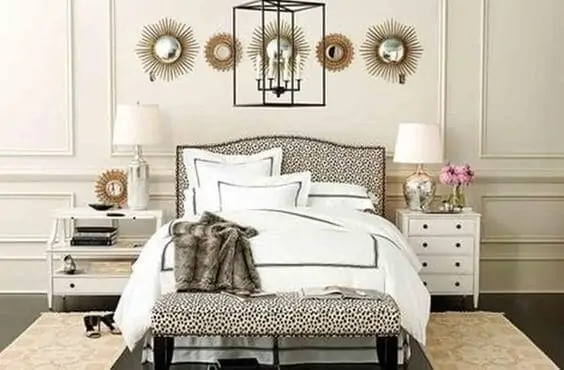 Source: Pinterest
Unless you have a dining table in the kitchen area, rugs are uncalled for. You can, however, place a runner near the kitchen sink as it follows the aspect of the furniture and prevents stains and dirt from falling straight onto the floor.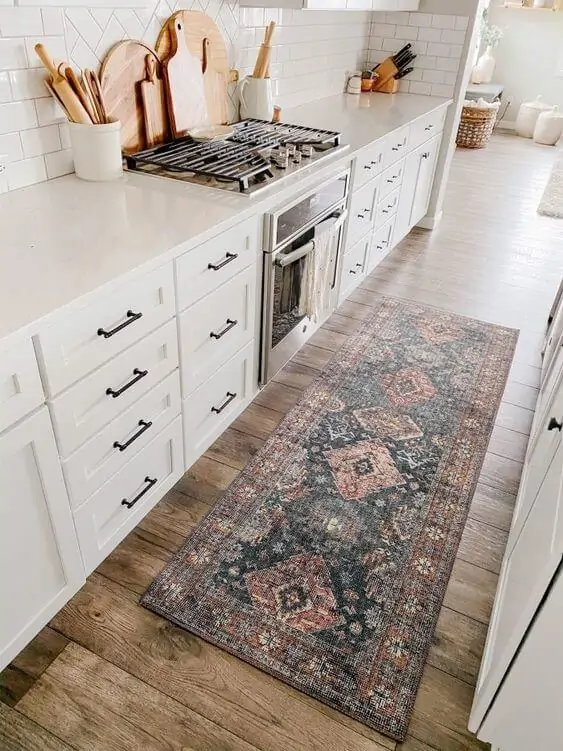 Source: Pinterest
In this drawing of a floor plan you can see the positions explained above: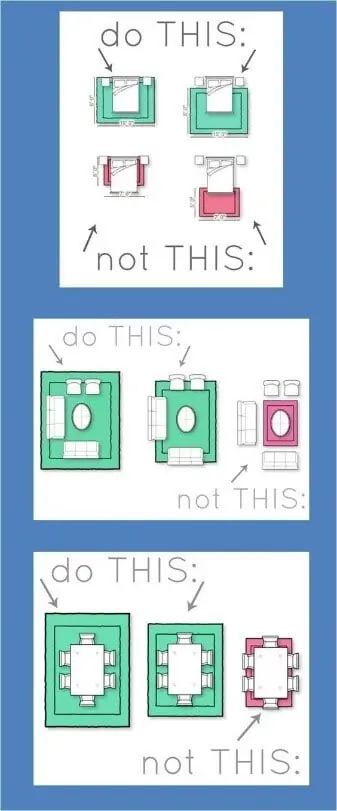 Source: Pinterest
Rug Materials That Are Trending
When it comes to rugs, there are always new and trendy materials that are in high demand. These materials not only add a touch of style to your home decor but also offer various benefits such as durability, softness, and eco-friendliness. Let's take a look at some of the rug materials that are currently trending.
There are different types of rugs, and they can be chosen depending on your needs. Whether you have a high-traffic environment (such as living rooms, or kitchens) or low traffic environment (such as a home office, or a space that is not used very often) the most common rug materials are:
Wool –
One of the most popular rug materials right now is wool. Wool rugs have been a staple in home decor for centuries, and they continue to be a top choice for many homeowners. Wool is known for its natural resilience, softness, and ability to retain its shape and color over time. Additionally, wool rugs are naturally flame-resistant and have excellent stain-repelling properties, making them a practical choice for high-traffic areas.
If you are looking for a durable material, a wool rug might be the perfect match for you.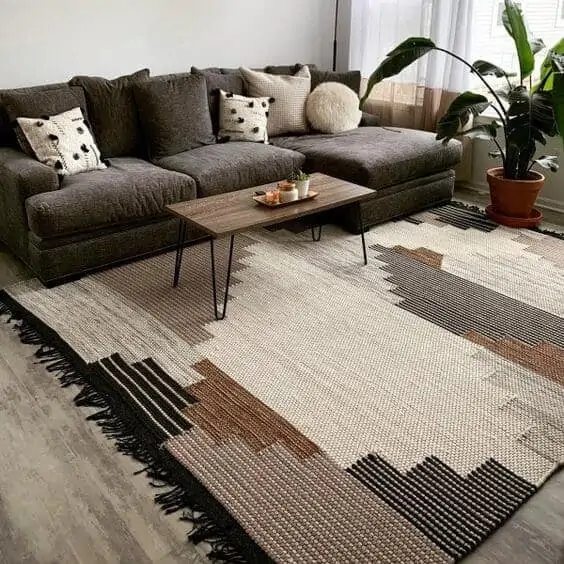 Source: Pinterest
Natural Fiber –
When it comes to Natural Fiber rugs, there is a long list of possible materials to choose from:
Hemp fiber:
Sustainable and durable, gets softer by the day.
Source: Pinterest
Seagrass fiber:
Water-resistant, durable, and can be cleaned using a vacuum. Quick and easy!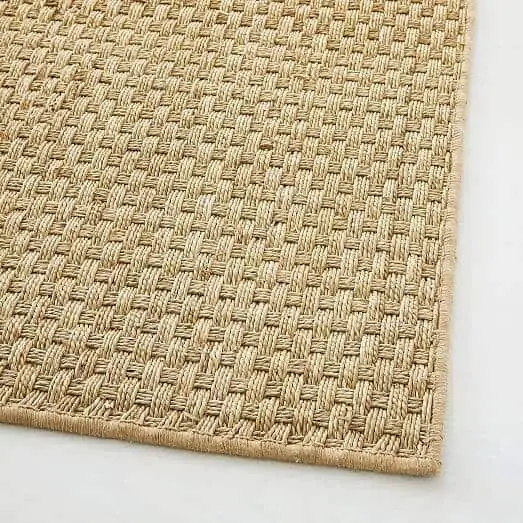 Source: Pinterest
Sisal:
Sisal rugs are all the rage right now! They are made from the tough and durable fibers of the sisal plant. These rugs are known for their strength and will last a long time. These rugs have a textured surface that adds visual interest to any room. Sisal rugs are also resistant to stains, making them an excellent choice for households with pets or children. Additionally, sisal rugs are often used in coastal or tropical-themed interiors due to their natural and beachy aesthetic.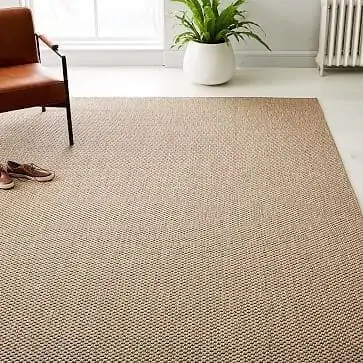 Source: Pinterest
Jute:
Jute rugs are all the rage these days! And it's no wonder why – they're eco-friendly and oh-so charming! Jute comes from the jute plant, making it a sustainable choice that's also biodegradable. How awesome is that?  These rugs have a distinct texture that adds warmth and a touch of bohemian style to any space. Jute rugs are often hand-woven, giving them a unique and artisanal feel.
Source: Pinterest
Cotton –
Cotton rugs are beautiful, no doubt about that! But, despite a lot of pros, they also have some cons.
They are inexpensive, which makes them attractive to buyers, but if you are looking for a durable rug, cotton is a no go!
They are washable, which is a great advantage, but they can be slippery, they don't lie flat and they also stain quite easily.
Let me tell you, it's a fantastic temporary fix or even a permanent solution if you just want something eye-catching and don't really care about how long it lasts.
Polyester –
It is an affordable material. It is very famous right now, but used to be considered 'cheap'. This material has been through a lot till it arrives at everyone's home.
It is vibrant and soft, besides it comes in a lot of colors that you can choose from.
The cons are that it stains a lot, and it can't be placed near a warmth source (such as floor heaters and space heaters) as it tends to melt. Polyester probably isn't the best course of action, if you are looking for a long-lasting material.
Bamboo silk –
Bamboo silk is a luxurious rug material that is gaining popularity in the market. It is a blend of natural bamboo fibers and silk, resulting in a soft and lustrous texture. Bamboo silk rugs have a subtle sheen that adds elegance to any space. These rugs are also highly durable and hypoallergenic, making them suitable for those with allergies or sensitivities.
Conclusion:
In conclusion, when it comes to rug materials, wool, jute, sisal, and bamboo silk are currently trending choices. Each material offers unique characteristics and benefits, allowing homeowners to find the perfect rug to complement their interior design style while adding functionality and comfort to their living spaces.
When buying rugs, take into consideration:
Material
What is the traffic of the environment (low, medium, high)
Price
How long do you want it to last (By choosing the right material you can have a long-lasting rug!)
If you would like to keep the trend, find some of the rugs mentioned in this article here:
VINTAGE RUGS
Checkout the latest design on Amazon
MOROCCAN RUGS
Checkout the latest design on Amazon
GEOMETRIC RUGS
Checkout the latest design on Amazon
Do you want latest Trends straight to your inbox?
Thank you for subscribing.
Something went wrong.