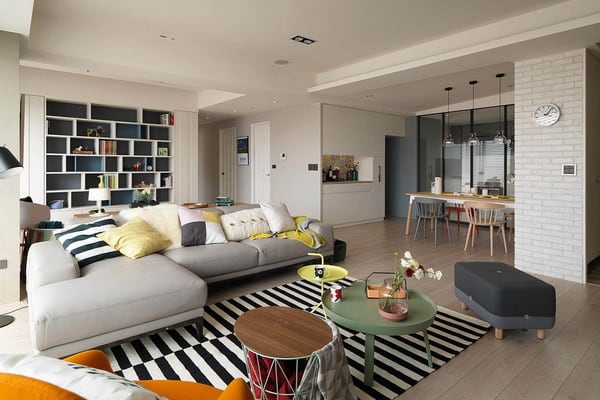 In this article, we will help you understand the main home decor trends to follow in 2022-2023, so that, relying on this material, you can create your own unique interior, taking into account all the novelties of 2022-2023 décor, if you do it yourself. Or they could communicate on the same level with the professional designer with whom you work, and understand each other perfectly.
Décor styles in the interior plays an important role. Especially in the home interior.
As we know, little things are everything. A décor in the interior can both emphasize the individual features of the owners of the house and create a special atmosphere in the room, and bring disharmony into the interior.
That is why it is necessary to responsibly approach the choice of home interior decor trends!
Raise your hand if you are a lover of constant changes, and your home is a creative platform for constant experiments with interior design!
As in fashion, every year new trends appear in home décor that inspire us to update something in the interior of our house without changing it completely.
On the one hand, "trends" are changing and developing, on the other hand, there are some trends in home décor that have been popular for many years.
For example, the Scandinavian trend. It has existed with us for many years and continues to amaze and delight. But there are key colors that become central to the interior decoration of our homes.
Read on to find out that many of our key trends for spring / summer 2022-2023 offer new ways to update your existing décor. This means that you do not have to remodel the whole house to be on the wave of the latest styles of interior design.
2022-2023 Home Décor Trends
It is important to understand that there are no departing trends – from popular shades of paint to the choice of furniture – everything that creates the interior of our houses is influenced by wider trends.
Nevertheless, in 2022-2023 there is something to pay attention to. We have summarized the most popular trends in interior decoration to help you keep your home fresh this year.
Trend 1. Abstract Energy

This is a fun, loose trend in interiors that draws inspiration from abstract expressionist works. Thanks to bold geometries, hand-drawn sketches, and playful color blocks, this image is an expression of individuality in our homes.
The goal is to evoke emotions and create a mood.
Bold patterns and vibrant colors give a more playful approach to decorating. As in the expressionist art movement, this trend marks the imperfection and fluidity of hand-drawn forms – line drawings play a key role in this image.
Color Palette
Here color comes to the fore. This trend allows you to be bold with flowers, even in combinations – try red with blue or mustard with purple
Where to Use It
In any room where you want to emphasize. This direction is best realized by flat pillows, duvet covers, carpets for bright accents and wallpaper patterns.
This fabulous design certainly won our hearts. It perfectly demonstrates the artistic flavor of this new trend and includes the tactile details popular trend last season.
Trend 2. Structured Simplicity

This style evolved from the 2020 Nordic Return trend.
The goal is to create a calm, cozy, chilled space to relax. The interior décor is chosen to make our home safe, creating a space for relaxation and recreation.
Was there a gray day or setbacks at work? New natural elements of décor warm, create a calm atmosphere, creating a space in which one could relax from the outside world.
Change bold Color and vibrant color to soft and neutral.
Where to Use It
This style of interior décor works in any setting, whether in a rustic kitchen or in a small modern bathroom, but especially at home, in the living room or bedroom, paired with a dark color in the form of accents from the décor elements.
When to Choose
You like a simple, restrained style, but still you want a house that is not too minimalistic, but in which you would feel relaxed and comfortable.
Color Palette
Move away from cool gray, with more yellow neutrals. Embrace warm neutral colors. Beige returns as the perfect base color. Accent colors remain soft. Check out Dulux 2021's new color, Calm Dawn.
Trend 3. Honest Comfort

The top layer is made of comfortable pillows, knitwear and faux fur so that any space instantly feels attractive. This approach will allow you to survive the winter and at the same time it will be bright enough to see your house fashionably dressed and ready for spring.
Color Palette
A focus on natural pigments remains at the heart of this trend. Try a mixture of cool blues and gray in combination with accents of warmer pinks and browns. This organic color palette can be complemented by decorative elements such as washed teapots and mossy greens, which can easily be turned into a relaxed, neutral pattern.
Comfortable textures, soft colors and decorative details are key to textiles and bedding this season. Think of quilted plaids and bedspreads, as well as thick woolen blankets with decorative fringe, tassels and trim.
When to Choose
Your home is your comfort. A personal shelter that you like, that you do not treat as a temporary shelter. The furniture is comfortable and attractive, with comfortable sofas, sinks and shower tables so that the family can gather around. You enjoy the low maintenance look with weathered wood, faded tones and time-worn finishes.
Where to Use It
This home look is ideal for places with character, whether it be an old estate or a rural cottage, this style looks good in combination with parquet flooring, exposed beams and bare bricks. A style with a mixture of vintage and new home purchases to add charm.
Trend 4. Eclectic Glamor

The transition from the Retro Renaissance last season is a bold, confident and impudent transition to the 2021 glamor trend. Rising to a new level, this rethought trend is an adult look that guides the sophisticated elegance of the thirties with a little seventies-style sexual exuberance thrown in. Here, slender furniture with rounded curves and flowing shapes is central to this elegant theme.
Color Palette
Choose rich tones for key figures such as royal blue or ruby mixed with warmer tones of ocher, rose and bronze. Glitter layers with metallic touches – think of sparkling gold, polished copper, brushed brass and bronze.
Where to Use It
Any room where you want to make a real statement of style, because this trend is not for the faint of heart. Show your bright side with a chic cocktail cart in the living room, extravagant wallpaper in the dining room, plush textiles in dark colors and a characteristic armchair with an accent in the bedroom.
In this image, Deco meets the mid-century with a collection of chairs with an accent, combined with presentation buffets, cocktail cabinets, bar trolleys and tables made of polished brass and glossy marble.
Velvet reigns over the next several seasons, especially when it comes to furniture.
Ideal Home-style Tip: Install a plush sofa in combination with a pair of cocktail chairs in contrasting colors. Create space with accents of gold and brass on furniture, lighting and pillows.
Trend 5. Japanese style

Over the past few seasons, the Japanese design style, which is characterized by a rich silk texture, elegant bird motifs, stylized oriental prints and structured forms of furniture, has firmly entrenched in the interior collection.
Combining elegant Japanese minimalism and rustic Scandinavian simplicity, Japandi is a hybrid trend that combines the best of these two favorite styles.
This trend is for you, if your house is your sanctuary, and you do not often use free spaces, clean lines and a calm, muted color palette.
Color Palette
Keep the color palette soft. This interior design style is dominated by soothing tones of pale blue, muted green, light gray and pink with accents of more saturated shades such as tea, indigo, rust, emerald and black. For furniture, mix the pale, light Scandi forest with Japanese-style black and dark forest to bring depth.
Where to Use It
This image will work in any room. Choosing quality over quantity will give small rooms more living space. At the same time, Japanese-style décor works just as well in large rooms and open spaces.
Combining elements of the Scandinavian "gigge" and the Japanese "wabi-sabi", this trend in interior design finds light beauty in simple things.
Lighting in the form of an interior décor such as a Japanese-style lantern, for example, like this bamboo floor lamp, helps to add soft ambient light that will always maintain a state of calm in the house.
Trend 6. Rustic Chic
Rustic chic is all about combining old and new materials. The classic Americana style offers comfort and warmth inside while retaining its minimalist aesthetic outside.
The key here is finding pieces that are both functional and aesthetically pleasing. In other words, don't go overboard on accessories! Keep the focus on the objects themselves and let them speak for themselves.
What Are Some Quick Tips for Home Décor?
– Add plants to make a room look bigger. Plants add a sense of peace and calmness. They also help purify the air.
– Paint a wall with a color that represents you. For example, if you like yellow, paint your walls a bright shade of yellow. If you want to change your mood, choose a different color.
– Use candles to create ambiance. Candles provide a romantic glow but they can be expensive so opt for low-cost alternatives such as tea lights.
How Can I Improve My Home Décor?
Make sure you have enough lighting for the room. You want a good amount of light in the room so you don't need to use lamps or candles. Try using wall sconces or chandeliers.
If you like color try adding some bright colored pillows on your sofa or bed. It will make the room feel cozier.
Summarize
Most of the trends in interior decoration in 2022-2023 are aimed at creating a calm, peaceful atmosphere in the house, in which you can relax at the end of the working day, relax and get distracted from the outside world.
The interior design trends in 2022-2023 is characterized by warm colors and décor elements associated with the comfort and warmth of the hearth.
Do you want latest Trends straight to your inbox?
Thank you for subscribing.
Something went wrong.