Having a backyard is one of the perks of owning a house. Summers outside, an afternoon with friends and dinner parties: it really is a delight!
There are several ways to spruce up your backyard, decorations, comfortable chairs, decks, different types of plants, and, of course, light plays a significant role in this mix.
Backyard lights can be for decoration purposes or practicality purposes; if you need a lamp to illuminate your driveway or garage, you will need some path or driveway lighting, if you are looking for a decorative light in terms of beauty, fairy lights can do the job, it depends on the task you are performing.
For the year 2021 – 2022, the backyard lighting trends vary from pendant lights to recessed lights. Find out here the perfect outdoor lighting according to your idea of ​​garden. Whether it's an aesthetic masterpiece of decorations and plants, a vegetable garden with fruit and vegetables or the realm of outdoor games for your children, it will be even more beautiful with the right outdoor lamps. Follow our advices and make your garden magical even at night!
Where do we start from?
Outdoor lamps are precious allies to create a fascinating atmosphere in the garden but their role is also to ensure greater safety.
Here are some tips for choosing the right model:
Outdoor wall lamps: discreet and effective, they are perfect for a small garden, for the perimeter walls of a closed garden, for a balcony or terrace and for gardens with games and spaces for children. They do not take up space and are sturdy: a key aspect in case of some ball thrown too hard!
Modern outdoor lamps: If your garden is an artistic masterpiece of different plants or follows a specific theme, modern outdoor lamps give it the right touch. They offer an elegant contrast to a romantic rose garden and with their strong lines they make the green space, garden or vegetable garden seem even more cared for.
Modern garden lampposts: lampposts are a great classic for outdoor lighting. If you don't like the nostalgic style of traditional street lamps, look for more modern models.
An extra touch of practicality and modernity is offered by the street lamps with motion sensors: they turn on only when needed, reducing consumption and light pollution.
LED garden lighting: practical and ecological, LED lamps are highly energy efficient. This is why they are the ideal choice for spaces that require continuous lighting for many hours. The LED lamps are also perfect for illuminating outdoor summer dinners or for keeping the winter garden illuminated while admiring it from the inside, without thinking about the bill!
Also read : Watchword For Furniture & Lighting Design Trends in 2021/2022
How to plan out the outdoor lighting
Start planning your garden as an architect would do:
Focus your attention on plants and large furnishings (seats, vases, tables) and totally ignore what is unpleasant to the eye (eg. A shed in the background, a railing that is not entirely refined). The touch of class is always not to overdo it: you should illuminate only the best pieces, because even a small light makes up a lot of the scenography in the dark.
Divide the garden into areas. For example, it identifies the access routes, the main routes, the most reserved areas and the most decorative ones. Each area will need different lighting and different treatments for the best result.
If you are completely disoriented, experiment with a flashlight. To understand which areas of your garden need to be better illuminated, take a torch in the evening or night and illuminate the various areas: pots, plants, seats, architectural forms. You will be able to check the different angles and understand which is the best for each scenography element.
Recessed lighting:
Recessed lights (mostly yellow colored) bring a sense of comfort, coziness, and modernity, making your backyard area look high-end!
Source: Pinterest
Fairy lights:
It has been a trend for years now, and honestly, it will continue for years to come.
Fairy lights give style to your space, and they give you an incredible feeling of coziness.
Good to read : Best Decorative Led String Lights
Source: Pinterest
But make no mistake, fairy lights can be placed and made in different ways.
A beautiful way to bring out the best of your backyard decoration is to place your fairy lights on the vase/plant.
It is also an excellent DIY project!
Source: Pinterest
A great way to create an intimate environment is to place your fairy lights on top of your outdoor tables. You can invite friends and have a fantastic time!
Source: Pinterest
Glass Bottle Lantern:
This is a fantastic and elegant idea. Give a touch of class to those bottles of wine you have at home.
Source: Pinterest
Mason Jar lamp:
They can be bought or DIY, with light bulbs or candles, you choose, because they are all trendy!
Source: Pinterest
The mason jar lamp above was made to be used as a pendant; it is elegant and minimal.
Mason jars can also be used as mini floor lamps, as they create light on the floor, great if you have outdoor steps!
Source: Pinterest
Log Lamp:
Yes, you read it right! Use one in your your backyard as a stool or as a coffee table! It is trendy, beautiful and stylish.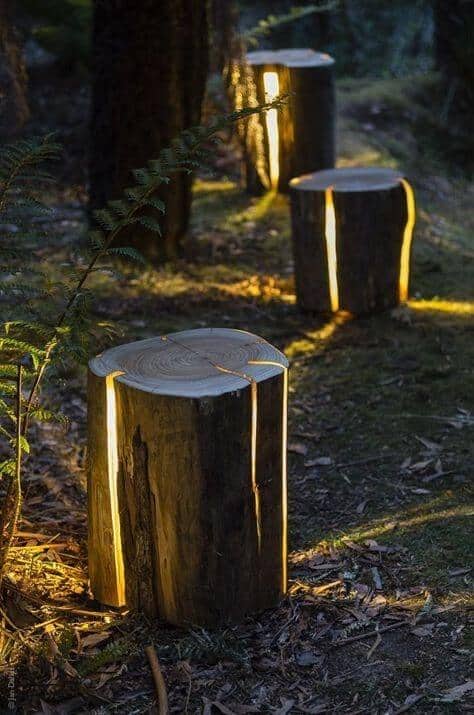 Source: Pinterest
Tips for outdoor lighting
Try to incorporate the light you need outdoors. Is it for tasks, decoration or ambient?
Calculate how much light you need for that space, avoid eye strains!
LED lamps use less energy than other light bulbs, and they are environmentally friendly
Also read : Aromatic Herbal Garden Trends and Ideas
How to light up the garden for a party
What's more beautiful than an outdoor party in your own garden? Spring, summer or autumn evenings are ideal for enjoying the garden with family and friends. Outdoor lamps play a fundamental role in making your garden even more poetic and safe. Among the essential solutions we recommend:
strands of light bulbs to give a fairytale touch
an outdoor suspension lamp that illuminates the table under the pergola or in a patio
outdoor floor spotlights to illuminate the path or cast a suggestive beam of light on the most beautiful plants
If you have a pond or a swimming pool, enhance them with underwater lamps! And remember to avoid leaving dark corners to make the garden genuinely welcoming and safe.
How to light up the garden without electricity
Is the neighbor's grass always greener? Make your garden even greener thanks to ecological solar lamps! Solar garden lighting is good for the environment, for your bills, and above all, it is incredibly practical.
With solar energy lamps you can bring light into your garden without wires and complex system insulation systems. The solar lamps can also be placed in different points according to the needs.
Furthermore, outdoor LED lighting with photovoltaic cells turns on by itself at dusk and welcomes you with light without having to remember to activate it.
How to light up your barbecue
If, for you, summer means hosting friends in the garden for grilling and barbecues, you will need to light up your cooking area. Think of functional lighting in this case: a well-positioned light that does not cast a shadow on the grid will be the solution.
Another idea could be to combine the seats with an outdoor brazier. There are many on the market, and they can make up for poor outdoor lighting in the garden and create an atmosphere by warming the colder evenings.
Good to read : Best Decorative Led String Lights
Conclusion
The garden is one of the most beautiful areas of the house to design and which, at the end of the work, gives great satisfaction, in terms of relaxation and peace that can be enjoyed in it. Among the many aspects to consider there is also the garden's lighting, certainly a factor that should not be left to chance.
When planning the lighting of a garden, it is important to understand which models of garden lamps and lighting solutions are the most functional and above all that are right for you, adapting to your garden's structure and needs.
Path markers with LED spheres, for example, are decorative solutions created to trace a path and therefore adapt to illuminate pathways, the edge of a swimming pool, the perimeter of a lawn, or to enhance flower beds.
Outdoor ceiling lamps, on the other hand, are a good solution for those who want to illuminate a gazebo or terrace, while recessed or underground lamps are very functional for lighting stairways and dark corners.
Choose outdoor pendant lamps, street lamps and garden lanterns as lighting solutions for a garden with rose gardens and bushes: in this way they will be able to cast light on these points of your garden, which will be enhanced. A very ecological and increasingly popular garden lighting solution are solar-powered spotlights, which can illuminate outdoor spaces without the need to set up electrical systems and with minimal energy expenditure.
Do you want latest Trends straight to your inbox?
Thank you for subscribing.
Something went wrong.