An efficient lighting system in the home is essential.
Light is important for living things. Contact with the sun is what regenerates us not only on a biological level, but also (if not above all) on a psychological level. Brightness allows us to live with greater serenity and clarity.
The invention of the light bulb has revolutionized humanity's way of life. Not only has it inevitably changed the appearance of our cities, but also domestic life. Having light in the house is very convenient, especially in winter when there are only a few hours of sunshine.
In the past, lighting was primarily a practical matter. All the rooms in the house had a chandelier positioned in the centre of the ceiling, at most a we could have found a lamp on the bedside tables. For some years, however, buying home lights has been an integral part of the furnishing process. Choosing a chandelier is not obvious because it must adapt to the style chosen for the furniture and to the colour of the walls.
Today the lighting of the house is varied and can depend on different sources. This not only stimulates creativity when decorating the home, but allows you to play with the atmosphere of your home. If you use different lighting sources, you can renew the appearance of the room each time depending on what you need to do.
Source: Pinterest
What is the watchword for lighting design trends and furniture in 2021?
Opulence, dark influences and precious materials!
In addition to the countless installations of fairy lights which, illuminating ceilings and walls in a bizarre way, often do not have the luminous power necessary to illuminate an entire environment, some lamps emerge in a completely bizarre way made from the combination of metal and bamboo, to give a sense of transparency, which represent a typology that will spread in the lighting systems planned for 2021.
Furthermore, another very popular genre in 2021 are the Sputnik Style Lamps, that is, all those lamps composed of a central body and 2 or more rays that radiate from the centre with straight arms and decentralized diffusers.
Source: Pinterest
Practicality above anything else
A good lighting system is important to make the most of the rooms in your home, both indoors and outdoors. Therefore, there are many factors to take into consideration: the colour of the environment, the size of the room, the use of the room. For example, lighting the entrance will require a different system than the kitchen or bathroom.
In the first case, the entrance is the room that welcomes us into the environment of the house, and therefore needs good lighting – very scenic, that tends to strike and have an effect on both guests, and those who live there. Opening the door every day and seeing scenographic lighting design trends will make you appreciate the warmth of your home in all respects.
The matter changes if we are looking for a system more suitable for kitchens. Lighting in the kitchen is important, so much so that you cannot only rely on a ceiling light, but will also need wall lamps and lamps that tend to shed a lot of light on the worktops or in correspondence with pantries and wall units. The same goes for the bathroom. Surely, this environment needs a central light, but also a lamp for the mirror that can be mounted above or on its side, but which allows you to see yourself in the mirror without uncomfortable reflections.
Source: Pinterest
Materials and Colors
Currently, the world of lighting is full of fantastic lamps, chandeliers and various systems that adapt perfectly to any environment. Despite this large assortment, ideas for 2021 are many. In line with a refined home, the lighting sector of 2021 is divided into two paths: scenographic suspensions, on the one hand; minimalist lights that stand out for their very geometric shapes, on the other.
The use of precious metals, gold and refined finishes is preferred for various reasons. Mostly because the materials used give light in themselves; but also because of the furnishings and tones of the house. Homes in 2021 will play around with dark tones, ranging from chocolate to coffee with hints of black. In this regard, large suspensions, large chandeliers that fall downwards from above, illuminate more.
This is a bit of a historical moment where the real protagonist is the concept of eco-sustainability. For this reason, 2021 Lighting design trends forsee the use of original and modern materials for the creation of lighting systems. The choice falls on materials such as paper, metal, cork, porcelain and wood. This, however, does not mean that the classic ceramics, textile fringes and polymer resins and the inimitable crystal will be abandoned. Traditional materials such as ceramics, fabrics and crystal are indeed emphasized and reinvented in new shapes and new styles.
The fight against waste will also be fought for the way we illuminate our homes, in order to preserve the planet and to protect our psychophysical well-being. LED lighting certainly cannot be put aside. The use of Edison-inspired light bulbs is not preferred only because they are energy-efficient, but also because they give the possibility to choose from a wide range of colors, shapes and sizes.
Colors are also factors to take into consideration, in 2021 lighting systems. The palette is very wide, giving greater importance and prominence to bright colors such as yellow, emerald, purple, but also pastel colors such as olive green and classic white and gray. Clearly, the choice of the color of the lamps must be implemented by keeping an eye on the color of the interior. The colours selected by the designers, for this 2021, have the ability to liven up the environments.
Source: Pinterest
Green light to scenographic lighting!
Large chandeliers are designed as if they were light sculptures. Such flashy lamps, with elegant and curvilinear shapes, give a different face to the furniture we will see this year. 2021/2022 will tend to illuminate homes as if they were works of art, with cascade lighting systems, leaving maximum freedom to creativity. We will see light bulbs coming down from the ceiling, united to create majestic bunches of grapes.
Source: Pinterest
Never again without: Floor lamps!
Another range of products that will follow the trends of 2020 is represented by floor lamps. More and more, classic or modern floor lamps are therefore considered an excellent solution for non-invasive lighting. The most innovative are eclectic and rigorously led, sometimes dimmable, and made with the aim of profiling the interior spaces of the houses, based on their function, i.e., based on the space they illuminate and to add a touch of design to the rooms. For the most part, floor lamps are placed near armchairs, perhaps used for moments when one is dedicated to reading; or near desks, so as to avoid the use of table lamps. A floor lamp, with an innovative and large design, can represent the heart of your home.
Source: Pinterest
The revolution of applique and wall lamps
The world of wall lights will also be revolutionized. They are chosen and purchased by all those who do not like large lights, large suspensions and prefer to illuminate the room sufficiently. This type of lighting will be marked by essentiality and simplicity. The clean and refined lines can also alternate only with single bulbs. The world of wall light bulbs is also being revolutionized through the use of other spectacular shapes.
Source: Pinterest
The essentials: Desk lamps!
2021 promises to be innovative and creative also from the point of view of desk lamps. Lamps that set the scene and smart lights are the trends to follow. Table lighting provides a first distinction between models that have a large diffuser and those that don't.
The former are characterized by greater decoration and their main feature is to distribute the light evenly on the desk. The other models, however, consist of a thin structure and soft joints to allow more fluid and precise movements so that they perform their function, that is to illuminate a specific part of the work table.
Scenery lamps are mostly used in professional offices. These must impart a certain competence and skill, and at the same time create awe. They want to thrill those who arrive in the room, thanks to the play of lights and colours that, in the most whimsical studios, are projected onto the walls.
Source: Pinterest
Versatility and Comfort: brand new cordless lamps!
If once we used to think that wireless lamps were only used in camping, today's technology dispels this myth. Designers have created cordless lamps that offer an autonomy that can exceed 8 hours. Stylish, elegant, super-performing, the new wireless rechargeable lamps are the ultimate trend in versatility and, let's face it, also in style! Furthermore, they can be used both on desks and worktops, but also and above all as a centerpiece during special parties. They give an innovative and unusual touch!
Source: Pinterest
Design oddities: Boho Chic!
Keeping up with trends does not mean that every year, the furnishings must be eliminated to make room for new ones. Who said that antiques cannot be modern? A new inspiration that is pouring into various sectors, including furniture and consequently lighting systems, is the Boho chic interior style. This term comes from the combination of the word bohemian and chic, which is synonymous with refinement.
This is not a new trend of 2021, but it is the right example to show how an old element is reinvented in a modern way. In a house furnished in this style, you will find very bright colours and modern decorative elements that alternate with vintage accessories. However, everything will reflect the concept of sustainability, since the materials used are all sustainable. A boho chic decor will be characterized by very simple ceiling lamps made with materials such as hemp and paper.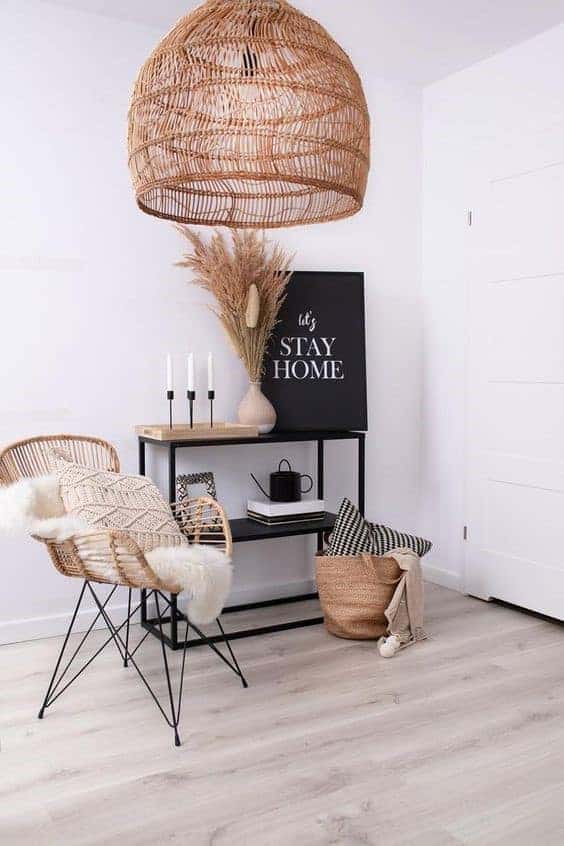 Source: Pinterest
Our conclusions
Styles and trends that year after year give "light" to environments are certainly the mirror of transversal influences that contaminate all sectors. The secret to correctly choosing lamps, chandeliers, lighting systems for your rooms? Beyond the performances, which are increasingly important and indispensable, surely that of "sewing on" a dress that fits with your personality, that is able to best interpret your passion, your tastes and your needs.
Only in this way will lighting be able to perform at its best, and create that light and atmosphere that, like an embrace, gives you a feeling of well-being, intimacy and belonging somewhere.
Do you want latest Trends straight to your inbox?
Thank you for subscribing.
Something went wrong.