We are all super excited because we all love seeing new kitchen trends. The latest kitchen trends can be great for inspiration. They often showcase what is fresh and hot in style, and usually, you unless love them or you hate them, but they are pleasant nonetheless. But usually, it is not a good idea to advocate chasing new trends in interior design projects, especially in your kitchen. However, sustainable Trends come and go, so use this information for inspiration.
There is no question that the events over the past year (2021), which has resulted in many of us spending much more time in our own houses and eating at home more than ever, have influenced the world of kitchen design for 2022. Most of the trends we will talk about having a direct correlation to the worldwide pandemic.
Source: Pinterest
Let's Talk About Color
The first area to talk about is color. In 2021 we had a few different but distinct color trends going on simultaneously. But this year, only one of last year's trends has emerged as this year's clear color darling, and that is the trend of warm finishes and nature-inspired colors, specifically green. All the shades of green are so in right now, whether you like deep and earthy or bright and airy. There is a shade of green for you. Pairing beautifully with green, we see the continued rise of wood finishes. Specifically, walnut, which is still very trendy, but also lighter woods and reclaimed wood.
Other warm colors such as deep red and rich brown are also on-trend right now. Surprisingly, this color trend is dominating the kitchen design right now. Using nature-inspired colors like green and natural wood finishes is an integral part of a design trend known as biophilic design. It has so many mental health benefits and healing qualities, from reduced stress to increased energy, that it just makes sense for designers and clients alike. They are being drawn to these design elements right now.
Source: Pinterest
All-White Kitchen
The second sustainable kitchen trend is the all-white kitchen, which has been so popular in recent years—much to the enthusiasm of interior designers everywhere. We see a shift away from this look for new builds and renovations. White kitchens are not outdated, and they will never will. Suppose you are planning a kitchen renovation shortly, and you particularly love the look of white cabinetry. In that case, you should feel self-confident in your decision and consider two other modern trends that will help to create excellent contrast and make it feel currents if that is something you are concerned about, which include dark countertops, which are a great way to add some drama and moodiness to your kitchen.
Source: Pinterest
And if that does not appeal to you, incorporating bright pops of color in places like your backsplash or some artwork is also trending.
Materials and Finishes
Thirdly materials and finishes. Mixing materials, wildly contrasting wood, marble, and metallic are trendy right now. Contrast is an essential design element, and mixing materials add value and energy to a design. In 2021 we saw the move to using more ceramic and porcelain tiles in warmer shades. Rather natural wood or stone. Because these elements are easier to keep clean, and that trend has only increased this year. The unbelievable variety in porcelain tile options continues to grow and improve each year and glazed ceramic tiles, which add such a beautiful look, is incredibly in right now, particularly for backsplashes with regards to metal finishes, matte and brush finishes are enjoying their moment in the sun.
Source: Pinterest
And in addition to looking cool, this trend is driven heavily by the fact that just like porcelain and ceramic tile. These finishes are simpler to keep fresh and tidy than polish finishes. So we see more attractive metal finishes for our sink beyond stainless steel.
Slab Cabinet Doors
Fourthly on sustainable kitchen trends, we have the cabinetry slab cabinet doors with minimal hardware, including recessed hardware or push to open hardware, trending in 2021. And it is still showing up in a big way in 2022. That streamlined look that's been so popular in other parts of the world is vast in the United States right now. However, one of the newest trends is a move to incorporate even more cabinetry. The reason is so many of us went home with our families this year. So many have understood that they need a lot more storage to feed their families 24/7.
Such items as walk-in pantries and larder cupboards are becoming the most requested items in a kitchen remodel. For those of you who love to hate on last year's trend of open shelving, you have to break out in a happy dance to know that the open shelve trend is not quite so huge this year. Many are dropping their open shelves in favor of more traditional cabinets. But don't despair, you fans of open shelving. They have particular purposes here. In addition to this, there has been a rise in smart storage solutions such as pullout spice racks, drawer dividers, tray and appliance garages. Of course, these add-ons are still trendy, particularly appliance garages. Dine-in kitchens have been around for a long time, and they wax and wane over time. But they are pretty popular this year.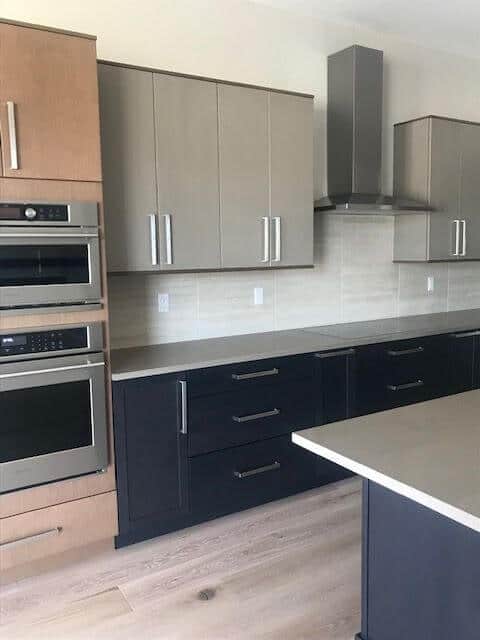 Source: Pinterest
This trend is tied to the fact that we were all at home and wanted to make mealtime as convenient as possible. That doesn't mean they have replaced kitchen islands, however.
As kitchen islands are still one of the most demanded items in a kitchen remodel, just like they were in 2021. The big focus in 2022/2023 is on creating a beautiful island. That could be in the form of various countertops, butcher blocks, particularly popular, different island base colors, or both. Statement light fixtures over the kitchen island are too huge right now—mainly woven light fixtures which, by the way, are from biophilic design influence.
In 2021 open shelving was being used in a big way for its various functional anesthetic benefits. This year while the number of open shelving has declined in the kitchen. We still see open shelves being used but in a more restricted way. And only for aesthetic purposes. Specifically, open shelves are still an ideal place to add style and personality to a kitchen. In addition, it is a great place to display unique pieces and tiny pieces of artwork.
Butcher block is an excellent secondary countertop element to use. But the leading choice has been and remains to be quartz. Quartz is impressive given its durability and low maintenance, and fantastic ability to replicate higher-end stones such as marble. But its quartz's non-porous and antimicrobial features are retaining this material center stage this year. People do not need germs in their homes, especially in their kitchens. Regarding backsplashes, while subway tile continues to be a popular and classic choice, we see many more statement tiles come to market with different and interesting shapes and colors. There are just a lot more energy and excitement in backsplash tile right now, and designers love them.
Range Hoods
Lastly, sustainable kitchen trends' other popular focal point area is the range hoods.
Source: Pinterest
This year's range hoods, whether custom range hoods, copper hoods or extra-large hoods, and statement range hoods, are still trendy. A note on focal points you only want one for your kitchen. So do not go with statement pendant lights. And a statement range hood one standout item is all you want and all you need.
This year, some other exciting trends include standout faucets, eco-friendly choices such as induction style ranges, cooktops, and reclaimed wood. Still, More and more manufacturers are providing eco-friendly products.
During the first time in a while, we also see fewer open floor plan kitchens. But, again, this has to do with the fact that families are under the same roof all the time, every day, for a good long time. And they want some separation from each other some of the time, totally understandable.
Conclusion:
Conclusively, it is safe to declare that the world of smart home appliances is never going away. We are only continuing to see more of this year. We are all seeing it in the world of kitchen and bathroom design. And every year our house is becoming smarter and more innovative. Of course, we love smart technology that makes our life more comfortable, but on the other hand, we don't like the idea of our home spying or gathering data on us. And many clients express nervousness at the thought of their home being hacked & manipulated, given that all of these smart devices and appliances are usually operable by smartphones. But, at some point, it is believable that you will be hard-pressed to find specific types of appliances that aren't smart.
This year we see more choices in touchless faucets, more smart refrigerators, smart ranges, and smart coffee makers, and that's a wrap on sustainable kitchen trends.
Do you want latest Trends straight to your inbox?
Thank you for subscribing.
Something went wrong.