Puzzling over how to design a hallway? Indeed, this small room is not passed by any of the guests, and it is from it that they judge the welfare, sense of taste and cleanliness of the owners of the home. And, despite the fact that the corridor usually has a small area that doesn't allow you to take a walk with the interior design, it is still possible to stylishly decorate its space. And best of all, correctly selected wallpapers in the hallway 2021 can help you with this!
Latest trends in the interior design of the hallway
Modern designers call the main features of the halls their convenience and comfort. At the same time, striving for the beauty of design, do not forget about the purpose of the room. The corridor traditionally experiences maximum loads, because dirt, snow and rain are brought here. So, the finishing materials used here should be not only aesthetic, but also moisture resistant, easy to clean and resistant to mechanical damage.
The main fashion trend in the interiors of the halls is the rejection of multi-tiered ceilings, overall shapes and excessive furniture. The latter is replaced by compact walls and sliding wardrobes, ideally built-in. And instead of overly pompous elements, light colors and laconic decisions are used. In order to expand the boundaries, as a rule, of a small space, mirrors are installed, and the surfaces are made glossy.
As for the color scheme of the walls, the use of light shades is in fashion. In a small space, the white appearance, diluted with brighter furniture and decorative elements, becomes relevant. White furniture will look great against the background of gray, beige and vanilla shades of wallpaper.
For lovers of non-traditional contrasting combinations, designers are advised to experiment with a combination of white and black, diluting them with accents of red, purple, orange and blue.
Types of wallpaper in the hallway
Quite high demands are made on the wallpaper that decorates the hallways. Since this space is less than other rooms protected from dust and street dirt, when choosing a material for gluing walls, one should give preference to its most versatile and high-strength varieties.
Paper wallpaper. Choosing paper wallpaper for the hallway is necessary only with a limited budget and a desire to change the situation every 3-5 years. Eco-friendly, breathable and comfortable to glue, they are inexpensive, but in conditions of high humidity in the absence of sufficient mechanical strength they will quickly lose their presentable appearance.
Vinyl wallpapers. Two-layer and fairly dense vinyl wallpapers with a top layer of PVC are much better protected from burnout, high humidity and mechanical damage than paper ones. Such a coating can be washed, hoping that it will last at least 10-20 years. In addition, among the advantages of this material is an affordable price.
Non-woven wallpaper. The basis of non-woven wallpaper is cellulose fiber material, which demonstrates excellent moisture resistance, the ability to pass air and even out wall irregularities. Such wallpapers can be repainted, and several times, and their embossed texture gives room for design solutions.
Textile wallpaper, which is not a cheap pleasure, boasts the highest aesthetic parameters and the ability to easily form a noble and cozy atmosphere. However, for the hallway, this material is not the best choice, since it tends to accumulate dust and is not so easy to clean. Use it is only with a good repair budget and the desire of the homeowner to luxury in decoration.
Quartz wallpaper is one of the new materials with a grainy surface. Able to boast wear resistance and environmental friendliness, this material can be painted, is not prone to fading and perfectly masks wall irregularities. True, such wallpapers do not like moisture.
Liquid wallpaper is a textile type of plaster, which is quite simply applied to the walls, giving them environmental friendliness and soundproofness. Additionally treating their surface with varnish, you will extend the life of the coating and make it possible to wash.
Choose a wallpaper in the hallway by style
If you designed the interior in your apartment or house in the same style and would like to complete a holistic image when repairing in the hallway, then even the wallpaper should correspond to your chosen style concept.
Let's list the basic interior styles that are ideal for decorating the hallway:
Classic – a luxurious palace style, which is characterized by sophistication, the use of natural materials and color restraint. Within its framework, in the hallway you can use plain or chicly decorated wallpapers with printed heraldic motifs or floral design.
Modern style includes elements of many directions, implying the creation of functional interiors with pure colors and smooth lines. Within its framework, wallpapers can be very different – plain, with geometric patterns, photo wallpaper, which decorates one of the walls, etc.
Provence style reflects the cozy beauty of French villages. She prescribes the use of wallpaper in pastel colors, as if a little faded in the sun. From patterns in high esteem cell or small flowers.
Scandinavian style – it is minimalistic, comfortable and bright, and also allows a combination of different types of materials. In particular, within its framework it is possible to combine plain wallpapers and light imitations of natural materials with one bright patterned wall. At the same time, more muffled and colder tones, a smooth texture and a typically Scandinavian ornament are held in high esteem.
How to choose wallpaper in a small hallway?
Unfortunately, not every homeowner boasts a spacious entrance hall. However, a competent choice of wallpaper can turn even a 3-4 meter room into a cozy and stylish corner. In particular, spaciousness and light can be added by properly selected wallpapers, which in combination with thoughtful lighting even out the absence of windows in the room.
If we talk about the color scheme, then the ideal wallpaper for the design of small hallways is light, since bright shades can conceal the volume of an already small room. The same can be said about the drawings on the material: a large drawing visually reduces the room, while horizontal stripes expand the walls, and vertical patterns raise the ceiling.
In most cases, for small corridors, matte surfaces devoid of relief become a find. If you really want to bring a complex ornament to the interior, it is better to decorate only one of the walls with it.
How to select the wallpaper in the narrow hallway?
The principle of interior arrangement, subject to the narrowness of the corridor, which is often also long, is a taboo for gluing with dark wallpaper or with a material with a large pattern. Otherwise, at the entrance to the house you will feel that the walls with the ceiling seem to be crushing.
Another "no" is to say the decor in the form of stripes. Often located transverse lines can even lengthen the corridor than it is, and a vertically running strip will visually narrow the room.
But light wallpaper, devoid of drawing attention, on the contrary, should say yes. In addition, designers recommend "expanding the boundaries" of a narrow entrance hall with a sticker on the opposite wall of the wallpaper of the same texture in matching or contrasting tones.
Certainly you need to consider lighting the corridor of such a plan. It should be soft, but good. It is necessary to place the lamps not only on the ceiling, but also on wall surfaces. The originality and comfort of the room can be given by the illumination of plasterboard niches pasted with wallpaper.
Also, the expansion of the room will be facilitated by mirrors on the walls, or wardrobe cabinets with mirrored doors.
Wallpaper imitating brick and stone in the hallway
Wallpaper, the texture of which imitates brick or stone, is often used in the hallways, because they are able to give the room decoration more originality and attractiveness. "Brick" or "masonry" looks quite stylish, while allowing you to adjust the size of the room and its lighting.
In particular, among the advantages of using wallpaper in the hallway with a texture for natural material, we can distinguish:
creation of custom design;
providing excellent air circulation;
the possibility of stickers on any wall surface and the visual correction of its irregularities;
the ability to take any shape when gluing, so these wallpapers are widely used to design ledges and bends;
ease of sticker and cleaning;
ability to fit into various interior styles.
As for the interior styles, most often wallpaper under stone and brick is used as part of:
Loft – "brickwork" will make the corridor in this style a sort of workshop with almost pristine walls. The ideal solution for this kind of decoration is vinyl wallpaper;
Gothic style – with the help of wallpaper "stone-like" the hallway can be stylized as an old castle. Properly choosing accessories, you can cause guests to admire its luxurious interior decoration;
Minimalism in the design of the walls of the corridor can be expressed through pasting the walls with imitation of white brick, generating a restrained and accurate atmosphere.
It is worth noting that brick and stone imitation rarely glues all the walls of the room. Most often it is used for pasting an accent wall, which can additionally be decorated with a picture or a mirror.
Also, a combination of several types of coatings – for example, brick finish and decorative stone or wood, can be a good design technique. Through this technique, you can effectively zonate the space, breaking the walls diagonally or fantastically.
Among the most sought-after colors of wallpaper imitating brick or stone, such as:
The traditional red brick finish looks great with plain dark or light furniture;
White "brick" or "stone" masonry will bring an atmosphere of peace and elegance to the corridor. Decorated in this way, one of the walls allows you to arrange a variety of installations against your background;
Gray "brickwork" is a godsend for the loft-style, which makes it possible to build a restrained and stylish design on its basis;
The brown "stone wall" is a technique that brings practicality and solidity to the interior. Complementing it with bed or beige wallpaper and golden accessories, you will achieve a truly spectacular interior.
Please note: a wonderful find can be a combination within the same wall of wallpaper "under the stone" and photo wallpaper with a landscape sketch. The view will be truly amazing, like a window wide open in the wide world.
As you can see, it's possible to design a hallway, even if it is small or narrow, in a truly spectacular, fashionable and functional way. All that is needed for this is with all responsibility to approach the choice of wallpaper, taking into account the recommendations of designers and current interior trends of 2021. I hope the tips in our article will help you with this. Good luck with your design achievements!
Modern Wallpaper for Hallways
The entrance hall is an intermediate zone between residential and non-residential spaces. It would seem that the small area of the room, which usually varies from 2 to 4 sq.m, does not allow you to especially go around in the interior design and develop a design that will immediately create a positive impression of the whole apartment. But this is not so, you can stylishly arrange this space, and best of all, correctly selected modern wallpapers for hallways will help you in this.
Types of modern wallpaper, their advantages and disadvantages
In the hallway and corridor to the wallpaper impose additional requirements, unlike other rooms. This space is least protected from street dirt or dust, so you should give preference to the most durable and versatile types. Consider what options exist in the modern market.
Paper wallpaper for the hallway
The traditional and simplest type of wallpaper that was universally used before the advent of new varieties. Paper wallpapers are environmentally friendly, breathable and very easy to glue. Another attractive plus is the relatively low cost, especially compared to other types.
However, this option will not serve you for a long time: wallpapers do not differ in high strength and resistance to mechanical damage and moisture, and their useful life is usually limited to 10 years. In addition, they should not be washed in case of contamination.
It is worth giving preference to paper wallpaper in the hall only if you are financially limited or plan to change the situation in the house once every several years.
Vinyl wallpaper for the hallway
This type of wallpaper is considered more reliable and durable than paper, and is a two-layer dense coating. The key function here is the PVC layer, which is applied to the base (paper, non-woven or other types) and protects it from moisture, light and partially from mechanical damage.
Modern vinyl wallpapers are often made with special micropores that make them breathable and allow washing if necessary. Another plus can be considered a long service life – from 10 to 20 years.
However, this variety cannot be called environmentally friendly and harmless because of the synthetic compounds that are present in the composition. But since you are choosing wallpaper for the hallway, such a drawback does not seem significant, especially under the condition of frequent airing. In addition, vinyl wallpapers have an affordable price, which corresponds to universal characteristics.
Non-woven wallpaper for the hallway
As the name implies, this type is based on non-woven material – a material based on cellulose fibers, which is also called "advanced paper". And not in vain: although the non-woven fabric resembles paper, it has greater resistance to moisture and mechanical damage, allows air to pass through, and is also able to block bumps on the walls.
Non-woven wallpaper is often used for painting, which can be done more than once. Their relief provides great opportunities for design solutions, but it easily collects dust and can be damaged by rough handling.
In addition to a fairly high price, you will have to spend money on gluing – for non-woven wallpaper, special glue is used, and the paint "eats up" additional funds.
Textile wallpaper for the hallway
Even in the days of classicism, the walls of houses of noble families were decorated with richly decorated and textured fabrics. Now this material is also used for gluing, but in the form of textile wallpaper, which is still considered a pleasure not cheap.
This view is distinguished by high aesthetic characteristics and easily creates a cozy, noble atmosphere in the interior. In addition, the wallpaper does not leave noticeable seams and looks like a solid canvas.
Alas, the beautiful appearance is overshadowed by the impracticality of the material, which collects a lot of dust, burns out and requires a special approach when cleaning. For a hallway, wallpapers of this kind seem like an unnecessary luxury, but you should first of all start from the style and your desires.
Modern wallpaper styles
With the types of wallpaper and their technical characteristics sorted out, now let's talk about aesthetics. Say, in the interior design of the house you gave preference to some style and want to create a holistic image. In this case, even the wallpaper should be consistent with the concept and create an attractive image. Consider the main styles that will look great in the hallway.
Modern Wallpaper for the hallway in a classic style
This style is associated with luxury, color restraint and sophistication. Both plain and richly decorated wallpapers with floral, heraldic and other motifs can be used. Particular attention should be paid to the material and, accordingly, the type of wallpaper.
Textile wallpapers are directly related to the era of the classical style and, perhaps, it will be in this interior that they will look most harmonious. Non-woven wallpaper with a varied relief is also perfect. This style solution fits perfectly into the spacious hallway.
Wallpaper for hallway in a modern style
Modern style is a rather vague concept, however, its main feature can be considered the opposite of the "traditional". This means functionality, restraint, lack of piling up of details, smooth lines and purity of colors. At the same time, the print can be the most diverse – geometric patterns, realistic murals or monotony.
Such wallpaper for the hallway is not just a decoration in the interior, but also able to transform the space, following practical goals: simple straight stripes will raise low ceilings, and a bright pattern on one of the walls will create accents.
Modern Wallpaper for hallway in the style of provence
Reflecting the beauty and comfort of French villages, the Provence style is able to immediately create a good impression for those who just step on the doorstep of the apartment. It is easy to convey this spirit and mood even in such a small and practical room, like an entrance hall, by choosing suitable wallpapers.
Give preference to warm pastel tones, which seem to "burn out" a little under the sun. The pattern traditional for the style is "small flower" or a cell.
Minimalistic, spacious, bright and comfortable – the Scandinavian style captivated many people, and also decorated more than one modern house. Despite the restraint, in this stylistic decision you can allow yourself to experiment and combine different types of wallpaper.
It will be appropriate to look at one wall with patterns on the background of plain and light, or wallpaper that simulates different materials. Give preference to cold and muted shades, Scandinavian ornament and smooth texture.
Hallway wallpaper color, which one to choose?
The color gamut of wallpapers plays an important role in the interior, because it is color that creates the mood and atmosphere in space, and can also visually transform it. We suggest paying attention to the following color variations.
White hallway wallpaper
Being a kind of "magnet" for dirt and dust, the white color seems very impractical and not durable. But look at it from the other side: white wallpaper in the hallway will create a feeling of cleanliness, spaciousness and comfort, and dark pieces of furniture and decor against such a background will look even more bright and attractive.
Black entranceway wallpaper
Many are afraid of the black color, considering it dark and narrowing the space. Indeed, such a coloristic solution is hardly suitable for a hallway with a small area, but black wallpapers in a spacious room with correctly selected furniture will look stylish and ripe, creating the cosiness of a chamber space.
Blue wallpaper
Deep and unobtrusive color that will fill the room with freshness and purity. Blue wallpaper in the hallway is a universal option for small and large areas, which will be an excellent background for wooden pieces of furniture.
Gray wallpaper
Another "dangerous" color that is avoided for fear of creating a dull or dull atmosphere. And completely in vain! After all, gray wallpapers are best combined with other colors. Choosing the right tone and diversifying it with patterns, you can create a stylish and modern design.
Beige wallpaper
Perhaps one of the coziest and warmest shades, which is perfect for the hallway and immediately create a pleasant impression. Beige wallpaper is recommended to be used in the interior with the same restrained and natural tones: brown, gray and white.
Choosing modern wallpaper for small hallway
Unfortunately, not everyone can afford a diverse and colorful design in a space of 2-3 square meters. m. Often, choosing the wrong wallpaper can not only spoil the interior, but also focus on flaws, in particular small sizes.
To avoid this, when choosing a wall covering, try to give preference to light pastel shades that visually expand the space and launch the missing light into it.
For a small hallway, matte surfaces without reliefs are best suited. It is also recommended to avoid wallpaper with a complex ornament, but if you really want to, it is better to decorate them with one or two walls, and the rest should be done in a monophonic manner.
Modern Wallpaper for hallways – photo
To inspire you even more and demonstrate the variety of options, we made a selection of hallways with different options for the wallpaper mentioned in the article. Happy viewing!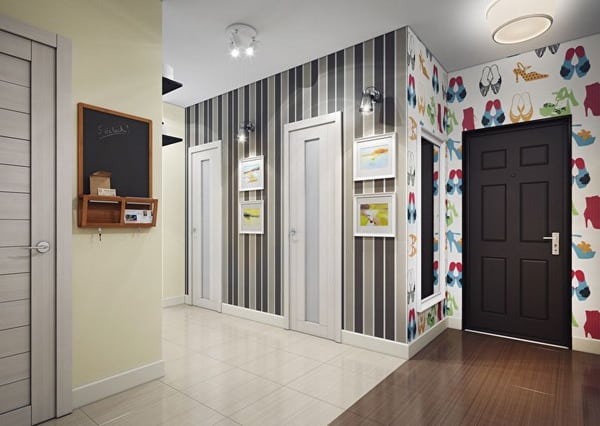 Do you want latest Trends straight to your inbox?
Thank you for subscribing.
Something went wrong.