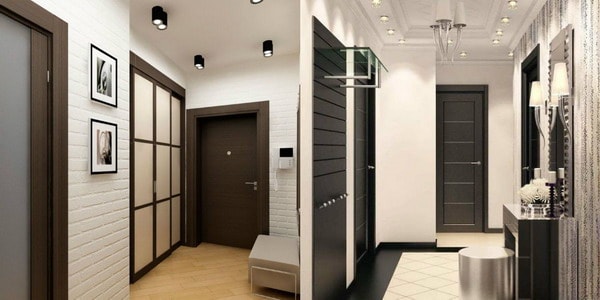 The design of the hallway trends 2021 is practicality and democracy, with one rather strict condition: any room in the house should be decorated in the same design style. And yet – small hallways of apartments require a "light" approach to decoration, this is not a novelty of design, but nevertheless relevant in 2021, the hallmark of design of hallways. If the hallway has a small area and a lack of natural light, then light colors – cream soda and ivory, milk and vanilla, light beige, as well as a minimum of furniture and mirror finishes – all this can be considered general design trends for hallways 2021.
Photos and ideas of the modern design of the entrance hall in 2021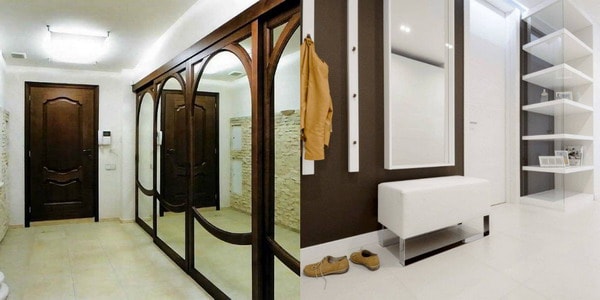 Modern finishing materials, often expensive and certainly unbanal, are also a hallmark of the hallway 2021. Original floor and wall finishes are becoming more and more popular, not so much surprising as comfortable for perception and giving visual illusions of space and air in a small hallway. Floors decorated with multi-layered living tiles can be called fashionable, and such a finish for halls of various styles is suitable – a lot depends on the choice of shades and pattern of living tiles. Protective transparent materials and colored gel layers – such floors will change color and pattern when moving, creating the effects of a modern and unusual room.
About the colors of the decoration of the modern hallway – the choice depends on the initial lighting. If the room is spacious enough, well-lit during the day and has a fairly high ceiling, then dark finishes and even an elegant English style are possible. At the same time, the hallway is designed by level: the lower tier is most often made of wood – panels or cladding. Wallpaper for the second tier can be in a strip, in a classic pattern, and it is possible to paint the walls in calm neutral tones. Carpet for the floor, stucco frieze at the level of the junction of walls and ceiling, a combination of conciseness with presentability – such a classic version of the hallway outside of fashion trends, but impossible for a small or narrow room.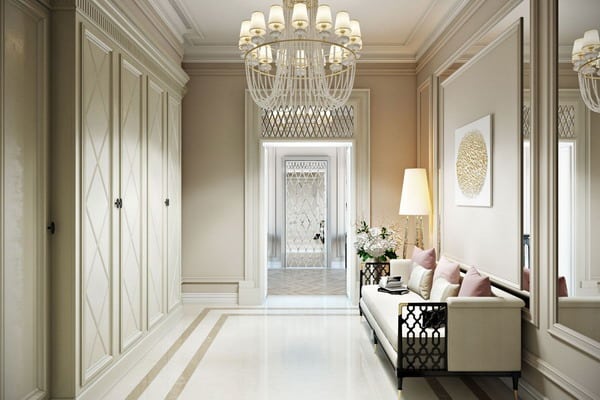 Small halls are designed – as an option – in a minimalist style: zero extra decor, one neutral tone of decoration and smooth ergonomic furniture. White or light floor – a sign of the new hallway strictly style and an excellent solution for areas with low natural light. The interiors of the hi-tech and loft halls are distinguished by a special "invisible" furniture, masking enough space for clothes and shoes under the softness of the lines, and there are no accessories as such – there are new opening systems, simple and light. Nothing foreign on the facades and no non-functional decoration is one of the principles of minimalism. For all its brevity, a monochrome can be very cozy and attractive, both in large and small spaces, and one catchy and original accent is a designer lamp or hanger.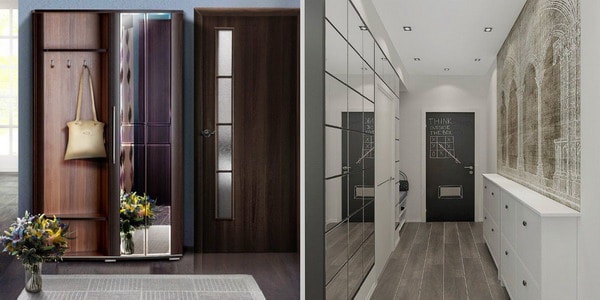 The classics of the interior are beyond fashion and time, and perfectly suited for the hallway. For classic and neoclassical interiors in 2021, designers recommend boldly apply new materials of this style – lining with a flexible stone and the use of LED illuminations of the baseboard and floor. The ceiling can be finished and very simple – if there is a perfect evenness of structures, then painting or plastering the ceiling will be a good solution. If there is a room height, but there is no even ceiling, then stretch and floating ceilings will become an exit. The classic design involves decorating the walls and ceiling with stucco elements: moldings, sockets. The decor of the neoclassical interior is crystal hanging chandeliers and lamps, paintings and art objects.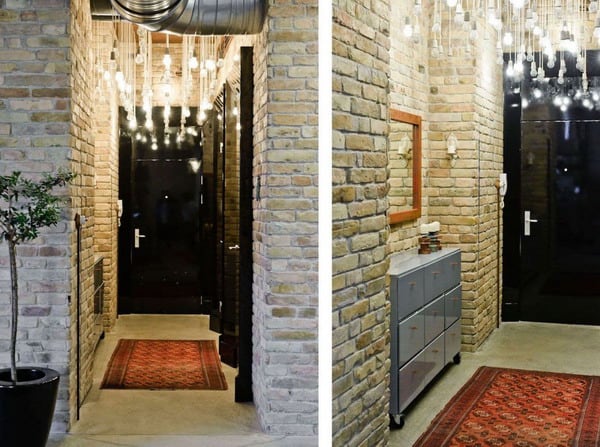 For small rooms, the new year involves the development of fashionable loft, attic, industrial designs – of course, if there is interest in such interiors. The loft hallway has a lot of advantages, to take at least a finish that is convenient for cleaning and operation – original panels for brick and concrete, a non-marking cladding of the entrance area, a light gray color scheme, imitation of old wood and stones. Industrial styling involves modular furniture and the possibility of redevelopment, designer items – mirrors and hangers, shocking and at the same time very comfortable household items. Even a tiny hallway will sparkle if you decide it in the loft style – with one wall for concrete or white brick, a convenient hanger and an original transformer stand for shoes.
Regardless of the chosen style of the hallway – be it a fun vintage or laconic minimalism, a minimum of furniture is required. Even in the large hallways of 2021 there is no abundance of furniture and decor, very few decorations and a maximum of ergonomics in the furniture design. Familiar furniture walls are mobile today, and another difference is that with comfortable use and external compactness, modern built-in and modular furniture does not have decor and handles. The opening systems are technological – these are push-to-open and sliding sliding doors. Recesses on facade surfaces or recessed fittings are possible, but smooth furniture facades are preferable.
Mirrors are not a novelty of design, and often the availability of mirrors is the main difference between the hallway and other rooms of the house. But in new interiors, it is possible to develop not just lighting techniques and the expansion of space by mirrors, but mirror surface finishes – panels, canvases, reflective films. In combination with the technology of backlighting with LEDs, spot, strip and volumetric, you can create an airy and light space of the hallway, while the wall finished with a mirror canvas will become "invisible" and at the same time a reflective surface. Mirrored hallways – 2021 are distinguished by bright saturated colors, plenty of light and unreal space. Mirror finishes will also fit perfectly into the Art Deco interiors, combined with spectacular patterned floor tiles and original lamps.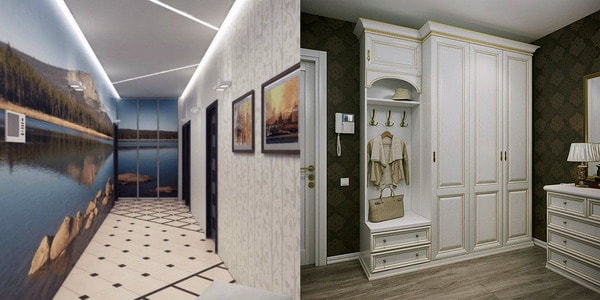 The use of modern finishing materials, practical and aesthetic, is also a sign of new designs. A flexible polymer-based stone with marble spraying or chips, used for wall cladding, creates aesthetic and realistic illusions of noble stone finishes. Moreover, it is technologically advanced for facing arched, concave and any curved surfaces – highlights of modern and classical styles.
Eco-interiors, involving the zoning of an apartment with large hallways or the creation of a new planning space of the apartment, will become even more convenient with sliding light-transmitting partitions made of wood composite.
Any design of a hallway is based primarily on the configuration, dimensions and height of the original room. No less important is the level of illumination. When designing the interior of any chosen style, it is important to competently zone a limited, and often narrow space, using colors and lighting design. Minimizing decor and furniture in interiors – 2021 is especially relevant for hallways.
Do you want latest Trends straight to your inbox?
Thank you for subscribing.
Something went wrong.