2021 ended prolifically with great hopes for a prosperous 2022. Sadly, 2022 started slowly with the Covid-19 pandemic squeezing us hard on our most hurting parts. However, that didn't stop the need for fashionable interiors, hence the 2022 Interior Design Color Trends.
The impact of this pandemic has gone beyond ordinary human understanding. But that hasn't changed our need for beautiful, fashionable, and calming interior spaces. We're always looking for great inspirations, color trends, and ideas to make our interior spaces stand out.
As we wash hands, keep distance, and observe all other WHO guidelines to stay safe from Covid-19, color scientists, social psychologists, and statisticians are working diligently, evaluating the current color interior design trends, advertising and buying trends, and new stories to deduce ideas of what may be rocking come 2023.
As the experts say, no color is autonomous. So we've come up with a mixture of commercially and directionally viable shades that would be the heart of amiable interior color fashion in 2023 interior design color trends. Want to give your home interior a heavenly look? Check out these 2023/2022 interior design color trends.
We had closed 2020 with the announcement of the 2021 color by the Pantone Color Institute, which surprised us with the unusual choice of a pair of tones: Ultimate Gray and Illuminating.
Illuminating is a lively yellow that reminds us of sunny days and, consequently, the warmth, energy, and joy they can transmit. Ultimate Gray is a neutral gray that evokes stability. Just a look at it, and you'll associate it with concrete, a material that gives the idea of something that is built and remains stable over time.
They are two shades that maintain their independence and do not necessarily have to be used in equal proportions; each can prevail over the other, based on tastes and needs.
Gray, for example, can act as a chromatic background on which to graft color elements, including blush pink, olive green, sienna, chocolate brown, and navy blue.
Source: Pinterest
Champagne
It's only four months before we bid goodbye to 2022 and welcome 2023, and Champagne is still the freshest neutral and simple color theme. However, Champagne is smarter and more favorable than beige. It's lighter than beige and has a contemporary and luxurious toning.
Its complete grey coloring and smart toning make it an exclusively perfect addition to 2023 color trends and may still trend in 2022 interior design color trends. The champagne interior color trend emphasizes a neutral theme with heightened texture and toning. Add flavor to your champagne-colored interior by experimenting with wicker, wood, clay, or stone textures or layering it with caramel, tan, or taupe shades.
That's one incredible way to achieve that minimalistic interior design look you've ever desired. You can combine Champagne with different textures and unique materials to create a bold and sleek statement. You can even pair it with metallic accessories like silver and gold to create a warm and calming feel.
Source: Pinterest
This is one of the top 2022 interior design color trends. Adds glimmering and calming charms to your home interior with the trending blue color. Blue works miraculously to calm the nervous system, benefiting the body, and mind immensely. Naval blue is a more classic version of blue that adds both casual chic and elegant moods to your interior spaces.
Blue is versatile enough to pair with different color combinations to create more unique looks and styles. Provided you combine blue with materials and colors that match well, you can create contemporary, rustic, and classic styles.
Combine it with warm, natural, or even raw materials like bamboo, warm golden metals, wood, jute, or seagrass. Add warmth, contrast, and balance to the composition to get the most impressive interior spaces. Experts say naval blue will still rock in 2023, making our interior spaces warmer and calmer.
Source: Pinterest
Good to Read : Shabby Chic Decorating: All You Need To Know
Blush
The list of the best color trends won't be complete without mentioning blush. Blush color inspires uplifting and warm feelings, giving interior spaces accents or neutral shades. Blush is a feminine and soft hue versatile enough to work with other colors such as dark gray, clay, beige, blue, and beige.
Blush also works well with colors like beige, rustic wood, brown, and earthy tones to give your interior spaces cozy and casual styles. In addition, you can pair blush with light and soft colors, dark gray or black, for more refined and fashionable styles.
The finish and texture you choose to complement the colors will define the style achieved. So, if you're thinking of upgrading your interior spacing come 2023, lookout for the best color finishes and textures.
Source: Pinterest
Terracotta
Terra cotta has been a hit in the trendiest colors for interiors since 2017. Its versatility and usability have made it the leading shade for styling and interiors. In addition, terracotta is one of the coziest colors that can warm and replenish your home indoors in combination with other shades and hues.
Terracotta is nature and earth that works well with warm and cold colors alongside different materials to create fantastic contrast effects. You can use terracotta with blue and gray tones to give interior design objects milder and modern effects.
Give your interiors the most outstanding looks by combining terracotta with multiple textures and colors. Combine it with warm materials and tons like dusty pink, wood, and brown. You can even combine it with cold colors such as blue and green alongside crisp textures and materials such as concrete to create contrasting and impressive effects.
Use terracotta together with shiny and golden metals to achieve impressive, exclusive, and contemporary effects. Add personality and style to your interiors by mixing terracotta with any finish or texture that matches your tastes and preferences.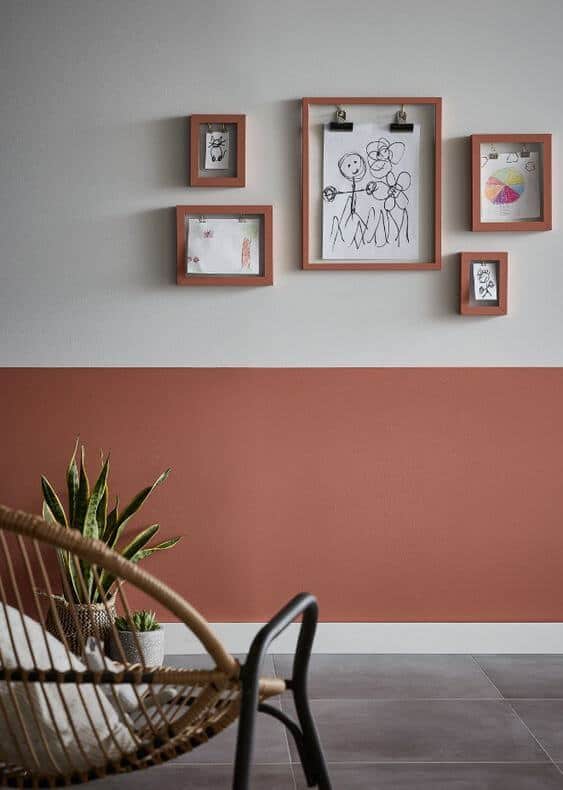 Source: Pinterest
Charcoal Gray
Charcoal gray is a fashion-oriented shade that's loved and cherished by homeowners all over the world. It's a super versatile color that's characterized by grey color and navy blue or black traces. Charcoal gray can give punchy accents or neutral backgrounds to interior walls, furniture, flooring, or accessories.
Charcoal is quite an absorbing color, mostly confused with anthracite and graphite colors. It's the dusky shade mostly linked to hard, mined coal, sedimentary rocks, or coal made of wood. You will love the dark tone of gray and absorbing shade, making it the perfect color for modern home interiors.
But then, charcoal doesn't mix easily with other home décor elements. If you're not careful and skilled, you'll likely overwhelm your rooms with the dark shade. Instead, use charcoal colors in bigger rooms that are well illuminated to achieve optimal satisfaction. Experts call it the universal color since it can work well with different colors and in different interiors.
Use it together with modern styled interiors such as minimalistic, Scandinavian, and industrial to accentuate your room's interior décor elements to achieve the most unique and exclusive look ever. Its adaptability and versatility will make it stand out in the 2022 interior design color trends and the most intriguing color trend in 2023.
Source: Pinterest
Good to Read : Home Decor Color Trends & Color Paints To Choose From
Bold Contrasting Colors
Bold contrasting colors alongside neutral anti-stress palettes will also be a crazy trend come 2023. This trend will revolve around the combination of traditionally conflicting colors to create exclusive and bold effects. Among such combinations include neon pink or red with light pink combinations characterized by first-person color shades. These will create a bizarre yet playful design that looks and feels warmer and classy.
In creating bold contrasting colors, you must be brave enough to combine contrasting colors alongside neutral shades to achieve the most remarkable designs. Work with neutral tones and several bright colors to achieve that eye-catching look on your interiors.
Come 2023; bold contrasting colors will be a punchy trend that may not go out of fashion. Try experimenting with the fancy colors offered on blogs and social networks. Also, look out for contrasting canvas patterns on YouTube and use them to create the most impressive interiors.
Although it requires particular attention in terms of dosage, black is among the protagonists of 2021. It can be used in the classic opposition to white or to enhance contrasting elements of furniture and colors.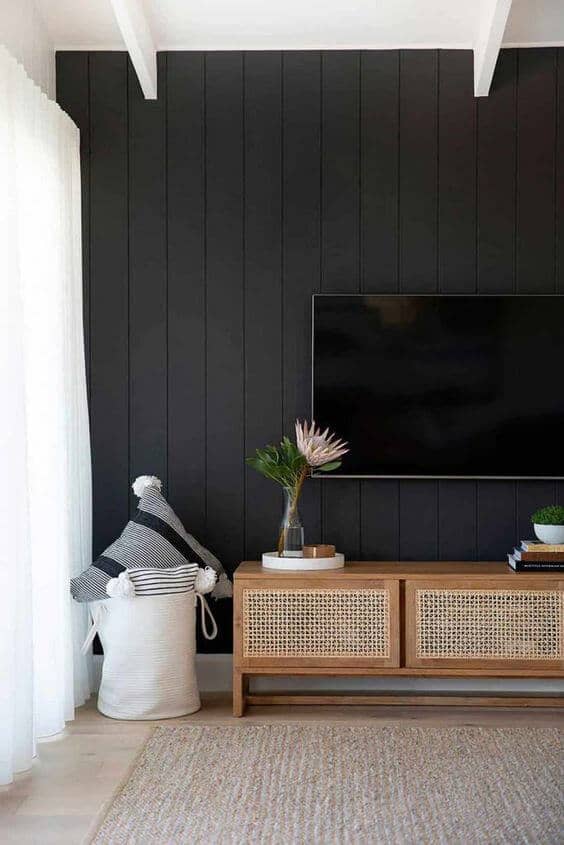 Source: Pinterest
A key tone of the minimal and Scandinavian style, white, is always a must for use on walls and furnishings, ideal for adding a touch of brightness where needed.
Source: Pinterest
Gold remains the undisputed protagonist of interior design for the next year; its vibrant and luminous charge, combined with the perception of luxury and refinement, can radically transform any space.
Source: Pinterest
Let's stay on the subject of metallic shades to introduce you to the bronze color, much more saturated than gold, conveying refinement and harmony.
Source: Pinterest
Natural Calming Colors
The advance of technology has motivated the need for more streamlined and topnotch interior colors that create calm and intriguing atmospheres. So today, we've more calming and especially fitting colors that calm the mind and soul, keeping people relaxed. Come 2023; there will be a range of natural colors to address the urban chaos and inspire relaxed feelings.
Good to Read : Home Decor Trends to Avoid 
This trend will introduce optimal proximity, naturalness, and naturalness. As a result, many color palettes will have fresh, naturally soft, and calm shades in 2023. Some of the colors that fall under this category are the following:
Hazelnut and natural wood
Hazelnut and, more generally, natural wood, both light and dark, will be the protagonists of the new year. Its effect is relaxing and can be used in any environment.
Source: Pinterest
Wanting to be more specific, we'll find French vanilla, a variation of the classic vanilla that increases its intensity. It is a very bright color that matches easily and can be used in any environment, even in tiny spaces.
Source: Pinterest
Natural and vibrant, mint green fits in as the perfect lively and lively element. Different shades are used, ranging from the lightest to the darkest, recalling the suggestion of the green of nature.
Source: Pinterest
Already a protagonist of last year (we remind you that the Pantone 2020 color is classic blue), blue continues to be the protagonist of furniture and accessories thanks to its ability to give elegance and create relaxing environments. The most popular shade, in this case, is navy blue.
Source: Pinterest
Gray remains one of the most popular neutrals to combine extremely naturally with virtually any shade, even blue.
Source: Pinterest
The need for less sophistication and more simplicity will lead to more people opting for more natural and simple colors. One such color palette will be the Chinese Porcelain, which is linked to the sky and sea and has the power to create a tranquil and calm interior.
The natural palette was initially implemented in graphic designs in 2021, and its popularity has since exploded. Now, we see more Instagram accounts with green and pastel brown shades that give plant or nature-like illusions.
Currently, the choice of natural shades is almost limitless. However, as people are looking for peace, calmness, and relaxation, inventing calmer and inspiring designs is rising. You can explore these amazing interior color designs to have an idea of what may work for you.
Conclusion
If you're in search of the most exciting color trends to incorporate in your 2023 interior design upgrade, you've got a clear idea of the color palettes that would grace our home interiors next year. So give your home interiors that intriguing look and calm feeling with any color trends we cited.
These color trends won't work for every home interior. You've got to understand which color combination will give your interiors superior looks and a calmer feeling. Choose your color combinations wisely and implement them professionally so you can achieve refined and sophisticated effects.
Work with experts, if possible, to achieve more outstanding color effects. You don't want to rework a painting project you've already completed, and so you should get advice from the experts.
Do you want latest Trends straight to your inbox?
Thank you for subscribing.
Something went wrong.